Naturally I did not want to leave Truman by himself so soon after his arrival but I didn't have a choice. I had this trip planned months before I even got him and I was really counting on the breeder shipping him to me by the start of June which would have left enough time for him to adjust. However, due to delays from the breeder, I got him with just over a week before I would have to leave.

I was quite worried because he was barely eating on his own while I was still home. He would eagerly climb to the top of his cage but then not know how to get back down in order to eat. He would just sit in a high perch and scream his lungs off to be fed. Eventually I would take him out and when I put him back in on the food perch, then he would eat. I had arranged for someone to come over while I go on my trip but this person would only change the food/water and would not be reaching inside the cage at any time. Bringing Truman along for the trip was definitely possible but I feared that the stress and neglect of travel would have been more stressful on him than my absence. I could have brought Kili along or left her home just the same, she is well adjusted to both situations. Since I was leaving Truman, Kili may as well have stayed as well.

For the July 4th three day weekend, I flew out to Dayton, Ohio. Dayton is the birthplace of manned flight because the Wright Brothers built and flew their first planes from there. The flight was just over 3 hours non-stop to Dayton and the same back. As a pilot this has been my furthest cross country flight to date.




The evening of my arrival in Dayton, I was quite worried about Truman. I had called the parrots' caretaker and he reported that Truman had not eaten any of the food I had left out for him in the morning. Furthermore he was screaming and begging for food the entire time. The next day (July 4th), I received much better news. Truman had been eating well on his own. I guess getting hungry enough and realizing that no one was going to feed him the pellets made him figure out his way down to eat. I returned late the following evening. I weighed Truman when I got home and was relieved that his weight was the same as when I had left which meant that he was eating well for 3 days. Today Truman has been eating on his own again and his weight has actually reached a record high of 319g which is higher than what the breeder reported his weight to be when he was shipped out to me. So overall everything worked out fine and in fact my absence forced Truman to stop begging for food and just eat on his own.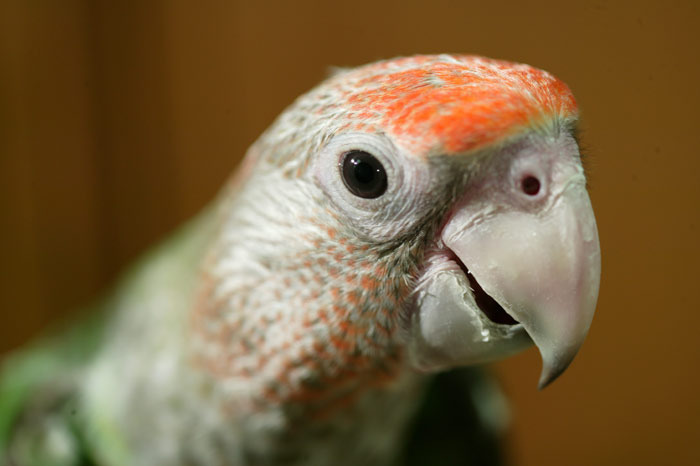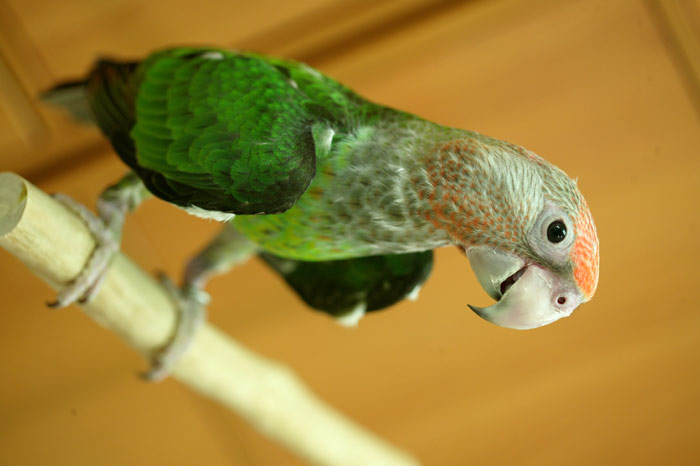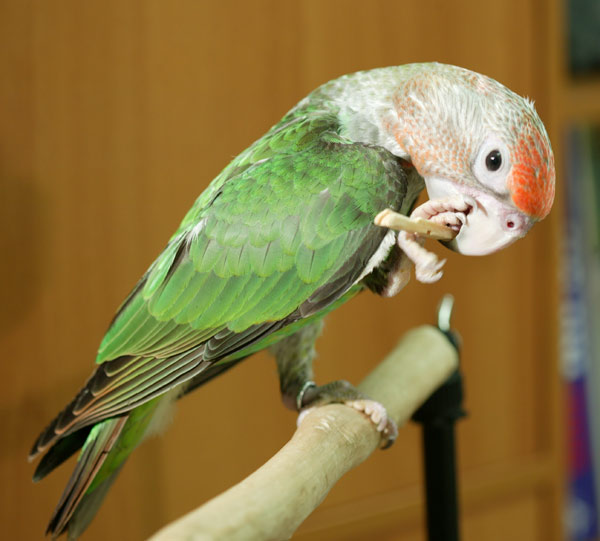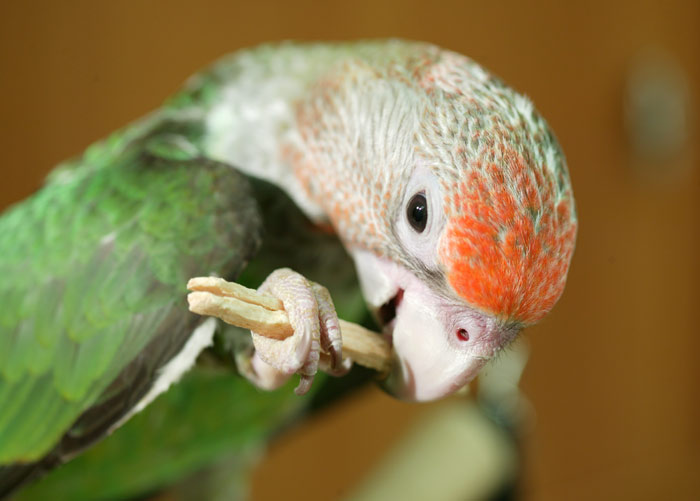 This morning I headed out to the airport two hours in advance with plenty of time to spare to pick up my parrot. I was nervous about getting stuck in New York City rush hour traffic on the way there but luckily I got there in just over an hour. However, the extra time did not go to waste as it took nearly 40 minutes to find the cargo terminal from which I was supposed to pick up my parrot delivery.

The flight departed on time and even arrived early. An hour after its arrival the parrot carrier was already handed to me. Not bad considering I've often waited even longer just to get my luggage. I was handed the carrier and took the first peek at my new lifetime companion. The little guy was standing right at the edge by the door and got excited to get some human attention albeit from a complete stranger.

I carried him back to the car and drove directly home. Upon bringing the carrier inside, I strategized how to get the parrot out of the carrier without scaring it. I cut the wire ties which kept the door locked shut. I opened the carrier door and waited to see if little Truman would come out on his own or if I'd have to reach in for him. Surely enough within 30 seconds he made his own way out of the carrier and made his way straight for my hand. He helped himself onto my hand and sat there happily opening and closing his beak.

I knew that he'd be really thirsty after the long flight so I decided to use this as the first opportunity to teach him to drink from his water bottle. I pressed the ball of the straw up against his beak and when he realized that water flows out the end, he made a determined effort to get some water out. I didn't make him drink from it for long but I was impressed how quickly he figured out how to work the steel ball with his tongue to get the water to flow.

Truman walked around on the floor but decided to try a flight. He took off and was up to the ceiling near instantly but didn't know where to go. He bumped into the walls and ceiling a few times before crash landing. I fetched him and he stayed on my hand the rest of the time. I hand fed some pellets to him and he happily munched on them. I was surprised, however, that he neither knew what to do with an almond nor had the strength to crunch it when I shelled it for him.

After some play with his toys and checking out his tree, I put Truman into his new home to take a break. Within a few minutes he went for his water and then ate some pellets on his own.