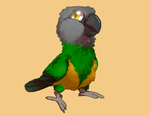 Kili
Type: Senegal Parrot
Genus: Poicephalus
Species: Senegalus
Subspecies: Mesotypus
Sex: Female
Weight: 120 grams
Height: 9 inches
Age: 15 years, 3 months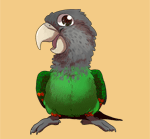 Truman
Type: Cape Parrot
Genus: Poicephalus
Species:Robustus
Subspecies: Fuscicollis
Sex: Male
Weight: 330 grams
Height: 13 inches
Age: 13 years, 6 months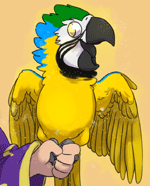 Rachel
Type: Blue & Gold Macaw
Genus: Ara
Species:ararauna
Sex: Female
Weight: 850 grams
Height: 26 inches
Age: 11 years, 3 months

List of Common Parrots:
Parakeets
:
Budgerigar (Budgie)
Alexandrine Parakeet
African Ringneck
Indian Ringneck
Monk Parakeet (Quaker Parrot)
Parrotlets
:
Mexican Parrotlet
Green Rumped Parrotlet
Blue Winged Parrotlet
Spectacled Parrotlet
Dusky Billed Parrotlet
Pacific Parrotlet
Yellow Faced Parrotlet
Lovebirds:
Peach Faced Lovebird
Masked Lovebird
Fischer's Lovebird
Lilian's (Nyasa) Lovebird
Black Cheeked Lovebird
Madagascar Lovebird
Abyssinian Lovebird
Red Faced Lovebird
Swindern's Lovebird
Lories and Lorikeets
:
Rainbow Lorikeet
Conures
:
Sun Conure
Jenday Conure
Cherry Headed Conure
Blue Crowned Conure
Mitred Conure
Patagonian Conure
Green Cheeked Conure
Nanday Conure
Caiques:
Black Headed Caique
White Bellied Caique
Poicephalus Parrots
:
Senegal Parrot
Meyer's Parrot
Red Bellied Parrot
Brown Headed Parrot
Jardine's Parrot
Cape Parrot
Ruppell's Parrot
Eclectus
:
Eclectus Parrot
African Greys:
Congo African Grey (CAG)
Timneh African Grey (TAG)
Amazons:
Blue Fronted Amazon
Yellow Naped Amazon
Yellow Headed Amazon
Orange Winged Amazon
Yellow Crowned Amazon
Cockatoos:
Cockatiel
Galah (Rose Breasted) Cockatoo
Sulphur Crested Cockatoo
Umbrella Cockatoo
Moluccan Cockatoo
Bare Eyed Cockatoo
Goffin's Cockatoo
Macaws
:
Red Shouldered (Hahn's) Macaw
Severe Macaw
Blue And Gold Macaw
Blue Throated Macaw
Military Macaw
Red Fronted Macaw
Scarlet Macaw
Green Winged Macaw
Hyacinth Macaw
Glossary of Common Parrot Terms
| | | |
| --- | --- | --- |
| | | Saturday November 28th, 2020 |
Happy Thanksgiving and upcoming holidays. With Thanksgiving dinner eaten and the holidays under way, it's time for shopping. Here is a list of some of the best Black Friday deals for parrot supplies I have spotted. Most of these sales are going on all weekend long through Cyber Monday. Stock up on bird food, toys, perches, stands, cages, and more. Stuff available from the smallest parakeets to the biggest macaws. Take advantage of the big savings and outfit your parrot's cage for the holidays!

Here is my Thanksgiving Parrot Cooking Tips video with relevant tips throughout the holidays:





List of Black Friday and Cyber Monday Sales on Parrot Supplies:
25% off toys with code: BlackFridayToys

First off, here's the big Black Friday Weekend Sale from my Parrot Wizard store. Huge savings on perches, stands, and all kinds of parrot supplies via https://ParrotWizard.com/Black_Friday.

And, the biggest toy sale of the year with 25% off on all Parrot Toys from the toys page: https://ParrotWizard.com/Toys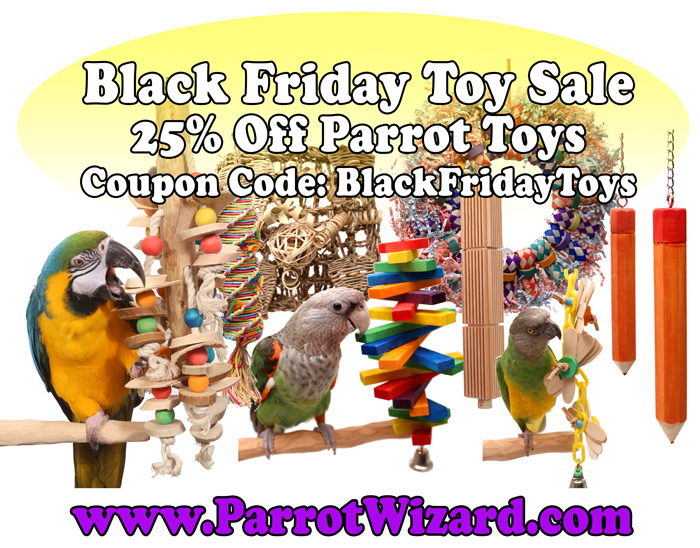 25% off toys with code: BlackFridayToys

Some Black Friday sale items are gone and new Cyber Monday Deals posted at
https://ParrotWizard.com/Cyber_Monday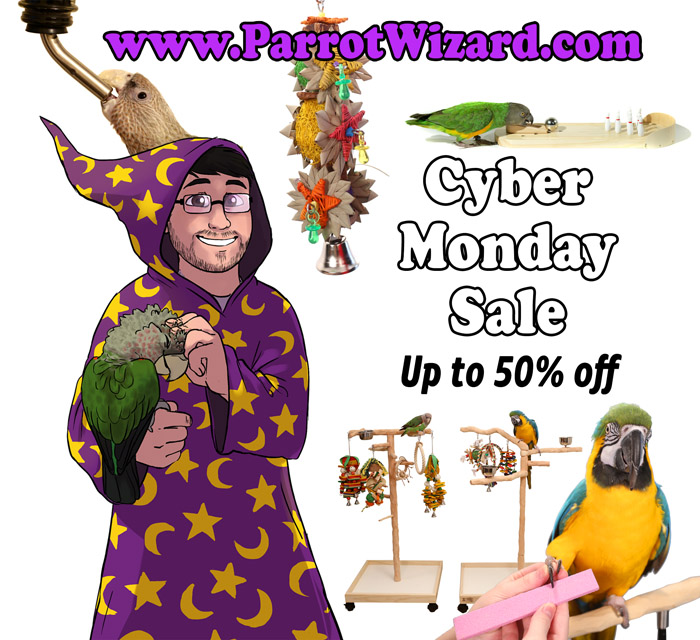 25% off with code: BlackFriday

This is a huge deal. This code appears to work for all items from this site. A great deal on chop and bird food! https://christineschopshop.com






25% off with code: BIRDMAS2020

25% off Stickers, Prints, Pins and Necklaces. Stock up on holiday gifts for bird lovers and yourself with all these cute items. https://birdhism.com/discount/BIRDMAS2020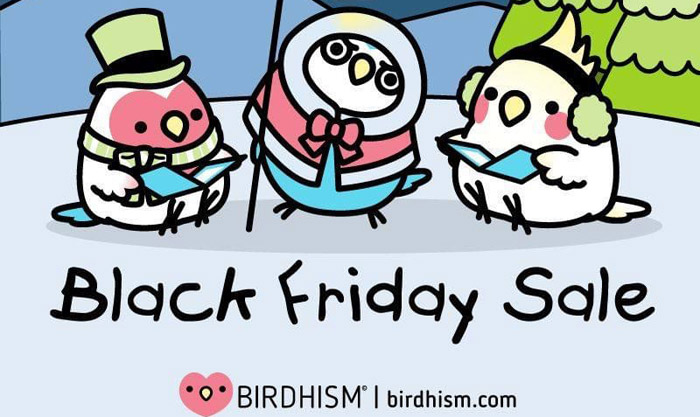 12% off with code: 10x12

12% off storewide, 15% off toys, and many other promotions depending on how much you spend at My Safe Bird Store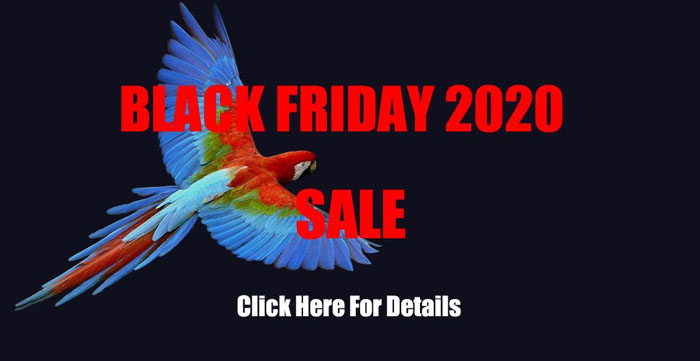 20% off with code: Cyber20

10, 15, or 20% off everything at Kings Cages depending on how much you spend. Great time to upgrade your bird's cage while on sale https://kingscages.com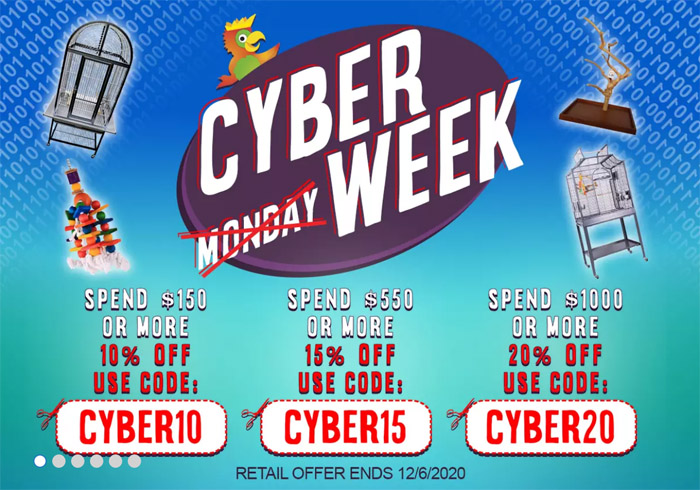 If you are on the other side of the pond, Northern Parrots from the UK is also hosting a Black Friday sale in Europe for up to 50% off select items: Northern Parrots






Black Friday weekend and Cyber Monday is a great chance to save money and make your bird happy. So enjoy the sales, stay warm, and stay safe. Feel free to leave a comment below if you have come across any other Black Friday deals on any kinds of parrot supplies.
| | | |
| --- | --- | --- |
| | | Thursday November 8th, 2018 |
Wondering how you can teach a parrot to play basketball? Here's an awesome trick to teach your parrot! This free trick training guide is about how you can train the Birdie Basketball trick to your parrot!

Nothing is as exciting as throwing a ball and having your parrot fly to get it and bring it back to dunk it in the basketball hoop! The height on the Birdie Basketball is adjustable so even smaller parrots like a green cheek conure can learn to do this awesome trick.

So here's a step by step guide on teaching a parrot to play basketball:

Step 1: Get the Birdie Basketball Set for your parrot from ParrotWizard.com.

Step 2: Make sure that your parrot is fetch trained. If it isn't, teach it to fetch before you start teaching the basketball trick. If it is already fetch trained, just do a quick review to remind it what to do.

Step 3: Desensitize the parrot to the basketball toy. Most parrots get scared of new stuff. The good news is that the more tricks you teach, the more the bird will get used to accepting new things. The best way to desensitize the bird to the basketball toy is to target it near the toy. Place the basketball hoop toy on a table beforehand. Bring your parrot and set it on the table far from the toy. Get the bird into a rhythm targeting. Target it randomly in different directions and not strictly toward the basketball hoop or it may get suspicious. Target it around randomly but little by little, more and more toward the basketball. Let the parrot pay more attention to the targeting exercise and forget about the basketball until you are able to target it right by the hoop at ease. It is better to take the time to do the desensitization exercise even if the bird didn't get scared than to scare the bird with the toy first and then try to change its mind.

Step 4: The Birdie Basketball trick comes with 2 different basketballs. One is a realistic looking basketball and one is a training ball with a lot of holes. For now, put aside the realistic ball and use the easy to grab training ball instead. Give the training ball to your parrot from one hand and then present your other hand and ask it to fetch the ball to your open palm. Using a clicker, click when the bird drops the ball in your hand and give it a treat. Positive reinforcement goes a long way!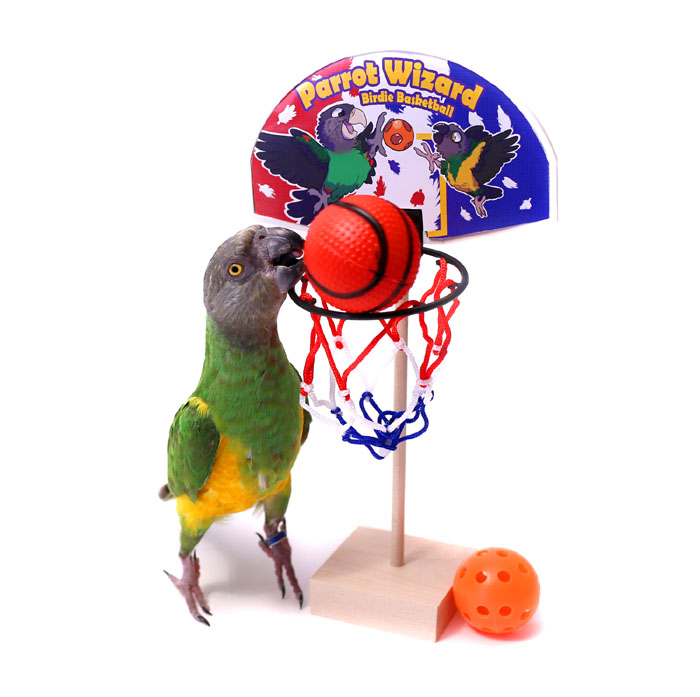 Step 5: Now it's time to teach the parrot to put the ball in the basketball hoop. Start by lowering the hoop down low. This will not only make it easier for the parrot to reach but also give you more room to hold your hand. Hold your open hand directly over the basketball hoop and ask the bird to fetch the ball. When the bird drops the ball in your hand, click the clicker and give a treat. This teaches the bird to bring the ball toward the basketball hoop.

Step 6: Continue having the bird fetch the basketball to your open hand above the hoop, but now pull your hand away just before the bird drops the ball. This way it will accidentally drop it into the basketball hoop when it really just intended to drop it into your hand. Click and reward so that your bird realizes that the goal is to drop the ball into the hoop! Keep practicing and progressively raise the hoop higher and higher so the parrot learns to stretch for a slam dunk. Finally, when the parrot has mastered the basketball trick, you can use the realistic basketball instead. Show the bird the single hole through the ball where it can grab it with its beak and you'll have an NBA allstar in no time!

Here's a short tutorial I made with Kili to illustrate the key steps of the process:

Marianna and I recently took a trip to Pigeon Forge Tennessee. While visiting Gatlinburg, Pigeon Forge, and the beautiful Smokey Mountains, we had a chance to go to Parrot Mountain. Parrot Mountain is unlike any zoo or bird park you have ever seen!

Parrot Mountain is a one of a kind experience for parrot lovers. It is the only major bird park I'm aware of that focuses primarily on parrots. They do have a nice collection of other birds as well, but their focus on parrots is quite unique.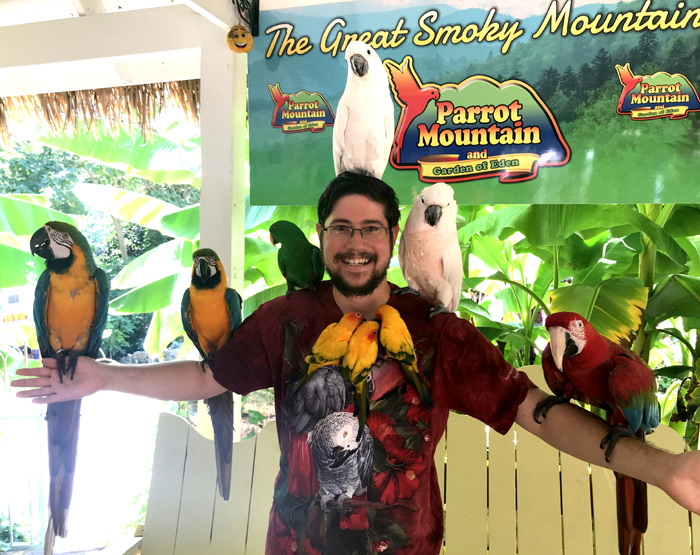 A visit to the park starts with some exhibits of various bird species. Then it takes you through a walk through flight aviary. But most exciting of all is the parrot feeding area. They have probably a hundred parrots out on stands that you can see up close and feed. Buy a handful of seeds from the vending machine for a quarter and then you can be the parrots' favorite visitor!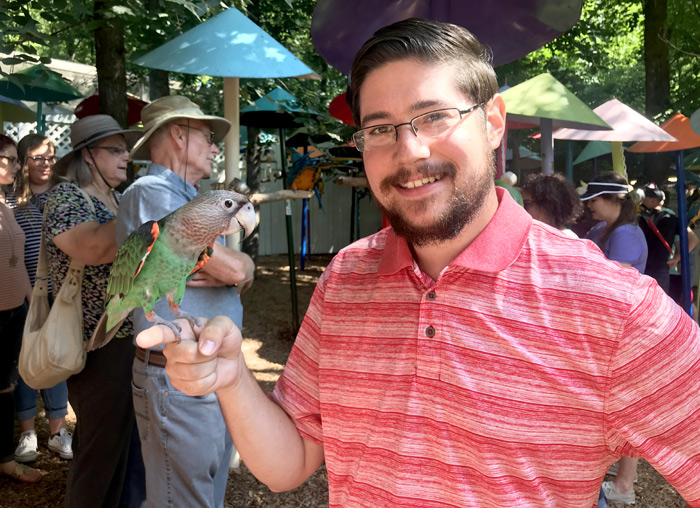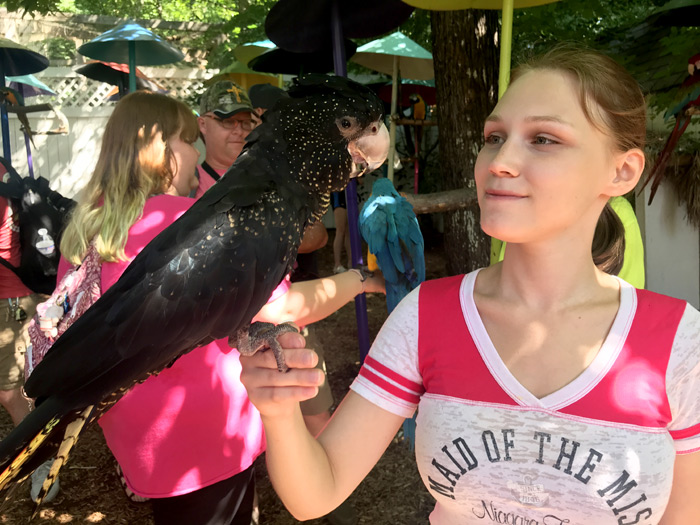 We got to see up close and experience too many different species to count but just a few of the more exotic ones included Sun Conure, Blue Crowned Conure, Patagonian Conure, Alexandrine Parakeet, Great Billed Parrot, African Grey, Cape Parrot, Eclectus, Scarlet Macaw, Military Macaw, Hyacinth Macaw, Moluccan Cockatoo, Sulphur-Crested Cockatoo, and Red Tailed Black Cockatoo. Marianna had a field day getting to feed and hold the female Red Tailed Black Cockatoo. She recalled how we got to see them in the wild in Australia, but not anywhere near as close!

Some of the parrots on exhibit were brought a long time ago from the wild, others were bred at Parrot Mountain, and others were relinquished. The park acts as a complete facilitator of parrots in the region. They breed, sell, display, and accept rescued parrots. You can see the babies for sale in their nursery building.

Parrot Mountain is famous for offering to have your picture taken with close to a dozen birds. I was amazed not only how cooperative and patient their photo-parrots were but also how well they all got along with each other. The woman who brings them over for photos can be seen walking with a dozen parrots hanging off her chewed up shirt from every side. It was almost as though their beak was a carabiner hook for clipping onto her shirt. She was truly a parrot taxi!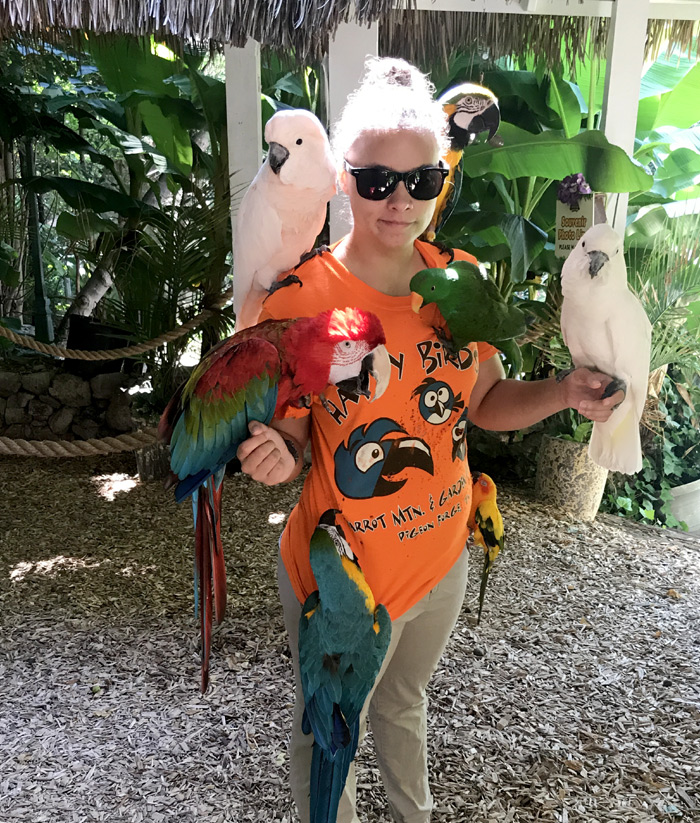 They have a lorikeet feeding aviary where you can have lorikeets fly up to you and sip nectar. Parrot Mountain also houses the "garden of eden," a secluded Christian exhibit in the forest covered country side. They also have a small cafe (with parrot on the menu) and a gift shop with lots of parrot related merch. All around a must-see sight for any parrot lover visiting the Pigeon Forge area in Tennessee and even a reason in itself to head out there.

Here's a video of my visit to Parrot Mountain including an interview with the parks owner:

| | | |
| --- | --- | --- |
| | | Tuesday February 13th, 2018 |
February 13, 2018 marks the 5 year anniversary of the Parrot Wizard company. Looking back across the years, there has been so much progress. I have really enjoyed working on all the novel parrot supplies and would like to thank my buyers and followers for helping me accomplish that.

Although it's officially 5 years, I've been making parrot supplies even longer.

Here's a brief timeline of my parrot activities over the years.

September 2008 - Bought Kili from a bird store
September 2009 - Launched TheParrotForum.com
May 2010 - Launched the Trained Parrot Blog
June 2010 - Received Truman from the breeder
July 2010 - Started selling Parrot Training Perches
October 2010 - Launched Parrot Wizard.com and started selling Ring Toss and Clickers
October 2012 - Started selling NU Perches
November 2012 - Appeared on the Late Show with David Letterman
February 2013 - Incorporated Parrot Wizard and went full time
June 2013 - Published The Parrot Wizard's Guide to Well-Behaved Parrots
June 2014 - First met Marianna and Rachel in Coney Island
August 2017 - Awarded patent for NU Perch
September 2017 - Launched a line of NU Perch Trees
February 2018 - Rerelease of new and improved Birdie Ring Toss

Even more cool new Parrot Wizard stuff coming soon.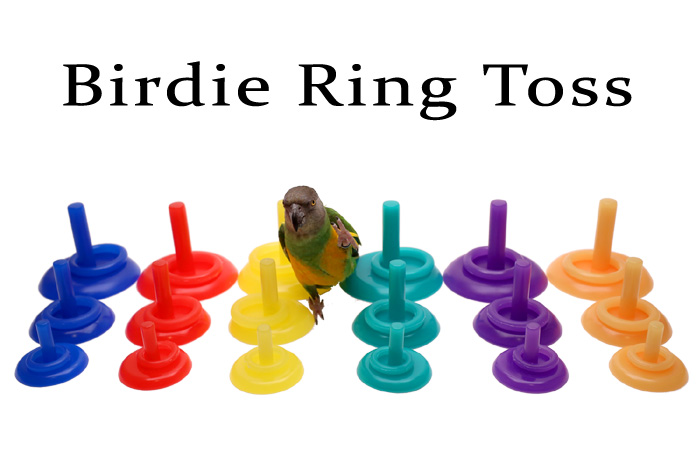 Today, on the 5 year Anniversary of the Parrot Wizard company, I am releasing a new and improved version of the Birdie Ring Toss. Now it is made entirely of parrot safe plastic so that the rings and pegs match perfectly. Going to plastic allowed me to offer more sizes as well. So now the Ring Toss trick is available in 3 sizes and 6 colors for all parrots.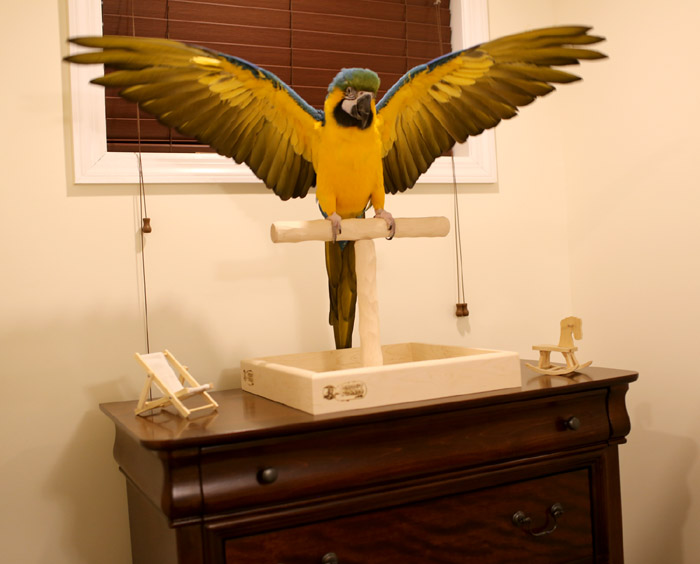 My line of NU Perches has been a pivotal part of Parrot Wizard company. I wanted to have a comfortable, natural, consistently reproducible, safe perch to use for my Parrot Training Perches but all natural perches that I could find had inconsistencies and potential hazards. So I focused my attention on developing the NU Perch. It has been the basis of a whole line of perching products including a tabletop perch, scale perch, window perch, trees, and more. Having familiar perches in the cage, for training, and around the house helps the parrot know the spots it is intended to go and helps keep the parrot off of furniture.

One more anniversary release is a Limited Edition Hardwood Large Tabletop NU Perch, an all hardwood version of the popular tabletop perch.

I've added a Video Browser to make it easy to watch all 500+ Parrot Wizard videos I have made over the years. A few more days for a chance to win some serious prizes in the Video Trivia contest.

Thank you very much for your participation and interest. Helping my viewers and customers achieve a magical experience with their pet parrots is what it's all about!


| | | |
| --- | --- | --- |
| | | Wednesday October 18th, 2017 |
Marianna and I recently got to visit Steve Hartman from The Parrot University and learn about how the Aviator Harness is made. He took us on a personal tour of the production facility and shares with you in the video at the end.

This article is about how to make a bird harness in a professional way beyond just a nylon strap and some buckles. You will get to find out some of the hidden features of the Aviator Harness that you never knew about. Getting to see how the harness is made first hand, gave me an even greater appreciation of the product that I have been using and selling for years. Much more goes into making it than I had previously realized. Here are some things that you probably never heard about the Aviator Harness as it was pretty new to me as well:

It's all in the material. The strap material used to make the Aviator Harness is carefully chosen for a combination of strength and comfort. Not only has the company tested and rejected a multitude of materials, every batch of material is tested to conform to stringent standards.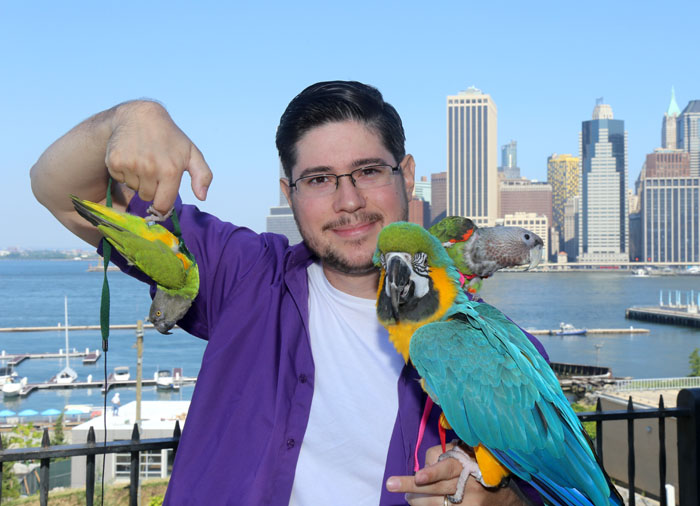 Welded, not sewn.. I've known for some time that the Aviator Harness is "welded" but never truly understood what this means or why it is done this way. It turns out that they were originally sewn together but that the parrots would immediately go for the stitches and chew them out. The weld isn't exactly a weld. It's not like they take a hot torch or iron to melt the strap to itself. Instead, they have a special machine that vibrates a pin into the material so fast that it melts together locally. It's quite strange really. The machine does not apply heat. Instead, it uses the friction of the vibration to make the material melt itself. This creates a bunch of contact points that hold it all together that the parrot cannot separate.

One metal slide is all. There is only one point of adjustment on the Aviator Harness and that is the black metal slide. Not to be confused with plastic, the slide on the Aviator is made from black powder coated steel. I got to hold these in my hand and I realized that they are much heavier and tougher than they look. This would appear to be the single point of failure for a harness, but in all my years of using these harnesses, the slide is one part that never got damaged in the slightest.

Grooming is everything. They call it grooming but it's really just a process of smoothing everything out with a torch. There are naturally a lot of rough spots such as the ends, the welds, and contact points on the strap. Each strap is held up to a flame by hand to get it smoothed out wherever there is a rough edge. It might be hard to realize this with a finished harness in hand but when you feel how they come out before they are groomed, you would realize it would be quite uncomfortably poking the bird.

They're already stretched. The strapping itself is pretty firm, especially when scaled down for the smaller birds. I remember how I used to tell people to wash their new Aviator a few times before initial use to soften it up. Well, it turns out that now all of the Aviator Harnesses are per-processed to be ready for use out of the box. They are each stretched, shrunk, or washed as necessary to be soft and ready for use out of the box.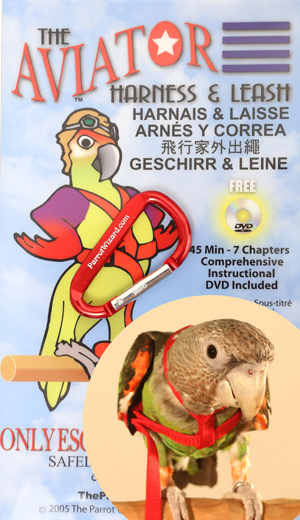 Each harness is tested. Not by a parrot but by multiple quality control checks built into the system. Because multiple different people are involved in the various stages of production, any mistakes or defects are caught early. There is virtually no chance that a bad Aviator makes it out to customers and breaks allowing the bird to fly away. They are pulled and checked over many times to make sure this does not happen.

They're made in the US. The Aviator Harnesses are made in the US by US employees. Steve employs local college students part time in addition to full time employees to produce the harnesses. He explained to me that he tried to have them made in China but that the quality was not sufficient or consistent enough to satisfy parrot owners. It is really important that each harness is safe and works out of the box but with outsourced manufacturing, it just wasn't possible to control this. So, the Aviator is put together in the US for the highest quality standards.

It takes a long time to make. By the looks of it, you'd think it could be made in a few minutes but that is not the case. There are over 20 steps in making an Aviator Harness. Multiply that by 8 sizes and 7 colors and that is a heck of a lot of steps! As the harnesses are produced, they can spend over a month moving from station to station to go through the various stages before they are finally packaged and shipped. If you wanted to make one yourself, it would take a really long time and even then, you would not have access to the specialized machinery and would have to compromise the quality. Basically, it would not be worth spending the kind of time it would take to make one from scratch.

I learned another secret during my visit, the price of the Aviator Harness is about to go up on November 1. If you don't have one or need another, order now before the price goes up worldwide at every store (including mine).

I have to say, I was genuinely impressed with how the Aviators are produced. A lot of thought, experience, and care for the parrots' welfare has gone into how they are made. It was a pleasure getting to meet Steve and his wife Judy. I'm as proud as ever to be one of the biggest vendors of the Aviator Harness in the United States. Every size and color is available for the lowest price at ParrotWizard.com. Also, please check out my own, personally made, support products such as my Training Perches, Book, and Harness Training DVD.

Here is a video of Steve showing Marianna the process of making an Aviator Harness for Parrots: