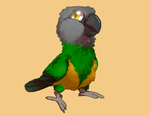 Kili
Type: Senegal Parrot
Genus: Poicephalus
Species: Senegalus
Subspecies: Mesotypus
Sex: Female
Weight: 120 grams
Height: 9 inches
Age: 14 years, 11 months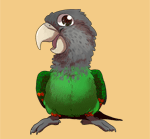 Truman
Type: Cape Parrot
Genus: Poicephalus
Species:Robustus
Subspecies: Fuscicollis
Sex: Male
Weight: 330 grams
Height: 13 inches
Age: 13 years, 3 months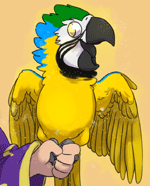 Rachel
Type: Blue & Gold Macaw
Genus: Ara
Species:ararauna
Sex: Female
Weight: 850 grams
Height: 26 inches
Age: 10 years, 11 months

List of Common Parrots:
Parakeets
:
Budgerigar (Budgie)
Alexandrine Parakeet
African Ringneck
Indian Ringneck
Monk Parakeet (Quaker Parrot)
Parrotlets
:
Mexican Parrotlet
Green Rumped Parrotlet
Blue Winged Parrotlet
Spectacled Parrotlet
Dusky Billed Parrotlet
Pacific Parrotlet
Yellow Faced Parrotlet
Lovebirds:
Peach Faced Lovebird
Masked Lovebird
Fischer's Lovebird
Lilian's (Nyasa) Lovebird
Black Cheeked Lovebird
Madagascar Lovebird
Abyssinian Lovebird
Red Faced Lovebird
Swindern's Lovebird
Lories and Lorikeets
:
Rainbow Lorikeet
Conures
:
Sun Conure
Jenday Conure
Cherry Headed Conure
Blue Crowned Conure
Mitred Conure
Patagonian Conure
Green Cheeked Conure
Nanday Conure
Caiques:
Black Headed Caique
White Bellied Caique
Poicephalus Parrots
:
Senegal Parrot
Meyer's Parrot
Red Bellied Parrot
Brown Headed Parrot
Jardine's Parrot
Cape Parrot
Ruppell's Parrot
Eclectus
:
Eclectus Parrot
African Greys:
Congo African Grey (CAG)
Timneh African Grey (TAG)
Amazons:
Blue Fronted Amazon
Yellow Naped Amazon
Yellow Headed Amazon
Orange Winged Amazon
Yellow Crowned Amazon
Cockatoos:
Cockatiel
Galah (Rose Breasted) Cockatoo
Sulphur Crested Cockatoo
Umbrella Cockatoo
Moluccan Cockatoo
Bare Eyed Cockatoo
Goffin's Cockatoo
Macaws
:
Red Shouldered (Hahn's) Macaw
Severe Macaw
Blue And Gold Macaw
Blue Throated Macaw
Military Macaw
Red Fronted Macaw
Scarlet Macaw
Green Winged Macaw
Hyacinth Macaw
Glossary of Common Parrot Terms
Toys and perches are very important for your parrot's health and well-being. They're more than just for your parrot's entertainment, although that is a very important role as well. They provide necessary exercise to your bird's beak and feet!

Having a huge cage for your parrot is great. But if that huge cage isn't extensively filled with perches and toys, it is just as well a tiny cage. The main advantage of a huge cage is that there is an opportunity to put a lot of perches for your parrot to move around on and many toys to motivate it to come to. Without them, you'll just have a parrot sitting in one part of the cage all day doing the same as it would if it were in a smaller cage.

Perches are the foundation of your parrot's living space. The bird spends all day on its feet. Having a good variety of different perches provides diversity and comfort to your parrot's feet by allowing it to change and choose its perching. Forget about dowel and plastic perches. Throw them out. They are no good for your parrot. Take caution of natural perches that are straight and smooth as a dowel. Just because they are natural, doesn't do any good if they act the same way as a dowel.

The four typical kinds of perches are:

Natural
Rope
Cement
NU Perches

I would strongly encourage you to offer all four types so that your parrot has the most variety and choice. Wood perches should be the Natural perches are fun because each one is different. The diameter, texture, and shape will vary. This is great for your parrot. Unfortunately, you don't always know what you are getting when ordering online and some natural perches don't offer all of the advantages of being natural. Sometimes it isn't possible to make wildly wavy perches properly fit the rectangular orientation of a bird cage. For this reason, I came up with and patented the NU Perch. These perches offer the maximum amount of variation, choice, and comfort while also being totally safe and affordable. Provide a variety of different lengths, thicknesses, and hardness of perches so that your bird can experience different perching techniques as it moves about the cage.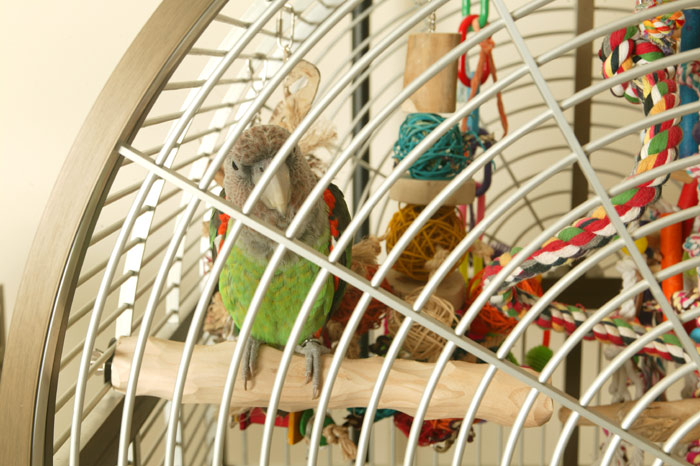 Rope perches and cement perches are good additions to wood perches but only in moderation. The cement perches can help keep your parrot's claws trimmed and it's a different texture than all other perches. However, excessive use of cement perches can greatly irritate the bird's feet. Never put a cement (or other sanding type) perch where your parrot sleeps. In other words, don't put the cement perch up high or where your parrot goes a lot. Ideally, place a cement perch in a place your parrot visits just a few times a day. For this reason, a cement perch serves very well by the bird's water (bottle or bowl). It only takes a few drinks a day but otherwise does not spend an excessive amount of time in that area.

Rope perches are the exact opposite of cement perches. Instead of being hard and harsh, rope perches are smooth and comfy. This is a good thing but in moderation. Rope perches can provide relief from firmer perches. But if used excessively, they may cause the bird's feet to be too sensitive on harder surfaces. Also, extreme caution must be taken if the bird chews on the rope perch. Two major hazards can be caused by chewed rope perches. First of all, some birds ingest the rope and can develop a crop infection. Another hazard is that the bird can get its foot or claw caught in the chewed strands of rope and get stuck. So, to avoid either case, inspect the rope perches regularly and replace preemptively if there is any sign of damage.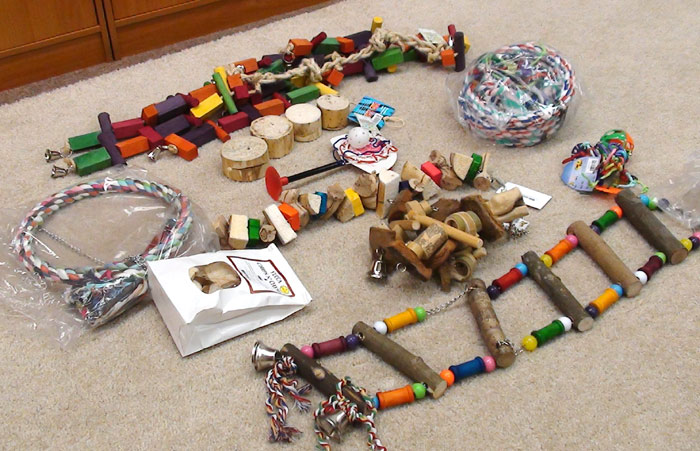 Just as perches are to your parrot's feet, toys are a health requirement for your parrot's beak. Parrots use their beaks quite extensively in the wild for feeding, nest cavity making, and playing. We won't be providing nesting opportunities to our pet parrots but we should nonetheless give them lots of chances to chew. Toys are a good human alternative to the chewing challenges that parrots would encounter in the wild. Abundance of toys is very important. Different shapes, textures, materials, and challenges will keep your parrot and its beak busy in different ways. Some materials such as plastic are tougher and will require harder chewing than softer materials like wood. Providing variety and abundance will improve your parrot's activity and provide the pleasure of choice.

Perches can also be a source of chewing pleasure and beak exercise. My parrots love the NU Perches in their cages not only because they are comfortable on their feet but also because they provide a reasonable chewing challenge. On one hand, the perches are soft enough that the birds can chew them if they choose to. On the other hand, they are tough enough that it takes them a while to really destroy them. I don't know why sometimes they leave perches alone and chew only toys and other times focus on the perches instead of toys. But by providing them the abundance and variety, I can ensure that they are kept busy, happy, and healthy in any case.

Keep in mind that the best deterrent against developing a feather-plucking problem is keeping the bird busy chewing things that are not on its body. Just because there are toys in the cage doesn't mean they are serving much useful purpose if they don't end up in a pile of splinters on the bottom of the cage. Looking, touching, and playing with the toys is only a small portion of their purpose. Getting the beak and mind exercised in the process of chewing them up is the biggest purpose. In the case of most parrots, something is going to get chewed up at the end of the day be it the bird's toys, perches, your furniture or stuff, or its feathers. In order to avoid it being the feathers or furniture, it is best to focus on toys and perches.



Some toys are just too difficult, thick, hard, or boring for your parrot to chew up. Offering a variety of different kinds of perches is a good way to improve the likelihood of the toys working out. However, sometimes the parrot just won't chew any of it up. The best way to get it started is to get smaller or easier toys that are meant for a smaller species than what you have. Letting the bird have success with a toy that is too easy can give it the motivation to tackle some of the tougher toys that are meant for its size. The toys gotta get chewed up in order to be serving their purpose.

Every parrot is different so what works for some parrots may not work for others. Let your parrot exhibit its own personality and develop its own preferences. Provide abundant variety of perches and toys so that it can make the most of them and grow its choices.

Here's a video of Marianna getting some new perches and toys for the flock and then rearranging their cages with the new goodies:


| | | |
| --- | --- | --- |
| | | Thursday April 27th, 2017 |
Looking for a fun and easy trick to teach your parrot? Wondering how you can teach a parrot to bowl? This free trick training guide is about how you can train the Birdie Bowling trick to your parrot!

I love the Birdie Bowling trick because it looks a lot more impressive than the effort it takes to teach it. This is a trick that suits virtually all kinds of parrots and is easy to teach (basically everything except budgie, lovebird, or parrotlet because it is too big for them). This was the first prop based trick I ever taught to Kili and I recommend it to people as their first prop trick.

So here's a step by step guide on teaching a parrot to bowl:

Step 1: Get the Birdie Bowling Set for your parrot from ParrotWizard.com.

Step 2: Make sure that your parrot is target trained. If it isn't, teach it to target before you start teaching the bowling trick. If it is already target trained, just do a quick review to remind it what to do.

Step 3: Desensitize the parrot to the bowling toy. Most parrots get scared of new stuff. The good news is that the more tricks you teach, the more the bird will get used to accepting new things. The best way to desensitize the bird to the bowling toy is to target it near the toy. Place the bowling toy on a table beforehand. Bring your parrot and set it on the table far from the toy. Get the bird into a rhythm targeting. Target it randomly in different directions and not strictly toward the bowling or it may get suspicious. Target it around randomly but little by little, more and more toward the bowling. Let the parrot pay more attention to the targeting exercise and forget about the bowling until you are able to target it right by the bowling at ease. It is better to take the time to do the desensitization exercise even if the bird didn't get scared than to scare the bird with the toy first and then try to change its mind.

Step 4: Target the bird toward the bowling ball with your target stick. Set the pins aside for now. Place the ball on the ramp and use the target stick to direct the bird to the ball. Say "target" and when your bird touches the stick, click and reward. After the bird gets good at this, point to the ball with your finger and say "target." The bird should do the same as before but touch the ball instead of the non-existent stick. If it doesn't catch on, keep practicing with the stick some more.





Step 5: Get the bird to push the ball. This part is a bit tricky and requires careful scrutiny on your part. Saying "target" and pointing to the ball should get the bird to come to the ball and touch it. But we're not trying to get the bird to just touch it. We want the bird to push it. This is where some clicker training really comes in handy. Using the "target" command, we can get the bird to touch the ball. In the beginning, accept by click/rewarding any touch of the ball. However, as the bird continues to improve, require firmer touches and presses of the ball to receive a click/treat. What you will most likely encounter is the bird getting a bit frustrated when it touched the ball and got nothing, then it will start attacking or shaking the ball in an attempt to get the touch to work (like pushing the dysfunctional elevator door close button a million times). This is your chance to watch for the moment of maximum pushing to click/reward. At some point, the bird will push the ball hard enough that it will roll of the ramp and this is the time to click and give a jackpot reward to mark success. If the bird never overcomes pushing it over the bump, you can try holding the ball just over the bump and encouraging it to push. Let go when it does so that the bird can realize that pushing it to move is what gets the click/treat. Eventually it should learn to push harder and be able to push it on its own.

Step 6: Set up the pins, set up the ball, tell your parrot to "bowl," and enjoy! Click the moment the parrot pushes the ball off of the ramp and give a treat. Eventually you won't have to click because the bird will learn that getting the ball rolling is the entire purpose.

Here's a short tutorial I made with Kili to illustrate the key steps of the process:

As you probably know, I love using the Aviator Harness for taking my parrots outside. It's the easiest and most reliable harness to use. Now I wanted to mention all the different colors that these harnesses are available in. They come in Black, Red, Green, Silver, Blue, Pink, and Purple. The variety is good because it can help you match the harness to your bird.

There are two ways to choose a color harness for your bird. Either match the color to your parrot's plumage and outer appearance or get a funky cool color to match your parrot's inner personality. I would recommend sticking to a matching or bland color for your first harness so that it is least distracting to the bird. However, once the parrot is accustomed to wearing a harness, there should be no problem picking any color you'd like.

Here are some harness color recommendations by species:
Green Cheek Conure - Petite Size Green
Ring-Necked Parakeet - XS Size Green
Sun Conure - XS Size Red
Senegal Parrot - XS Size Green
Galah - Small Size Pink or Silver
Timneh African Grey - Small Size Silver
Congo African Grey - Medium Size Silver or Red
Amazon Parrots - Small or Medium Size Green
Eclectus - Medium Size Green or Red
Blue and Gold Macaw - Large Size Blue or Red
Scarlet Macaw - Large Size Red
Green Winged Macaw - XL Size Red
Hyacinth Macaw - XL or XXL Size Blue

You can buy an Aviator Harness in any available size and color here.

Truman models the available colors: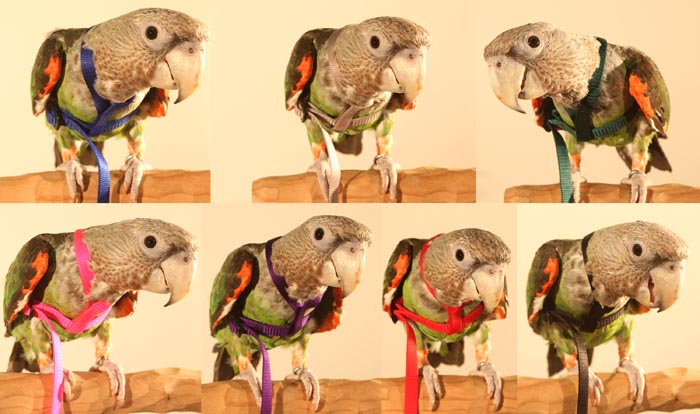 Video of Truman putting on each harness color
| | | |
| --- | --- | --- |
| | | Wednesday April 2nd, 2014 |
Kili & Truman are moving to the new house where Santina has already been in quarantine. Now that Santina is clear of infection and moved to the big room, the smaller room - originally planned for cages - is now vacant. Having had a powder coat steel cage for Kili and aluminum Kings cage for Truman, I knew immediately what I'd be getting the birds at the new house.

After having Truman and his cage for 4 years, I continue to stand by the original review I did of the aluminum cage. It's expensive and it's not perfect. But it's the best cage for the money hands down. Powder coat cages just aren't sufficient in quality. Inevitably after a lot of use and washing, the coating comes off and they rust. Stainless steel cages are unbearably expensive. The aluminum cage is lighter in weight, easy to assemble, and overall good quality.

For the price, I think the aluminum cage line provides the best bang for the buck. At roughly double the price of a comparable powder coat cage, you get the benefit of non-corrosiveness that you can get from stainless steel at even twice more. As you folks probably know by now, I'm more value driven. I don't mind spending more but I hate spending more when I don't feel a sufficient benefit to justify the price. That's why I think a cage made from aluminum is the perfect compromise.

When you think about the long lifespan of a parrot and estimate the value you will get out of a cage, paying more up front for a cage makes more sense. Let's say the parrot will live 20+ years but the cage won't even make it that far. Depending on how bad you're willing to let the cage get before replacing it, I'd say it is reasonable to say that 5-10 years is realistic for the powder coat and 10-20 for the aluminum. Stainless might last even longer but if it's poor quality stainless it might not. Usually the hardware, hinges, food doors, etc will fail before the bars and the hassle will make the cage need replacement regardless. So if the aluminum cage can solidly last twice as long, at about twice the price it's a good deal. This is because you're getting a better cage with thicker bars during that time. There won't be any rust or chipping even when the cage begins to be less than desirable to keep.

Only one company makes aluminum parrot cages so there's no shopping around, Kings Cages. There is only one cage design to choose from but two sizes. I just call them the small aluminum cage and the big one. Kili is getting the small one which measures in at a sizable 25"x22"x45". This cage has 5/8" bar spacing and is great for Senegal Parrots, Conures, Cockatiels, Quakers, and other similar sized parrots. Considering that Kili is moving up from a 18x18x32 powder coat cage, it's an immediately obvious improvement. Back when I got Kili and that cage, I didn't know any better and until I was moving didn't find the chance to replace it. Truman on the other hand is getting a new version of the same cage he used to have as well. This one is 33"x25"x49" and makes a good sized cage for a Cape Parrot, Timneh Grey, Galah, or Smaller Amazon. I'm not sure if I would keep a CAG in this cage though. Maybe a smaller CAG yes but not the really big 600g ones.

The Aluminum Kings cages in 2 sizes come in 3 styles: standard, arch top, and play top. To me, all but the dometop are a waste of money. The playtop is expensive and not beneficial. Parrots will play on top of their cages with or without one and frankly a separate tree or stand is much better to have. The standard cage loses a lot of good living space without the archtop (playtop version included). For just a few $100 more and not a substantial amount in proportion to the main price, the living space is greatly expanded. There is a downside to the dometop though. Clumsy and baby birds can have trouble climbing around on it. When Truman was a baby he used to have trouble getting around and would fall off. But for agile adult birds this is no factor. It's also a bit of a pain trying to reach up and around to clean the dometop from inside.



I am handy with tools so the fact that the Kings Cage is so easy to put together plays little role. But, for most consumers this is a huge plus. It comes in just 8 pieces and all but the top two of the arch just snap together. The arch top connects with just 4 standard screws. Assembly is easy but you must pay attention that alignment is perfect or it won't come together. It only took 10 minutes to assemble the small cage by myself and then 10 minutes to assemble the big one with the help of my brother.

As I said in my first review, I don't like the wood dowels and plastic food cups.I immediately replace these with stainless steel cups and natural or NU Perches. The cage is actually a bit harder to clean than the powder coat one but not substantially enough to make it less worthy. The lighter weight and mobility make up for that. Another issue is plastic handles for the food doors can potentially be chewed off by any parrot. Most of the flaws are little nit picks and nuisances whereas the cage overall is solid, durable, and reliable.

So is it my dream cage? Does it have every feature/quality I'd want in a bird cage? No. But it is by far the best quality and value cage I have encountered and the one that I choose for my parrots Kili & Truman.


| | | |
| --- | --- | --- |
| | | Thursday January 16th, 2014 |
I haven't given much thought to what Kili & Truman prefer as treats in a long time. The initial process for discovering a bird's favorite treats involves offering variety and watching what order they eat things in. But it's been years since I've done that with these two and with time I've began to notice that it doesn't make much difference what I give them. They are always content with what they get.

During a lot of my training I use Roudybush pellets as rewards for flight recall and training because that's what my parrots normally consume and it's healthier for them than eating other stuff. By teaching them to work for pellets it has made their performance a lot more reliable. There is much less of the "well I would come to you for a sunflower seed but I think I'd rather pass if you've only got a safflower..." attitude when they know what they'll get but yet prefer it.

So now I put it to the test, after years of healthy eating habits with uncolored Roudybush Maintenance pellets as the staple of their diet, what do Kili & Truman prefer when given the choice?




10 for 10 Kili picked Roudybush pellets over sunflower seeds. Truman was 8 for 10 on this trial run but anecdotally prefers pellets even more than Kili. I later discovered he was trying to outsmart me by grabbing the seed so he could get the pellet too so I don't really think it counts! Anecdotally I would say that I've noticed a 9/10 typical preference for the birds to take pellets over seeds. Once in a while they just like something different for fun or variety and that's perfectly normal. If pellets make up the dominant portion of their diet, this is absolutely considered to be more healthy by avian veterinarians.




if you think about it, the same holds true for people. People who are used to healthy eating can enjoy healthy food more and don't feel forced to eat right. I know when I am out and about and active a lot, I will sooner go for a healthy meal than junk food and it's the same with my birds. They exercise a lot and work hard and at the end of the day, they want what will sustain their bodies and not just some momentary pleasure at the expense of their long term health.

Santina has converted to Roudybush Pellets readily and predominantly gets pellets for training as well! I'm not certain she would qualify as well as Kili/Truman in a similar test but I can tell you she runs down her perch and jumps on my arm to get a pellet so we're definitely on the right track.

Interestingly the same results continued for pellets vs nuts as long as the nut wasn't bigger than the pellet. However, the birds will often go for a small piece of pellet over an average piece of nut or seed. Moral of the story is that parrots that are cared for using my method, choose healthy eating. If they are choosing healthy eating then we can be assured that they are content with the healthy food we are feeding them. Happiness and healthiness go hand in hand and are the basis of my approach. Learn how to give your parrot the Wizard's treatment from my book, The Parrot Wizard's Guide to Well-Behaved Parrots.