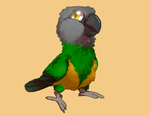 Kili
Type: Senegal Parrot
Genus: Poicephalus
Species: Senegalus
Subspecies: Mesotypus
Sex: Female
Weight: 120 grams
Height: 9 inches
Age: 15 years, 3 months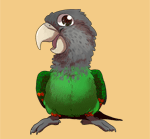 Truman
Type: Cape Parrot
Genus: Poicephalus
Species:Robustus
Subspecies: Fuscicollis
Sex: Male
Weight: 330 grams
Height: 13 inches
Age: 13 years, 6 months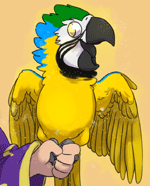 Rachel
Type: Blue & Gold Macaw
Genus: Ara
Species:ararauna
Sex: Female
Weight: 850 grams
Height: 26 inches
Age: 11 years, 3 months

List of Common Parrots:
Parakeets
:
Budgerigar (Budgie)
Alexandrine Parakeet
African Ringneck
Indian Ringneck
Monk Parakeet (Quaker Parrot)
Parrotlets
:
Mexican Parrotlet
Green Rumped Parrotlet
Blue Winged Parrotlet
Spectacled Parrotlet
Dusky Billed Parrotlet
Pacific Parrotlet
Yellow Faced Parrotlet
Lovebirds:
Peach Faced Lovebird
Masked Lovebird
Fischer's Lovebird
Lilian's (Nyasa) Lovebird
Black Cheeked Lovebird
Madagascar Lovebird
Abyssinian Lovebird
Red Faced Lovebird
Swindern's Lovebird
Lories and Lorikeets
:
Rainbow Lorikeet
Conures
:
Sun Conure
Jenday Conure
Cherry Headed Conure
Blue Crowned Conure
Mitred Conure
Patagonian Conure
Green Cheeked Conure
Nanday Conure
Caiques:
Black Headed Caique
White Bellied Caique
Poicephalus Parrots
:
Senegal Parrot
Meyer's Parrot
Red Bellied Parrot
Brown Headed Parrot
Jardine's Parrot
Cape Parrot
Ruppell's Parrot
Eclectus
:
Eclectus Parrot
African Greys:
Congo African Grey (CAG)
Timneh African Grey (TAG)
Amazons:
Blue Fronted Amazon
Yellow Naped Amazon
Yellow Headed Amazon
Orange Winged Amazon
Yellow Crowned Amazon
Cockatoos:
Cockatiel
Galah (Rose Breasted) Cockatoo
Sulphur Crested Cockatoo
Umbrella Cockatoo
Moluccan Cockatoo
Bare Eyed Cockatoo
Goffin's Cockatoo
Macaws
:
Red Shouldered (Hahn's) Macaw
Severe Macaw
Blue And Gold Macaw
Blue Throated Macaw
Military Macaw
Red Fronted Macaw
Scarlet Macaw
Green Winged Macaw
Hyacinth Macaw
Glossary of Common Parrot Terms
I hate getting bit by a parrot! Those beaks are sharp and strong! They can leave painful bloody marks for weeks. In fact, I dislike parrots biting so much that I just avoid getting bit altogether! In this article and video, I want to present to you my guaranteed method to never getting bit by your parrot!

So if you are wondering, how can I stop a parrot from biting? How to teach a parrot not to bite? How to punish a parrot for biting? Or what can I do to avoid bites from a parrot or parakeet, you've come to the right place.

What is a parrot bite? Let's start by defining a parrot bite. Not every contact of the beak to hand is necessarily a bite. For the message conveyed in this article, we will set using the beak to touch, feel, grasp, nip, or hold aside. A parrot bite is when a parrot uses its beak upon your hand or body in a strong enough manner to break skin, possibly cause bleeding, for the purpose of affecting your behavior or action. So, basically if the parrot uses its beak to hurt you because it wants or doesn't want something from you.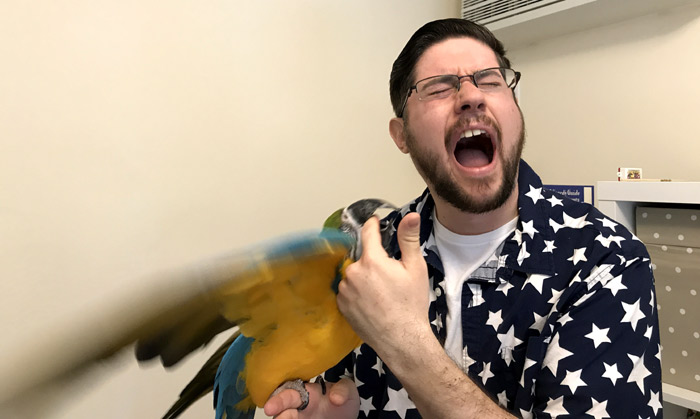 The solution to get your parrot to stop biting you? Very simple! Keep your hands to yourself! If you and your hands are never close enough for the parrot to bite you, virtually all biting will be prevented. A parrot almost never comes over to you with the purpose to bite you. Bites occur almost exclusively when you are trying to touch, pick up, put down, or hold your parrot. If you stop doing that, you will stop getting bit!

Don't forget this applies to other body parts besides hands as well. If you stick your nose toward your parrot, try to kiss, or have your parrot on your shoulder, you could get bit on the face. If you keep your hands and body parts away from the parrot, you won't be bit.

In the most extreme case of a parrot that deliberately walks over to bite you or worse yet flies at you to bite you, one further step may be required which is to keep a physical barrier between you and the bird like the bars of the cage. If the bird is in a cage and you don't stick your hands in or near the cage, I guarantee that bird will not bite you either. That's it, simple as that, biting is solved. I bid you adieu.

But, wait a minute, if you can't use any part of your body on the bird, then how can you take it out of the cage? If you can't take the bird out of the cage, how can you change food/water and clean the cage? How can you enjoy this bird as a pet if you aren't allowed to do anything in order to avoid getting bit? Now that is where the real effort begins. As I have pointed out, solving biting is extremely easy. Keep your hands/body away from the parrot and you won't get bit or keep the bird in the cage. The real effort comes in how to take the bird out of the cage without your hands. How can you put the parrot back into the cage? How can you play with the bird without using your hands?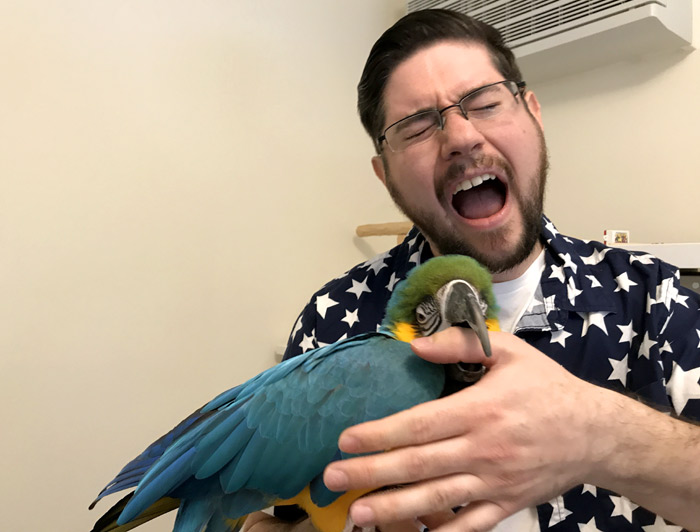 First off, especially if you have a particularly bad biter, starting with hands off interactions is a great place to begin. There are many things you can start doing with your parrot right away that don't involve your hands being close enough that the parrot can bite you. Target training, trick training, and talking can often be done without any close contact or biting. These are a great place to start.

Next, you should learn how to apply training to teach your parrot to target reliably. You can use a Parrot Training Perch to practice step up exercises where your parrot learns to want to come onto your hand by itself rather than you putting your hand up to the parrot and getting bit. The DVD included with the Parrot Training Perch Kit demonstrates how to practice these exercises.

As you build good habits and routines based on positive reinforcement training, you will start being able to do things that you want with the parrot without getting bit. The exercises described in my book and other supplies teach you how to build up training momentum gradually where the parrot is able to feel comfortable and does not feel the desire or need to bite you. Using tools like the clicker, target stick, training perch, and more, you will be able to keep your hands safely away from the bird while teaching cooperation. The entire time that training is going on, you are going to feel safe from biting and the parrot will not feel the need to bite. A win/win for everybody and good habits to follow.

Now when it comes to punishment for biting, that is the trap that most people fall into. When most people think about how to stop a parrot from biting, they are thinking about some kind of punishment or consequence that would convince a parrot not to bite any more. The punishments that people try to inflict can range from a stern look, to shouting, saying no, pushing, hitting, squirting, putting down, returning to cage, or throwing the bird. Unfortunately, not a single one of these or any other responses will actually teach the parrot not to bite next time. The milder punishments don't do anything or possibly even encourage biting because it might be fun for the bird to get you to react and talk. The harsher punishments will make the parrot entirely fearful of you and even more likely to bite in the future to try to keep you away and thus protect itself from you inflicting further punishment or harm to it. This is why the punishment or consequence in response to biting does not help prevent future biting. But, keeping your hands to yourself and using positive reinforcement training to teach the bird to voluntarily do what you want it to do is what really works.

Some people feel that if they don't respond to a parrot biting with some sort of punishment or consequence that the parrot will think it is boss and bite more in the future. The problem is that it will still hurt to get that bite and the parrot still keeps biting in its arsenal of ways to behave. By keeping your hands to yourself and avoiding any bite in the first place, this is the first and correct step in taking biting entirely out of your parrot's toolbox of trying to get you to do or not do something. It is better to use positive reinforcement training to get the parrot to come onto your hand because it wants to rather than to try to hurt the parrot in response for being forced onto your arm when it did not want to step up in the first place. Responses to biting keep biting going. Avoiding opportunities for bites to happen actually teach a parrot how to behave instead of biting for the long run!

Many people will talk about what they do in response to a bite. The thing is, if their response was a smart and effective one, they would not have to have a response to biting anymore because it would be resolved. Punishments and responses don't work and that's why people keep trying them with no solution. On the other hand, using the approach I have outlined here and teach throughout my site, I haven't received a single parrot bite in many years. I don't have a response to biting! Instead, I keep my hands away from a parrot that doesn't want contact or that I am not familiar with until I can develop a friendship where the parrot would welcome it.

This is why the bite photos I used in this article are fake. They were staged. My parrots don't actually bite me so I would not be able to show you a photo of what that looks like. So, I just put my finger in Rachel's beak and just pretended to be in severe pain. Even though her beak was on my finger during the photo, she was not actually squeezing or causing me any actual discomfort. Acting. That's what you gotta do when you have such an effective solution to parrot biting that you can't even show or remember what it looks like!

You can stop bites immediately by keeping your hands away from the parrot for now. To get your hands on the parrot, have the parrot step up, and develop a great relationship with your bird, enjoy all the Parrot Wizard resources available to you. Browse my complete collection of free Parrot Wizard Videos, read free Parrot Training Articles, read my book The Parrot Wizard's Guide to Well-Behaved Parrots, get a Parrot Training Perch Kit, explore the Parrot Wizard Lifestyle, shop for behavior enhancing supplies.

So, please stop having to endure painful parrot bites going further by following this advice. Do things that keep your hands away and safe for the parrot while working on incorporating training to teach the bird how to cooperate voluntarily. Here is a video with more information and thoughts about stopping parrots from biting.




| | | |
| --- | --- | --- |
| | | Thursday December 5th, 2019 |
If you are thinking about getting your first parrot, just got your first parrot, or even thinking of getting another parrot, here is a page with videos that will help get you started. These videos will give you guidance and answer questions such as where can I buy a parrot? Should I get a parrot at a bird store, rescue, or breeder? How do I know what kind of parrot to get? How much does a parrot cost? What are the pros and cons of getting a parrot or parakeet? How to adopt a parrot from a rescue? And much more.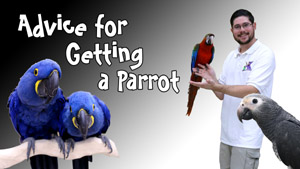 You will find several hours of free video tutorials that will help you make informed decisions when getting your first bird! Videos that will get you on the path to parrot ownership, answer basic questions, and give you guidance to doing it all right. Once you actually get a parrot, then you will find all the rest of my parrot care and training videos to be more relevant.

Be sure to check out my detailed list of essential supplies for first time parrot owners. It covers some essential items that will enhance your parrot keeping experience and relationship right from the start.


Tips About Getting a First Parrot
5 Myths About Parrots Debunked
Shopping for Parrot Supplies at PetSmart??
PETCO!? Can you get parrot suplies at petco?
How to Get a Cheap Parrot - Paying Less Money for a Bird
What Age to Get a Parrot?
What Is Easier, a Small Parrot or a Big Parrot?
Can You Get a Parrot Shipped to You?
8 Bird Store Secrets Bird Stores Won't Tell You!
Positive Reinforcement for Parrots Explained
How to Volunteer, Adopt, and Support Parrot Rescues
Want a Free Parrot?
Getting Another Parrot - Good Idea or Not?
| | | |
| --- | --- | --- |
| | | Thursday November 2nd, 2017 |
A little over a year since adopting Santina from me, Lori came to NYC to visit. Lori and my wife Marianna have become good friends and wanted to go sightseeing around NYC and doing bird stuff. They played with our birds, visited bird stores, and did some rescue fund raising in the city.

Santina was in good hands with Lori's friend while she went away. Lori had been preparing Santina and her friend almost since the beginning for some eventual absence. Lori did not know how, when, or why she might not be around to take care of Santina but she knew that the possibility can always exist (even if not deliberate, say an emergency). So, when a trip to visit us in NYC came up, Santina and her birdsitter were already prepared.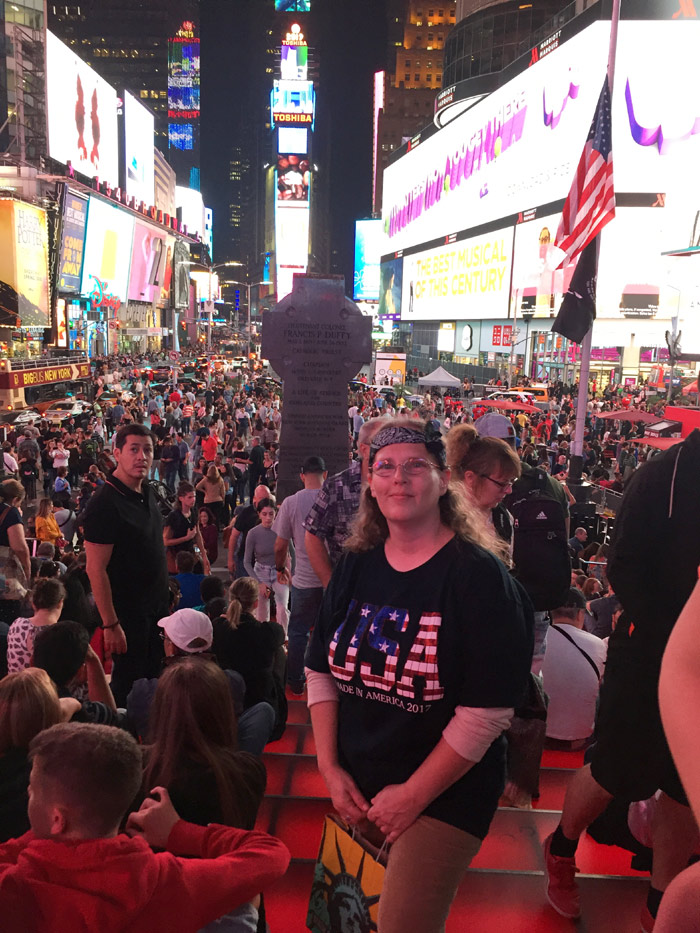 Marianna took Lori to the Statue of Liberty, Times Square, Central Park, and all around New York City. They also spent a long time seeing birds at the Todd Marcus Exotic Bird Store, and a few others. Lori enjoyed getting to spend time with Kili, Truman, and Rachel as well.

Lori and Marianna spent a day in Central Park offering pictures with the blue and gold macaw Rachel to raise money for Ginger's Parrots Rescue. They raised $150 for the rescue. Not only that, Rachael got some much needed socialization and helped educate the public about parrots.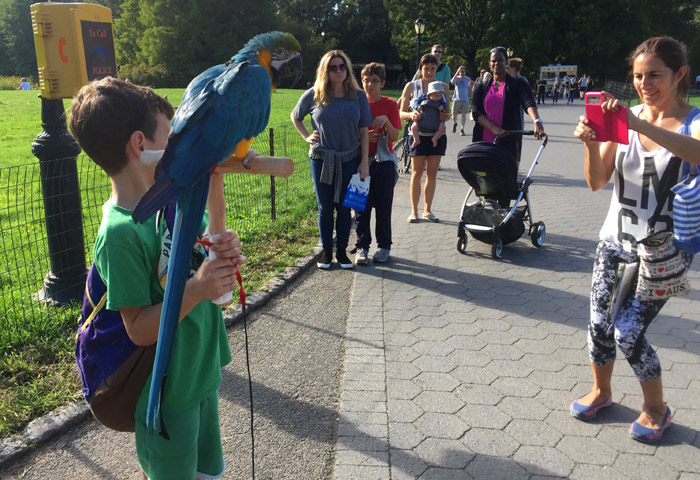 Then came the visit to Santina. We flew Lori back to Pittsburgh in my airplane and stayed the night to spend some time with Santina. The last time I had seen Santina was Christmas of 2016. It has been over a year since her adoption and 10 months since I had last seen her. I was not sure if Santina would still remember me or be alright with me handling her. To be on the safe side, I took my time getting to know her again like meeting a new parrot. I did not barge into the room and just demand she step up. Instead, I let Lori handle her a bit first and then I just gave her a nut. Santina took the nut just fine so I offered her to walk over and step on my arm. She came over just fine and put herself on my arm and got a nut. Santina was lovey dovey in no time. However, if I just assumed that she would remember me and things would be fine, it could have overwhelmed her and led to trouble. It's always best to err on the side of caution and give the bird time to adjust.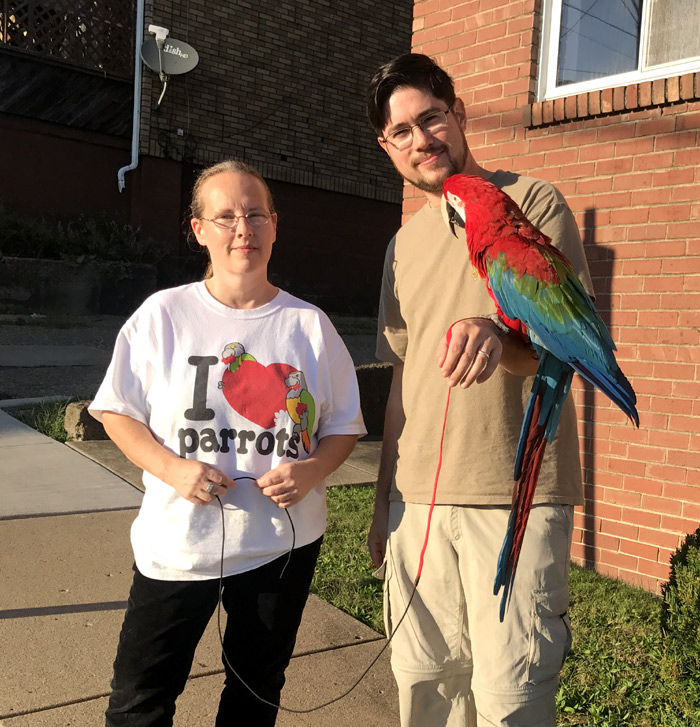 Lori put Santina's harness on so we could go outside. This was pretty effortless since Santina was carefully trained to wear the harness and Lori continued using the same method. We walked around her town a bit with Santina and even passed her back and forth between us. I'm really happy to see Santina in such good hands and to see how much joy Santina brings to Lori as well.


I visited the Gabriel Foundation outside of Denver recently. This is a spectacular parrot rescue that should serve as a role model not only for other rescues but even stores and private owners as well!

The Gabriel Foundation was started by Julie Weiss Murad over twenty years ago. The foundation is more than just a rescue. It is a parrot welfare center. They take in relinquished birds, they find homes and adopt out birds, they rescue abused birds in emergency need, and the provide lifelong sanctuary to birds that cannot be adopted to homes. But their efforts extend beyond the birds. They offer educational programs, assistance, and volunteer opportunities to people so that they could become better connected with their parrots.

I found several things extremely impressive during my brief two day visit to the Gabriel Foundation. The most noticeable thing is how incredibly clean everything is! The cages there are cleaner than those at any bird store, rescue, or even most private homes I have ever visited. And I know parrots well enough to tell you that it's not because the parrots aren't making a mess. It's the endless cleaning efforts of the staff that make this happen.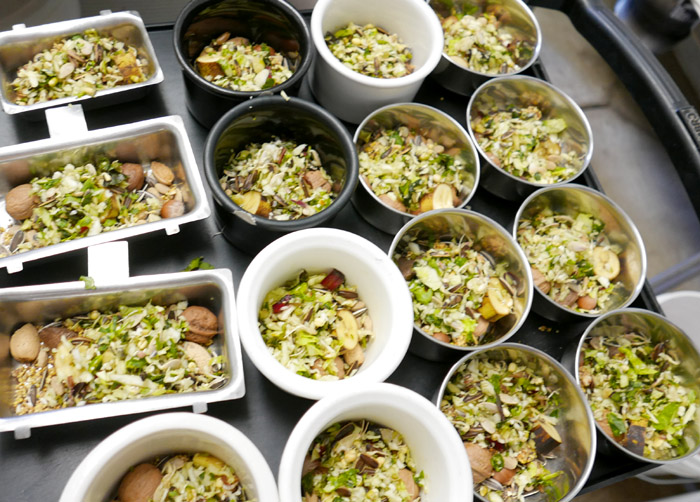 Every cage is filled with a multitude of perches and toys suitable to the parrot enclosed. Again, a better and more suitable effort than even many parrot owners in their home. The same holds for the feeding routine. They feed an extensive variety of foods on a twice daily schedule with proper portion sizing.

Perhaps the most impressive thing of all is that none of the parrots have their wings clipped! You cannot find a store or almost any other rescue where the birds don't have their mobility hindered for the convenience of the care takers. Yet, at the Gabriel Foundation, the birds are given the chance to be birds! Off the bat this ends up solving many of the problems that the birds may have been relinquished to the rescue for in the first place. Most parrot behavioral problems come as a side effect of wing clipping and the owner's misunderstanding of how to properly keep a bird.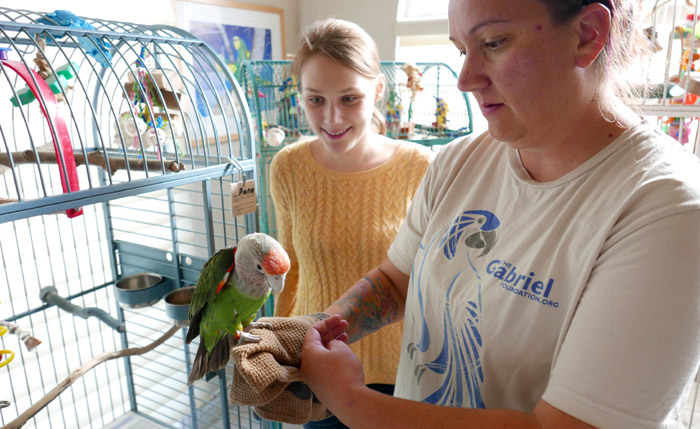 One more thing that the birds at the Gabriel Foundation get that most other rescue, store, and even home pet birds don't is outside time with access to direct natural sunlight. This is as important for the birds' mental well-being as it is to their physical health. I am so impressed to encounter such a large scale organization that really gets it. The Grabriel Foundation is doing things right. They are not taking any shortcuts. They are providing the birds in their care with the kind of care the bird's should really be receiving in a home. Things are almost too good to be true and begs the question, why even adopt a parrot from the Gabriel Foundation if they have it so good there?

Well, according to Julie, the parrots are better off in a home because of the greater human contact. These parrots were domestically bred and raised in homes with people. Although they might have a grand time in aviaries with other parrots of their species, ultimately, they are more comfortable in the human environment in which they were brought up. The Gabriel Foundation simply offers those birds the best possible interim solution until they can find the right home. This also frees up a space at the foundation so that another parrot in need could have the opportunity to make it through the system as well.

By setting the standards so high and so right at the Foundation, it makes it a bit challenging for adopters to meet those kind of standards. The good news is that they are not without help. The foundation goes through great lengths to educate and assist adopters as much as they require so that they could continue the wonderful legacy that the Foundation had started.

I have to say that most times I visit a parrot store or rescue, I end up leaving with a painful feeling in my gut. I get quite upset at the dark, dirty, insufficient perch, insufficient toy, clipped, and ignorant conditions that I come across. Frankly, I tend to avoid visiting stores and rescues to shield myself from the distress that they cause me over the treatment of the birds. Coming to the Gabriel, I had heard good things, but didn't really know what to expect. Incredibly, it was the exact opposite of the typical experience. I would like to encourage any parrot owners, bird store owner, breeder, or rescue staff/volunteer visiting the Denver area to pay the Gabriel Foundation a visit and learn about how good parrot care and parrots themselves can be.

Ginger's Parrots Rescue is following a similar model but on a smaller scale and specifically focused on Senegal Parrots and Cockatiels in the Phoenix area.

Here's a video tour of a portion of my visit to the Gabriel Foundation:

| | | |
| --- | --- | --- |
| | | Thursday January 19th, 2017 |
Ginger's Parrots Rescue, a 501c3 Rescue based in Arizona, is really innovative when it comes to bird rescue. It is the first of its kind. Ginger's Parrots Rescue specializes in Senegal Parrots and Cockatiels. By being a species oriented rescue, Ginger's is able to put a greater amount of expertise and knowledge into rescuing, rehabilitating, and adopting out these parrots.

The Birdie Bus is the newest innovation of Ginger's Parrots Rescue. The bus allows the rescue to go mobile and cruise around the Phoenix area to search for potential adopters for the birds in need. The bus can transport many (but not all) of the rescue's birds at once so that the public can learn about parrots and consider adopting one. Ginger takes the bus to PetSmart adoption days to offer a bird adoption in addition to cat/dog adoptions normally performed inside.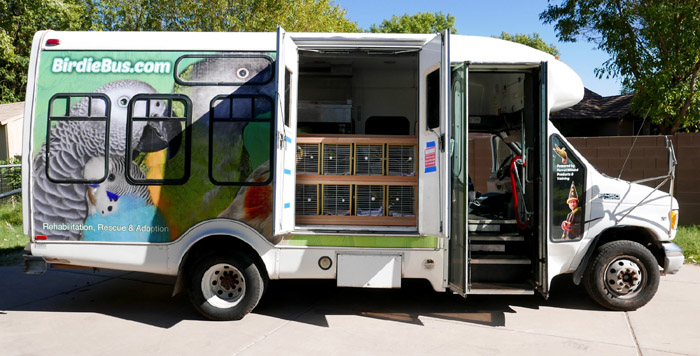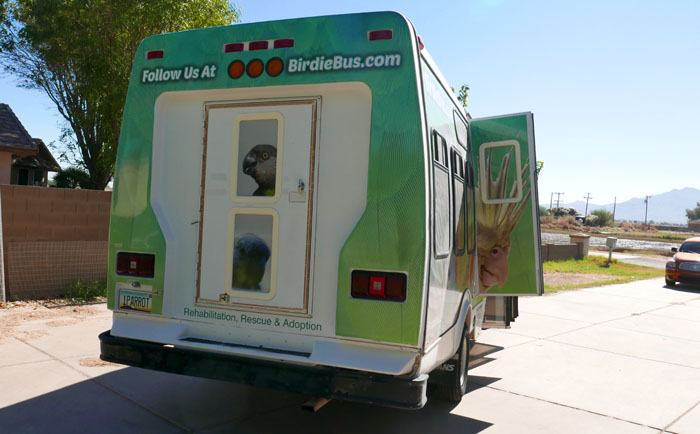 The Birdie Bus itself is really cool. It has 4 different doors so that the bird can get an outside experience in safety. The side and rear door open exposing the bird cages to the outside. Viewers can see and interact with the birds while the cages are securely locked inside the bus. There is also plenty of capacity for moving a tent, tables, chairs, and other items needed at rescue outings.

I went down to Phoenix in November to help Ginger with the Birdie Bus unveiling event. Bird owners from the local parrot community stopped by to show support and people looking to adopt or volunteer came by as well.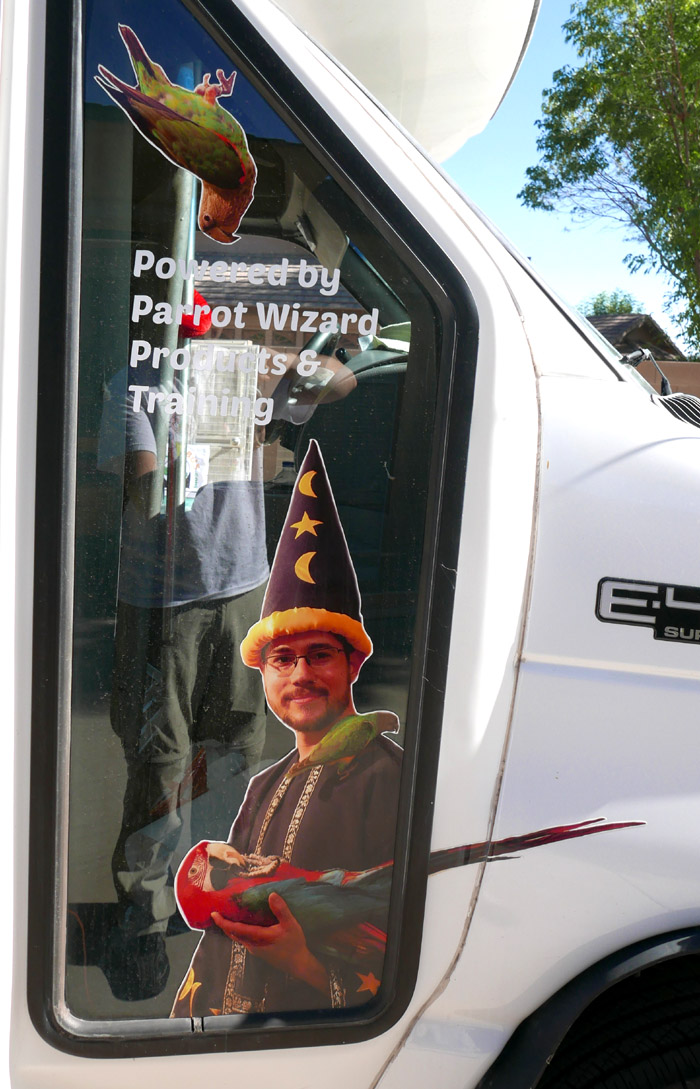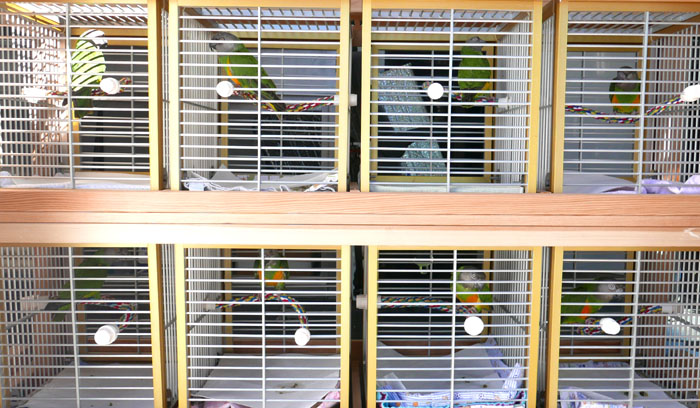 Three purposes are served by the Birdie Bus. The first is to get birds out of the rescue for socialization and fresh air. Even if a bus outing does not result in adoptions that day, it is still a victory for the birds to gain experience being out of the rescue and seeing new people. The second purpose is to help the birds find adopters. This is a chance for the birds to meet people and people to meet the birds. Folks going shopping who may have always wanted a parrot have the opportunity to realize that bird adoptions are available! The third goal is to solicit support for the rescue project through donations and volunteers. The bus is fueled not only by gas money but also through a lot of help. The bus does a good job at attracting existing bird owners out of curiosity. They aren't always the best candidates for more birds if they are at their capacity, but having experienced bird owners volunteering is also a big help to the rescue.

There are several ways you can help the Birdie Bus project. The best way is adopting a parrot from Ginger's Parrots Rescue. If you are anywhere near Phoenix and looking for a Senegal Parrot or Cockatiel, this is the place to adopt! Also, Ginger can always use help from local volunteers. But just because you're not adopting or don't live near Arizona, doesn't mean you can't help. The bus needs corporate sponsors, donors, and social media support. If you can send some money, the bus is in need of repairs, maintenance, upgrade, and gas. The rescue is non-profit and depends entirely on donations. Your support will help the rescue get these birds seen by the public and promote the concept of adoption. Finally, even if you don't have any money to spare, you can help by spreading the word. As more people hear about the rescue and the Birdie Bus project, they may choose to adopt, donate, volunteer, or spread the word and the Bus can drive on! Thanks for your help.

Here is a video of the birds going for a ride on the Birdie Bus:


And this is a video of the Birdie Bus unveiling event: