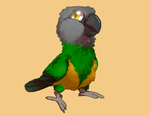 Kili
Type: Senegal Parrot
Genus: Poicephalus
Species: Senegalus
Subspecies: Mesotypus
Sex: Female
Weight: 120 grams
Height: 9 inches
Age: 14 years, 11 months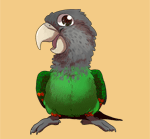 Truman
Type: Cape Parrot
Genus: Poicephalus
Species:Robustus
Subspecies: Fuscicollis
Sex: Male
Weight: 330 grams
Height: 13 inches
Age: 13 years, 3 months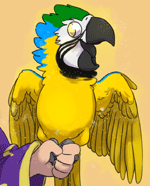 Rachel
Type: Blue & Gold Macaw
Genus: Ara
Species:ararauna
Sex: Female
Weight: 850 grams
Height: 26 inches
Age: 10 years, 11 months

List of Common Parrots:
Parakeets
:
Budgerigar (Budgie)
Alexandrine Parakeet
African Ringneck
Indian Ringneck
Monk Parakeet (Quaker Parrot)
Parrotlets
:
Mexican Parrotlet
Green Rumped Parrotlet
Blue Winged Parrotlet
Spectacled Parrotlet
Dusky Billed Parrotlet
Pacific Parrotlet
Yellow Faced Parrotlet
Lovebirds:
Peach Faced Lovebird
Masked Lovebird
Fischer's Lovebird
Lilian's (Nyasa) Lovebird
Black Cheeked Lovebird
Madagascar Lovebird
Abyssinian Lovebird
Red Faced Lovebird
Swindern's Lovebird
Lories and Lorikeets
:
Rainbow Lorikeet
Conures
:
Sun Conure
Jenday Conure
Cherry Headed Conure
Blue Crowned Conure
Mitred Conure
Patagonian Conure
Green Cheeked Conure
Nanday Conure
Caiques:
Black Headed Caique
White Bellied Caique
Poicephalus Parrots
:
Senegal Parrot
Meyer's Parrot
Red Bellied Parrot
Brown Headed Parrot
Jardine's Parrot
Cape Parrot
Ruppell's Parrot
Eclectus
:
Eclectus Parrot
African Greys:
Congo African Grey (CAG)
Timneh African Grey (TAG)
Amazons:
Blue Fronted Amazon
Yellow Naped Amazon
Yellow Headed Amazon
Orange Winged Amazon
Yellow Crowned Amazon
Cockatoos:
Cockatiel
Galah (Rose Breasted) Cockatoo
Sulphur Crested Cockatoo
Umbrella Cockatoo
Moluccan Cockatoo
Bare Eyed Cockatoo
Goffin's Cockatoo
Macaws
:
Red Shouldered (Hahn's) Macaw
Severe Macaw
Blue And Gold Macaw
Blue Throated Macaw
Military Macaw
Red Fronted Macaw
Scarlet Macaw
Green Winged Macaw
Hyacinth Macaw
Glossary of Common Parrot Terms
This morning I headed out to the airport two hours in advance with plenty of time to spare to pick up my parrot. I was nervous about getting stuck in New York City rush hour traffic on the way there but luckily I got there in just over an hour. However, the extra time did not go to waste as it took nearly 40 minutes to find the cargo terminal from which I was supposed to pick up my parrot delivery.

The flight departed on time and even arrived early. An hour after its arrival the parrot carrier was already handed to me. Not bad considering I've often waited even longer just to get my luggage. I was handed the carrier and took the first peek at my new lifetime companion. The little guy was standing right at the edge by the door and got excited to get some human attention albeit from a complete stranger.

I carried him back to the car and drove directly home. Upon bringing the carrier inside, I strategized how to get the parrot out of the carrier without scaring it. I cut the wire ties which kept the door locked shut. I opened the carrier door and waited to see if little Truman would come out on his own or if I'd have to reach in for him. Surely enough within 30 seconds he made his own way out of the carrier and made his way straight for my hand. He helped himself onto my hand and sat there happily opening and closing his beak.

I knew that he'd be really thirsty after the long flight so I decided to use this as the first opportunity to teach him to drink from his water bottle. I pressed the ball of the straw up against his beak and when he realized that water flows out the end, he made a determined effort to get some water out. I didn't make him drink from it for long but I was impressed how quickly he figured out how to work the steel ball with his tongue to get the water to flow.

Truman walked around on the floor but decided to try a flight. He took off and was up to the ceiling near instantly but didn't know where to go. He bumped into the walls and ceiling a few times before crash landing. I fetched him and he stayed on my hand the rest of the time. I hand fed some pellets to him and he happily munched on them. I was surprised, however, that he neither knew what to do with an almond nor had the strength to crunch it when I shelled it for him.

After some play with his toys and checking out his tree, I put Truman into his new home to take a break. Within a few minutes he went for his water and then ate some pellets on his own.





Part of: General Parrot Care, Blog Announcements, Cape Parrots
Truman Baby Cape Parrot Coming Home Step Up Carrier Poicephalus Robustus Fuscicollis Brown Necked Parrot
Comments
Post Your Response



skeetersunconure

Posted on June 22, 2010 10:43PM

aww how cute! he looks pretty friendly. he looks tiny in that cage! is he gonna get any bigger? lokking forward to more videos!



MandyG

Posted on June 22, 2010 10:52PM

He looks great! Congrats!



pchela

Posted on June 22, 2010 10:55PM

Baby Capes are adorable. He seems to have a good disposition. Congratulations!



lzver

Posted on June 22, 2010 11:37PM

Welcome home Truman!



Ark

Posted on June 23, 2010 12:50AM

Ahhhhh, I just love how he stretched as soon as he came out of the carrier (I would have probably done the same. /lol) Can't wait to keep hearing more about him! And please don't forget to review that aluminum cage of his after its been lived in for a while. Enjoy that cute pink forehead while it lasts! (though personally I prefer the male's look anyways.)



Kim S

Posted on June 23, 2010 09:08AM

Welcome home little guy I'm sure you'll have a wonderfull time with your new family. Just look at how your daddy's face was glowing on the video!



Rue

Posted on June 23, 2010 03:28PM

Congrats on getting your new guy!



tacotaco

Posted on June 23, 2010 04:56PM

He is so gorgeous! what an awesome video - such a nice way to look back on this memory good luck with him michael, he is going to be great!



Mona

Posted on June 23, 2010 05:06PM

Very cute Michael..Congratulations, he looks very adjusted and you are going to have a lot of fun with him.... I had to watch without the sound. How is Kili doing? Mona



rebeccaturpeinen

Posted on June 23, 2010 06:39PM

oooooh he is adorable!!! congratulations! has Kili met Truman yet?
Post Your Response