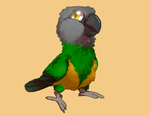 Kili
Type: Senegal Parrot
Genus: Poicephalus
Species: Senegalus
Subspecies: Mesotypus
Sex: Female
Weight: 120 grams
Height: 9 inches
Age: 14 years, 9 months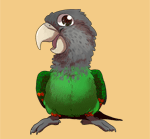 Truman
Type: Cape Parrot
Genus: Poicephalus
Species:Robustus
Subspecies: Fuscicollis
Sex: Male
Weight: 330 grams
Height: 13 inches
Age: 13 years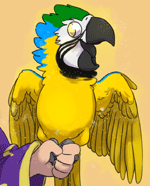 Rachel
Type: Blue & Gold Macaw
Genus: Ara
Species:ararauna
Sex: Female
Weight: 850 grams
Height: 26 inches
Age: 10 years, 9 months

List of Common Parrots:
Parakeets
:
Budgerigar (Budgie)
Alexandrine Parakeet
African Ringneck
Indian Ringneck
Monk Parakeet (Quaker Parrot)
Parrotlets
:
Mexican Parrotlet
Green Rumped Parrotlet
Blue Winged Parrotlet
Spectacled Parrotlet
Dusky Billed Parrotlet
Pacific Parrotlet
Yellow Faced Parrotlet
Lovebirds:
Peach Faced Lovebird
Masked Lovebird
Fischer's Lovebird
Lilian's (Nyasa) Lovebird
Black Cheeked Lovebird
Madagascar Lovebird
Abyssinian Lovebird
Red Faced Lovebird
Swindern's Lovebird
Lories and Lorikeets
:
Rainbow Lorikeet
Conures
:
Sun Conure
Jenday Conure
Cherry Headed Conure
Blue Crowned Conure
Mitred Conure
Patagonian Conure
Green Cheeked Conure
Nanday Conure
Caiques:
Black Headed Caique
White Bellied Caique
Poicephalus Parrots
:
Senegal Parrot
Meyer's Parrot
Red Bellied Parrot
Brown Headed Parrot
Jardine's Parrot
Cape Parrot
Ruppell's Parrot
Eclectus
:
Eclectus Parrot
African Greys:
Congo African Grey (CAG)
Timneh African Grey (TAG)
Amazons:
Blue Fronted Amazon
Yellow Naped Amazon
Yellow Headed Amazon
Orange Winged Amazon
Yellow Crowned Amazon
Cockatoos:
Cockatiel
Galah (Rose Breasted) Cockatoo
Sulphur Crested Cockatoo
Umbrella Cockatoo
Moluccan Cockatoo
Bare Eyed Cockatoo
Goffin's Cockatoo
Macaws
:
Red Shouldered (Hahn's) Macaw
Severe Macaw
Blue And Gold Macaw
Blue Throated Macaw
Military Macaw
Red Fronted Macaw
Scarlet Macaw
Green Winged Macaw
Hyacinth Macaw
Glossary of Common Parrot Terms
I went out to buy some more perches for Truman because he was having trouble reaching perches in his cage. I bought a comfy rope perch to hang diagonally across the cage to make it a bit easier for him to get up and get around. I added some more intermediate perches to help him get from the bars to the perches. Eventually I should be able to remove this safety perches but for now he is clumsy and these save his butt from falling down an extra time. I also needed to buy perches to use to make special training stands for Truman similar to Kili's.

Since I drove nearly an hour to get to this wholesale place for parrot supplies, I figured I'd make the most of it. I bought a year's worth of toys and some additional swings/perches. I didn't buy any toys for Kili - not only because she has a ton of old toys I can reuse - but also cause when Truman breaks his toys down to smaller pieces, I'll be able to recycle them and make smaller toys for Kili out of those. This way, effectively I can spend one bird's worth on toys and keep a second equally well supplied.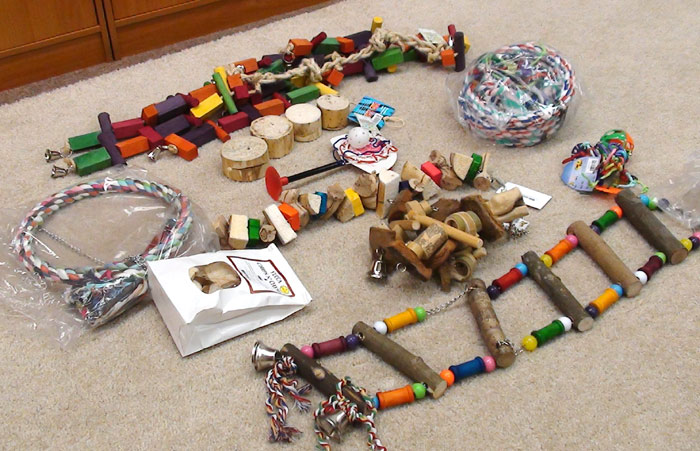 I bought a boing to put in Truman's cage eventually. I got him a large bird kebab, a rope swing, new basketball prop, swinging ladder, comfy perch, and a bunch of other toys. I also got a handful of mounting clasps. Not that I lose them, but somehow certain toys end up coming without them and I always find myself borrowing clasps from other toys. Now I should be set for a long time and will be able to rotate toys for Kili and Truman without having to do any more shopping.





Here is a video showing off Truman's wondrous shopping list worth of toys and then gives you a look inside his cage. You can see the way I changed the set up around to make it a bit easier for him to climb around. He's been having trouble climbing the dome top and the vertical bars. The cage is great for a smarter/older bird but kind of tough for a baby parrot to get used to because there are many aluminum dividers that make getting from one set of bars to the next difficult.





Part of: Housing, Toys, Accessories, and DIY, Cape Parrots
Toys Cage Truman Cape Parrot
Comments
Post Your Response



Rue

Posted on July 2, 2010 03:02PM

...I wish I could look! Someday high-speed WILL come to our neck of the woods... Hope you had fun shopping!



Kim S

Posted on July 2, 2010 03:12PM

I feel so sorry for that bird, having to live with all those toys! It must be a nightmare! Haha, no really, good job! My bf has declared the petstore a restricted area for me.



lainmai

Posted on July 3, 2010 12:49AM

I swear I must have been a bird in my past life...I'm jealous of all the toys Oh...and that toys retails here for $40-50, saw it last week!



Michael

Posted on July 3, 2010 12:54AM

I bought it for $15



lainmai

Posted on July 3, 2010 12:57AM

[quote="Michael":1x83jlnf]I bought it for $15 [/quote:1x83jlnf] Yet another reason I wish I was American! Nice snag there Michael



Natacha

Posted on July 3, 2010 01:29PM

A year's worth of toys? Man your birds are either reasonable with toy destruction or my guys are real beavers...



thejoie

Posted on July 3, 2010 03:22PM

lol I was thinking the same thing. I think my guys are just wood chippers... Elle alone could go through all that in about 2-3 months?



Rue

Posted on July 3, 2010 03:32PM

The pi plays with his toys well...the amazon isn't into toys at all... But boy! Nickel is a one-bird toothpick factory...I have to figure out a cheaper way to keep her busy!



MandyG

Posted on July 5, 2010 09:10PM

I was thinking the same as Natacha and thejoie! Mojo lives to destroy, those wouldn't last more than a few months with him!



Michael

Posted on July 5, 2010 11:56PM

I don't know how long it will actually last but the idea was that this would be a good start for the time being so that I wouldn't have to go to stores or especially back there cause it's far away.



skeetersunconure

Posted on July 6, 2010 02:00AM

i need to get some new toys for skeeter too speaking of which how often does the toys have to be rotated? i usually do it every 2 weeks or so
Post Your Response