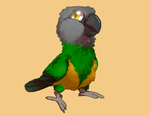 Kili
Type: Senegal Parrot
Genus: Poicephalus
Species: Senegalus
Subspecies: Mesotypus
Sex: Female
Weight: 120 grams
Height: 9 inches
Age: 14 years, 2 months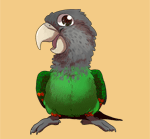 Truman
Type: Cape Parrot
Genus: Poicephalus
Species:Robustus
Subspecies: Fuscicollis
Sex: Male
Weight: 330 grams
Height: 13 inches
Age: 12 years, 5 months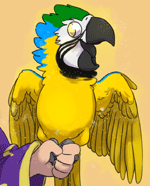 Rachel
Type: Blue & Gold Macaw
Genus: Ara
Species:ararauna
Sex: Female
Weight: 850 grams
Height: 26 inches
Age: 10 years and 2 months old

List of Common Parrots:
Parakeets
:
Budgerigar (Budgie)
Alexandrine Parakeet
African Ringneck
Indian Ringneck
Monk Parakeet (Quaker Parrot)
Parrotlets
:
Mexican Parrotlet
Green Rumped Parrotlet
Blue Winged Parrotlet
Spectacled Parrotlet
Dusky Billed Parrotlet
Pacific Parrotlet
Yellow Faced Parrotlet
Lovebirds:
Peach Faced Lovebird
Masked Lovebird
Fischer's Lovebird
Lilian's (Nyasa) Lovebird
Black Cheeked Lovebird
Madagascar Lovebird
Abyssinian Lovebird
Red Faced Lovebird
Swindern's Lovebird
Lories and Lorikeets
:
Rainbow Lorikeet
Conures
:
Sun Conure
Jenday Conure
Cherry Headed Conure
Blue Crowned Conure
Mitred Conure
Patagonian Conure
Green Cheeked Conure
Nanday Conure
Caiques:
Black Headed Caique
White Bellied Caique
Poicephalus Parrots
:
Senegal Parrot
Meyer's Parrot
Red Bellied Parrot
Brown Headed Parrot
Jardine's Parrot
Cape Parrot
Ruppell's Parrot
Eclectus
:
Eclectus Parrot
African Greys:
Congo African Grey (CAG)
Timneh African Grey (TAG)
Amazons:
Blue Fronted Amazon
Yellow Naped Amazon
Yellow Headed Amazon
Orange Winged Amazon
Yellow Crowned Amazon
Cockatoos:
Cockatiel
Galah (Rose Breasted) Cockatoo
Sulphur Crested Cockatoo
Umbrella Cockatoo
Moluccan Cockatoo
Bare Eyed Cockatoo
Goffin's Cockatoo
Macaws
:
Red Shouldered (Hahn's) Macaw
Severe Macaw
Blue And Gold Macaw
Blue Throated Macaw
Military Macaw
Red Fronted Macaw
Scarlet Macaw
Green Winged Macaw
Hyacinth Macaw
Glossary of Common Parrot Terms
What size pellets should I feed my parrot is a frequent question I receive. And now that I have become a Roudybush distributor, I am even more in tune with the different kinds of pellets out there. However, I somewhat disagree with the manufacturer recommended pellet sizes and some of the recommendations out there in regards to pellet size.

So first off, keep in mind that all pellets from a manufacturer (of the same line) contain the same nutritional content regardless of the parrot that is pictured on the package. Even if the package says that the pellet is for Amazons, they only mean that the size is recommended for Amazons and not that the diet is especially modified for the requirements of Amazons. Unfortunately species specific diets are not generally available.




Now when it comes to pellet size, the most important thing is how it is relative to the bird itself. Feeding excessively large pellets can make it difficult to impossible for a bird to eat. On the other hand, feeding excessively small pellets can leave it uninterested. Generally though, too small is safer than too large.

In this article I am going to refer to pellet sizes based on Roudybush because it is the pellet I am most familiar with. I think other manufacturers sell roughly similar sized pellets or refer to the size as relative to each of my birds for reference. Besides a few mini sizes, Roudybush basically comes in small, medium, and large. I have a small, medium, and large parrot so it is a perfect opportunity to compare the sizes.

For really smaller parrots like GCC, Cockatiel, Lovebird, Parrotlet, Budgie, the pellets I will be referring to in this article are too big. Mini or Crumble sizes are good for those birds. Choosing between the two really comes down to what your bird likes best because both are small enough and recommended.




Once you get to a Senegal Parrot sized bird or larger, you have more freedom of choice between the three main pellet sizes. My feeling is that the medium Roudybush pellets are actually perfect for all parrots small, medium, and large (again, excluding really small parrots). This has to do not only with parrot sizes but also personalities.

Initially I started out feeding medium to save money by using the same size for my Senegal and Cape Parrot. But with time, I discovered that even if I only had one or the other, medium would still be ideal. The Senegal is accustomed to eating big foods. Whether it's a baby carrot, a grape, or a piece of broccoli, these are all way big in relation to the size of a Senegal. Yet, she is used to manipulating large foods and gravitates toward them. The Medium size pellets are big enough that she has to hold and work on them, but far from overwhelming. I'm not even going to get into why Medium size pellets are good for medium size parrots.

Now when it comes to the Macaw, conveniently Medium size pellets turned out to be ideal for her as well. The Macaw on the other hand is used to dealing with smaller foods relative to her size. Whether it's working a pine nut out of the shell or a sunflower seed, she is accustomed to eating stuff that's pretty small relative to her hulking size. I have tried small, medium, and large pellets on all 3 of the birds and have found that in a bind they could eat any of the three sizes. However, the medium is not only the central size for 3 birds, but it is also their favorite for their personalities.




Another reason I like to use medium pellets is because it enables me to keep track of how much the birds are eating. In all three sized parrots, I am able to count out the amount of pellets they get and be able to see if something is left over. If the pellets are too small, it is difficult to keep count. On the other hand, excessively large pellets take long to consume and don't work as well for treats. Medium Roudybush actually works as a superb treat for training my parrots.

So when you are picking a pellet size for your parrot, don't worry about the size that is recommended on the package. If you have a lot of small through large parrots, just get the medium and feed it to everybody to save the hassle and money of getting different sized pellets. If you have just one bird, try the medium first and only if it's a problematic size, try changing to small or large. At this point, even if I had just one of the 3 birds, I would still choose to feed the medium Roudybush pellets for the reasons mentioned.

ParrotWizard.com, an official Roudybush Distributor with low prices, quick shipping, and fresh bird food.



Part of: Health, Nutrition, and Diet, Blog Announcements, Cape Parrots, Senegal Parrots, Macaws
Kili Senegal Parrot Truman Cape Parrot Santina Green-Winged Macaw Roudybush Pellets Food Diet Nutrition
Comments
Post Your Response



cml

Posted on July 22, 2014 02:43PM

I use TOPS pellets rather than roudybush but I agree with the sizes, its generally okay with medium for most birds. Both my birds are medium sized and I use the standard size and the birds love to hold them in their hands while eating and later on they eat the crumbles. Choosing pellets with regards to the bird, rather than the bird on the package sounds like a good idea to me .
GMV

Posted on July 23, 2014 01:13PM

i thought all pellets were relatively edible by all size birds.



Michael

Posted on July 23, 2014 01:37PM

No way a budgie can eat a large macaw pellet. It's the size of its head. Once you get to parrots ranging from Senegal to Macaw and pellets ranging from small, medium, and large, then yeah they can eat each other's pellets.
GMV

Posted on July 23, 2014 01:48PM

you have a point there. but don't all pellets have roughly the same nutrients per size?



Michael

Posted on July 23, 2014 02:01PM

Usually, unless it is a specifically different content.
Tsubakie

Posted on June 13, 2015 02:55PM

I know this post has been up for a while. I have a rescue cockatoo on a all seed diet and one of my priorities is getting him on a pellet diet. I've done some research on pellet diets and Roudybush seems to get the best you can get. Roudybush was kind enough to send me a sample of their small pellets and my parrot absolutely loves them. I placed a separate dish with some Roudybush away from his seed and more accessible. He's eating more pellets than seed.. It's only been what.. 3 days??? I can't believe how easy that was.. I know i'm extremely lucky. Of course I'm not going to take away the other food yet and that will still be a gradual process. I had to order the food online as nobody in my city sells it. I'm in Ontario, Canada and the distributor is in Quebec,so that's not too bad. For all of the amazing information on this food, my parrot and I Thank You!



liz

Posted on June 13, 2015 04:02PM

Pellets and seed are supposed to be a very small amount of their diet.
Post Your Response