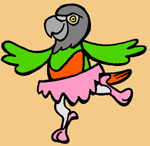 Kili
Type: Senegal Parrot
Genus: Poicephalus
Species: Senegalus
Subspecies: Mesotypus
Sex: Female
Weight: 120 grams
Height: 9 inches
Age: 7 years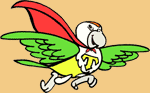 Truman
Type: Cape Parrot
Genus: Poicephalus
Species:Robustus
Subspecies: Fuscicollis
Sex: Male
Weight: 330 grams
Height: 13 inches
Age: 5 years, 4 months

List of Common Parrots:
Parakeets
:
Budgerigar (Budgie)
Alexandrine Parakeet
African Ringneck
Indian Ringneck
Monk Parakeet (Quaker Parrot)
Parrotlets
:
Mexican Parrotlet
Green Rumped Parrotlet
Blue Winged Parrotlet
Spectacled Parrotlet
Dusky Billed Parrotlet
Pacific Parrotlet
Yellow Faced Parrotlet
Lovebirds:
Peach Faced Lovebird
Masked Lovebird
Fischer's Lovebird
Lilian's (Nyasa) Lovebird
Black Cheeked Lovebird
Madagascar Lovebird
Abyssinian Lovebird
Red Faced Lovebird
Swindern's Lovebird
Lories and Lorikeets
:
Rainbow Lorikeet
Conures
:
Sun Conure
Jenday Conure
Cherry Headed Conure
Blue Crowned Conure
Mitred Conure
Patagonian Conure
Green Cheeked Conure
Nanday Conure
Caiques:
Black Headed Caique
White Bellied Caique
Poicephalus Parrots
:
Senegal Parrot
Meyer's Parrot
Red Bellied Parrot
Brown Headed Parrot
Jardine's Parrot
Cape Parrot
Ruppell's Parrot
Eclectus
:
Eclectus Parrot
African Greys:
Congo African Grey (CAG)
Timneh African Grey (TAG)
Amazons:
Blue Fronted Amazon
Yellow Naped Amazon
Yellow Headed Amazon
Orange Winged Amazon
Yellow Crowned Amazon
Cockatoos:
Cockatiel
Galah (Rose Breasted) Cockatoo
Sulphur Crested Cockatoo
Umbrella Cockatoo
Moluccan Cockatoo
Bare Eyed Cockatoo
Goffin's Cockatoo
Macaws
:
Red Shouldered (Hahn's) Macaw
Severe Macaw
Blue And Gold Macaw
Blue Throated Macaw
Military Macaw
Red Fronted Macaw
Scarlet Macaw
Green Winged Macaw
Hyacinth Macaw
Here is a video where Kili and Truman do interviews of different people around Central Park in New York City and what they know about parrots.


Oh no! The Parrot Got Out! This is the newest video posted by Parrot Wizard, a short Horror Film about what might happen if the psitta-beast got out of its enclosure. The short film features Marianna Samushiya and the well-known trained Senegal Parrot, Kili. Marianna comes home but soon realizes that she's being followed.

It took several days of filming and even more of editing but I am pleased with the results. I used a mix of techniques to bring you the story and action. From classic pan shots to steadicam tracking, you will enjoy the heart pumping action and terror.

Here are a few behind the scenes looks at the making of The Parrot Got Out: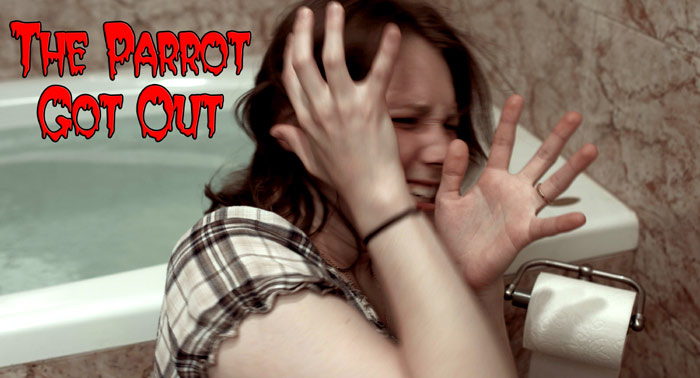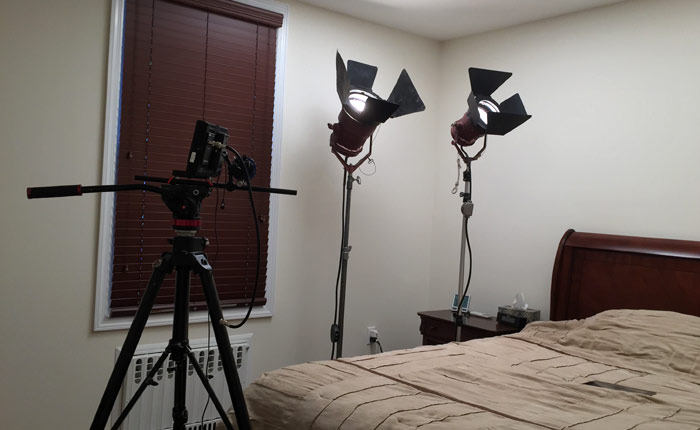 So dim your lights, set youtube to fullscreen, change the play quality to 4K or HD, and get ready to witness the horror of The Parrot Got Out:


Recently I had the pleasure of being visited by Professor Andy McIntosh to talk about birds and flight. Andy is a retired professor of thermodynamics and combustion theory from the University of Leeds in the UK and on the board of directors of Truth In Science (an organization promoting teaching intelligent design in the classroom in the UK).

I got in touch with Andy because I found his talks about birds on youtube and found them quite interesting. I give a similar presentation at NYU every year about the Evolution of Flight (a comparison between flying machines and flying organisms) and found it quite surprising that Andy can look at the same facts but come to different conclusions. In either case, we both share a fascination with the mechanisms of flight and the astounding complexity of birds. Regardless of which interpretive conclusion prevails, the presentation of the facts, mechanisms, operations, fossils, and stories is a marvel to learn.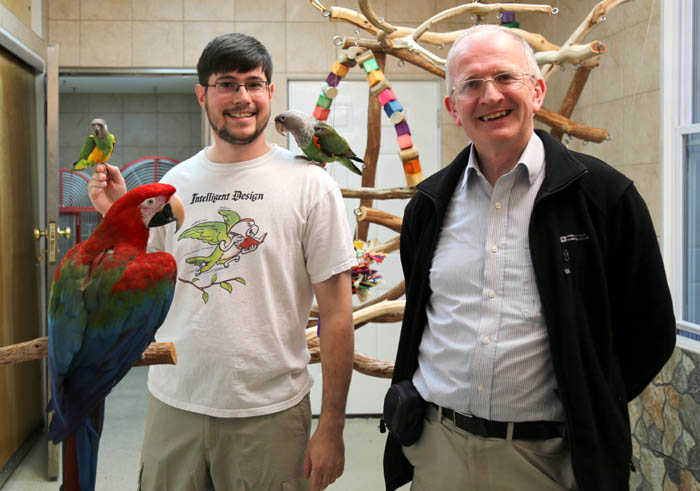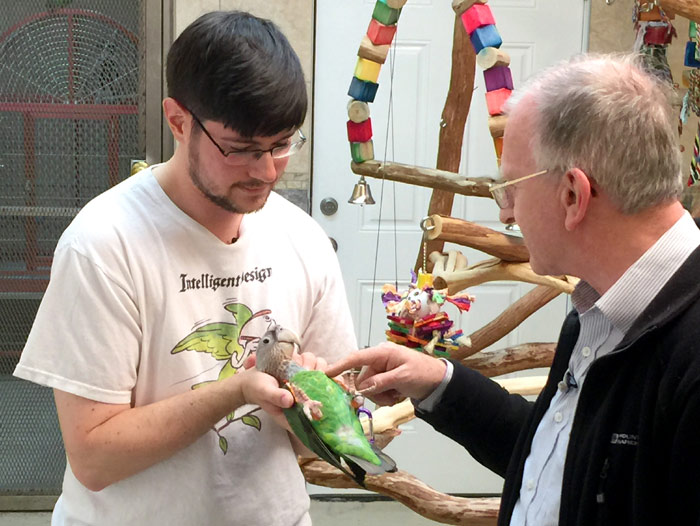 So without getting any further into background, let me present to you an interview - straight from my bird room and with the help of Kili, Truman, and Santina - with professor Andy McIntosh:



In this video and with the help of Kili, Truman, and Santina, Andy McIntosh discusses many topics related to birds and how they fly. A few of the topics include how feathers work, how the flight muscles are special in birds, how the avian breathing apparatus is like no other, archeopteryx fossils, and about his conclusions on how birds are too complicated to have evolved through natural processes and are instead the products of design. Dr. McIntosh concludes that:

"They want to be in the air and obviously they are designed to be in the air. Everything is telling me as an engineer, stroke mathematician, somebody who is used to asking the question 'why are things the way they are?' All these features tell me that there is a brilliant mind behind these creatures."

So after watching both presentations, do you think Kili is an evolved dinosaur or one of God's created creatures?
Parrots are birds and birds fly. Allowing parrots to fly free in our homes is exhilarating but also poses some challenges. Without going into too much detail about other important things about flight safety (these are covered in my book), I want to focus on the training element.

Teaching a parrot to fly to you actually covers two different dilemmas. The first is teaching a parrot to fly controlled within our home at all in the first place and the second is actually about coming to you. What you must realize is that the bird has to actually learn how to fly to you as much as teaching it to want to.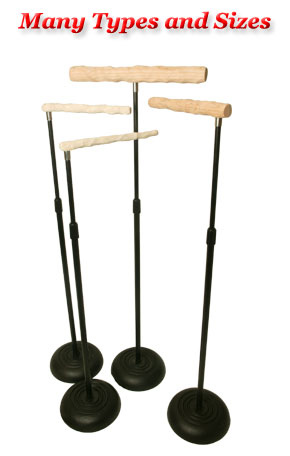 The two best tools for teaching this controlled form of flight are a pair of Training Perches and a target stick. Luckily the Parrot Training Perch Kit I offer includes a clicker and target stick in addition to two perches so you'd be ready to begin the flight training out of the box!

If you haven't already done basic clicker and target training with a walking parrot on a perch, go back and do that first. Flying is harder so without understanding what you are asking and a high level of motivation, there is no way the parrot will break ground for just a stick. Begin the flight training process with a reminder of the walking target training. Set up the two training perches in parallel but so close together that the parrot can step and target from one perch to the other.

Continue to practice targeting the parrots between the two training perches until you start to build up a rhythm. The parrot will begin to foresee that you will target one way and the other and maybe even jump the gun a little and go before targeted. This isn't really what we are after but it will show good motivation to continue. Begin to spread the gap between the two training perches ever so slightly. Continue targeting the parrot between the perches without letting it realize that the gap grows after subsequent targeting attempts.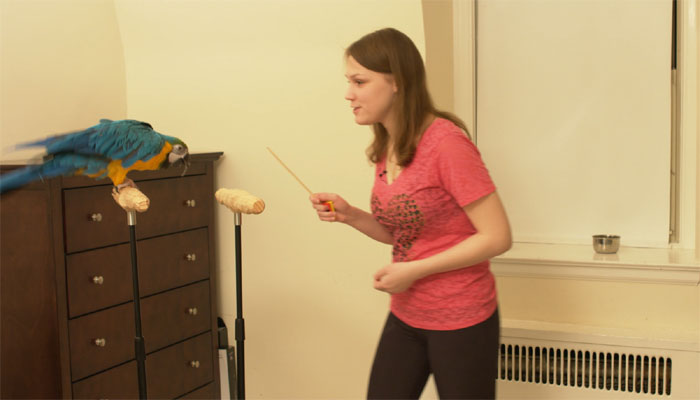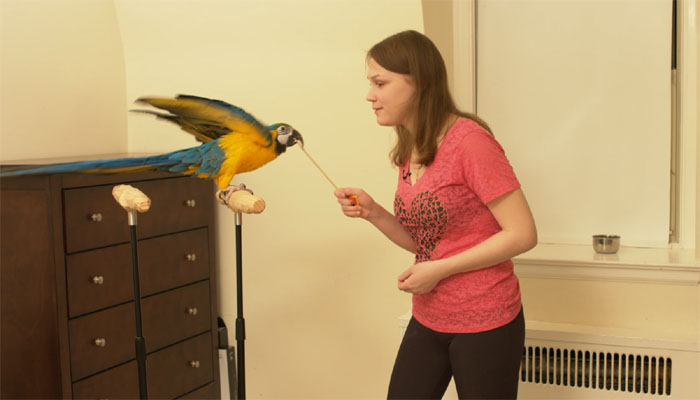 Eventually the gap will be big enough that the bird will have to jump or fly to get across. Hopefully the bird is a capable enough of a flyer to be able to realize to do this on its own. If it does not, you may need to trick the timid bird that won't fly into walking across but then spreading the gap enroute to cause the first flight to happen. A way to do this is to set the two training perches just slightly too far apart to walk. Then tip the remote perch toward the bird and target for it to walk. Just as the bird reaches the gap, return the distant perch to its original position. This will cause the bird to flap reflexively to catch its balance and make it across the gap. With sufficient rewards and motivation, after a few such attempts, the bird will begin to make the effort to fly across.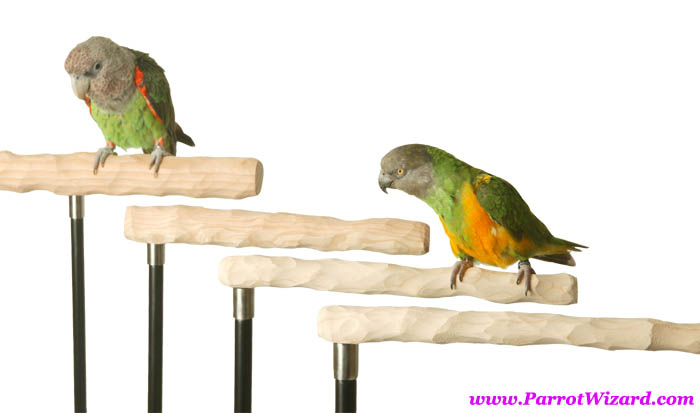 Progress will be slow at first but then pick up. At first the bird does not know what you want but also doesn't know how to control itself to make such a flight. Furthermore, the flight muscles may be atrophied or inadequately exercised. It will take time for the bird to regain the strength and motor skills before progress can be made. Continue spreading the gap between the two training perches and target the bird to fly bigger distances. The bird will develop skills and strength after a few days of these exercises. Adjust the height of the training perches to teach the parrot to fly up and down as well. Eventually replace the second training perch with your hand or arm. Phase out the target stick but continue giving treats for successful flight recalls. Instead of targeting, you can call your bird's name as a command to fly to you. Keep increasing the distance and challenging your bird and you will develop an excellent and reliable flight recall.

Keep in mind that very high levels of training motivation are required for flight training. You can use a combination of food management, trick training, and other techniques to achieve it. This is covered in great detail in my book, The Parrot Wizard's Guide to Well-Behaved Parrots.

Now get a Parrot Training Perch Kit and follow these steps and you will be on your way to flight recall training your parrot. More videos and information about this flight training method are available on the Training Perch site.

Now here's a video of Marianna following these same steps right out of my book with her Blue and Gold Macaw, Rachel.


After a long cold winter, spring has finally come. The weather is nice and getting the parrots outside is on people's minds. But for the parrots, wearing a harness is something long past. So what to do? This is where "reharness" training the parrots comes in!

My parrots all know how to put on a harness. They have all received the training to not be scared and know how to put the harness on. However, after such a winter that we didn't get to go out even once, their harness wearing skills are a bit rusty. They are less eager to put the harness on or don't quite remember how to get their heads into the collar. But all it takes is a little bit of reharness training to get them back to normal.

Out of my flock, Santina needed the most reminding and that is not surprising because she has least harness experience. After a treat or two, Kili already recalled exactly what to do. Truman, well he's a bit of a thick headed bird. In more ways than one! So he needed a little more work to help him remember how to get his big Poicephalus head through the collar. He was trying to assure me that he can get it in easily but that was for the wrong part! But with a bit of practice, he got it all sorted out as well.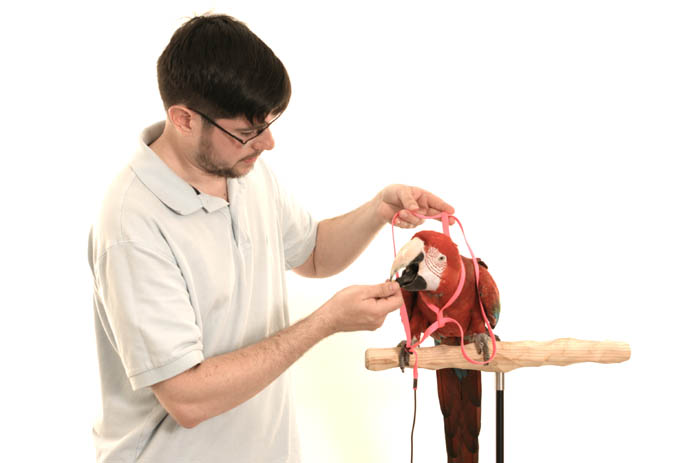 The process of reharness training a parrot is quite simple. It's an expedited retrace of the steps it took for the bird to learn to wear a harness in the first place. If your parrot did not learn how to wear a harness in the first place, then there are no steps to retrace. First of all, if your parrot never wore a harness in the first place, you need to follow a procedure for teaching it in the first place. However, I am also addressing the people who managed to just get the harness on their parrot (like when it was a baby or maybe just by luck). If the steps taken to teach the parrot to wear a harness were not specific and memorable, then you have nothing to trace back on. In either case, my harness training solution is thoroughly explained between my book and harness training dvd. The book teaches you all the basic taming requisites before you can being harness training and the DVD has Santina demonstrate step by step as she learns to wear the harness for the first time. So if you have not followed this method initially, do that this time. Next time, the following reharness training steps will work for you.

Depending on how rusty the bird is will affect how much I need to go back to basics. Since none of my parrots were scared or uncomfortable with the harness, I immediately skipped the desensitization. Nothing bad ever happened with the harness or at least not since they've last worn them successfully so the good we initially established persists. All of the birds have remained tame through the winter because of continued handling so that required no work either. All they needed help with is remembering how to stick their heads in the collar and rekindling a desire to wear the harness at all.

Seeing the harness alone did not evoke a desire to put it on. However, the sight of the welcoming harness collar and a treat in my hand reminded them of the "harness trick" they had once learned to put the collar on. They quickly recalled the learning that had taken place some time ago and were back on track.

To aid with the harness retraining, I make the collar stick out in a more convenient manner so that the birds can find where to put their head. As they get better, I have them work a bit harder. Just like with all training, it has to start easy at first and then get progressively more challenging. I increase how much contact the harness makes and duration on subsequent success. If the process moves along smoothly, I move quickly. If I find any trouble spots, I slow down and work on those.

Not only has Kili been harness trained, but she has also been reharness trained so many times that it only takes flashing a treat to make her go back to putting the harness on right. This is the benefit of following reproducible procedures year after year.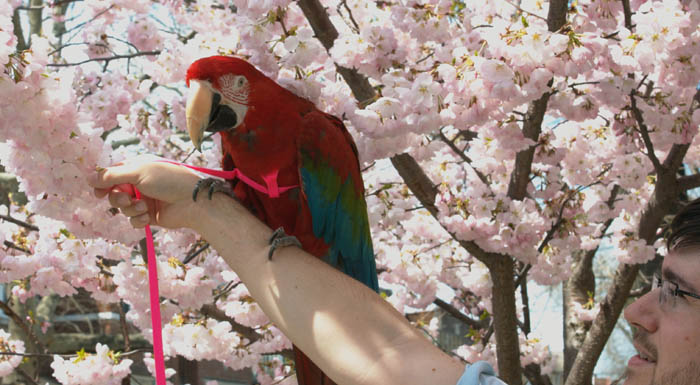 When I get the birds outside for the first time of the season, I assume things will be a bit frightening so I take my time. I don't keep them out for too long at first. But it only takes a few minutes or sessions outside until things return to normal. The more years that this is repeated, the more quickly and easily it all comes back.

Three things I offer when it comes to harness training your parrot to safely go outside:

My Book - This will teach you what you need to be able to do before you can even begin harness training
Harness Training DVD - Step by step procedure for harness training an already tame parrot
Aviator Harness - Get your leash on sale from Parrot Wizard

Get an Aviator Harness and my book together and I throw in the Harness Training DVD for free!

Here's a video of Santina getting a lesson in reharness training a year since she initially learned to wear the harness. Doesn't take much to retrain if it is trained properly in the first place.