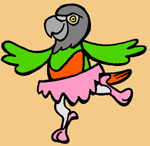 Kili
Type: Senegal Parrot
Genus: Poicephalus
Species: Senegalus
Subspecies: Mesotypus
Sex: Female
Weight: 120 grams
Height: 9 inches
Age: 8 years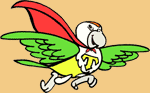 Truman
Type: Cape Parrot
Genus: Poicephalus
Species:Robustus
Subspecies: Fuscicollis
Sex: Male
Weight: 330 grams
Height: 13 inches
Age: 6 years and 4 months old

List of Common Parrots:
Parakeets
:
Budgerigar (Budgie)
Alexandrine Parakeet
African Ringneck
Indian Ringneck
Monk Parakeet (Quaker Parrot)
Parrotlets
:
Mexican Parrotlet
Green Rumped Parrotlet
Blue Winged Parrotlet
Spectacled Parrotlet
Dusky Billed Parrotlet
Pacific Parrotlet
Yellow Faced Parrotlet
Lovebirds:
Peach Faced Lovebird
Masked Lovebird
Fischer's Lovebird
Lilian's (Nyasa) Lovebird
Black Cheeked Lovebird
Madagascar Lovebird
Abyssinian Lovebird
Red Faced Lovebird
Swindern's Lovebird
Lories and Lorikeets
:
Rainbow Lorikeet
Conures
:
Sun Conure
Jenday Conure
Cherry Headed Conure
Blue Crowned Conure
Mitred Conure
Patagonian Conure
Green Cheeked Conure
Nanday Conure
Caiques:
Black Headed Caique
White Bellied Caique
Poicephalus Parrots
:
Senegal Parrot
Meyer's Parrot
Red Bellied Parrot
Brown Headed Parrot
Jardine's Parrot
Cape Parrot
Ruppell's Parrot
Eclectus
:
Eclectus Parrot
African Greys:
Congo African Grey (CAG)
Timneh African Grey (TAG)
Amazons:
Blue Fronted Amazon
Yellow Naped Amazon
Yellow Headed Amazon
Orange Winged Amazon
Yellow Crowned Amazon
Cockatoos:
Cockatiel
Galah (Rose Breasted) Cockatoo
Sulphur Crested Cockatoo
Umbrella Cockatoo
Moluccan Cockatoo
Bare Eyed Cockatoo
Goffin's Cockatoo
Macaws
:
Red Shouldered (Hahn's) Macaw
Severe Macaw
Blue And Gold Macaw
Blue Throated Macaw
Military Macaw
Red Fronted Macaw
Scarlet Macaw
Green Winged Macaw
Hyacinth Macaw
| | | |
| --- | --- | --- |
| | | Thursday April 21st, 2016 |
I received a question from a follower about whether or not it is possible for someone with a handicap/disability to put an Aviator Harness on a parrot with just one hand. I was about to just say the first thing that came to mind, "no!" But I had no experience with this either way so instead I said that I would look into it. After all, who better to try it out and find out?

I realize that there are many people with disabilities that keep parrots. Some are in a wheelchair or have shaky hands from PTSD. Others have trouble just from age while some are young and dealing with a temporary injury. So although the video included here is based on one single type of disability, I would like to use this as an encouragement for any physically challenged owner that there are ways to succeed in training your parrot despite your impairment.

Note that although this article is about one specific type of impairment and about one kind of training example, the mindset conveyed here may be helpful for all sorts of parrot issues and for any person having trouble with their parrot.

Granted Santina is fully harness trained already, this experiment was solely about whether or not it is even possible to consider harnessing a parrot with the use of just one hand. Well, I am happy to say that I learned that it is. Santina had not even worn a harness since last year and yet she was cooperative at putting it on. This is largely due to the fact that she was taught to wear the harness using positive reinforcement from the start and looks forward to it whenever she sees it. Since the harness was never forced on her, she has no reason to freak out when she sees it for the first time in a while. I did just one normal run with the harness to make sure she was still ok with it.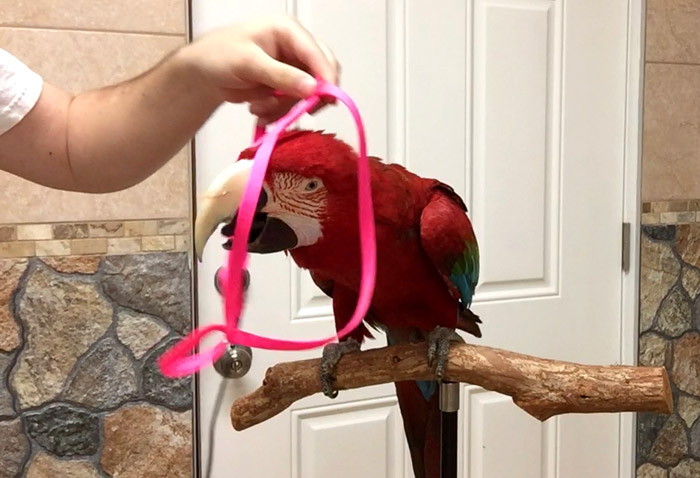 So I dangled the harness in front of Santina and she just stuck her head straight into the collar the way she was taught. Getting the collar onto the bird myself with one hand would have been much harder and simply impossible if the bird resisted. But since she actually wants to get it on, her assistance made it substantially easier! Pulling the straps through and around the wings was only more time consuming but no harder than usual. The hardest part I found was to pull all the extra material through the bird-proof clasp with one hand! Without the ability to hold the clasp in one hand and feed the material through with the other, it was a challenge of dexterity to do it with my fingers. But with practice it got better and by the second take, I kind of had it down. I would recommend anyone with a disability working with the harness, or any kind of training, practice all the mechanics of it ahead of time to reduce strain on the bird.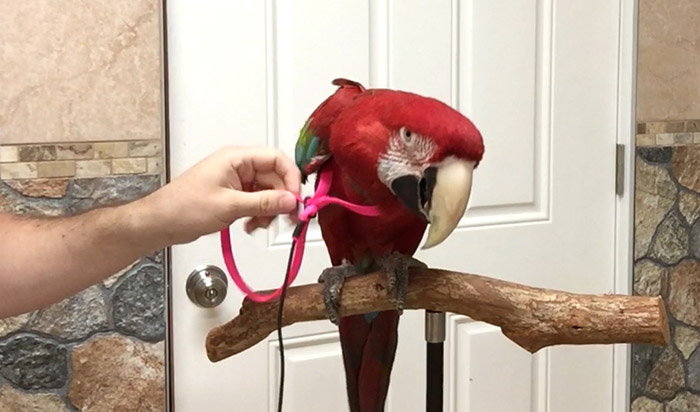 Besides a few nuts, Santina got to go outside for the first time this season, a reminder of how wonderful it is to wear a harness and go out. I didn't pester her further with my own clumsiness to take it off with one hand because she was eager to get back to her normal bird business when we returned. However, I am sure that the exact same process could be repeated in reverse. My conclusion is that if you can tie your shoe laces with one hand and go about daily tasks, putting an Aviator Harness on a parrot with one hand is at least possible!

The key part is the training. More precisely than ever, the bird with the impaired owner requires the most accurate of training. Yes, the parrot can be taught to fill some of the role of the owner and help in the harnessing process! But the training must be correct and thorough. More patience, self discipline, and attention will be required. But if your goal is to beat your impairment and achieve the same things with your parrot, then I think it can be done!



Sometimes I find myself impaired during parrot training even with two hands. Some things I do with the birds makes me wish I had three or four hands to accomplish all the training at the same time. But since that won't be happening, I have to make do with what I have. I find ways to either break behaviors down into smaller portions, devise tools to help me do more within my capabilities, or worst case scenario, I seek help from someone else to get more hands into the training scenario. No reason the same can't be done going from two hands to one, or working from a wheelchair, or dealing with a different impediment.

I suggest that anyone planning on having their parrot wear a harness to safely go outside, follow the steps covered in my Harness Training DVD. Further, it is important that the bird be prepared to begin this advanced training by performing the requisite basic training explained in my book. There is an automatic special discount built in on my online store. If you order a Book + DVD or Harness + DVD, DVD is 50% off. Book + Harness and the DVD is free.

What I found interesting was how not-unusual the challenge was! Although it was challenging, it was challenging the same way that any parrot training task is. There is a goal to accomplish x and y with the parrot with limited means and communication. So I work on solving the puzzle through trial and error, positive reinforcement, reading body language, and all the usual tools used to train behavior to the birds. What I discovered was that harnessing a parrot with one hand is really the exact same thing just with the added step of using less appendages and more patience. This turned out to only be one step more complicated than harness training a parrot in the first place. There are loads of other challenges in getting a parrot to wear a harness so this is just an extension of that and just adds one more challenge and nothing more. The same problem solving mindset that needs to applied to teaching the bird to wear a harness in the first place can just as well help overcome the added physical demands.

This system for overcoming disability and accomplishing things with our parrots stems far beyond just harness training. Target training, trick training, taming, flight training, and all that good stuff can be achieved through patient persistent application of the training methods that I teach. I'm not saying it will be easy. You will have to tailor these methods to your specific conditions. But following this system, you will find success with your bird.
| | | |
| --- | --- | --- |
| | | Thursday March 31st, 2016 |
Keeping our companion parrots safe and healthy is a top priority. Sure parrots are evolved to survive well on their own in the wild. However, the artificial environment of the human home can pose many dangers that a parrot would not be exposed to in the wild.

Being familiar with common household dangers is a must. But simply being familiar isn't enough. It is important to enact rules and systems into place that ensure that these dangers are removed or cannot be accidentally introduced. This article is by no means a definitive list but it is something to help get you thinking about bird safety.


Dangerous Food
Anything bad for people is already bad for parrots. Definitely no alcohol, drugs, cigarettes, or narcotics. Coffee, tea, and chocolate are a big no-no for parrots because the light buzz effect we might get from them can cause heart problems and dehydration in parrots. Nothing with caffeine in it. And frankly no human drinks either. Parrots don't need to be drinking anything but water (nectar drinkers aside). A little bit of natural fruit juice can be safe but doesn't serve a purpose, better off just eating fruits then.

Parrots should not be given peanuts! The peanuts themselves aren't toxic but the shells can contain Aflatoxins which can be lethal. The risk just isn't worth it when there are plenty of safer nuts available. Excessively salty, sweet, or processed foods aren't toxic but they are bad. The more natural the better. Be careful to properly wash or peel skins from fruits as they can contain dangerous pesticides. Fruit pits/seeds are known to contain cyanide and should be avoided as well.

Avocado is another food that can be lethal if consumed by parrots. According to Donna Muscarella PHD, "Avocados are definitely toxic to parrots. They contain a cardiac glycoside ("persin") that leads to rapid cardiac arrest and death." While there have been some sightings of wild parrots consuming avocados, it is not understood if they have specific adaptations, natural dietary supplements, special selection skills, or if they do eventually succumb. For this reason, Dr. Muscarella concludes that "because avocados are so highly toxic to at least some species - and because there is no way to know this for a particular bird ahead of time- it is best to avoid feeding them."

Here is a video of Lorelei Tibbets LVT on the subject of intentional or unintentional feeding of avocados to parrots.



Dangerous Pets
Other pets, particularly carnivorous pets such as cats, dogs, snakes, and ferrets can pose a life threatening danger to household birds. There are too many cases where the innocent dog that never hurt a fly catches a bird like a frisbee and that's the end of the bird.

However, another pet that can pose a big danger to a companion parrot is another parrot. Whether of the same species or not, even birds that get along can sometimes hurt or maim each other. It is important to give in depth consideration to keeping multiple parrots in direct contact of each other almost to the same degree as other kinds of pets. Also, parrots can harbor diseases or parasites so contact without quarantine can be dangerous as well.


Dangerous Plants
Both household pot plants and woods can pose a hazard to your bird. Some woods, including oak and nutmeg can be dangerous. Obviously don't use these for perches but also take care that your bird isn't chewing up something that contains these. Plywood and MDF board can be dangerous because of the glues used to put them together. Certain pot plants can be dangerous as well. Here is a pretty extensive list.


Flight Hazards
Parrots are birds and birds can fly. Even with clipped wings, under certain circumstances, birds can fly just enough to fall into the same dangers that put flighted birds at risk. It is important to prevent the danger of ceiling fans, open doors, open windows, open water, and other dangerous things around the house. Furthermore, it's important to be careful not to slam a flying (or walking) bird with a door. It's important to hide/remove any toxic things around the home (or bird roamed area) that can be dangerous if chewed. Most of these will fall under environment anyway. But here's a more extensive flight safety article I wrote in the past.


Environmental Hazards
There are many things that can harm our parrots around the house with or without them coming in direct contact. If they chew on wires, they can get electrocuted. There are many things that are toxic or just too dirty to be chewed. Care must be taken to prevent or supervise because left alone, you can only imagine the kind of trouble your parrot could get into. Teflon cookware, even used at a distance, can spew lethal fumes throughout the house. Aerosols sprays, scented candles, paints, and glue fumes can be dangerous as well. Avoid whenever possible. Keep the bird far away and the area well ventilated if unavoidable.


Human Hazards
Perhaps the most underlooked danger to household parrots comes from humans themselves. Sure there are dangers such as mishandling or stepping on a bird. But the biggest danger still is complacency. Ignorance is just as dangerous but hopefully can be solved through learning. But complacency is being aware of things that are dangerous but doing them anyway. This type of mindset is what ultimately leads to harm to birds and it is the worst kind because it was avoidable.

The biggest reason people get complacent is because most of these hazards do not lead to instant death or do not necessarily cause harm every time they are encountered. Not every bite of avocado will be toxic, not every peanut will have aflatoxins, not every dog will try to eat the bird. However, over time, the continued exposure to these risks substantially increases the likelihood that the parrot will have long term health damage or death as a result. This is an article about how making excuses harms your bird.

There are so many dangers that are outside our knowledge or beyond our control. The least we can do to make our experience together safer is to take the known threats seriously and avoid them.
In August, 2015 I traveled to Australia on honeymoon. We got to see many parrots and other animals around that beautiful country. This article is about the wild Cockatiels and Galahs we saw in the vicinity of Pine Creek in the Northern Territory.

We made two sightings of wild Cockatiels. The first was during lunch by the lake at Copper Dam. The distinct call of Nymphicus hollandicus came through the air as a handful of Cockatiels flew by. I followed them with my eyes as they landed in a dead tree across the lake.

Some more Cockatiels arrived and they congregated in the tree. There were around a dozen Cockatiels in total. They spent a few minutes in the tree alternating circling flights with rest. Cautiously, several Cockatiels flew down to the shoreline. A few quick steps and they were wading at the waters edge. More came down to join them. They didn't spend a whole five seconds on the ground before they took flight back to the safety of their tree. The same Cockatiels repeated this drinking endeavor at least three more times.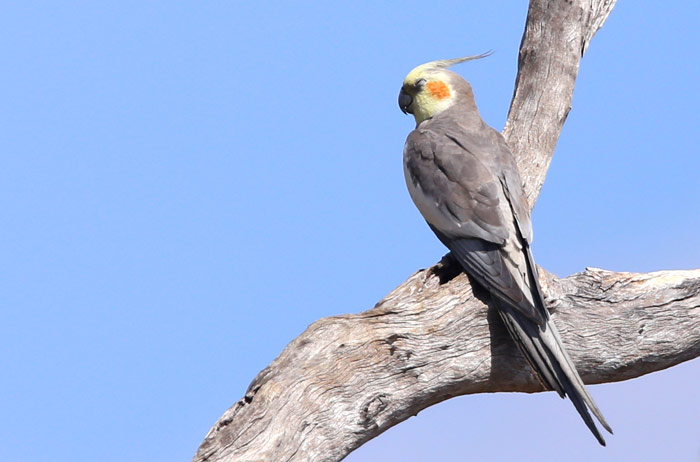 Most of the cocktail party departed but a few Cockatiels stayed for a nap in the tree. The Cockatiels were too far and too quick when flying for water, so I was not able to get any video of the process. But here's a video of them in the tree and a photo of them getting a drink.



The second encounter with Cockatiels came on the morning of the following day. Driving from Pine Creek back to Darwin, we spotted Cockatiels foraging on the ground by the road side. I approached them slowly but it was disturbing their feast. I couldn't get close enough to get footage and a few steps closer and they flew off into a nearby tree. Much like the Cockatiels at Copper Dam, these birds were very cautious on the ground.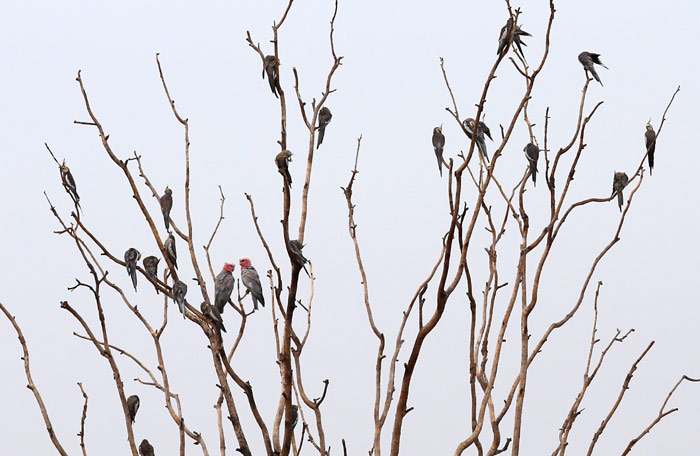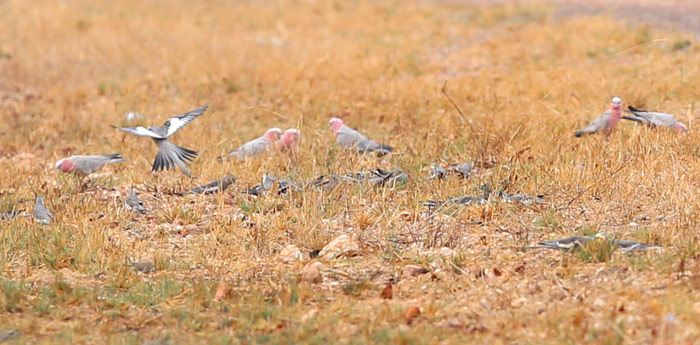 The birds spooked and went into the tree. I took this as an opportunity to get closer and station my gear hoping they would come back. They watched from their high vantage point for the danger to subside. A few brave birds came down first and then the rest followed. I would discover that I wasn't the only reason they'd take off to the tree. Every few minutes, the whole flock would fly back to the tree for a bit before coming back.

What was even more interesting than watching Cockatiels feeding on the ground was to discover that Galahs were amongst them! The two different species of Cockatoos would remain in their own distinct factions, but in very closer proximity to each other. In fact, when the flock would launch, they would both fly back to the same tree together.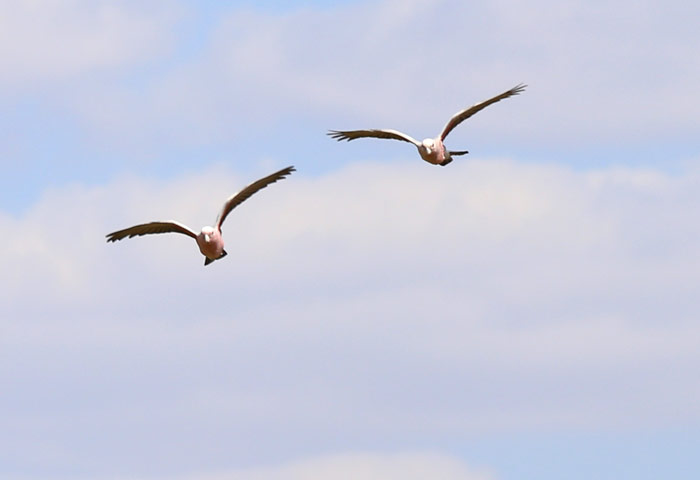 There were about two dozen Cockatiels for the half dozen Galahs. The large flock was visibly subdivided into smaller group units. We could hear Red Tailed Black Cockatoos in the distance but they did not mingle with the Galahs and Tiels.

The Cockatiels scurry around the ground on quick legs. Some birds look up while others have their heads down eating. But here's a fascinating thing. They are absolutely quiet while eating on the ground. It makes perfect sense, but it is the polar opposite of the endless Cockatiel chatter you hear when they are flying or perching.

It was an amazing experience to get to see these birds in the wild and what they do. It makes me appreciate them even more as pets and I hope that we can learn a bit from their wild habits and apply that knowledge toward making our homes an even better place for them.


| | | |
| --- | --- | --- |
| | | Saturday February 27th, 2016 |
Rachel the Blue and Gold Macaw loves getting sprayed from a water bottle. Marianna sprays mist on and around Rachel and Rachel just soaks it all in. She dances around her Training Perches with her wings flapping to catch the mist. This is pretty typical for a rainforest parrot. Parrots from dry climates on the other hand (like Senegal Parrots, Budgerigars, etc) don't really like to shower much.

While Rachel can get really excited about a shower, Truman the Cape Parrot prefers baths. Meanwhile Kili the Senegal Parrot and Santina the Green-Winged Macaw are pretty indifferent to water. Either they don't want to get wet and resist or at best they do nothing. They just never get into it like Rachel does but I figure that when they aren't mad about getting wet, that these are the times they like it.

The best way to get your parrot used to showering is with a gentle spray mister. Use slightly warm water. Squirt the mist above the bird and let it fall onto the bird. Avoid squirting at the bird directly unless it likes it. The important thing is never to use a spray bottle for punishment or make showering an unpleasant experience. As long as you keep it enjoyable, it will be a great activity for you and your parrot to enjoy together.

Here's a video of Rachel getting sprayed from a water bottle.


| | | |
| --- | --- | --- |
| | | Tuesday September 22nd, 2015 |
I have owned parrots since 2008. Now, 7 years later I have 4 parrots, 30,000 subscribers on youtube, over 17 million views, and selling thousands of copies of my book. I would like to thank all of my subscribers, followers, readers, and fans for being a part of the whole Parrot Wizard experience. I am really happy to be sharing this with you and helping you achieve a great relationship with your bird as well.

Most of all I would like to thank my parrots for putting up with all the lights and cameras so that I could share them with you and the world. I have compiled a short sizzle reel to highlight some of the really cool stuff these magnificent performing parrots can do: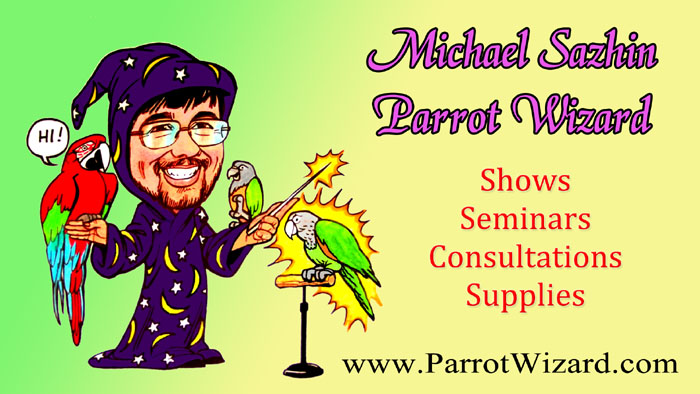 Kili knows over 30 tricks and I have actually lost count. The coolest thing is that she just knows how to work with me so I can come up with cool new videos like (Kili Swift Shake it Off) without specifically having to train anything new. We use commands that she is familiar with or she learns her new cues on the spot with a clicker. She is just a star actress.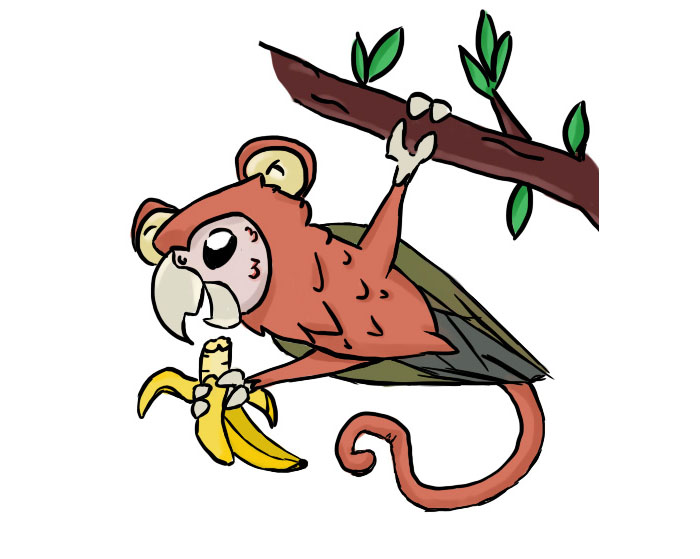 Truman is a total monkey bird. He is always making a mess or getting into some kind of trouble. Still, he's the most lovable bird in the family and impossible to get mad at. He's very cuddly and hand tame. He is my go to bird for letting people hold. He has literally never bit anyone ever.

Santina is the rescue bird and still working on her skills to get along with other people. She was featured on my Harness Training DVD about how she learned to wear a harness in just a week!

I am working full time being a Parrot Wizard. When I'm not doing shows, consultations, or seminars, I am busy developing new tricks and products to sell. In my Parrot Wizard online store you will find a collection of products I have hand selected or invented to make parrot keeping more enjoyable. Trick training toys, perches, books, DVDs, and Parrot Training Perches can be purchased on that site. My book, The Parrot Wizard's Guide to Well-Behaved Parrots contains my complete approach to parrot training. It is exactly the system I have used on all of my parrots and the system that I recommend to other parrot owners. It is a lot of information so it took an entire book to contain it.

I am available for parrot shows for TV, general audience, or parrot clubs. Please contact me if you are a producer or organizer. I travel a lot, so there are occasionally opportunities to come and see one of my seminars in the US or around the world. I live in New York City and am especially available for events in the area.

You can follow little day to day updates and picture on the Trained Parrot facebook page.

I continue to work on new videos, tricks, and products. Thank you for watching and stay tuned for more exciting blog articles!