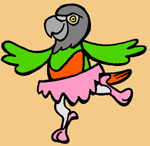 Kili
Type: Senegal Parrot
Genus: Poicephalus
Species: Senegalus
Subspecies: Mesotypus
Sex: Female
Weight: 120 grams
Height: 9 inches
Age: 6 years, 5 months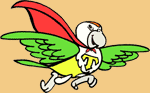 Truman
Type: Cape Parrot
Genus: Poicephalus
Species:Robustus
Subspecies: Fuscicollis
Sex: Male
Weight: 350 grams
Height: 13 inches
Age: 4 years, 8 months

Santina
Type: Green-Winged Macaw
Genus: Ara
Species:Chloropterus
Sex: Female
Weight: 1100 grams
Height: 40 inches
Age: 15 years, 2 months

List of Common Parrots:
Parakeets
:
Budgerigar (Budgie)
Alexandrine Parakeet
African Ringneck
Indian Ringneck
Monk Parakeet (Quaker Parrot)
Parrotlets
:
Mexican Parrotlet
Green Rumped Parrotlet
Blue Winged Parrotlet
Spectacled Parrotlet
Dusky Billed Parrotlet
Pacific Parrotlet
Yellow Faced Parrotlet
Lovebirds:
Peach Faced Lovebird
Masked Lovebird
Fischer's Lovebird
Lilian's (Nyasa) Lovebird
Black Cheeked Lovebird
Madagascar Lovebird
Abyssinian Lovebird
Red Faced Lovebird
Swindern's Lovebird
Lories and Lorikeets
:
Rainbow Lorikeet
Conures
:
Sun Conure
Jenday Conure
Cherry Headed Conure
Blue Crowned Conure
Mitred Conure
Patagonian Conure
Green Cheeked Conure
Nanday Conure
Caiques:
Black Headed Caique
White Bellied Caique
Poicephalus Parrots
:
Senegal Parrot
Meyer's Parrot
Red Bellied Parrot
Brown Headed Parrot
Jardine's Parrot
Cape Parrot
Ruppell's Parrot
Eclectus
:
Eclectus Parrot
African Greys:
Congo African Grey (CAG)
Timneh African Grey (TAG)
Amazons:
Blue Fronted Amazon
Yellow Naped Amazon
Yellow Headed Amazon
Orange Winged Amazon
Yellow Crowned Amazon
Cockatoos:
Cockatiel
Galah (Rose Breasted) Cockatoo
Sulphur Crested Cockatoo
Umbrella Cockatoo
Moluccan Cockatoo
Bare Eyed Cockatoo
Goffin's Cockatoo
Macaws
:
Red Shouldered (Hahn's) Macaw
Severe Macaw
Blue And Gold Macaw
Blue Throated Macaw
Military Macaw
Red Fronted Macaw
Scarlet Macaw
Green Winged Macaw
Hyacinth Macaw
| | | |
| --- | --- | --- |
| | | Thursday November 27th, 2014 |
Happy Thanksgiving! In the spirit of giving thanks, I would like to announce Ginger's Parrots the Movie. It's about Ginger and the Cockatiels and Senegals in her rescue. This is a great time to show your appreciation for the work that she does with the birds and for raising the bar for the concept of parrot rescue.

Please make a donation to the 501c3 rescue to support the birds and get a free copy of the Ginger's Parrots DVD. It's a 76 minute movie about the day in the life of this small private rescue. Follow Ginger as she takes care of the Senegals, Cockatiels, and other animals that she rescues. See how much goes into giving these creatures the high quality care they deserve. Check out the trailer and please make a donation from the rescue's page to get your free DVD.


| | | |
| --- | --- | --- |
| | | Tuesday November 11th, 2014 |
Do you ever feel like things just aren't going right with your part? Having a bad day? Parrot won't step up? Just took a nasty bite? Or can't get your spouse to accept your bird? Well Kili Swift is here to give you a lesson how to shake it off!

Getting down over your parrot troubles won't get you anywhere. You gotta just bite you lip, shake it off, and try again. Now there's a difference between solving problems and banging into a brick wall over and over again. If what you are doing repeatedly isn't working, it may be time to change strategies. But whatever you do, don't give up.

The only sure shot way at failure when it comes to parrots, is to just give up. This is how parrots end up cage bound for years or locked up in basements. I'm sure at some point those people thought they could have a relationship with this pet but as things would get worse and worse, they would eventually just give up on trying. Well don't give up!

Shake it off and try to find an approach that works. Instead of going for all or nothing, try to make small progress. Try to go back to something you already had. Accept baby steps in the right direction. After all, success is just the culmination of a lot of little baby steps.

In my book, The Parrot Wizard's Guide to Well-Behaved Parrots, I break down parrot ownership into logical chapters and give you an approach that you can follow through to success. It's a way to build trust and success over time without the biting and problems that many people encounter.

So just don't give up. Take a little time off, get your head set straight, and get back up on that horse (or parrot or whatever). Figure out what you're doing wrong, how to make it better, set realistic goals, and keep on trying. Here's Kili Swift with the music video parroty Shake it Off:


| | | |
| --- | --- | --- |
| | | Sunday November 2nd, 2014 |
Being single with parrots isn't easy. When it comes to dating, it's kind of like being divorced with kids. People look at you funny. They don't want to inherit your feathered children problems. I think I can speak for a lot of single parrot owners that it certainly makes things difficult.

My commitment is first and foremost to my parrots. They were there for me when I was alone, when I was happy, and just the same when I was sad. My parrots are family and you can't turn your back on family. So, if you want to be my lover, you've got to love my parrots too.

Yet, finding a potential match required that she would accept my parrots but not have other pets herself. A bit selfish, but what could I do when I was already committed to my birds? I wasn't looking for someone who has parrots or even necessarily likes them, but just someone who could accept them as part of me.

The kind of person that could say "it's me or the parrot" isn't even the kind of person I could have a relationship with regardless. If someone could think that way, then what would stop them from saying "it's me or the TV" or "it's me or your family" etc. No. The way someone feels about my bird family is how they feel about me.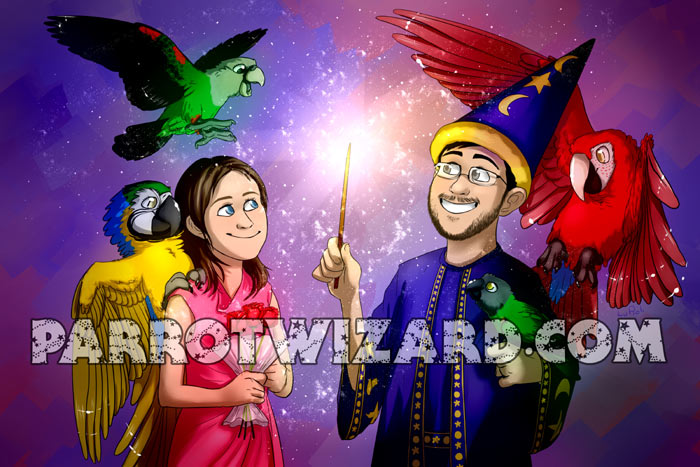 So here's the story of how I met my lovebird, my perfect match. The story goes back to this spring when my little rascal Truman went out on his city adventure. While Truman was lost, I got some help from a parrot loving guy called Ronen. Ronen didn't find Truman, but he helped give me spirit to go on searching after 2 hard days and he took me to the place where Truman would be found. Ronen and I became friends and began to take our parrots out together. We started the NYC Parrot Adventures Group together to invite even more parrot loving New Yorkers to join us with their birds.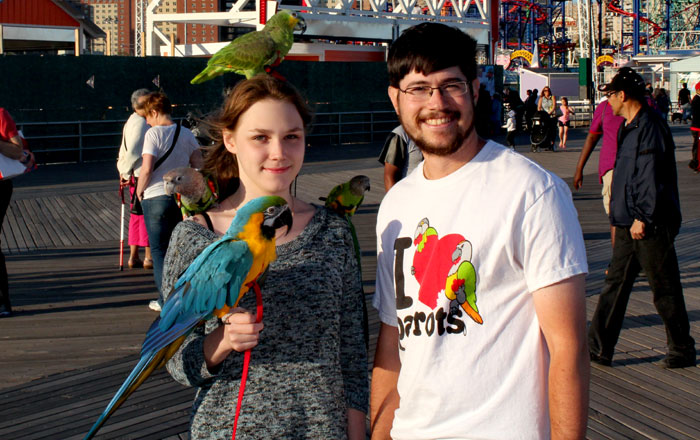 I remember the first day Marianna came out to meet us in Coney Island with her Blue and Gold Macaw named Rachel. She was late and rather shy. My first reaction was of annoyance. It was a cold gloomy evening and I was just anxious to take my birds home. I had Kili and Truman with me. She was so excited to meet the celebrity birds that she just couldn't get the words out or be herself. I guess I can say at that point, I didn't even like her.

Marianna came to further parrot group outings and the first time I really noticed her was the way she handled Truman. Truman would just melt away in her hands. I caught a glimpse of her kind and loving nature. She held and caressed Truman endlessly and he would close his eyes in delight. Although Truman will tolerate anyone, he is still choosing about who he actually likes. I've been passing that feathered monkey around long enough to be able to really tell.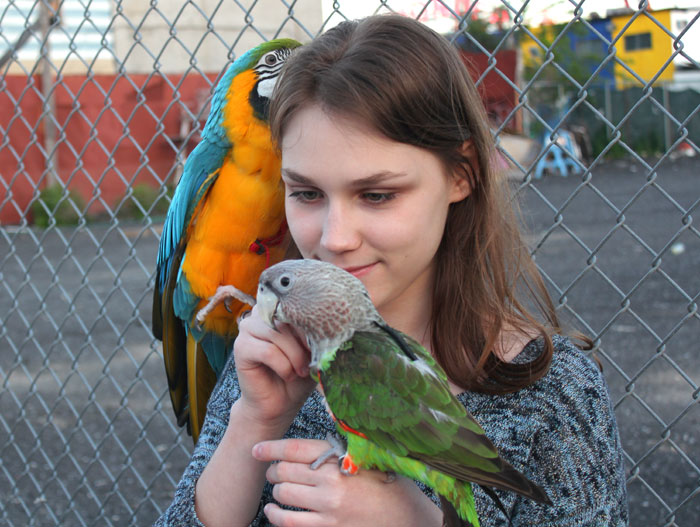 Like in a romantic comedy, when bumped together by others in our group (like sending us to get food), we would just stand there ignoring each other. It's easy to go on making a fool of yourself or talk about parrots to everyone else. But when it comes to talking to the pretty girl you have a crush on, you just end up looking mad because you don't know what to say. What Marianna couldn't say to my face, she told me through her love of my parrots. She communicated through them how she felt. Marianna volunteered to help me with Santina's Roar shoot and was a big help. With something specific to do together, we began talking and we began to discover how right we are for each other.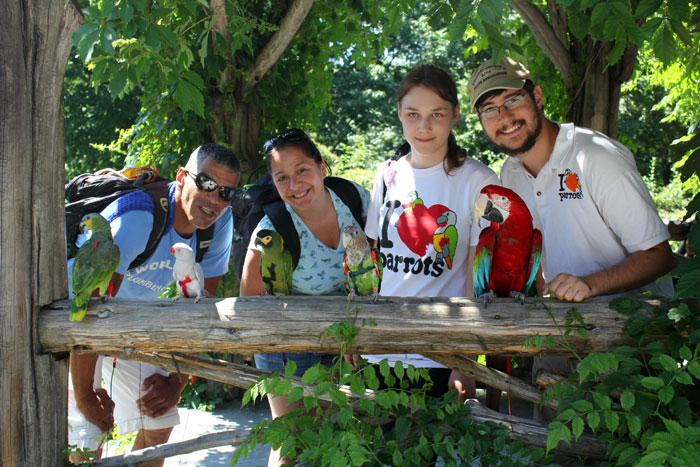 Marianna told me that she was leaving for 3 weeks on vacation and didn't even have a place arranged for her macaw to stay. She said that as a last resort she'd just board it at her local bird store. I thought about it and the next day called to let her know I'd board her bird for her! For 3 weeks, Rachel was a trained parrot! I didn't have time to teach her tricks but I focused on bonding and good behavior. Now Rachel is by no means a bad bird. She's only a 2 year old macaw so quite young. But in the last year as she has been getting older, she has begun to bite people other than her owner. I had previously worked on step-up with Rachel outdoors, so once under my influence, I had no trouble getting Rachel to step up. However, Rachel would not let me pet her head or hold her. So during the time Rachel stayed with me, I got her comfortable being pet, held, grabbed, and putting her harness on. As you can imagine, Marianna and I stayed in close contact about things while she was away. Marianna came back from her trip not only to find a tamer parrot, but also an invitation to go out on a date.

Things have really taken off ever since. Not only did it turn out we have a common interest in parrots but also just about everything else as well. It's a one of a kind match that started as something more akin to a rivalry. Now we do everything together.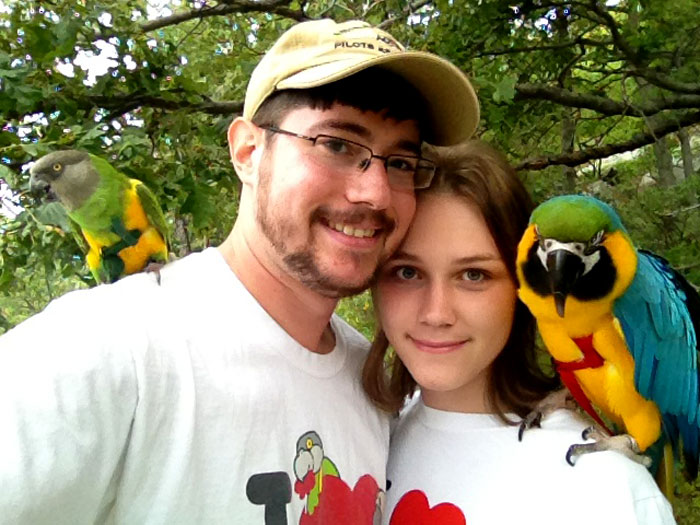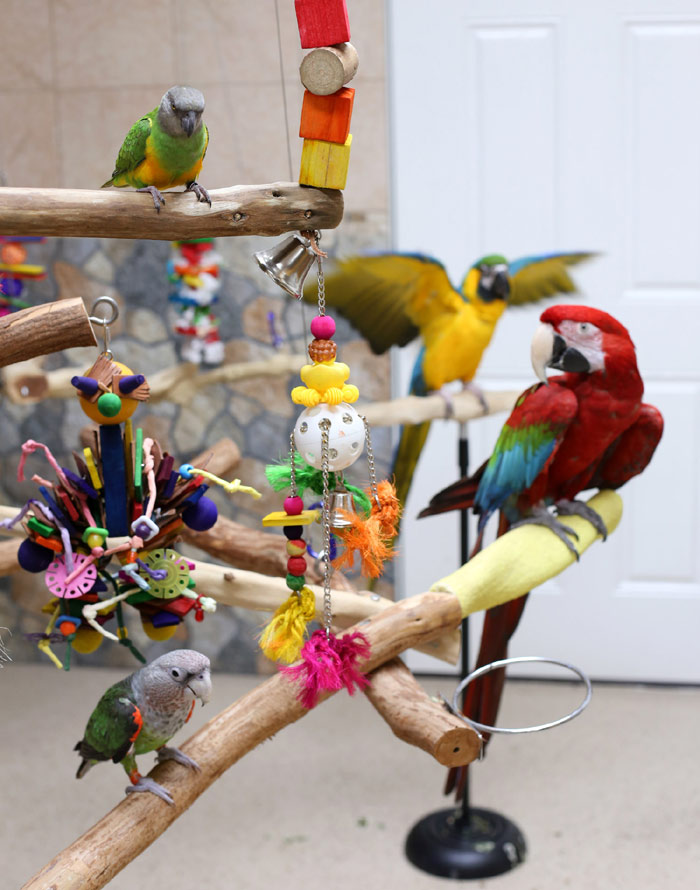 What's great is that our parrots get along with each other and with both of us. All of our parrots are great with both of us. Even Kili, who has a history of terrorizing people I'd invite home, likes Marianna and asks her for head-scratches. Truman may well like Marianna better than me. Kili, sitting on my shoulder, will let Marianna hug me and be near without any jealousy (for a Senegal, that is pretty unbelievable). Santina, although she doesn't want to be touched, likes Marianna too. Santina starts dancing and talking whenever Marianna is near. Also Santina gets along well with Rachel. And Rachel gets along with me. That's our awesome parrot family.

Getting the parrots to get along with each person and each other is no coincidence. It is the culmination of years of training, the right environment, and the right approach. Marianna and I make sure to include our parrots in our lives in such a way that makes them enjoy being part of this group in harmony rather than rivalry. They all get their special attention both privately and as a group. We include the birds on outings and in our daily routines. I left a big travel cage with Marianna so that Kili or Truman can come spend a week at a time with her and get even more used to things. Our parrots' approval is probably the most important of all and it is evident that we have it.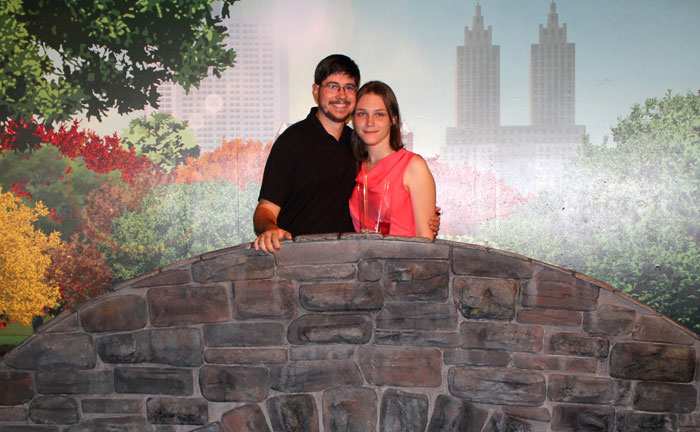 So all you parrot singles out there, I want to introduce you to a concept called parrot mingles. Join a parrot club, volunteer at a rescue, hang around your local bird store, start a parrot outing group. Who knows maybe you or your parrot will find their match!

I just want to mention Kristine who met her boyfriend Justin while taking her Senegal Parrot Qubit to the park. She's a member of our NYC Parrot Adventures Group and is working on taming Justin to be comfortable with her birdie. Show your parrot love and maybe some day it will help you find yours as well!


| | | |
| --- | --- | --- |
| | | Thursday October 30th, 2014 |
Kili said she's had enough of being the parrot on pirate's shoulder for Halloween. She decided that she's going to be a pirate too! Who has ever heard of that? A parrot being a pirate?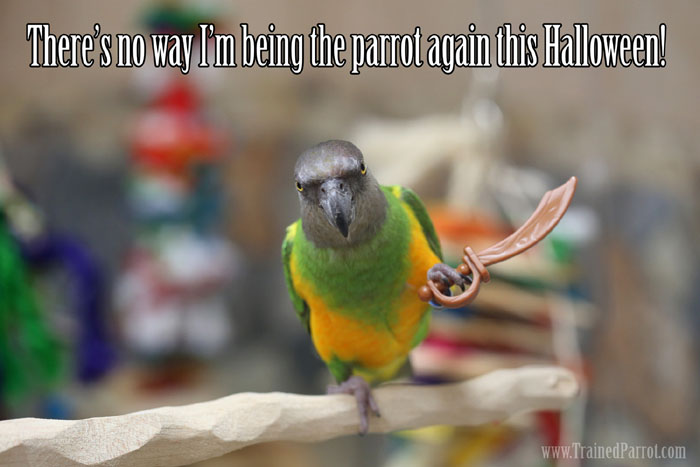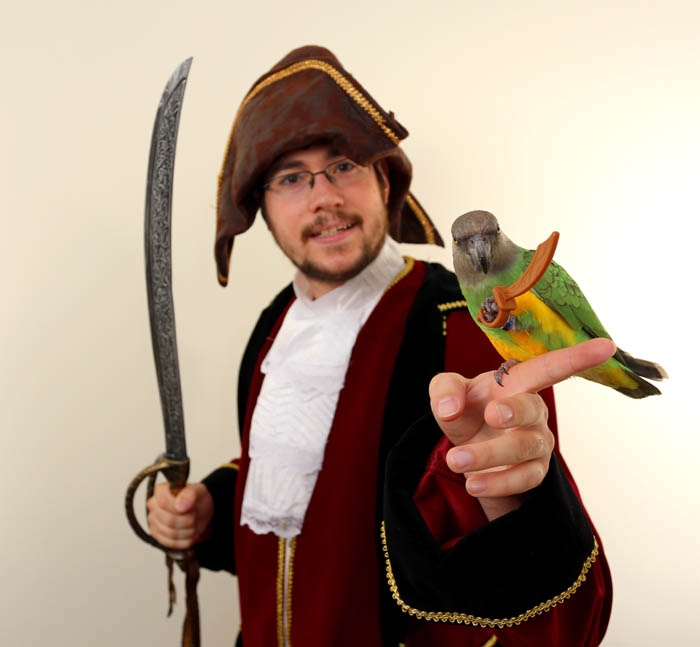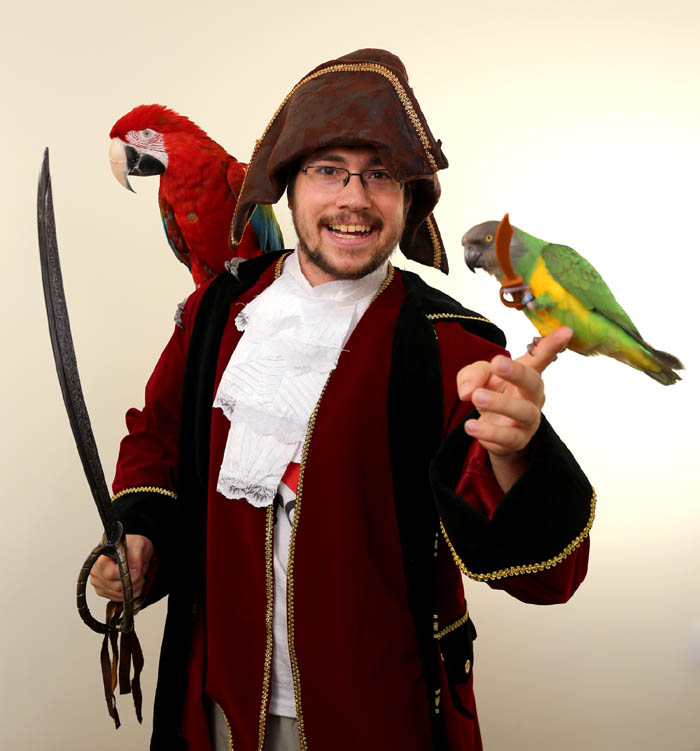 Check out this special new Halloween video where Kili demonstrates what it's like to be a pirate by hiding her treasure. You can teach your bird to stash its booty in a treasure chest too (order the treasure chest prop from ParrotWizard.com).


| | | |
| --- | --- | --- |
| | | Wednesday October 22nd, 2014 |
There's no such thing as a free parrot. I get offered other people's parrots for free all the time and yet I do not accept them. People who offer will look at me in shock and think I'm crazy to turn down a $500 (retail) bird for free. The thing is, I don't see pets the way they do. To me, they are a part of the family and will cost a lot in terms of time and money to take care of. I don't want to have more than I can afford.

Now when it comes to the "price" of a parrot, the price up front is really a tiny part of the overall cost of owning a parrot. The costs of ownership far outweigh the acquisition costs of any parrot, including one from a store. Costs of keeping a parrot include vet bills, cage, food, perches, toys, cleaning supplies, house modifications (like bird proofing), and replacement of personal possessions destroyed by the bird. This does not even include the cost of educating yourself about parrot ownership because this will vary for people.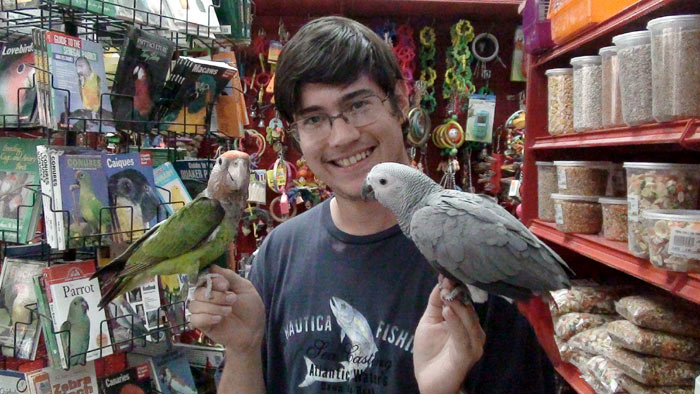 Walking around any bird store or rescue, I've been finding that the tameness of available birds is not much different. You'd be lucky to find a bird store where even 1/4 of the available birds are tame to the point of just stepping up on your hand.The ratio isn't much worse at a rescue.

Now when it comes to rehoming a parrot, I want to point out why you should never give it away for free (unless you personally know who the bird is going to). There are plenty of cases where con artists take free birds that they get and then sell them to make a profit. If you give away or sell a bird for less than the baseline market price for it, there is the possibility of it being resold for a profit. Who's hands it ends up then is entirely uncontrolled. Sometimes, an even worse fate awaits "free" birds being given away (especially budgies). Owners of snakes or other exotic pets will take free parrots and use them to live feed their exotics. Some might argue that it's the circle of life and natural. But there is nothing natural about being cornered in a glass aquarium with no chance of escape.

Because people get overly fixated on the price of exotic parrots, they become shortsighted about the far greater costs of keeping them. Giving away a parrot for free or for too cheap, gives the false impression that this is not only a worthless creature but also that it is easy to afford. Given the high expense of specialized products like food, perches, and toys to keep a parrot healthy, it is unreasonable to keep one on an extremely tight budget. While other types of pets may handle depravity better, parrots are known to self mutilate and develop major problems when void of adequate care and supplies.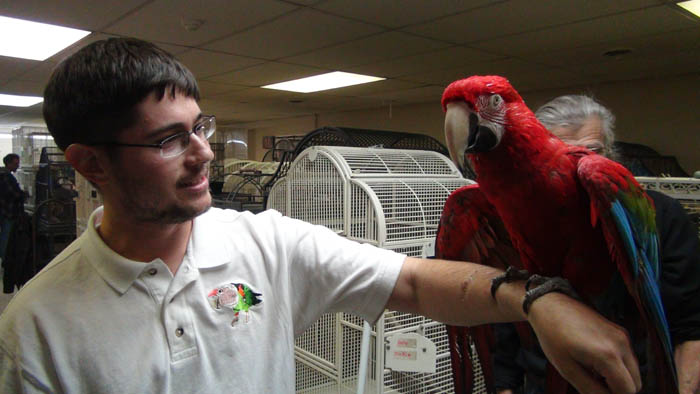 Although there are many good reasons to acquire a parrot from a rescue, being cheap is not one of them. If a certain species of parrot will cost $1,500 at a store or $500 at a rescue, in the grand scheme of things, this is a negligible difference in cost and should not play a role in which to get. The initial vet visit can easily run $500-$1000 when done properly. A cage will be $500-$1000 either way. And on a parrot of that size, toy can easily expect to spend $1,500 every year thereafter for basic supplies to do an adequate job of caring for that bird. Even if kept for just 10 years at a cost of $1,500 per year, the total of $15,000 dwarfs the $1,000 saved by going to a rescue.

The adoption fee, price, or what have you of a parrot helps to establish a baseline cost of keeping such a creature. It also ensures the pay-worthiness of the adopter/buyer to being able to pay the costs of keeping the animal in the future. A parrot given away for free can easily get passed around by people because they have no financial or emotional investment so it is important to always include a reasonable rehome/adoption fee whether you need the money or not. Better still, find information, do training, and find ways to keep your parrot in the first place without the need to give it away. Just remember, there's no such thing as a free parrot. It will always involve a lost of cost and time to keep these creatures successfully.