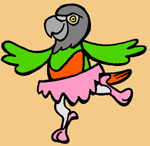 Kili
Type: Senegal Parrot
Genus: Poicephalus
Species: Senegalus
Subspecies: Mesotypus
Sex: Female
Weight: 120 grams
Height: 9 inches
Age: 7 years, 7 months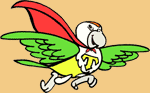 Truman
Type: Cape Parrot
Genus: Poicephalus
Species:Robustus
Subspecies: Fuscicollis
Sex: Male
Weight: 330 grams
Height: 13 inches
Age: 5 years, 11 months

List of Common Parrots:
Parakeets
:
Budgerigar (Budgie)
Alexandrine Parakeet
African Ringneck
Indian Ringneck
Monk Parakeet (Quaker Parrot)
Parrotlets
:
Mexican Parrotlet
Green Rumped Parrotlet
Blue Winged Parrotlet
Spectacled Parrotlet
Dusky Billed Parrotlet
Pacific Parrotlet
Yellow Faced Parrotlet
Lovebirds:
Peach Faced Lovebird
Masked Lovebird
Fischer's Lovebird
Lilian's (Nyasa) Lovebird
Black Cheeked Lovebird
Madagascar Lovebird
Abyssinian Lovebird
Red Faced Lovebird
Swindern's Lovebird
Lories and Lorikeets
:
Rainbow Lorikeet
Conures
:
Sun Conure
Jenday Conure
Cherry Headed Conure
Blue Crowned Conure
Mitred Conure
Patagonian Conure
Green Cheeked Conure
Nanday Conure
Caiques:
Black Headed Caique
White Bellied Caique
Poicephalus Parrots
:
Senegal Parrot
Meyer's Parrot
Red Bellied Parrot
Brown Headed Parrot
Jardine's Parrot
Cape Parrot
Ruppell's Parrot
Eclectus
:
Eclectus Parrot
African Greys:
Congo African Grey (CAG)
Timneh African Grey (TAG)
Amazons:
Blue Fronted Amazon
Yellow Naped Amazon
Yellow Headed Amazon
Orange Winged Amazon
Yellow Crowned Amazon
Cockatoos:
Cockatiel
Galah (Rose Breasted) Cockatoo
Sulphur Crested Cockatoo
Umbrella Cockatoo
Moluccan Cockatoo
Bare Eyed Cockatoo
Goffin's Cockatoo
Macaws
:
Red Shouldered (Hahn's) Macaw
Severe Macaw
Blue And Gold Macaw
Blue Throated Macaw
Military Macaw
Red Fronted Macaw
Scarlet Macaw
Green Winged Macaw
Hyacinth Macaw
| | | |
| --- | --- | --- |
| | | Tuesday September 22nd, 2015 |
I have owned parrots since 2008. Now, 7 years later I have 4 parrots, 30,000 subscribers on youtube, over 17 million views, and selling thousands of copies of my book. I would like to thank all of my subscribers, followers, readers, and fans for being a part of the whole Parrot Wizard experience. I am really happy to be sharing this with you and helping you achieve a great relationship with your bird as well.

Most of all I would like to thank my parrots for putting up with all the lights and cameras so that I could share them with you and the world. I have compiled a short sizzle reel to highlight some of the really cool stuff these magnificent performing parrots can do: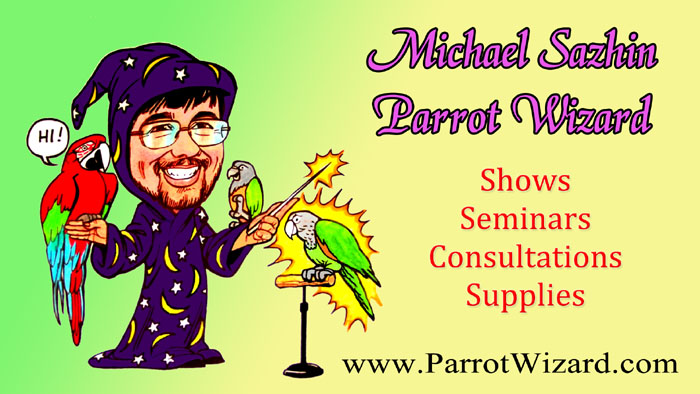 Kili knows over 30 tricks and I have actually lost count. The coolest thing is that she just knows how to work with me so I can come up with cool new videos like (Kili Swift Shake it Off) without specifically having to train anything new. We use commands that she is familiar with or she learns her new cues on the spot with a clicker. She is just a star actress.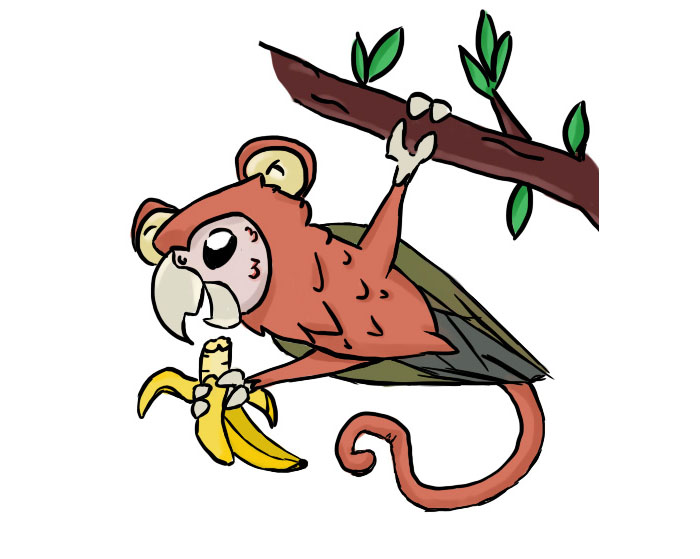 Truman is a total monkey bird. He is always making a mess or getting into some kind of trouble. Still, he's the most lovable bird in the family and impossible to get mad at. He's very cuddly and hand tame. He is my go to bird for letting people hold. He has literally never bit anyone ever.

Santina is the rescue bird and still working on her skills to get along with other people. She was featured on my Harness Training DVD about how she learned to wear a harness in just a week!

I am working full time being a Parrot Wizard. When I'm not doing shows, consultations, or seminars, I am busy developing new tricks and products to sell. In my Parrot Wizard online store you will find a collection of products I have hand selected or invented to make parrot keeping more enjoyable. Trick training toys, perches, books, DVDs, and Parrot Training Perches can be purchased on that site. My book, The Parrot Wizard's Guide to Well-Behaved Parrots contains my complete approach to parrot training. It is exactly the system I have used on all of my parrots and the system that I recommend to other parrot owners. It is a lot of information so it took an entire book to contain it.

I am available for parrot shows for TV, general audience, or parrot clubs. Please contact me if you are a producer or organizer. I travel a lot, so there are occasionally opportunities to come and see one of my seminars in the US or around the world. I live in New York City and am especially available for events in the area.

You can follow little day to day updates and picture on the Trained Parrot facebook page.

I continue to work on new videos, tricks, and products. Thank you for watching and stay tuned for more exciting blog articles!
July 18/19 2015, a game-changing parrot training seminar was held in Russelsheim Germany outside Frankfurt. The seminar was the culmination of nearly a year's worth of online webinar sessions during the scope of which I was teaching training methodology and harness training for parrots of all levels.

After a brief visit to NY, it was time to get Hope back to Germany. Hope came onboard the Lufthansa flight to Frankfurt with us. Like in NYC, we took hope for a visit to Frankfurt:



The Germans accepted us with great hospitality. Bratwursts and pork chops were plentiful. We got to meet many members of the German flight club and their birds during the barbecue the night before the seminar.

During the Seminar we alternated between lectures, outdoor flight demonstrations, and feedback sessions for members. Flight club members would show me what they have accomplished with their own parrots and I gave them pointers and feedback on their training. Overall I was very happy to see so much progress and success since we began the webinar series.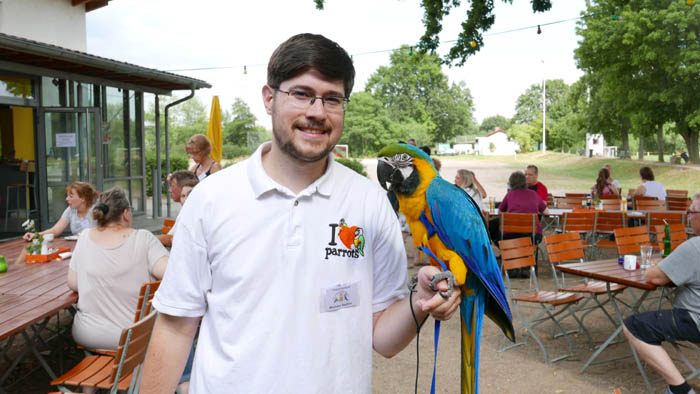 During intermissions, there were outdoor flight training demonstrations. Most of the parrots flown were on harnesses with long leashes. But a few birds were even free flown. The Germans are convinced that flight and particularly outdoor flight is necessary to maintain a parrot's health.

In Germany, they have a particularly bad epidemic of aspergillus in parrots. The flight club, with the help of several avian veterinarians, maintains that outdoor flight is the only prevention/cure to the infectious lung disease. More and more people are learning to fly their parrots outside for fun and for health.

In the following video you can see some of the flights that were made. They use particularly long flight lines to fly the birds across a soccer field. Some of the flights by more experienced fliers were successful while some of the beginners ran into some trouble. In one case, a pair of blue and gold macaws flew to the end of the line several times in a row. One cockatoo somehow decided to turn around 180 and fly the wrong way. But in all cases of screw ups, the aviator harness prevented the parrots from getting into serious trouble and safely brought them down to the ground in a recoverable place. Further webinars and training will be necessary to improve recall flight reliability.



On the Sunday following the seminar, many of the attendees came on a historic parrot outing. Over 20 people and 15 parrots set out by ferry, foot, and by wing to explore the German countryside. A long walk was rewarded with a pleasant lunch at a tavern.

Flight club members received matching shirts at their seminar "graduation." They all proudly wore them to the parrot walk. If it wasn't obvious by the parrots on their shoulders, the matching shirts confirmed the group unity. Marianna and I received an honorary induction into their group after lunch.

Here is a video of the walking adventure: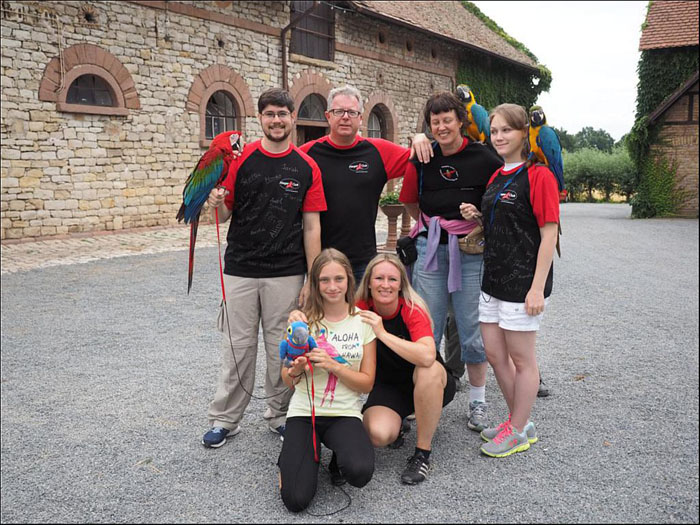 After lunch, a few of us headed to a nearby field to fly some parrots. Florian brought his Harlequin and Blue and Gold Macaw with him. Before we reached the flying location, Saphira the Harlequin Macaw flew off of his shoulder and into a tall tree. Moments later, the Blue and Gold took flight to follow. While the Harlequin is accustomed to freeflight, the Blue and Gold would only sit with a harness. The force of the macaw flying off at full speed coupled with a badly chewed harness, broke the connection and the macaw took off into the tall tree. Florian watched the macaw flying away while I grabbed my camera and caught the moment.

The Blue and Gold tried to land on the branch with the Harlequin but somehow scared her out of the tree. Florian did not seem worried. He said this had happened before and he expected the two macaws to come back. After ten minutes of watching and calling passed, I realized the birds were not going to just come back. I said, "we need more birds" and ran back to where the rest of the club was relaxing. I grabbed a few people with macaws and told them to bring their flight lines.

The idea was to start flying other parrots (safely) to try to entice the lost parrots to come and join them. Unfortunately the parrots being harness flown weren't particularly enthusiastic about flying and the lost parrots were not eager to come back. Florian kept watching and calling but it was of no use. We watched leaves and branches falling out of the tall tree as the parrots were having the time of their life. An all you can chew parrot play ground is not an easy place to get a lost parrot to come back from.

Florian normally used the harnessed Blue and Gold Macaw as a motivator for the freeflight Harlequin to come back. But now that they were both gone, he could not even manage to get the Harlequin to come back. He tried to use treats and Saphira the freeflight capable macaw even came back once for a treat. But no sooner did Florian give the treat that the bird took back off into the tree.

The harness did not break for no reason. A new or well maintained harness would not have broken under similar circumstances. Other members of the group had noticed Zazou chewing on his harness and notified Florian. Unfortunately Florian did not accept that the harness was damaged until he stood there holding nothing more than the black end of the leash. An important lesson learned is not to leave parrots with harnesses unattended and to check them for damage prior to every outing.

More than an hour later, the Harlequin vacated the tree. First she flew to a shorter tree some distance away. But as Florian kept calling, she finally came to him. Florian hoped that Saphira would help call Zazou back. But it wasn't working. The group had to head back. So we left Florian and a few others to work on getting Zazou back. Some friends brought Florian's RV camper to the site so he could spend the night and continue his efforts in the morning.

We did not get to witness the recovery. But from what we learned, Florian was unable to recover Zazou all day. Zazou got rid of what was left of the harness and got driven away by predators. When all hope was lost and night set in, Florian went into his motorhome for the night. No sooner did he close the door that he heard Zazou outside. He came out to find that Zazou flew down and landed on the roof of the camper on her own. Here is a video of the parrots flying away and a discussion of the recovery effort:


Parrots are extremely intelligent creatures and can learn concepts like colors, matching, and size. That's why I am always excited to teach tricks to my parrots that both challenge them and demonstrate their capabilities to others.

It was pretty easy to teach my new Colored Boxes trick to Kili. That is because she already has all of the skills required to learn the colored boxes trick. First, a parrot needs to know how to fetch. Next, the parrot needs to learn how to match colors. Finally, the parrot needs to learn how to push or pull.

Kili already learned how to match colors in the puzzle trick and ring toss trick. Kili learned to push/pull for a coin box trick and for her stroller trick. Putting all of these skills together led to the Colored Boxes trick. In this trick Kili places all of the round colored pieces into matching colored boxes. Some of the pieces are smaller and some are larger. She had to learn to ignore the size and focus exclusively on matching the colors. Then Kili learned to walk over and push all of the boxes closed.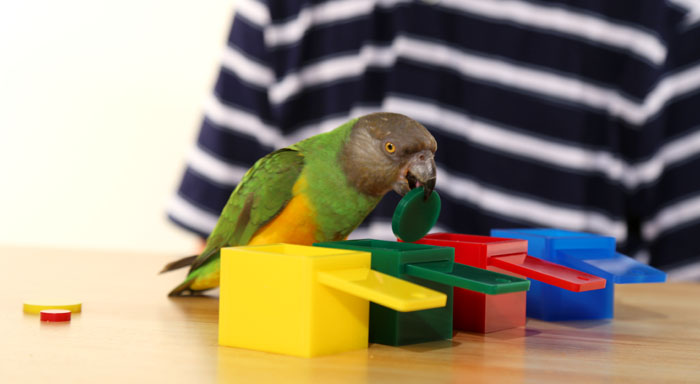 A problem that I ran into while teaching this trick was that Kili tricked me into helping her figure out where to put the pieces. Out of habit, I was clicking my clicker during the moment Kili would begin to dip the piece into right box. I realized that she would walk around dipping the piece into each box and waiting to see if there would be a click or not. In other words, she was tricking me into determining the color match and just cuing her when to drop it. So to avoid being outsmarted by the bird, I had to pay attention not to click until she would fully release the piece into the right box. She needed to receive the negative punishment of getting nothing for dropping the pieces into the wrong boxes in order to realize which ones are actually right.

When you teach a color match trick like ring toss, puzzle, or colored boxes, in the beginning the bird will only do two or three colors on pure memorization. But as you keep increasing the number of colors, a light bulb comes on in that bird's head and it realizes that the colors have to match regardless of what they are. Then the bird is able to match any color of that style trick.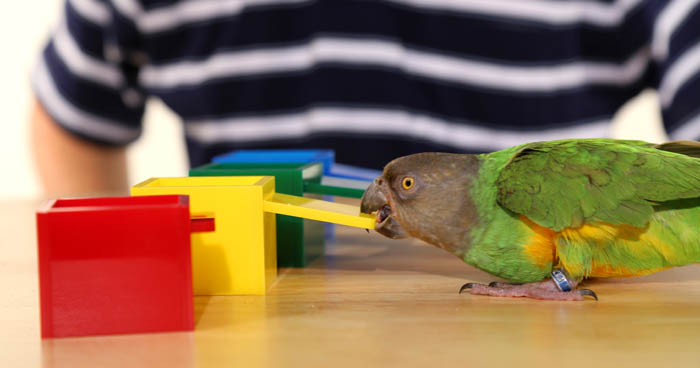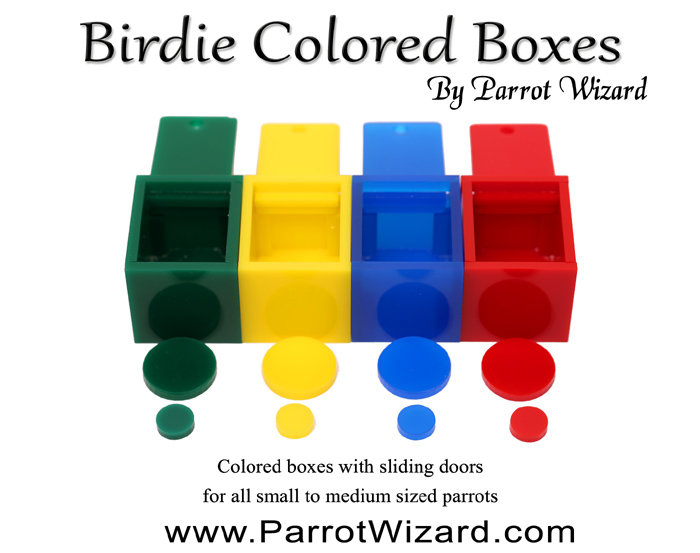 I recommend the Colored Boxes Trick for any small to medium parrots. It's too small for bigger parrots but the 6 Color Birdie Ring Toss is great for all the medium to large parrots.

Now check out this video of Kili performing her colored boxes trick:


Here is a video where Kili and Truman do interviews of different people around Central Park in New York City and what they know about parrots.


Oh no! The Parrot Got Out! This is the newest video posted by Parrot Wizard, a short Horror Film about what might happen if the psitta-beast got out of its enclosure. The short film features Marianna Samushiya and the well-known trained Senegal Parrot, Kili. Marianna comes home but soon realizes that she's being followed.

It took several days of filming and even more of editing but I am pleased with the results. I used a mix of techniques to bring you the story and action. From classic pan shots to steadicam tracking, you will enjoy the heart pumping action and terror.

Here are a few behind the scenes looks at the making of The Parrot Got Out: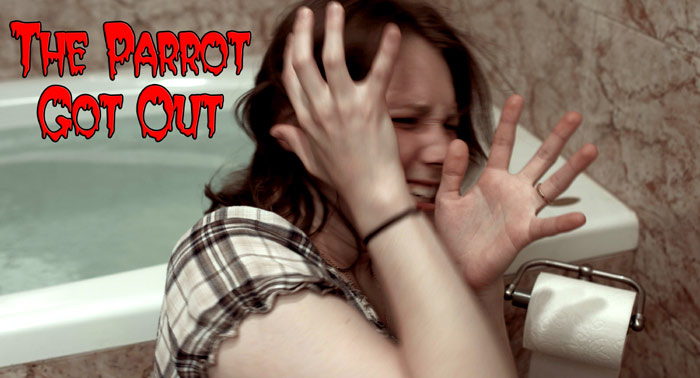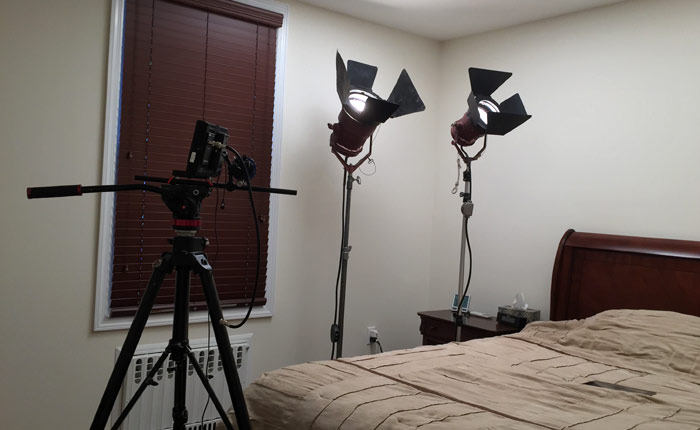 So dim your lights, set youtube to fullscreen, change the play quality to 4K or HD, and get ready to witness the horror of The Parrot Got Out: