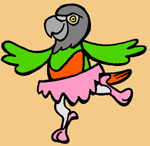 Kili
Type: Senegal Parrot
Genus: Poicephalus
Species: Senegalus
Subspecies: Mesotypus
Sex: Female
Weight: 120 grams
Height: 9 inches
Age: 6 years, 10 months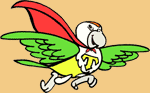 Truman
Type: Cape Parrot
Genus: Poicephalus
Species:Robustus
Subspecies: Fuscicollis
Sex: Male
Weight: 330 grams
Height: 13 inches
Age: 5 years, 1 month

List of Common Parrots:
Parakeets
:
Budgerigar (Budgie)
Alexandrine Parakeet
African Ringneck
Indian Ringneck
Monk Parakeet (Quaker Parrot)
Parrotlets
:
Mexican Parrotlet
Green Rumped Parrotlet
Blue Winged Parrotlet
Spectacled Parrotlet
Dusky Billed Parrotlet
Pacific Parrotlet
Yellow Faced Parrotlet
Lovebirds:
Peach Faced Lovebird
Masked Lovebird
Fischer's Lovebird
Lilian's (Nyasa) Lovebird
Black Cheeked Lovebird
Madagascar Lovebird
Abyssinian Lovebird
Red Faced Lovebird
Swindern's Lovebird
Lories and Lorikeets
:
Rainbow Lorikeet
Conures
:
Sun Conure
Jenday Conure
Cherry Headed Conure
Blue Crowned Conure
Mitred Conure
Patagonian Conure
Green Cheeked Conure
Nanday Conure
Caiques:
Black Headed Caique
White Bellied Caique
Poicephalus Parrots
:
Senegal Parrot
Meyer's Parrot
Red Bellied Parrot
Brown Headed Parrot
Jardine's Parrot
Cape Parrot
Ruppell's Parrot
Eclectus
:
Eclectus Parrot
African Greys:
Congo African Grey (CAG)
Timneh African Grey (TAG)
Amazons:
Blue Fronted Amazon
Yellow Naped Amazon
Yellow Headed Amazon
Orange Winged Amazon
Yellow Crowned Amazon
Cockatoos:
Cockatiel
Galah (Rose Breasted) Cockatoo
Sulphur Crested Cockatoo
Umbrella Cockatoo
Moluccan Cockatoo
Bare Eyed Cockatoo
Goffin's Cockatoo
Macaws
:
Red Shouldered (Hahn's) Macaw
Severe Macaw
Blue And Gold Macaw
Blue Throated Macaw
Military Macaw
Red Fronted Macaw
Scarlet Macaw
Green Winged Macaw
Hyacinth Macaw
After a long cold winter, spring has finally come. The weather is nice and getting the parrots outside is on people's minds. But for the parrots, wearing a harness is something long past. So what to do? This is where "reharness" training the parrots comes in!

My parrots all know how to put on a harness. They have all received the training to not be scared and know how to put the harness on. However, after such a winter that we didn't get to go out even once, their harness wearing skills are a bit rusty. They are less eager to put the harness on or don't quite remember how to get their heads into the collar. But all it takes is a little bit of reharness training to get them back to normal.

Out of my flock, Santina needed the most reminding and that is not surprising because she has least harness experience. After a treat or two, Kili already recalled exactly what to do. Truman, well he's a bit of a thick headed bird. In more ways than one! So he needed a little more work to help him remember how to get his big Poicephalus head through the collar. He was trying to assure me that he can get it in easily but that was for the wrong part! But with a bit of practice, he got it all sorted out as well.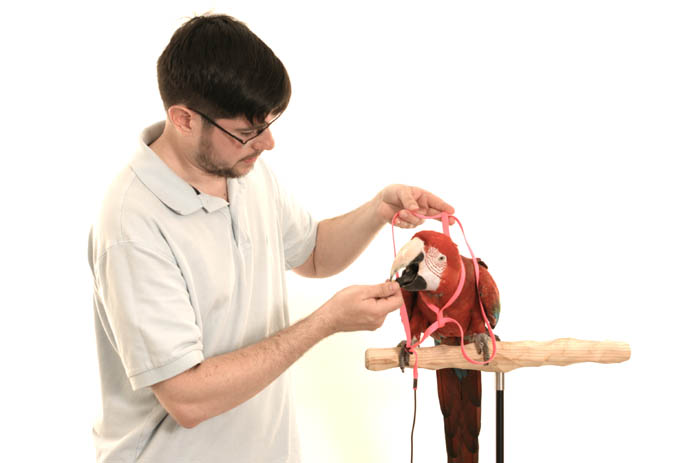 The process of reharness training a parrot is quite simple. It's an expedited retrace of the steps it took for the bird to learn to wear a harness in the first place. If your parrot did not learn how to wear a harness in the first place, then there are no steps to retrace. First of all, if your parrot never wore a harness in the first place, you need to follow a procedure for teaching it in the first place. However, I am also addressing the people who managed to just get the harness on their parrot (like when it was a baby or maybe just by luck). If the steps taken to teach the parrot to wear a harness were not specific and memorable, then you have nothing to trace back on. In either case, my harness training solution is thoroughly explained between my book and harness training dvd. The book teaches you all the basic taming requisites before you can being harness training and the DVD has Santina demonstrate step by step as she learns to wear the harness for the first time. So if you have not followed this method initially, do that this time. Next time, the following reharness training steps will work for you.

Depending on how rusty the bird is will affect how much I need to go back to basics. Since none of my parrots were scared or uncomfortable with the harness, I immediately skipped the desensitization. Nothing bad ever happened with the harness or at least not since they've last worn them successfully so the good we initially established persists. All of the birds have remained tame through the winter because of continued handling so that required no work either. All they needed help with is remembering how to stick their heads in the collar and rekindling a desire to wear the harness at all.

Seeing the harness alone did not evoke a desire to put it on. However, the sight of the welcoming harness collar and a treat in my hand reminded them of the "harness trick" they had once learned to put the collar on. They quickly recalled the learning that had taken place some time ago and were back on track.

To aid with the harness retraining, I make the collar stick out in a more convenient manner so that the birds can find where to put their head. As they get better, I have them work a bit harder. Just like with all training, it has to start easy at first and then get progressively more challenging. I increase how much contact the harness makes and duration on subsequent success. If the process moves along smoothly, I move quickly. If I find any trouble spots, I slow down and work on those.

Not only has Kili been harness trained, but she has also been reharness trained so many times that it only takes flashing a treat to make her go back to putting the harness on right. This is the benefit of following reproducible procedures year after year.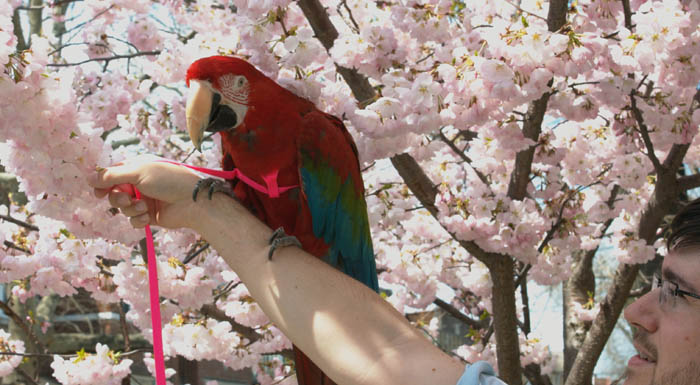 When I get the birds outside for the first time of the season, I assume things will be a bit frightening so I take my time. I don't keep them out for too long at first. But it only takes a few minutes or sessions outside until things return to normal. The more years that this is repeated, the more quickly and easily it all comes back.

Three things I offer when it comes to harness training your parrot to safely go outside:

My Book - This will teach you what you need to be able to do before you can even begin harness training
Harness Training DVD - Step by step procedure for harness training an already tame parrot
Aviator Harness - Get your leash on sale from Parrot Wizard

Get an Aviator Harness and my book together and I throw in the Harness Training DVD for free!

Here's a video of Santina getting a lesson in reharness training a year since she initially learned to wear the harness. Doesn't take much to retrain if it is trained properly in the first place.


For those of you following my blog, you might remember Rachel the Blue and Gold Macaw. I was watching her for a few weeks during the summer while Marianna was away. I know many of you would like to know what goes into owning and keeping a big parrot so here's a video where Marianna introduces Rachel and talks about her experience.

Rachel is a pretty unique Blue and Gold Macaw. She looks different than any Blue and Gold I've previously seen. She's a lot more petite in size and has this perpetual baby look. She's over two years old so I think it's pretty certain that this appearance will stay. She loves throwing her wings out for everyone to see. The first time I saw Rachel in Coney Island, it was a really windy day and she almost got blown away cause she wouldn't stop sticking her wings out. Here are a few pictures and video introduction of Marianna's bird: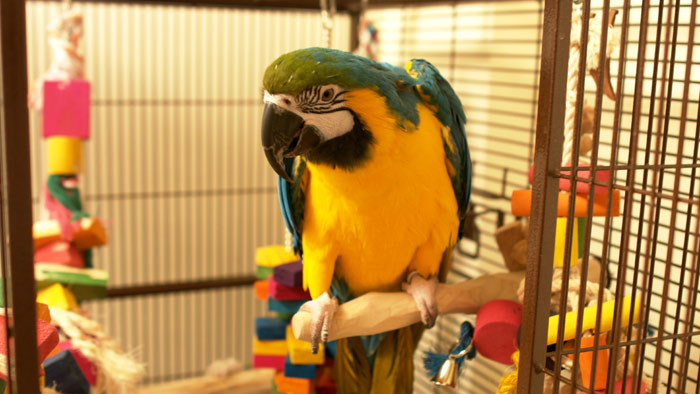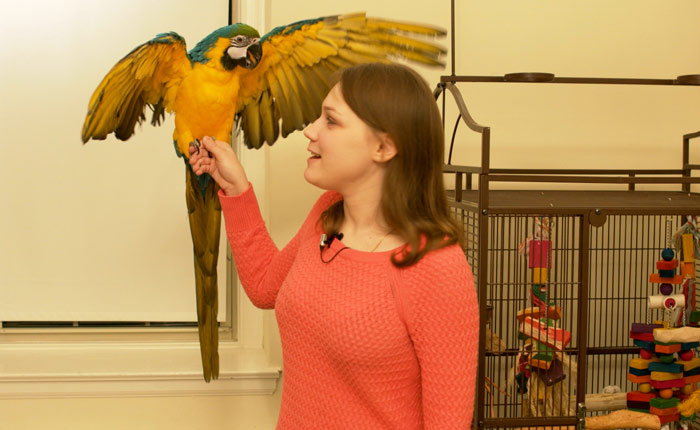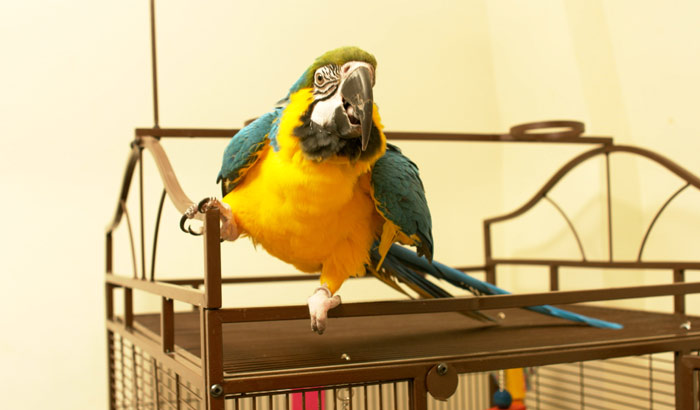 PS for those of you with 4K (also known as Ultra High Definition) TVs/Monitors, be sure to enable youtube output in 2160p for maximum quality. On an HD TV or computer screen, select 1080p. And on phones/mobile devices select 720p. These settings can be controlled by pressing the cog wheel in the lower right hand side and changing the Quality setting.
Check out Kili's newest trick. Well actually it's not that new but we have not made a video about it before. I taught Kili the bird toss or what I like to call "boing boing." It's a trick in which I can toss Kili up and down in my hand like a beanbag.

The trick first came to me when I was walking about Phoenix with Ginger and her Senegal Parrot Sammy on a harness. Sammy is a really easy going Senegal Parrot that just about anyone can hold. Sammy is the star of Ginger's Parrots Movie. Anyway, so I taught Sammy to wear a harness in no time and we went to a Sunday morning parrot outing with other parrot owners. I was holding Sammy and we were there a while so I started turning Sammy over and playing. I forget why exactly but I started bouncing Sammy up and down in my hand and before you knew it we had a new trick.

Ginger and I passed by Dr. Drigger's office (a well known Avian Veterinarian in the Phoenix area) and I showed him what Sammy could do. The doc thought it was hysterical and took a video.



Fast forward to more recent times. Kili is very good about laying in my hand. So I started preparing her for the bird toss. At first it was just a matter of moving my hand up and down while holding her. But then I started letting go and allowing her to go up out of my hand a little and back down. It's nothing more than a trust building exercise. If Kili gets too uncomfortable, she just flips over and lands on my hand or flies away. But I can see her overcoming her fears in order to earn treats.

The funny thing is that this trick wasn't taught in the usual click and treat method. Instead it would happen here and there in the course of a year. Sometimes just playing with her out of boredom, other times right before putting her in the cage for a meal, little by little Kili learned to bounce like a champ. This was sooner a long term type of training rather than quick accelerated learning. I tried to get her to learn it quickly at first but it just wasn't working. So spanning it out over time without any hurry was the best thing for this type of a trick.

To teach the more basic requisites such as touching, grabbing, and turning your bird over on its back, please refer to my book, The Parrot Wizard's Guide to Well-Behaved Parrots.

An interesting thing I noticed is that both Sammy, Kili, and Truman do better with the bird toss while wearing a harness. Perhaps it's the security they feel of still being partially held (by the harness instead of hand) or something else, but the harness definitely helped get the trick going in the beginning. And without further ado, here's the video:


Did you know that there are wild parrots living in the United States? Since the extinction of the Carolina Parakeet there are no native parrot species to the US. However, there are several populations of feral parrots once brought over as pets.

In Brooklyn, New York, there are several populations of feral Monk Parakeets - Myiopsitta monachus - also known as Quaker Parrots. Legend has it that around 1967, a shipment of Monk Parakeets got accidentally released at JFK airport and was the foundation of the urban psittacine population. Lost or released pet quakers may have also joined up with those flocks. Since then, the parrots have bred and multiplied.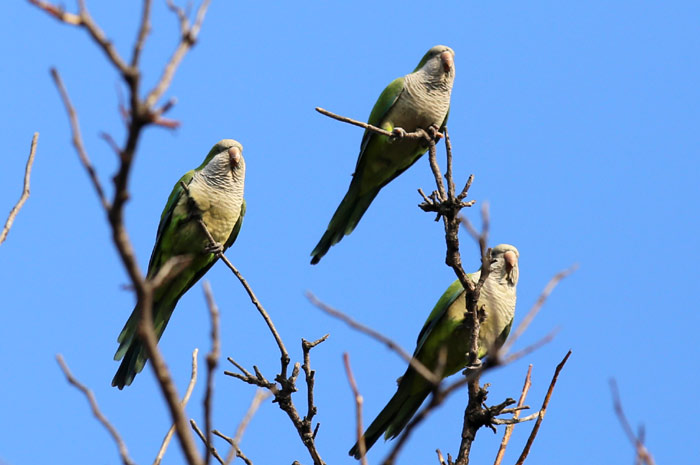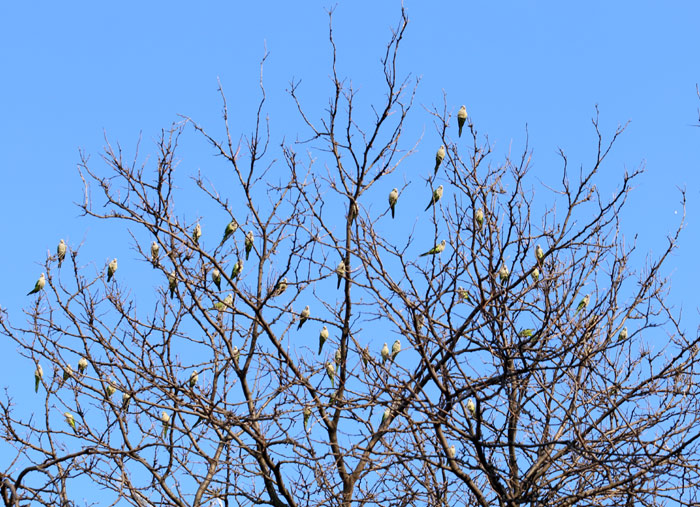 But life is no walk in the park for these lean green parrots! For a non-migratory tropical bird to survive the cold New York winter's is nearly miraculous. The Monk Parakeets are the only parrot species known to be able to survive these freezing winters because of their instinct to build communal nests. Not only that, they have learned to build these nests on power transformers and make use of a little free heating without paying a bill! The power company despises the destruction caused by these birds but some New York natives stand up for them and ensure they are allowed to survive.

I have heard that some city residents try to capture the parakeets to keep as pets. Since they are non-native, I don't think there is any law stopping them. However, bird watchers and fans of the parakeets do their best to stop this perhaps not illegal, but certainly undesirable poaching.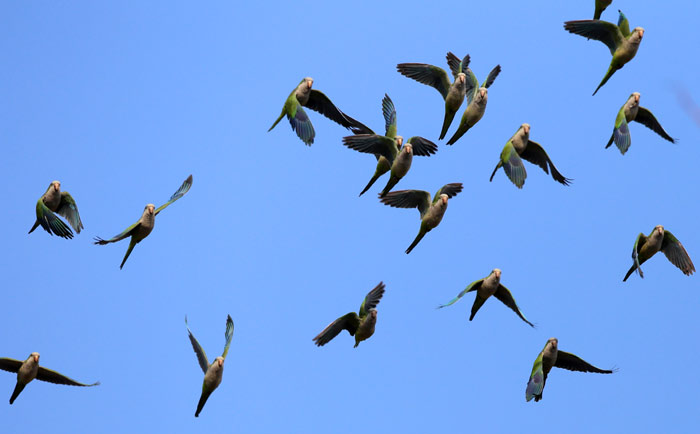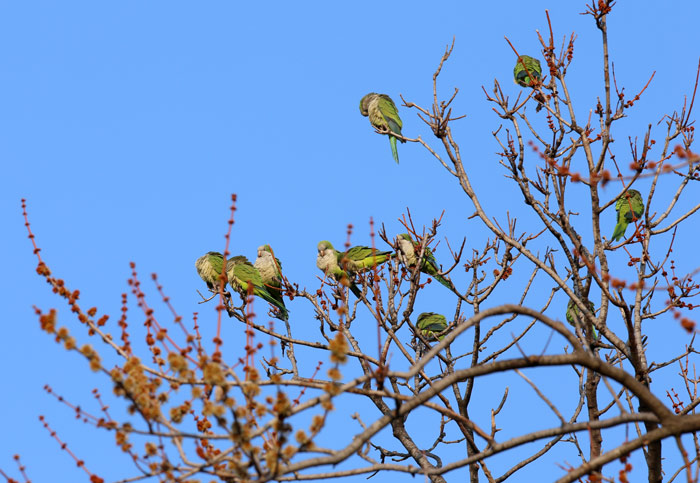 I wanted to see how the parakeets were doing after one of the coldest New York winters I can remember. On a brisk spring day, I headed to one of the locations the parakeets frequent. I was happy to hear their calls and discover that they had made it through the cold. But besides cold and humans, the parrots have yet another enemy to their survival!

While shooting footage of the Monk Parakeets going about their normal parrot business, we managed to catch a slow motion video of a Cooper's Hawk capturing a Quaker Parrot straight out of a tree! It happened in the blink of an eye, but the green color of the Hawk's victim was unmistakable! As the attack occurred, the rest of the flock scattered in all directions. It took at least ten minutes until any of the other birds had courage to come back to the same tree.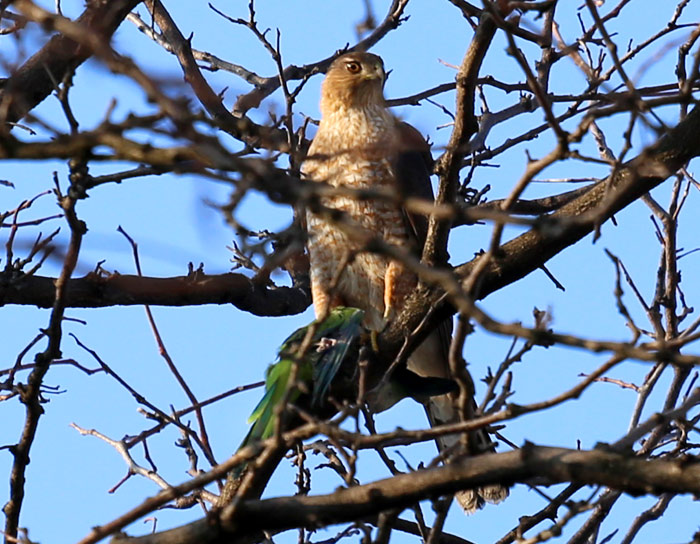 The mature Cooper's Hawk flew onto a roof with its catch but later came back to the same tree while still holding its prey. An observation I have made of the hawks that only occasionally visit this city is that they tend to stay in the natural environments (like parks and trees) and avoid excessively urban places. The hawk's red eyes were a firey blaze while the lifeless green bird dangled in its talons.

Just another day in New York City. The rest of the flock lives on. The next public "Parrot Safari" will be led by Steve Baldwin on April 4, 2015.


| | | |
| --- | --- | --- |
| | | Thursday January 8th, 2015 |
A year ago, I flew a circumnavigation flight around the Caribbean in my airplane with my dad and we visited many fascinating places. I didn't get a chance to prepare this footage before but I don't want you to miss out so I worked really hard to get some of this together to share right now.

Belize is a small Central American country bordering Mexico and Guatemala. The country is native to 10 species of parrots. Besides one species of Pionus, Scarlet Macaw, and some parakeets, all the native parrots are Amazon species.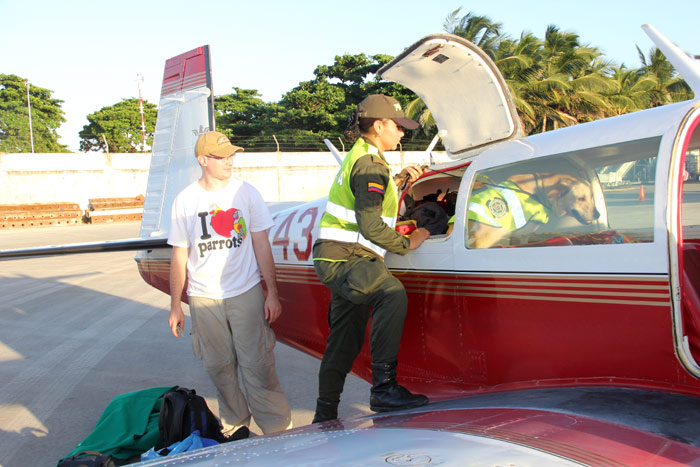 The Belize Bird Rescue takes in wild-caught parrots confiscated from locals keeping them illegally. These parrots go through a two year rehabilitation program before they can be released back into the wild. Most of these birds were pulled from the wild as chicks so they must learn to fly, operate in a flock, and learn to feed themselves before they can be released. The rescue mainly deals with White Crowned Pionus and White-Fronted Amazon parrots but they occasionally have the endangered Yellow Headed Amazon and other bird/parrots.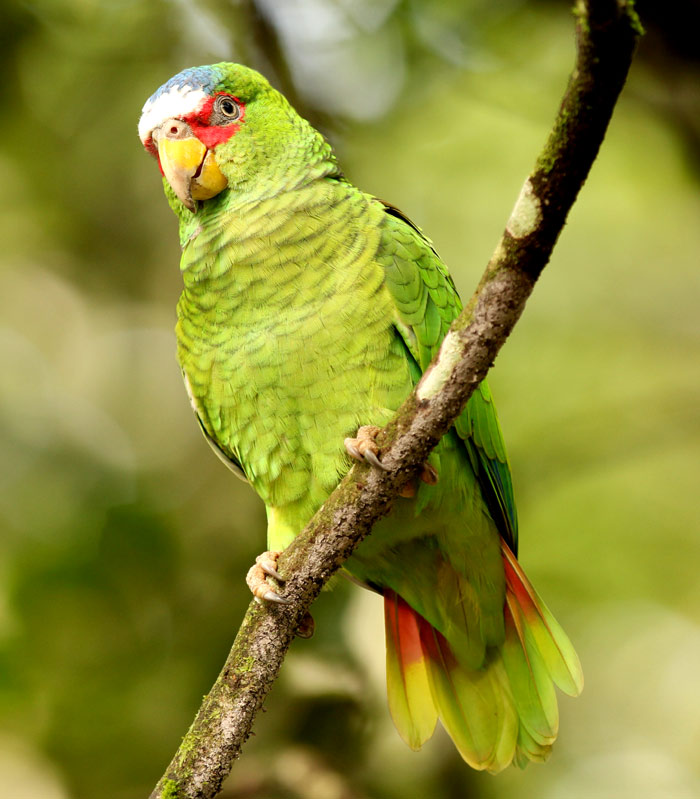 White Fronted Amazon Parrot in the Wild in Belize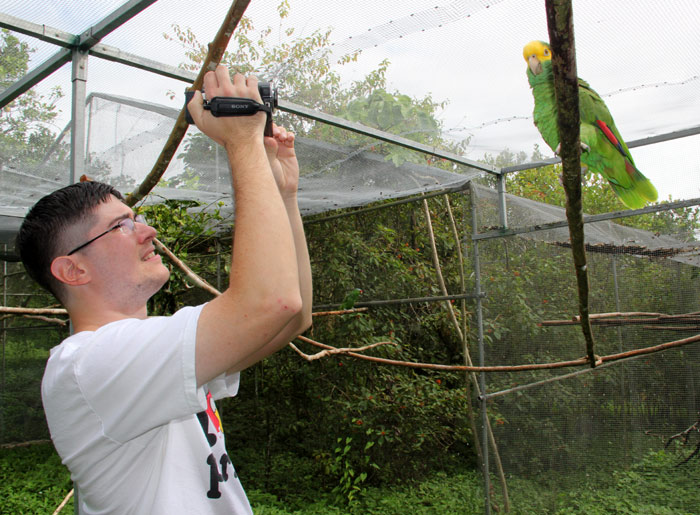 Yellow Headed Amazon Parrot in Rehabilitation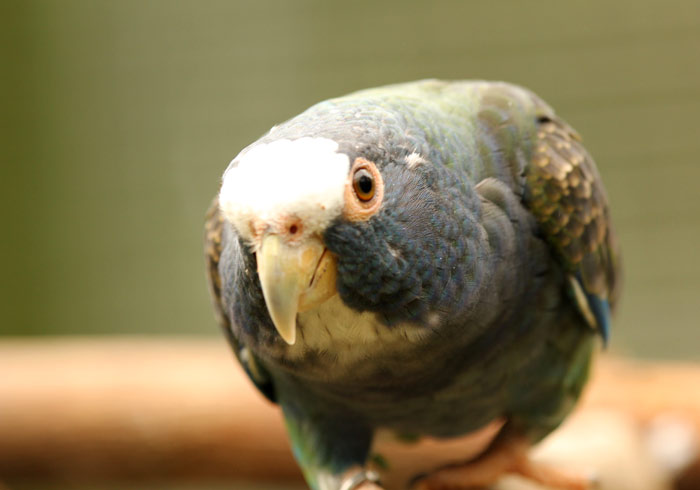 White Crowned Pionus Parrot in the Belize Bird Rescue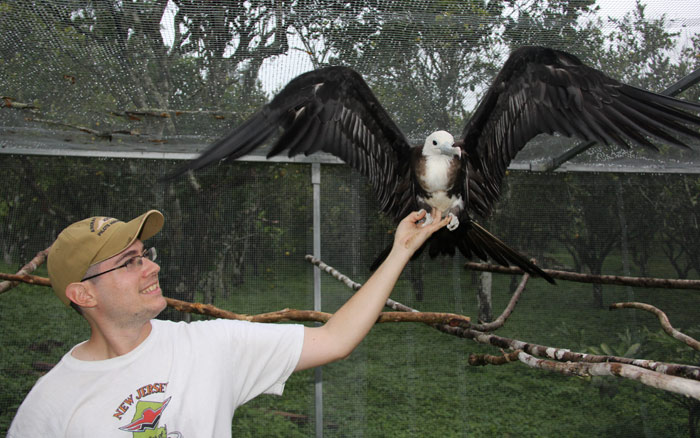 Holding a rehab frigate bird. Surprisingly light and weak lift from flapping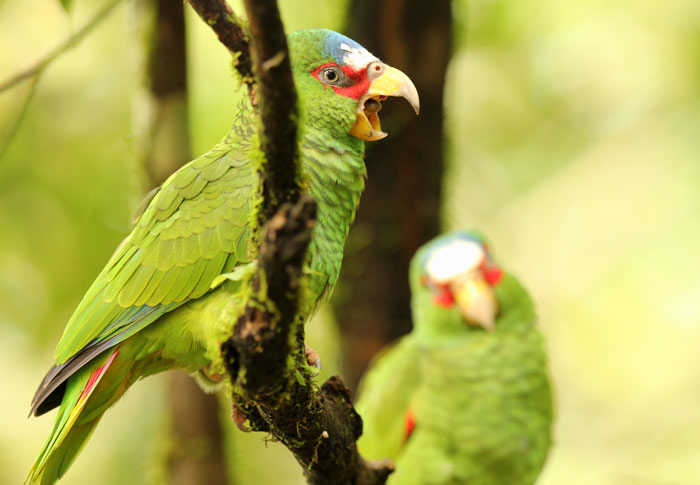 Pair of wild White Fronted Amazon Parrots in Belize


Check out the video of my visit complete with interviews and wild parrots. Learning about parrots in the wild also helps us learn about our pet parrots in captivity.