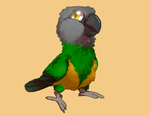 Kili
Type: Senegal Parrot
Genus: Poicephalus
Species: Senegalus
Subspecies: Mesotypus
Sex: Female
Weight: 120 grams
Height: 9 inches
Age: 15 years, 5 months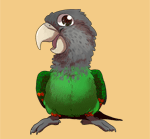 Truman
Type: Cape Parrot
Genus: Poicephalus
Species:Robustus
Subspecies: Fuscicollis
Sex: Male
Weight: 330 grams
Height: 13 inches
Age: 13 years, 8 months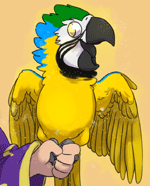 Rachel
Type: Blue & Gold Macaw
Genus: Ara
Species:ararauna
Sex: Female
Weight: 850 grams
Height: 26 inches
Age: 11 years, 5 months

List of Common Parrots:
Parakeets
:
Budgerigar (Budgie)
Alexandrine Parakeet
African Ringneck
Indian Ringneck
Monk Parakeet (Quaker Parrot)
Parrotlets
:
Mexican Parrotlet
Green Rumped Parrotlet
Blue Winged Parrotlet
Spectacled Parrotlet
Dusky Billed Parrotlet
Pacific Parrotlet
Yellow Faced Parrotlet
Lovebirds:
Peach Faced Lovebird
Masked Lovebird
Fischer's Lovebird
Lilian's (Nyasa) Lovebird
Black Cheeked Lovebird
Madagascar Lovebird
Abyssinian Lovebird
Red Faced Lovebird
Swindern's Lovebird
Lories and Lorikeets
:
Rainbow Lorikeet
Conures
:
Sun Conure
Jenday Conure
Cherry Headed Conure
Blue Crowned Conure
Mitred Conure
Patagonian Conure
Green Cheeked Conure
Nanday Conure
Caiques:
Black Headed Caique
White Bellied Caique
Poicephalus Parrots
:
Senegal Parrot
Meyer's Parrot
Red Bellied Parrot
Brown Headed Parrot
Jardine's Parrot
Cape Parrot
Ruppell's Parrot
Eclectus
:
Eclectus Parrot
African Greys:
Congo African Grey (CAG)
Timneh African Grey (TAG)
Amazons:
Blue Fronted Amazon
Yellow Naped Amazon
Yellow Headed Amazon
Orange Winged Amazon
Yellow Crowned Amazon
Cockatoos:
Cockatiel
Galah (Rose Breasted) Cockatoo
Sulphur Crested Cockatoo
Umbrella Cockatoo
Moluccan Cockatoo
Bare Eyed Cockatoo
Goffin's Cockatoo
Macaws
:
Red Shouldered (Hahn's) Macaw
Severe Macaw
Blue And Gold Macaw
Blue Throated Macaw
Military Macaw
Red Fronted Macaw
Scarlet Macaw
Green Winged Macaw
Hyacinth Macaw
Glossary of Common Parrot Terms
| | | |
| --- | --- | --- |
| | | Friday December 2nd, 2016 |
The Birdie Ring Toss Trick is a true display of agility and intelligence in your companion parrot. Not only does your bird have to use it's noodle to decide which color goes where, it also has to successfully manipulate the ring to go onto the peg.

This is a fairly advanced trick. I recommend that your bird be first familiar with fetch and a simpler fetch trick such as basketball. Also, you and your parrot must be proficient at the concept of training and the best place to learn about that is my book, The Parrot Wizard's Guide to Well-Behaved Parrots.

Here is an old video of Kili demonstrating how she does the color matching ring toss trick. Not only does she put the rings on, she flies with them:


You can purchase the Birdie Ring Toss with 3 colors or 6 colors for most medium to large parrots at my Parrot Wizard Store. The size is perfect for parrots like African Grey, Eclectus, Cockatoo, and Macaw. For smaller parrots like a Senegal Parrot or Conure, it is a bit of a stretch. As you will see in the video in the end, Kili has no trouble handling the oversized rings. If you have a really energetic and well-trained small bird, it is still possible. However, for really small birds like Cockatiels, Budgies, Lovebirds, etc, the trick prop is just way too big.

Now a step by step guide to teaching the Birdie Ring Toss Trick:

Step 1: Teach the bird to fetch. Follow the fetch guide if you haven't already.

Step 2: Teach the parrot to fetch a ring to you. Set aside all of the rings and pegs. Just take one ring out. Lay it down or hand it to your parrot. Use the familiar open-palm fetch command and say "fetch." When the parrot places the ring in your hand, click and reward. If this isn't working out, review fetching other objects and start again.

Step 3: Teach the parrot to fetch a ring onto a peg. Before we confuse the bird with lots of colors, we need to simply teach the mechanics of placing a ring on a single peg. Take one ring and one peg of the same color while setting all of the others aside. Have your parrot fetch the ring to your hand in the vicinity of the peg. Begin to have your parrot fetch the ring to your open hand just above the peg. As the bird is about to drop the peg in your hand, pull your hand back and the bird will end up dropping it onto the peg. Click/reward. Even if the bird doesn't get the ring onto the peg itself but drops it somewhere close, this is progress so click and reward. When the bird improves, hold your hand further and further back. Start to change the open-palm fetch command hand into a point toward the peg. Keep practicing until you can simply place a ring down and the bird will fetch it onto the peg on its own.

Step 4: Teach color matching. Once the bird knows how to put rings onto the peg, it is time to introduce more colors. Start by adding just one more peg to the existing ring/peg combo. The bird has to first learn to ignore the different color peg and continue putting the ring on the matching peg as it did before. This will happen fairly quickly. Things get more complicated when you start shifting positions or adding colors. So, little by little lay on the complexity but not at once! First change places between the pegs. We want the bird to match by color and not by location. So frequently rearrange the positions of the pegs so that the bird can learn that only color matching is required. Whenever the bird puts the ring on the wrong peg, ignore. Don't click, don't give treats, don't say anything. Just stare blankly away from the bird for a few seconds to show that putting the ring on the wrong peg is completely irrelevant to you and then take it off and give the bird the chance to start again. There is no consequence for getting it wrong but likewise no reward. Attention and treats only come for getting it right.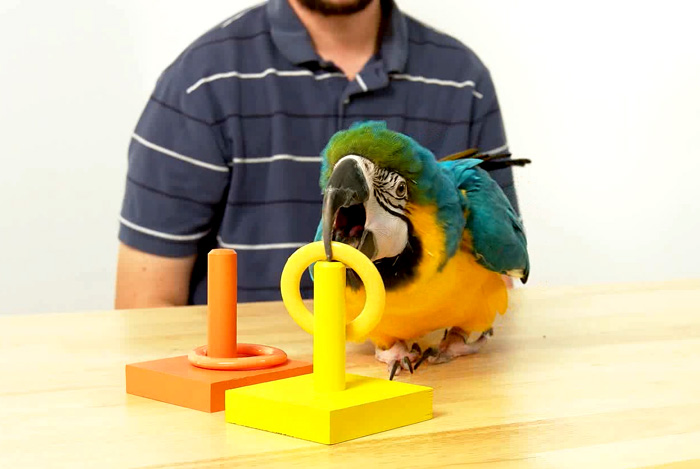 Before you introduce the second ring, I suggest you get rid of the original ring and peg and practice the 2nd color ring/peg for a little while. There's no matching required but this way the bird will start to get used to matching A to A and B to B. Once the bird is good with one color at a time, it is time to introduce two pegs and two rings. When the bird puts the right ring on the right peg, click/reward. When it does not, ignore. Don't rush to correct the bird or take the ring off. Just ignore. If your bird is really struggling, you can cheat and help it a little bit by pointing which peg to put the ring on. These hints may give it the opportunity to get it right, get treats, and remember for next time. Keep practicing until the bird has a near perfect match of the two colors.

You can repeat above steps as you introduce a third color. If the bird is overwhelmed practice a two color regiment by removing one of the original colors and working between the 2nd learned and 3rd new color. Eventually return the other color and have the bird practice with three. You can use a similar process for adding the 4th, 5th, and 6th color. But if your bird is really smart, after doing a bunch of colors, it should rather quickly figure out that additional colors need to be matched with like colors rather than rely on learning one color at a time. This is the mark of an even higher level of cognitive learning.

So this is how you can teach the Birdie Ring Toss Color Matching Trick to your parrot. Knowledge of basic trick training, fetch command, and patience are the requisites. But with those and the steps outlined here, there is no reason you shouldn't be able to teach the Ring Toss Trick to your parrot. Here is a video of Kili helping me outline the major steps in the training process:


Part of: Parrot Trick Training, Senegal Parrots
Kili Senegal Parrot Birdie Ring Toss Trick Training Teach Command
Comments
Post Your Response