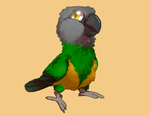 Kili
Type: Senegal Parrot
Genus: Poicephalus
Species: Senegalus
Subspecies: Mesotypus
Sex: Female
Weight: 120 grams
Height: 9 inches
Age: 13 years, 3 months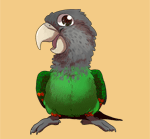 Truman
Type: Cape Parrot
Genus: Poicephalus
Species:Robustus
Subspecies: Fuscicollis
Sex: Male
Weight: 330 grams
Height: 13 inches
Age: 11 years, 6 months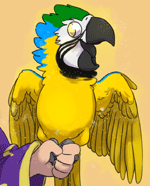 Rachel
Type: Blue & Gold Macaw
Genus: Ara
Species:ararauna
Sex: Female
Weight: 850 grams
Height: 26 inches
Age: 9 years, 2 months

List of Common Parrots:
Parakeets
:
Budgerigar (Budgie)
Alexandrine Parakeet
African Ringneck
Indian Ringneck
Monk Parakeet (Quaker Parrot)
Parrotlets
:
Mexican Parrotlet
Green Rumped Parrotlet
Blue Winged Parrotlet
Spectacled Parrotlet
Dusky Billed Parrotlet
Pacific Parrotlet
Yellow Faced Parrotlet
Lovebirds:
Peach Faced Lovebird
Masked Lovebird
Fischer's Lovebird
Lilian's (Nyasa) Lovebird
Black Cheeked Lovebird
Madagascar Lovebird
Abyssinian Lovebird
Red Faced Lovebird
Swindern's Lovebird
Lories and Lorikeets
:
Rainbow Lorikeet
Conures
:
Sun Conure
Jenday Conure
Cherry Headed Conure
Blue Crowned Conure
Mitred Conure
Patagonian Conure
Green Cheeked Conure
Nanday Conure
Caiques:
Black Headed Caique
White Bellied Caique
Poicephalus Parrots
:
Senegal Parrot
Meyer's Parrot
Red Bellied Parrot
Brown Headed Parrot
Jardine's Parrot
Cape Parrot
Ruppell's Parrot
Eclectus
:
Eclectus Parrot
African Greys:
Congo African Grey (CAG)
Timneh African Grey (TAG)
Amazons:
Blue Fronted Amazon
Yellow Naped Amazon
Yellow Headed Amazon
Orange Winged Amazon
Yellow Crowned Amazon
Cockatoos:
Cockatiel
Galah (Rose Breasted) Cockatoo
Sulphur Crested Cockatoo
Umbrella Cockatoo
Moluccan Cockatoo
Bare Eyed Cockatoo
Goffin's Cockatoo
Macaws
:
Red Shouldered (Hahn's) Macaw
Severe Macaw
Blue And Gold Macaw
Blue Throated Macaw
Military Macaw
Red Fronted Macaw
Scarlet Macaw
Green Winged Macaw
Hyacinth Macaw
Glossary of Common Parrot Terms
After a long cold winter, spring has finally come. The weather is nice and getting the parrots outside is on people's minds. But for the parrots, wearing a harness is something long past. So what to do? This is where "reharness" training the parrots comes in!

My parrots all know how to put on a harness. They have all received the training to not be scared and know how to put the harness on. However, after such a winter that we didn't get to go out even once, their harness wearing skills are a bit rusty. They are less eager to put the harness on or don't quite remember how to get their heads into the collar. But all it takes is a little bit of reharness training to get them back to normal.

Out of my flock, Santina needed the most reminding and that is not surprising because she has least harness experience. After a treat or two, Kili already recalled exactly what to do. Truman, well he's a bit of a thick headed bird. In more ways than one! So he needed a little more work to help him remember how to get his big Poicephalus head through the collar. He was trying to assure me that he can get it in easily but that was for the wrong part! But with a bit of practice, he got it all sorted out as well.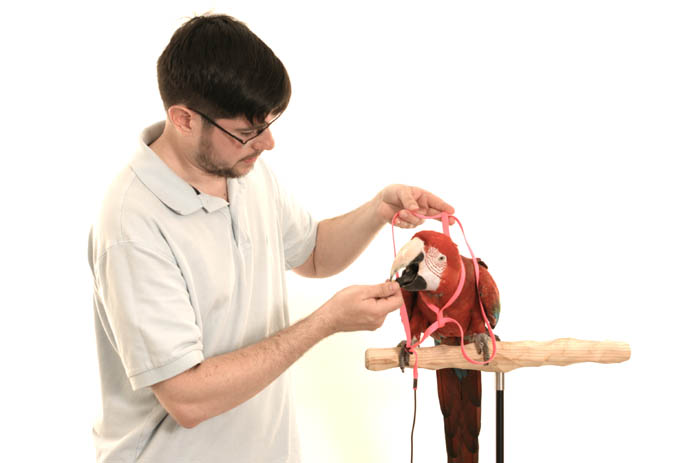 The process of reharness training a parrot is quite simple. It's an expedited retrace of the steps it took for the bird to learn to wear a harness in the first place. If your parrot did not learn how to wear a harness in the first place, then there are no steps to retrace. First of all, if your parrot never wore a harness in the first place, you need to follow a procedure for teaching it in the first place. However, I am also addressing the people who managed to just get the harness on their parrot (like when it was a baby or maybe just by luck). If the steps taken to teach the parrot to wear a harness were not specific and memorable, then you have nothing to trace back on. In either case, my harness training solution is thoroughly explained between my book and harness training dvd. The book teaches you all the basic taming requisites before you can being harness training and the DVD has Santina demonstrate step by step as she learns to wear the harness for the first time. So if you have not followed this method initially, do that this time. Next time, the following reharness training steps will work for you.

Depending on how rusty the bird is will affect how much I need to go back to basics. Since none of my parrots were scared or uncomfortable with the harness, I immediately skipped the desensitization. Nothing bad ever happened with the harness or at least not since they've last worn them successfully so the good we initially established persists. All of the birds have remained tame through the winter because of continued handling so that required no work either. All they needed help with is remembering how to stick their heads in the collar and rekindling a desire to wear the harness at all.

Seeing the harness alone did not evoke a desire to put it on. However, the sight of the welcoming harness collar and a treat in my hand reminded them of the "harness trick" they had once learned to put the collar on. They quickly recalled the learning that had taken place some time ago and were back on track.

To aid with the harness retraining, I make the collar stick out in a more convenient manner so that the birds can find where to put their head. As they get better, I have them work a bit harder. Just like with all training, it has to start easy at first and then get progressively more challenging. I increase how much contact the harness makes and duration on subsequent success. If the process moves along smoothly, I move quickly. If I find any trouble spots, I slow down and work on those.

Not only has Kili been harness trained, but she has also been reharness trained so many times that it only takes flashing a treat to make her go back to putting the harness on right. This is the benefit of following reproducible procedures year after year.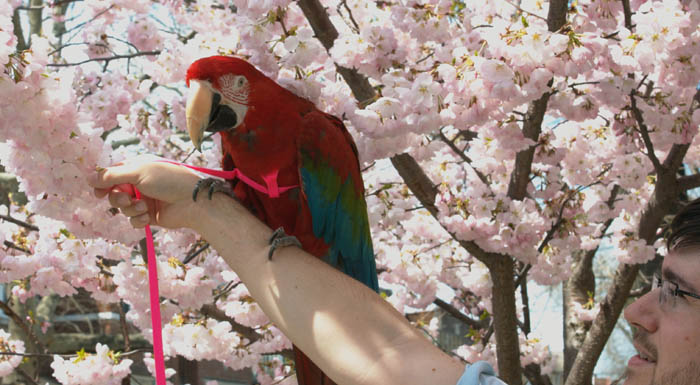 When I get the birds outside for the first time of the season, I assume things will be a bit frightening so I take my time. I don't keep them out for too long at first. But it only takes a few minutes or sessions outside until things return to normal. The more years that this is repeated, the more quickly and easily it all comes back.

Three things I offer when it comes to harness training your parrot to safely go outside:

My Book - This will teach you what you need to be able to do before you can even begin harness training
Harness Training DVD - Step by step procedure for harness training an already tame parrot
Aviator Harness - Get your leash on sale from Parrot Wizard

Get an Aviator Harness and my book together and I throw in the Harness Training DVD for free!

Here's a video of Santina getting a lesson in reharness training a year since she initially learned to wear the harness. Doesn't take much to retrain if it is trained properly in the first place.



Part of: Taming & Basic Training, General Parrot Care, Outdoor Harness Flight, Blog Announcements, Macaws, Rescue
Santina Green-Winged Macaw Aviator Harness Harness Training Reharness Teach
Comments
Post Your Response