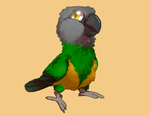 Kili
Type: Senegal Parrot
Genus: Poicephalus
Species: Senegalus
Subspecies: Mesotypus
Sex: Female
Weight: 120 grams
Height: 9 inches
Age: 15 years, 5 months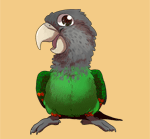 Truman
Type: Cape Parrot
Genus: Poicephalus
Species:Robustus
Subspecies: Fuscicollis
Sex: Male
Weight: 330 grams
Height: 13 inches
Age: 13 years, 8 months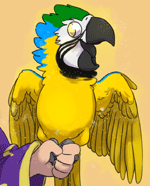 Rachel
Type: Blue & Gold Macaw
Genus: Ara
Species:ararauna
Sex: Female
Weight: 850 grams
Height: 26 inches
Age: 11 years, 5 months

List of Common Parrots:
Parakeets
:
Budgerigar (Budgie)
Alexandrine Parakeet
African Ringneck
Indian Ringneck
Monk Parakeet (Quaker Parrot)
Parrotlets
:
Mexican Parrotlet
Green Rumped Parrotlet
Blue Winged Parrotlet
Spectacled Parrotlet
Dusky Billed Parrotlet
Pacific Parrotlet
Yellow Faced Parrotlet
Lovebirds:
Peach Faced Lovebird
Masked Lovebird
Fischer's Lovebird
Lilian's (Nyasa) Lovebird
Black Cheeked Lovebird
Madagascar Lovebird
Abyssinian Lovebird
Red Faced Lovebird
Swindern's Lovebird
Lories and Lorikeets
:
Rainbow Lorikeet
Conures
:
Sun Conure
Jenday Conure
Cherry Headed Conure
Blue Crowned Conure
Mitred Conure
Patagonian Conure
Green Cheeked Conure
Nanday Conure
Caiques:
Black Headed Caique
White Bellied Caique
Poicephalus Parrots
:
Senegal Parrot
Meyer's Parrot
Red Bellied Parrot
Brown Headed Parrot
Jardine's Parrot
Cape Parrot
Ruppell's Parrot
Eclectus
:
Eclectus Parrot
African Greys:
Congo African Grey (CAG)
Timneh African Grey (TAG)
Amazons:
Blue Fronted Amazon
Yellow Naped Amazon
Yellow Headed Amazon
Orange Winged Amazon
Yellow Crowned Amazon
Cockatoos:
Cockatiel
Galah (Rose Breasted) Cockatoo
Sulphur Crested Cockatoo
Umbrella Cockatoo
Moluccan Cockatoo
Bare Eyed Cockatoo
Goffin's Cockatoo
Macaws
:
Red Shouldered (Hahn's) Macaw
Severe Macaw
Blue And Gold Macaw
Blue Throated Macaw
Military Macaw
Red Fronted Macaw
Scarlet Macaw
Green Winged Macaw
Hyacinth Macaw
Glossary of Common Parrot Terms
The time has come to move. Santina's health cleared up, her quarantine is over, and Kili/Truman are ready to go. In a previous article I wrote about how I set up Kili & Truman's new aluminum Kings Cages. The only thing missing was toys and birds.

Kili & Truman buckled up their harnesses and rode on my shoulders the few blocks to the new house. I had a bug problem at the old apartment so I've been leaving as much behind as possible and only bringing clean things. This is why Truman's old aluminum cage had to be abandoned and not because there was anything else wrong with it. This is also why I opted to move the birds wearing harnesses rather than carriers.

We walked in through the bird room door and surprised Santina. She was sitting on the edge of her stand, excited to have company. Santina watched eagerly as her first bird visitors were settling in to the room next door. Kili & Truman watched me assemble water bottle holders, mount perches, and add toys to their bare cages. I bought two water bottles for each cage and mounted both brackets. Although I will normally only be using a single water bottle, when I need to go away for a weekend I will be able to leave twin water bottles for the unlikely event of a failure (in 5+ years using water bottles for my birds I have not had a problem).




The parrots sampled the toys as I was putting them into their cages. Truman gave his approval for a long strand of stars and Kili immediately began chewing up a cute shredding toy. These parrots love new toys, places, and situations. This is why it was an absolute non-event to move them to a new house. They have not shown the slightest sign of upset such as not eating, being quiet, or just inactive.

The reason it was so easy to move to a new house with my parrots without them freaking out is because we have already done this plenty of times before! Every outing, every trip, every household change we have ever made was a preparation for the unknown but inevitable eventual move. People often ask me "I am moving to a new house tomorrow, what can I do to make it easier for my parrot?" At that point it is already too late. The time to begin preparing your parrot for a move is now.




I occasionally took Kili and/or Truman with me to visit other people's houses. I took the birds for drives and outings. I had the parrots living out of their travel cages during trips and when we went camping. I even had the parrots living in completely different bird cages when we were visiting Ginger's Parrots Rescue. All of these different encounters prepared Kili & Truman to live in any sort of cage or house. And since they get excited about new toys, moving to a new cage with new toys is an opportunity rather than a burden for them.

Not long after I had the birds on top of their respective cages, Kili hopped over to Truman's cage and kicked him off to the smaller one. The funny thing is that the first time I let them out since, the first thing Truman did was to go and climb up into Kili's cage and stay there. It was as though she convinced him that if he just yields the bigger cage to her that she won't beat him up for it.




As for Santina, well she came from a rescue so she was already used to other birds. I could tell that Santina was excited to see other birds around and not upset. Kili & Truman have been to places with other parrots so to them it was no surprise to see a big bird next door. The move was such a non-event that it makes for a boring story. But that's what you want it to be. So begin preparing your parrot for any sorts of unforeseen changes by socializing and traveling with your parrot now.



Part of: Housing, Toys, Accessories, and DIY, General Parrot Care, Blog Announcements, Cape Parrots, Senegal Parrots
Kili Senegal Parrot Truman Cape Parrot Moving House Home Trip Preparation Cage
Comments
Post Your Response



Sabrazom

Posted on April 7, 2014 07:56PM

I'm happy to know everything went smoothly for them going to their new cages, and i can imagine Kili was calling dibs on the biggest cage she could find XD
GMV

Posted on April 7, 2014 08:24PM

I am glad everything went so smoothly for you! i liked how Kili immediately called dibs on Trumans cage!
peteravila06

Posted on April 14, 2014 05:42AM

so just wondering where do you get you cages,perches, parrot stuff. is it a website or local store thanks
Gaea93

Posted on May 26, 2014 08:52AM

Moving to a new home is definitely stressful but that did not hinder you to take with you your lovely winged-pets. Hats off to you. By the way, I haven't tried transporting my lovebirds so I'm gonna ask if did you a pet relocation company or did you just drive them with you? What were the requirements when you're gonna move them.



Michael

Posted on May 26, 2014 01:21PM

I walked them to the new house. Take a look at the video, that's literallly the move. Tonthem it wasnlike nothing even happened cause we go places all the time together.
Post Your Response