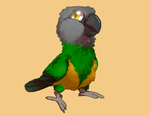 Kili
Type: Senegal Parrot
Genus: Poicephalus
Species: Senegalus
Subspecies: Mesotypus
Sex: Female
Weight: 120 grams
Height: 9 inches
Age: 15 years, 3 months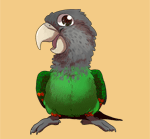 Truman
Type: Cape Parrot
Genus: Poicephalus
Species:Robustus
Subspecies: Fuscicollis
Sex: Male
Weight: 330 grams
Height: 13 inches
Age: 13 years, 6 months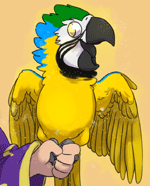 Rachel
Type: Blue & Gold Macaw
Genus: Ara
Species:ararauna
Sex: Female
Weight: 850 grams
Height: 26 inches
Age: 11 years, 3 months

List of Common Parrots:
Parakeets
:
Budgerigar (Budgie)
Alexandrine Parakeet
African Ringneck
Indian Ringneck
Monk Parakeet (Quaker Parrot)
Parrotlets
:
Mexican Parrotlet
Green Rumped Parrotlet
Blue Winged Parrotlet
Spectacled Parrotlet
Dusky Billed Parrotlet
Pacific Parrotlet
Yellow Faced Parrotlet
Lovebirds:
Peach Faced Lovebird
Masked Lovebird
Fischer's Lovebird
Lilian's (Nyasa) Lovebird
Black Cheeked Lovebird
Madagascar Lovebird
Abyssinian Lovebird
Red Faced Lovebird
Swindern's Lovebird
Lories and Lorikeets
:
Rainbow Lorikeet
Conures
:
Sun Conure
Jenday Conure
Cherry Headed Conure
Blue Crowned Conure
Mitred Conure
Patagonian Conure
Green Cheeked Conure
Nanday Conure
Caiques:
Black Headed Caique
White Bellied Caique
Poicephalus Parrots
:
Senegal Parrot
Meyer's Parrot
Red Bellied Parrot
Brown Headed Parrot
Jardine's Parrot
Cape Parrot
Ruppell's Parrot
Eclectus
:
Eclectus Parrot
African Greys:
Congo African Grey (CAG)
Timneh African Grey (TAG)
Amazons:
Blue Fronted Amazon
Yellow Naped Amazon
Yellow Headed Amazon
Orange Winged Amazon
Yellow Crowned Amazon
Cockatoos:
Cockatiel
Galah (Rose Breasted) Cockatoo
Sulphur Crested Cockatoo
Umbrella Cockatoo
Moluccan Cockatoo
Bare Eyed Cockatoo
Goffin's Cockatoo
Macaws
:
Red Shouldered (Hahn's) Macaw
Severe Macaw
Blue And Gold Macaw
Blue Throated Macaw
Military Macaw
Red Fronted Macaw
Scarlet Macaw
Green Winged Macaw
Hyacinth Macaw
Glossary of Common Parrot Terms
| | | |
| --- | --- | --- |
| | | Thursday November 4th, 2010 |
This article is about about to teach a parrot to hang upside down from your finger like a bat. This is a fairly easy trick to train and does not require any requisite tricks be learned previously. The only requirement is to have a hand tame parrot. If your parrot does not step up, let you touch it, and let you grab it, please refer to the Taming and Training Guide prior to proceeding with the bat trick. In preparation for training the bat trick, practice a lot of handling with your parrot including touching the feet, back, and rotating it around in your hands.

The good news about the bat trick is that it is very easy to perform and works every time. It is the only trick I can get Kili to do even if she does not feel like showing a single trick because it is more about taming than positive behavior. If the parrot is rolled upside down, it has little choice about being there. As long as it is tame and knows the trick, it will just hang there until brought back up. While it took a week to teach the bat to Kili and several weeks to teach it to Duke the Budgerigar, Truman learned it in a quick two days. The cool thing is that absolutely any parrot can learn the bat trick including a parakeet, cockatiel, conure, african grey, amazon, cockatoo, or macaw. How long it takes to teach will vary but it is definitely possible to teach any parrot species the trick with the following technique.

To begin teaching the bat trick, begin by holding the parrot on your hand. I always use my right hand for the parrot to perch on for the trick but it just depends what you are comfortable with. It is important that the parrot is perched closer to the tip of your index finger and not too close to your hand. Then place your thumb over the bird's feet and squeeze gently. At the same time put your left hand on the parrot's back. Cup your hand around the back and tip the parrot back about 45 degrees. Hold that briefly and then upright the parrot. Now give it a treat.

At this stage, it is not important to use a clicker because you are simply taming the parrot to the requirements of this trick and there is not a specific action to click for. Continue practicing this tipping behavior progressively increasing the angle until the parrot is completely upside down. The next step is to reduce dependence on being held with second hand. When you tip the parrot back, very slowly ease the holding pressure with the left hand. Then tighten again, upright, and reward. Continue to progressively hold a less tight grip at the upside down phase until you can even let go of the parrot's back briefly and take your hand away a short distance. At first continue holding your hand nearby to reassure the parrot that you will grab it back and not let it fall.As you progress, you can let go and leave the parrot hanging from your hand longer before grabbing it back to upright. Make sure you roll the parrot straight back and not over the side or the trick won't look as impressive.

You don't need to expect the parrot to stay perfectly still and strike a beautiful post at this stage. As long as it is staying upside down while being held by the feet, you are making progress. Now you can continue rolling it back with the hand support but let the parrot upright on its own. Begin rolling your hand (that parrot is perched on) to upright the parrot. Of course reward at this point. Now it is time to begin receding dependence on the supporting hand for going upside down. Place the hand on the parrot's back and begin rolling it back but take the hand away before it is fully inverted. You can continue practicing and letting go earlier and earlier.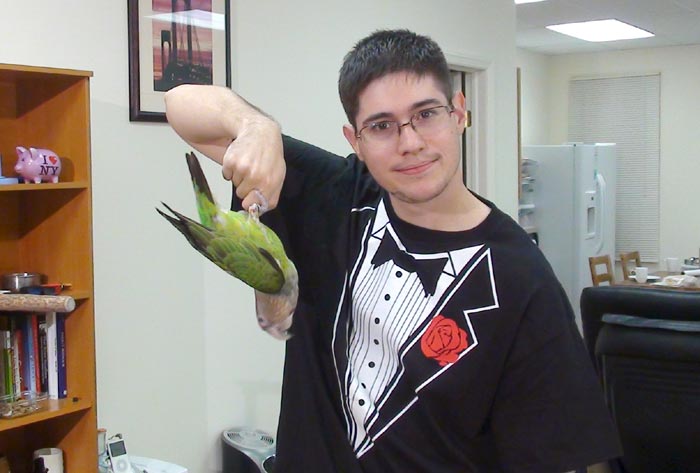 Now there should be a special cue emerging. When you grab the parrot's feet and begin rolling your hand back, the parrot should know it has to not resist and go inverted. If the parrot is flapping or trying to upright itself while you are rolling it back, you may need to keep going to overcome that. However, if that doesn't work, you have to practice the earlier stages with back support for longer.

At this point, all the remains is improving the pose and letting go of the feet. I suggest improving the pose prior to working on letting go of the feet or putting the entire trick on cue. Most likely at this point the parrot doesn't hang straight down but rather curled up toward your hand. They feel more balanced this way but it's ok, we can easily solve this. Now's the time to begin using a clicker. Your left hand is freed up because at this point you should be able to roll the parrot back strictly by the hand it is perched on. Hold the clicker and treat in your left hand prior to rolling the parrot upside down.

The simplest way to get the parrot to strike a nice pose to look like a hanging bat, is to lure its head down with a treat. After you roll the parrot upside down, use your other hand to show it a desirable treat. Keep the treat below the head and just barely out of reach so that it has to stretch down to get it. For the first few times, let the parrot get the treat in return for stretching down. As soon as it gets the treat, click and upright the bird to give it a chance to eat the treat. You don't want to continue holding the parrot upside down because it will go to a bad pose to focus on its treat. After a few of these upside down rewards, the parrot will know to reach for the treat. But you won't give it any more. Show the treat but just out of reach. When the parrot is stretching for the treat, click, upright, and reward. This way you are actually teaching the behavior. Once you find your parrot stretching down for the treat like this, you can begin hiding the treat between your fingers and just letting the parrot aim for your fingers. Before long, you can hold the treat/fingers much further away and then not at all. The parrot will remember to stretch its head down. If it does not, continue holding it in the bat a few seconds waiting until it does. When it stretches down, click/reward. If it does not, upright and do not reward. Next time you put it upside down, lure it again to remind it to stretch head down. This way the parrot learns to extend its head down. Keep practicing and waiting for it to hang with head down for longer and longer with each try prior to clicking and uprighting.

If the parrot is jittery and moves around a lot (this especially happened when teaching a budgie this trick) while hanging upside down, the best way to reduce this is practice. Always click when the parrot is in the straightest and calmest pose. Over time and extensive practice, the parrot will learn that it will not get rewarded until it is calm and stops moving. Teaching the trick is quick but perfecting it takes a lot of practice.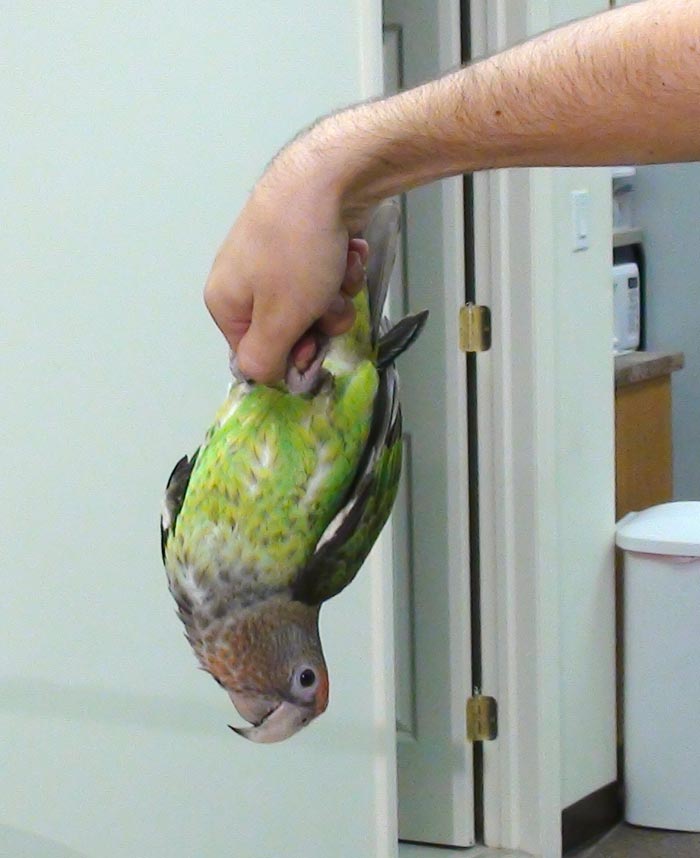 By now the parrot should be catching on to what is going on. Use less and less force in your hand to swing the parrot over and back up. Let the parrot shift its weight to strike the pose. Just begin the motion of rolling it back and then slow down, allowing the parrot to put itself in that pose. Same thing goes for uprighting. You can begin uprighting the parrot after clicking but stop halfway and let it work out its muscles to come up. You can show the treat it's about to get for extra motivation. But do not give the treat until the parrot is completely back upright on your hand. This step is important for putting the trick on cue. To put the bat trick on cue, decide what word or gesture you will make and do it right before turning the bat upside down every time. For Kili, I snap my fingers and she goes into the bat position completely on her own. It doesn't have to be finger snapping though. You can just say "bat" or point downward. When the parrot gets used to seeing this cue enough times while being rolled over, it will catch on. The only thing required then is to roll it back less and less so that it would put the effort in to roll back on its own.



The last thing to do is to stop holding the feet. Do it progressively by holding less and less pressure on the feet while the parrot is upside down. Keep your other hand nearby to catch it in case it is not holding on adequately. It will quickly learn that it needs to have a good grip on its own. Just make sure you position the parrot on your finger such that it can still hold on while upside down. Eventually you don't need to put your thumb on its feet at all to perform the bat trick.

Part of: Blog Announcements, Cape Parrots
Truman Cape Parrot Trick Training Bat How to Teach Train
Comments
Post Your Response
PapayaTheConure

Posted on July 13, 2011 08:13PM

I think Budgies learn this trick the easiest.



kiwitheparakeet

Posted on July 25, 2011 01:53AM

My budgie can sort of do it, but every time i put my thumb on his feet, he flaps his wings up and down
Diegoblueparrot

Posted on September 26, 2016 04:25PM

I am going try with my love birds.
Post Your Response