Wondering how you can teach a parrot to play basketball? Here's an awesome trick to teach your parrot! This free trick training guide is about how you can train the Birdie Basketball trick to your parrot!

Nothing is as exciting as throwing a ball and having your parrot fly to get it and bring it back to dunk it in the basketball hoop! The height on the Birdie Basketball is adjustable so even smaller parrots like a green cheek conure can learn to do this awesome trick.

So here's a step by step guide on teaching a parrot to play basketball:

Step 1: Get the Birdie Basketball Set for your parrot from ParrotWizard.com.

Step 2: Make sure that your parrot is fetch trained. If it isn't, teach it to fetch before you start teaching the basketball trick. If it is already fetch trained, just do a quick review to remind it what to do.

Step 3: Desensitize the parrot to the basketball toy. Most parrots get scared of new stuff. The good news is that the more tricks you teach, the more the bird will get used to accepting new things. The best way to desensitize the bird to the basketball toy is to target it near the toy. Place the basketball hoop toy on a table beforehand. Bring your parrot and set it on the table far from the toy. Get the bird into a rhythm targeting. Target it randomly in different directions and not strictly toward the basketball hoop or it may get suspicious. Target it around randomly but little by little, more and more toward the basketball. Let the parrot pay more attention to the targeting exercise and forget about the basketball until you are able to target it right by the hoop at ease. It is better to take the time to do the desensitization exercise even if the bird didn't get scared than to scare the bird with the toy first and then try to change its mind.

Step 4: The Birdie Basketball trick comes with 2 different basketballs. One is a realistic looking basketball and one is a training ball with a lot of holes. For now, put aside the realistic ball and use the easy to grab training ball instead. Give the training ball to your parrot from one hand and then present your other hand and ask it to fetch the ball to your open palm. Using a clicker, click when the bird drops the ball in your hand and give it a treat. Positive reinforcement goes a long way!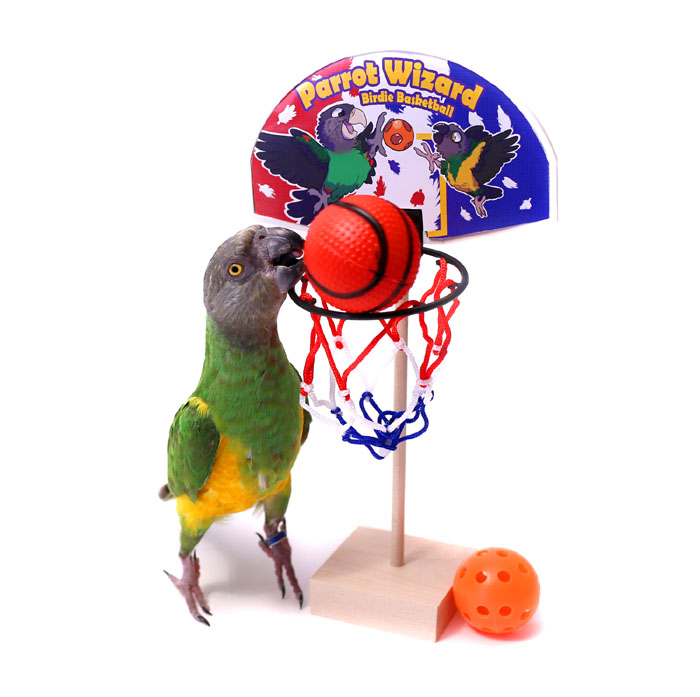 Step 5: Now it's time to teach the parrot to put the ball in the basketball hoop. Start by lowering the hoop down low. This will not only make it easier for the parrot to reach but also give you more room to hold your hand. Hold your open hand directly over the basketball hoop and ask the bird to fetch the ball. When the bird drops the ball in your hand, click the clicker and give a treat. This teaches the bird to bring the ball toward the basketball hoop.

Step 6: Continue having the bird fetch the basketball to your open hand above the hoop, but now pull your hand away just before the bird drops the ball. This way it will accidentally drop it into the basketball hoop when it really just intended to drop it into your hand. Click and reward so that your bird realizes that the goal is to drop the ball into the hoop! Keep practicing and progressively raise the hoop higher and higher so the parrot learns to stretch for a slam dunk. Finally, when the parrot has mastered the basketball trick, you can use the realistic basketball instead. Show the bird the single hole through the ball where it can grab it with its beak and you'll have an NBA allstar in no time!

Here's a short tutorial I made with Kili to illustrate the key steps of the process:


Part of: Parrot Trick Training, Senegal Parrots, Product Reviews
Kili Senegal Parrot Trick Trick Training Training Basketball Teach How to Guide