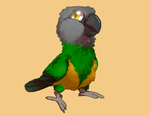 Kili
Type: Senegal Parrot
Genus: Poicephalus
Species: Senegalus
Subspecies: Mesotypus
Sex: Female
Weight: 120 grams
Height: 9 inches
Age: 14 years, 2 months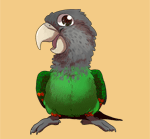 Truman
Type: Cape Parrot
Genus: Poicephalus
Species:Robustus
Subspecies: Fuscicollis
Sex: Male
Weight: 330 grams
Height: 13 inches
Age: 12 years, 5 months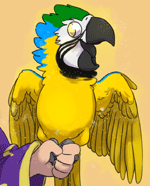 Rachel
Type: Blue & Gold Macaw
Genus: Ara
Species:ararauna
Sex: Female
Weight: 850 grams
Height: 26 inches
Age: 10 years and 2 months old

List of Common Parrots:
Parakeets
:
Budgerigar (Budgie)
Alexandrine Parakeet
African Ringneck
Indian Ringneck
Monk Parakeet (Quaker Parrot)
Parrotlets
:
Mexican Parrotlet
Green Rumped Parrotlet
Blue Winged Parrotlet
Spectacled Parrotlet
Dusky Billed Parrotlet
Pacific Parrotlet
Yellow Faced Parrotlet
Lovebirds:
Peach Faced Lovebird
Masked Lovebird
Fischer's Lovebird
Lilian's (Nyasa) Lovebird
Black Cheeked Lovebird
Madagascar Lovebird
Abyssinian Lovebird
Red Faced Lovebird
Swindern's Lovebird
Lories and Lorikeets
:
Rainbow Lorikeet
Conures
:
Sun Conure
Jenday Conure
Cherry Headed Conure
Blue Crowned Conure
Mitred Conure
Patagonian Conure
Green Cheeked Conure
Nanday Conure
Caiques:
Black Headed Caique
White Bellied Caique
Poicephalus Parrots
:
Senegal Parrot
Meyer's Parrot
Red Bellied Parrot
Brown Headed Parrot
Jardine's Parrot
Cape Parrot
Ruppell's Parrot
Eclectus
:
Eclectus Parrot
African Greys:
Congo African Grey (CAG)
Timneh African Grey (TAG)
Amazons:
Blue Fronted Amazon
Yellow Naped Amazon
Yellow Headed Amazon
Orange Winged Amazon
Yellow Crowned Amazon
Cockatoos:
Cockatiel
Galah (Rose Breasted) Cockatoo
Sulphur Crested Cockatoo
Umbrella Cockatoo
Moluccan Cockatoo
Bare Eyed Cockatoo
Goffin's Cockatoo
Macaws
:
Red Shouldered (Hahn's) Macaw
Severe Macaw
Blue And Gold Macaw
Blue Throated Macaw
Military Macaw
Red Fronted Macaw
Scarlet Macaw
Green Winged Macaw
Hyacinth Macaw
Glossary of Common Parrot Terms
| | | |
| --- | --- | --- |
| | | Saturday January 25th, 2014 |
Things have been going very well with Truman lately. I was running into a bunch of problems with him for the last few years and it really had little to do with me. Point is he was going through birdy adolescence or "terrible twos."

He wasn't terrible, especially compared to most other parrots, but I was disappointed. At times he was becoming hand shy, skittish, would fly away, or stay near and make a lot of noise. He did the persistent hiccup-like noises out of nowhere, sometimes refused to put on his harness or worse yet gave me trouble taking it off. Truman, being a Cape Parrot, is a late bloomer. His adolescence started later than Kili's and has lasted longer. Worse yet it hit harder and I would say caused more drama.

It just felt like he wasn't thrilled to see me and that things weren't like before. Truman was never bonded to me like Kili or Santina are, but at least we were pals. When adolescence hit, at times I felt alienated and like he was just indifferent to me. He was being a total teenager. "I hate you, I hate myself, I wish I was never born, go away, leave me alone, you don't understand me!" No amount of training, food management, special treats, or attention seemed to alter this. It seems like most training efforts were to keep things from getting much worse rather than toward making things better.

Well I persisted in continuing the training approach and luckily for the last 3 months or so he has abandoned his adolescent ways and has gone back to his sweet self that he was like when he was a baby. Actually he is better than when he was a baby! He can flight recall, perform tricks, wear a harness, fly outside, and let's me handle him better than ever. He's less prone to going all over place, pooping where he shouldn't, and not clumsy and getting hurt like before. Things are going well.

Things started getting better in the fall. Truman was easing out of the adolescent stage and on the flipside I was giving him more respect/freedom. I could not do this before because he would have killed himself with it if he wasn't ready himself. He watched Kili freeflying all summer and began to work harder in harness flight himself. By the end of the summer, I was confident enough to let Truman go and prove himself. He did an outstanding job and proved himself worthy of the adult treatment that Kili gets on his first outdoor freeflights.

Truman was already on the mend before Santina ever arrived. However, with my mind diverted her way, and less effort on Truman, he has really begun to blossom. He appreciates my time and attention like never before. When things were going badly during adolescence I was so proactive at trying to make them better. Now that I'm a bit preoccupied, Truman is making more effort to do the right things and behave well to get more attention/treats from me (and of course Truman already knows what to do but just used to choose not to do it). We're reaching good cooperation, mutual ground, and a good relationship.

The adolescence stage that parrots go through is really terrifying as a bird owner. You can't tell if you are failing as an owner or if these issues are driven by other factors. The exact onset, age, and finish aren't concrete but you know it when you've been trough it. It is so disappointing when you try so hard and can't get anywhere. The good things you had before begin to erode while new problems begin to surface. Well let me tell you, don't give up hope! It's a temporary stage and your persistence and patience to do things right will be greatly rewarded. I went through the same with Kili and when her adolescence waned, she was an outstanding bird. Now I can say that the same is happening to Truman. All the training and using the right approach despite the lack of results is now paying off. As the adolescence is shed, the good-training and behavior is becoming visible. I'm thrilled to have my baby Truman back.

A few lessons to share:
1) Don't give up
2) These methods really work even if you can't see that now
3) Get an older rescue parrot and skip the headache of parrot adolescence entirely!



Part of: General Parrot Care, Blog Announcements, Cape Parrots
Truman Cape Parrot Adolescence Terrible Twos
Comments
Post Your Response
9Beaks

Posted on January 26, 2014 08:42PM

Excellent article on behavior in bird adolescence! I have a terrible feeling that many bird owners get rid of their birds during this time because they don't realize the stage will pass. I've had people tell me their birdy was so sweet when it was a baby, then it grew up and was no longer any fun to be around, so they got rid of it. I'm glad you wrote of your "terrible twos" experience with Truman so that others will know to be loving and patient with their young bird, as this will pass soon enough!
rio

Posted on January 28, 2014 04:12PM

This article was very comforting. Rio is lovebird who is two and a half years old. He has never been cuddly, and I don't know if he ever will be. He is so hyperactive and busy, he just has never had the disposition to be cuddly. However, he has always stepped up, first on a stick, then on my finger. He's always wanted to hang out, do tricks. He learns tricks really quickly and has been eager to play doing his tricks. Now he hides in his box. He does not want to have anything to do with stepping up to come out of his cage etc. At least now I understand what is going on. He has also started humping things and putting sticks in his wings. Ahh! adolescence! If he cowers in his cage and won't come out even with the promise of millet, should I take his food away for 3 hours and try till he comes out on his own? It's been suggested to never chase him, or grab him against his will right? He has to want to come out?
Nokota

Posted on January 29, 2014 03:41AM

Michael: Any word on how long this is expected to last in Cockatiels? Vivi is at a little over one year and she's driving me bananas.
Karenbachman

Posted on April 8, 2020 08:47PM

Hello Michael - I have a poicephalus (brown-headed African parrot) who turns two in May 2020. I think he is starting his terrible twos. How long did it last for your poicephalus/Killi. I believe Killi is very similar to a brown-headed. Thx!!!



Michael

Posted on April 9, 2020 06:38PM

It lasts longer in bigger birds, shorter in smaller. I'd say Kili was in that phase from about 1.5-2.5 years old. The Blue and Gold Macaw lasted as long as from 2-6 years old.
Pajarita

Posted on April 10, 2020 02:24PM

Michael is 100% correct. What people normally call 'the terrible twos' doesn't happen at two years of age for all species and it doesn't necessarily last just one year, either (this is one of those things that people start saying and other people repeat but which is not really correct). The period varies with the species because it's puberty. It starts when the bird starts producing sexual hormones and it ends when it becomes completely sexually mature and that's why it lasts much longer in larger species than it does with small ones.
Post Your Response