Parrots are extremely intelligent creatures and can learn concepts like colors, matching, and size. That's why I am always excited to teach tricks to my parrots that both challenge them and demonstrate their capabilities to others.

It was pretty easy to teach my new Colored Boxes trick to Kili. That is because she already has all of the skills required to learn the colored boxes trick. First, a parrot needs to know how to fetch. Next, the parrot needs to learn how to match colors. Finally, the parrot needs to learn how to push or pull.

Kili already learned how to match colors in the puzzle trick and ring toss trick. Kili learned to push/pull for a coin box trick and for her stroller trick. Putting all of these skills together led to the Colored Boxes trick. In this trick Kili places all of the round colored pieces into matching colored boxes. Some of the pieces are smaller and some are larger. She had to learn to ignore the size and focus exclusively on matching the colors. Then Kili learned to walk over and push all of the boxes closed.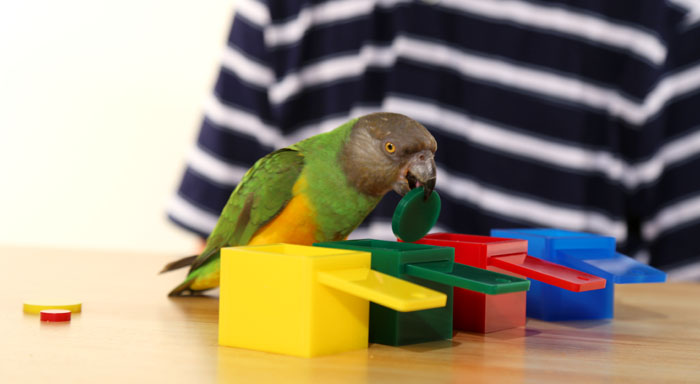 A problem that I ran into while teaching this trick was that Kili tricked me into helping her figure out where to put the pieces. Out of habit, I was clicking my clicker during the moment Kili would begin to dip the piece into right box. I realized that she would walk around dipping the piece into each box and waiting to see if there would be a click or not. In other words, she was tricking me into determining the color match and just cuing her when to drop it. So to avoid being outsmarted by the bird, I had to pay attention not to click until she would fully release the piece into the right box. She needed to receive the negative punishment of getting nothing for dropping the pieces into the wrong boxes in order to realize which ones are actually right.

When you teach a color match trick like ring toss, puzzle, or colored boxes, in the beginning the bird will only do two or three colors on pure memorization. But as you keep increasing the number of colors, a light bulb comes on in that bird's head and it realizes that the colors have to match regardless of what they are. Then the bird is able to match any color of that style trick.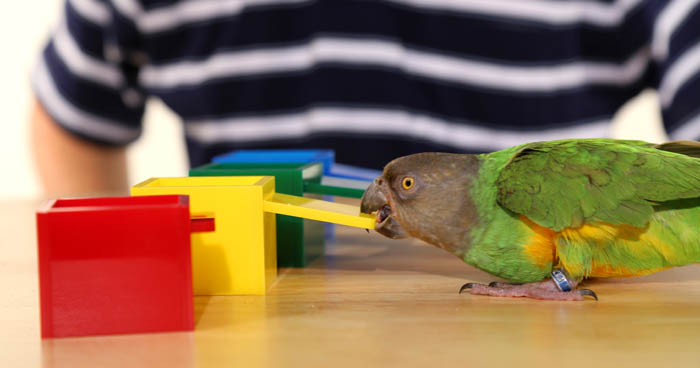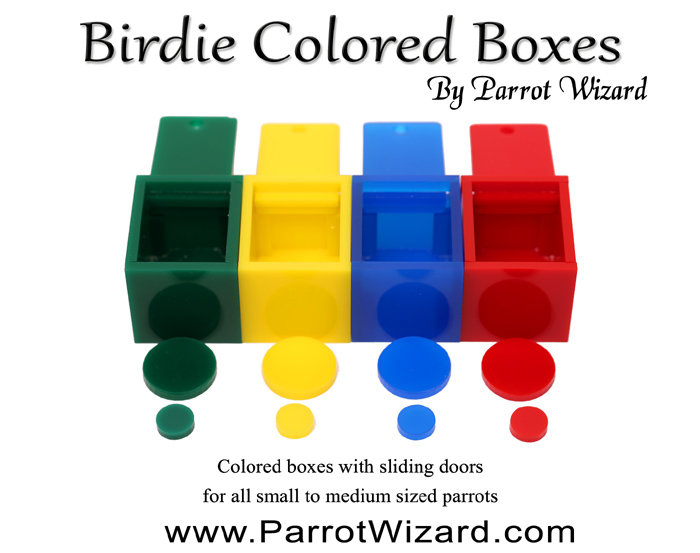 I recommend the Colored Boxes Trick for any small to medium parrots. It's too small for bigger parrots but the 6 Color Birdie Ring Toss is great for all the medium to large parrots.

Now check out this video of Kili performing her colored boxes trick: