On this Valentine's day, let's not only remember the people we love, but also our feathered companions. Somehow these little beaked monsters have captivated us and kept us under cupid's spell. They can rip up your keyboard one moment and then be cuddling on your neck the next. There's something so irresistible about them and we love them.

Happy Valentine's Day from Trained Parrot Blog, The Parrot Forum, and the Parrot Wizard. Feel free to share this Valentine's Day Parrot Cartoon with the birds, owners of birds, and people you love.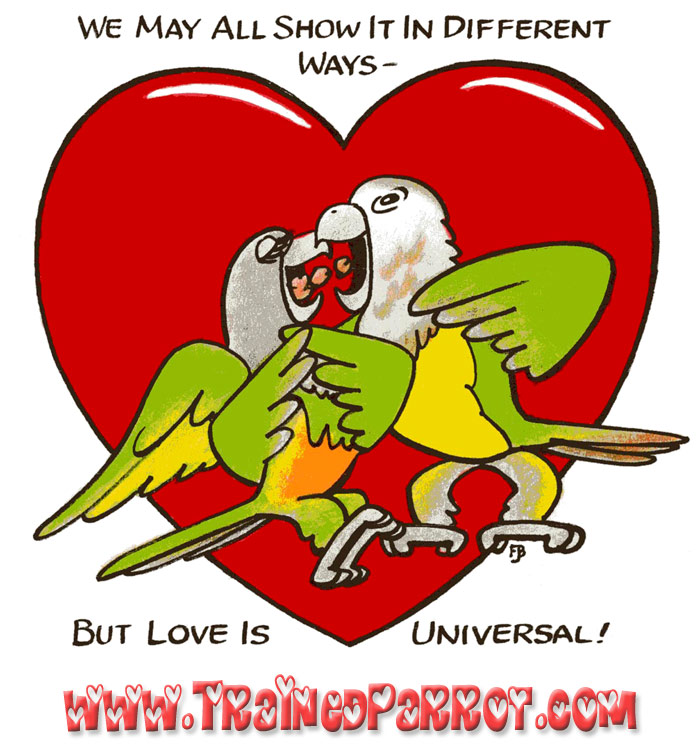 If you're interested in a cute Valentine's Day Parrot Toy, please check out the one I'm selling on my Parrot Wizard online bird toy store.
I would like to take the opportunity to announce to you the launch of my new parrot toys and training props brand, Parrot Wizard. In addition to the Training Perches™ with which you are already familiar, I am releasing new parrot toys and training products.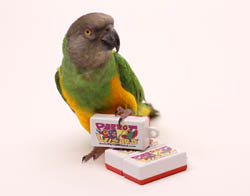 Be sure to check out the cool new Parrot Wizard Clickers, the first clicker made specifically for parrot training. No longer will you have to betray your feathered pals by searching for clickers in the dog obedience aisle. These come in a bright red and yellow color with the Parrot Wizard emblem on the back.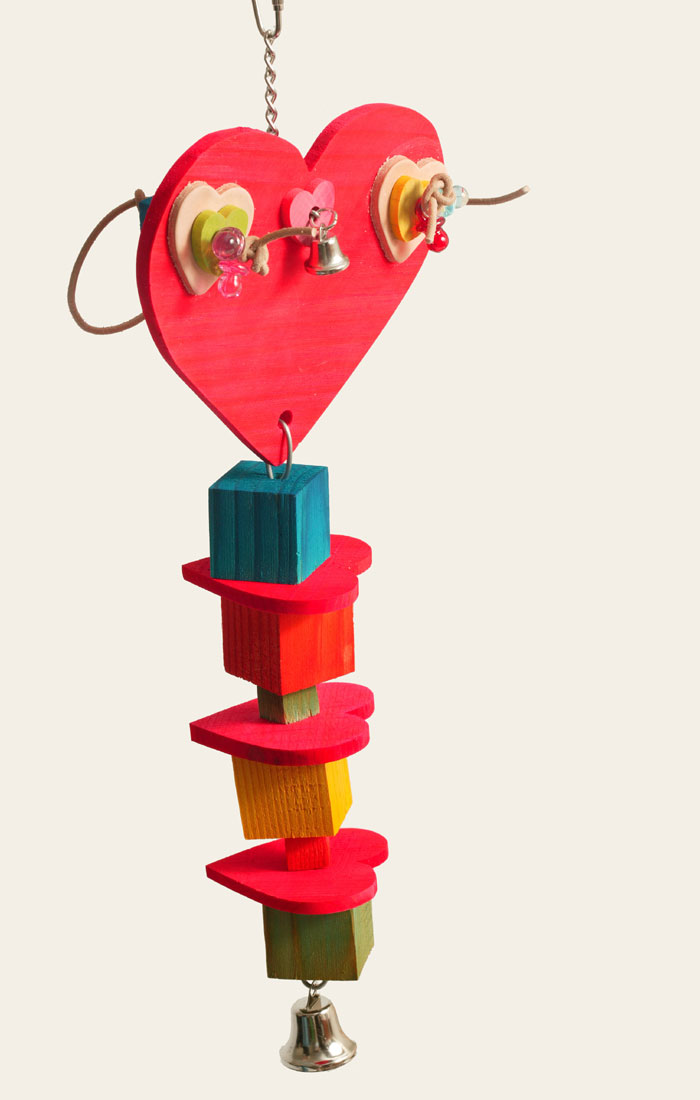 Now here is the best part. I personally designed, built, and now sell this sweet Valentine's Day parrot toy called My Chew Love™. Since this is the first toy I am selling, I'm offering it for 50% off the full price to entice you to try my products. You won't be disappointed! I've already let Kili and Truman play with this toy and they went bonkers for it.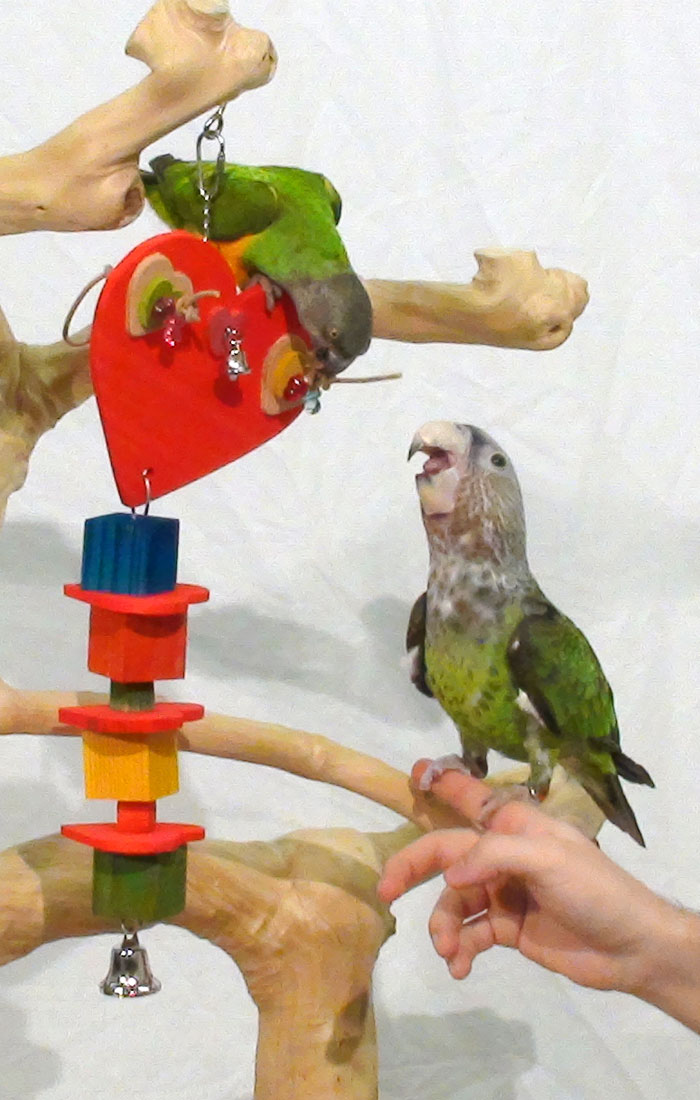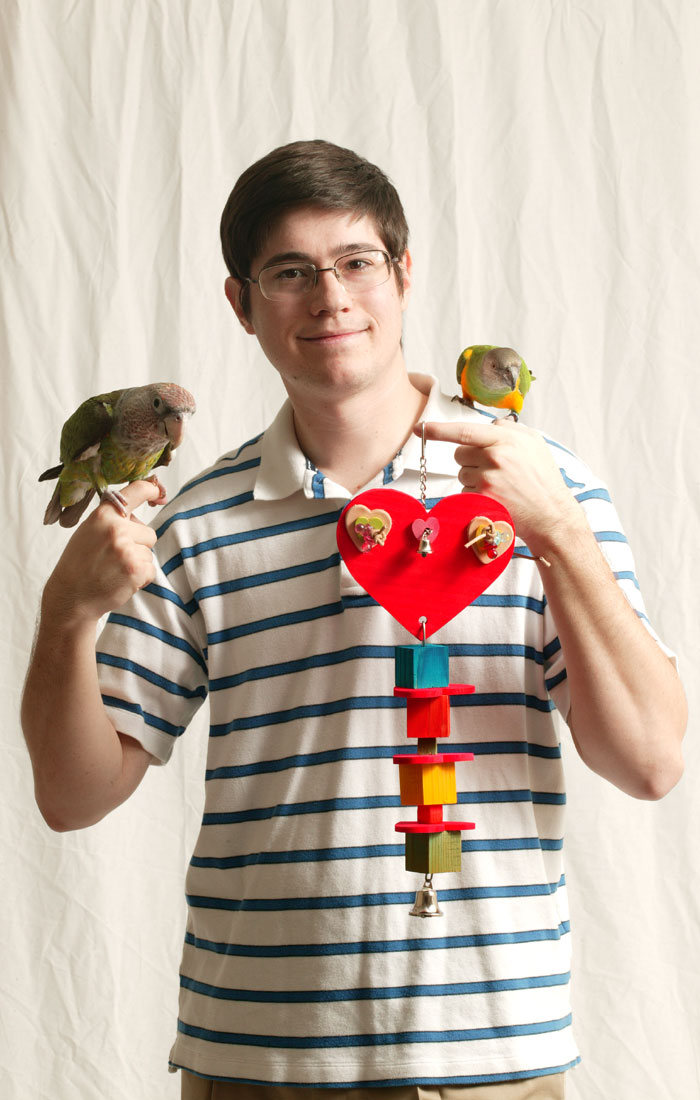 The heart shaped toy has a variety of pieces in different colors and sizes so that any parrot could enjoy it. It's a one size fits all toy so to say. The smaller parrots such as Senegal Parrots, Conures, and Cockatiels, will appreciate the leather knots, mini hearts, and little pacifiers. Meanwhile larger parrots such as African Greys, Cockatoos, Amazons, and Macaws can chomp down the bigger blocks and hearts with ease. So here's a fantastic gift idea to express your love to your parrot and at an incredible price too. Order soon to receive in time for Valentine's Day.

Visit www.ParrotWizard.com and check out all the parrot toys I've come out with. Many more are coming soon. I will also be releasing props for trick training so that you can follow along some of the prop based tricks I will soon be training to Truman. I'd like to thank all my customers, readers, and viewers because without your ongoing support and feedback I would not have had the motivation to attempt to publicize my own line of parrot products. I made these for you and I really hope they bring love and joy to you and your flock.