After receiving much interest in the stands I use for all my parrot training, I have finally decided to release these on sale to the general public. Originally I designed a simple set of stands for the purpose of teaching Kili to target back and forth between them so that she could learn to fly as I would increase the distance. Since then I have made numerous improvements to the design and have found countless uses for these stands. Just to mention a few:

· Target training
· Perch to perch flight training
· Recall flight training to your hand
· Training parrot tricks such as wave, shake, nod, turn around, wings
· Advanced and variable height flight recall
· Potty training parrot to poop from stand onto newspaper
· Socializing parrots to each other
· Place for parrot to hang out and play with toys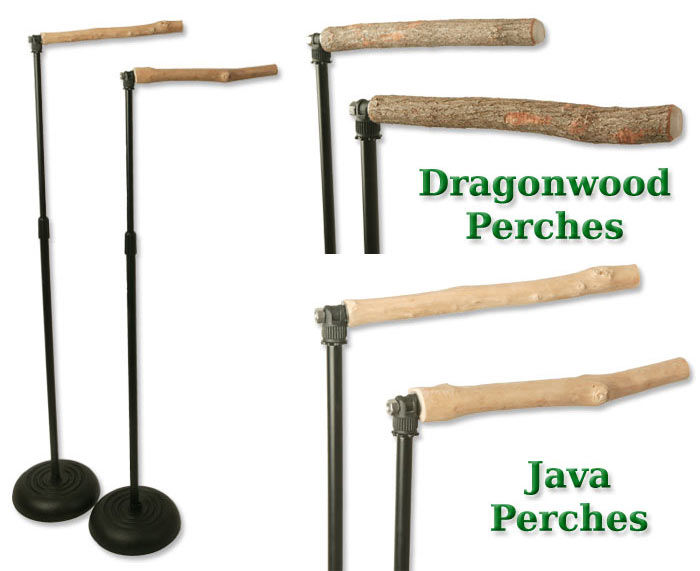 They are lightweight and portable so they can easily be moved from place to place. Yet they are heavy enough to be durable and support a small to medium parrot landing on them at speed. Some of mine I keep in a permanent location so the parrots know where they are and can fly there for safety (or toilet). The other stands I move around depending on what I am training. Typically I keep the height a bit below my head but sometimes I raise them for video or special training. If I'd like to sit in a chair, I can bring the training stands down to remain at a convenient height for training.

Parrot training perches eliminate the distraction that colorful play gyms and multi-branched climbing trees can create, keeping your parrot's attention on you for training. Since the two stands are independent, the ways you can line them up are numerous. Set them up parallel to each other to teach the parrot to fly between the two stands. Set the perches up perpendicular to each other to keep two parrots on them but not fight with each other. It is easy to add a newspaper at the base to collect any mess.

Visit www.TrainingPerch.com to order a set of stands for training your parrot.