No, I didn't misplace Truman for a Turkey! I just had to fatten him up a little and Kili could use some stuffing. I laid out the biggest variety of yummy foods the parrots ever got in a single meal. They both went straight for the nuts the moment I placed them on the table. No doubt that is their number one most favorite food. Then Kili sampled the mixed veggies and snuck away pieces of Truman's Brazilian nut cause she couldn't crack her almond. The parrots played with bits of pasta while trying a bit of everything.

While Kili devoured a big piece of banana, Truman nibbled some pellets. Kili did not touch a single pellet though. She's more of a vegetarian where she'll go for fresh veggies and fruits any day. Truman on the other hand is more of a nut and pellet kinda guy. He skipped most of the greens and went straight to his pellets. Before long, both their crops were visibly bulging out of their necks.

The parrot duo engaged in the tradition of sharing by putting aside their differences and enjoying their meal side by side. Neither attacked the other or caused any trouble. But you can see in the video that they were still a little cautious around each other. As long as there's plenty of food to go around, it's every bird for himself! Happy Thanksgiving.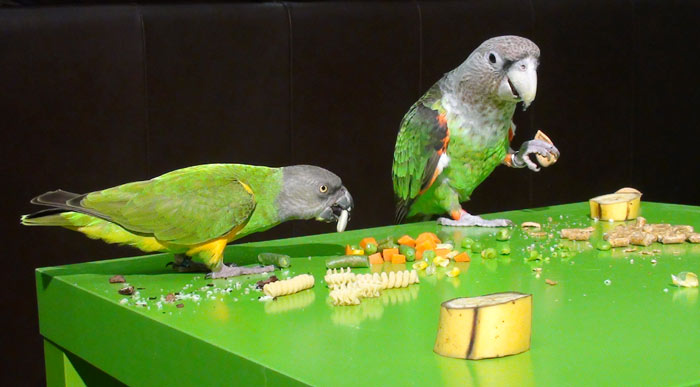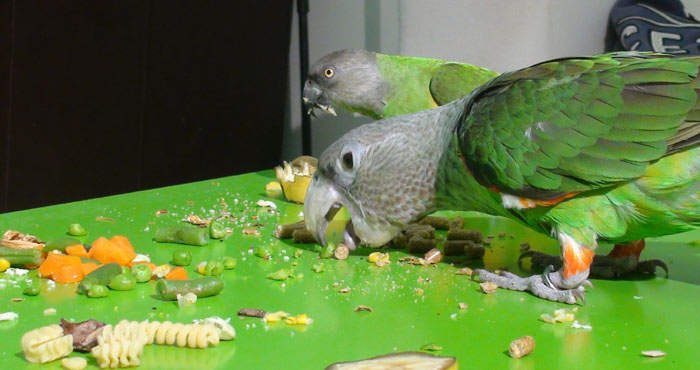 Check out the video of Kili and Truman's Thanksgiving Day meal and then leave a comment about what your parrots got for Thanksgiving.


Happy Thanksgiving! I want to extend a thanks to all me readers, subscribers, participants, and followers. Your support is much appreciated and what keeps me going with all the free articles and videos. But also I'd like to say thanks to everyone that I have learned from, to the professional breeders that keep the community going, the rescues that take in parrots in difficult circumstances, the avian veterinarians, and most of all my own two parrots. I have learned more about parrot keeping from them than all the books, videos, and internet knowledge combined. I want to thank Kili and Truman for putting up with all my trick training and patiently working with me on the stuff we do.

Enjoy your Thanksgiving holiday meals and don't eat too much turkey. But if you will, don't let your birds know!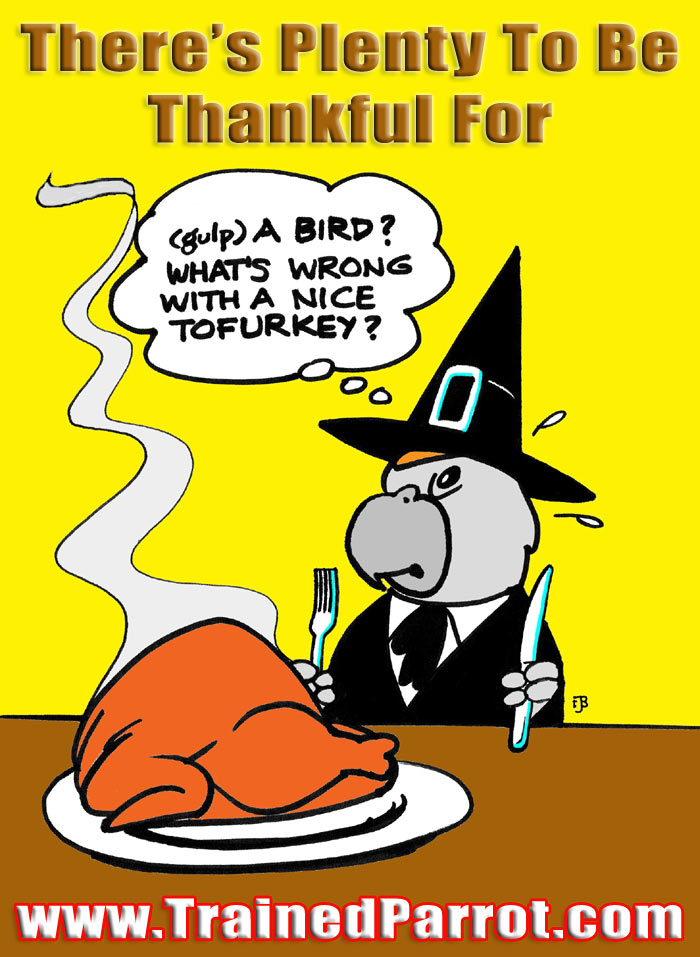 Thanksgiving is almost upon us so I would like to share a Parrot

Turkey Day

Thanksgiving cartoon with you. Feel free to use the links/code below to share the picture with people you're thankful to or just want to wish a happy Thanksgiving.

What do you think your parrots will be thankful for this Thanksgiving? Are you planning any special meals for your birds? Please leave your comments below.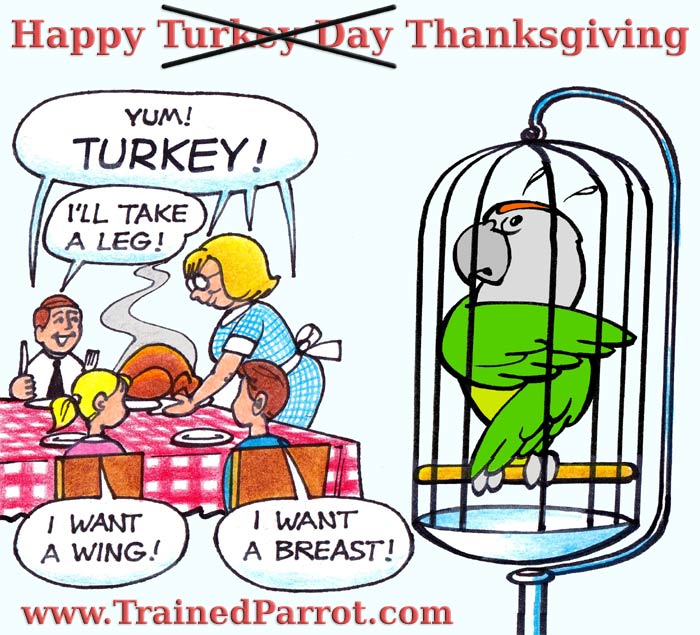 Feel free to share this picture with all of your parrot loving friends and people you are thankful for not throwing you in the oven when times were tough. You can simply post this URL:

http://TrainedParrot.com/Thanksgiving

On bbcode enabled forums you can post using the following code:


Or in HTML embedded sites using: