The Parrot Wizard Pocket Perch has been a hit with owners of small parrots. Unfortunately it isn't so good for the bigger end of small parrots because they can easily tip it or jump off. So I set off to come up with a universal tabletop perch for most small to medium parrots and here it is, the Deluxe Tabletop NU Perch from Parrot Wizard.

It's a 10" wide, 3/4" diameter, 8" high T-Perch on a 12x12 base. It is suitable for all small to medium sized parrots including budgies, all parakeets, lovebirds, parrotlets, cockatiels, conures, caiques, poicephalus parrots, quakers, amazons, african greys, eclectus, mini-macaws, and small cockatoos.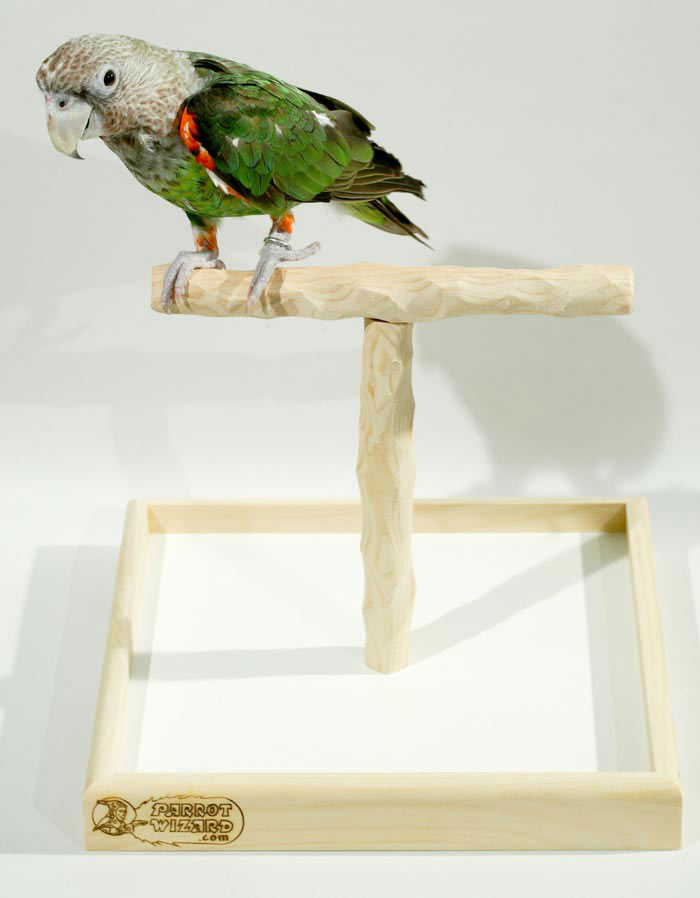 The deluxe in the name refers to the fact that it is skillfully grafted and very well made. It comes in a retail box and assembly is nothing more than twisting the T-Perch into the base. The base is durable and very easy to wipe down.

Since this is a "table" top perch, it was very important to make sure that it would look good amidst your living room furniture. There are no nails or hardware sticking out. And the wooden border is smooth and aesthetic. These tabletop perches are so dependable they come with a 1 year warranty. It does not cover any chewing but if the (unchewed) perch broke as the parrot walked across it or something like that, you'd be eligible for a replacement.





I have a full line of parrot trees still in the works and I may be releasing a bigger version of the tabletop for large parrots as well. Stay tuned.

Finally, to encourage more people to give the Deluxe Tabletop NU Perch a shot, I'm offering free shipping for the first 3 days only. Get yours before the end of the day Wednesday, August 7th and save $9.99 on shipping.