Too often I hear that biting is a regular part of parrot ownership or that biting is part and parcel of having a parrot. This claim that parrot biting is normal and must be accepted isn't valid. It is like slamming your hand in the car door every time you shut it. Instead, learn how to close the door properly so that you would not keep getting hurt.

Although many owners experience getting bit by a parrot and parrots biting is a common problem, it is not normal. Biting should not be considered normal or natural for these generally peaceful creatures. Parrots aren't meat seeking carnivores! Parrots are typically camouflaged, shy, confrontation avoiding prey animals. Biting is generally a last resort for them and it is important to avoid driving them to this last resort both for the parrot's comfort and because getting bit sucks!

There are many different reasons that parrots bite people, but the most common is simply self defense. The parrot does not want to do what the person wants and it resists by biting. This is often driven by fear but occasionally by boldness. But, in either case it comes down to the fact that the parrot is not on board with whatever the person wants to do, be it pick the bird up or put it in the cage.

Most parrot biting stems from a lack of training and the fact that parrots are undomesticated wild animals. They may be sold at a pet store, but they rarely are "ready to go" pets. Parrots are highly intelligent and very capable at training. With the right approach and training, they can learn how to behave in the household environment and come to enjoy it.



Now the claim that biting is an inevitable part of parrot ownership is downright harmful. It's an excuse for giving up trying to learn and communicate with the animal. It is a cover-up for not being more understanding or from being misinformed. Since most parrot biting comes from mishandling or the parrot misunderstanding what you are trying to do, these problems won't be resolved by accepting the biting. Recurrences will continue to frustrate the parrot, causing it to bite, and this will make the human get fed up. Instead, solving the biting problems is the way to genuinely make everybody happy.

Being "unafraid" of bites and being ready for frequent parrot biting is not sound advice for parrot owners. While I agree that you have to be ready for the possibility of a bite, it is not something that should be happening regularly. Any advice or handling that includes biting on a daily or weekly basis isn't helpful.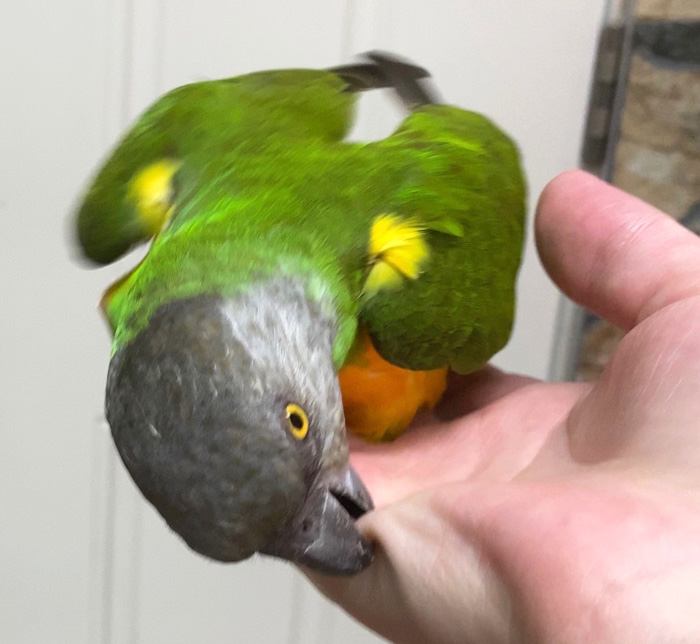 It is so rare that my parrots bite that it is hard to remember how many years it has been since a bite accidentally occurred. Every time I do articles or videos about biting, I have to invent fake bites to have a picture to show at all. For instance, the photo above of Kili "biting" Marianna's hand is really just a screenshot from a momentary grab Kili made while trying to catch her balance. The thumbnail for the video below of Rachel biting my hand is really just me sticking my hand inside her gentle beak and making an agonizing expression to make it look as though she bit me. My life with parrots is so bite-free that I really don't have bite pictures or stories to share because they just don't happen (except that one time at the rescue when Santina was unexpectedly pushed onto me and bit really hard).



The two steps to having a great bite-free relationship with your parrot are:
1) Stop causing bites entirely by preventing situations where the parrot can bite
2) Teach the parrot every single behavior you expect to use on a regular basis through training

Train the parrot to come out of the cage, step up onto your hand, step off your hand, step onto your hand from your shoulder, go back into the cage, flight recall, and a few tricks and you will have a cooperative bird that will have no reason to bite you. Extend this methodology to get the parrot to be friendly with other members of the family and visitors through socialization.

Learn how to do all the training effectively with the help of my book, The Parrot Wizard's Guide to Well-Behaved Parrots.

So although parrots biting is a common problem, it is not a normal problem if they are handled in the way that parrots should be handled. I hope you can browse my articles, videos, book, and supplies and resolve all of your biting problems so that you too can have a wonderful, loving, long-lasting, magical relationship with your parrot as well!