It has been a tumultuous few years between adopting Santina, inheriting Rachel through marriage, and having sick birds all over the house. But now, for the first time in over a year, Truman gets reunited with the flock.

The last time Truman had seen Rachel (not counting a brief distant encounter at the wedding), was while I was birdsitting Rachel after the NYC Parrot Adventures Group outings at which I met Marianna. When Marianna moved in with Rachel, we opted to keep Rachel separate while the original three (including Santina) were dealing with health problems in the bird room. Every time we medicated the three, it would appear that Kili and Truman would do better but Santina's condition would return and then some weeks later, everyone else was back to square one.

We decided to experiment with quarantining every bird from each other. This was very difficult and time consuming with hand washing or showering between visiting each bird. After several medications and a lot of time passing, Kili and Rachel improved. Santina was still doing badly and Truman was a bit questionable. So, we had to juggle birds around and do a lot of sanitizing in order to get Rachel and Kili together in the bird room and Santina and Truman quarantined separately.

This September, I rehomed Santina to Lori in Pittsburgh. This was an effort to harmonize my own flock while getting Santina and Lori a wonderful pet situation. Mostly, Truman was doing better but now and then he was still symptomatic. We ended up giving him one more round of medication before going any further.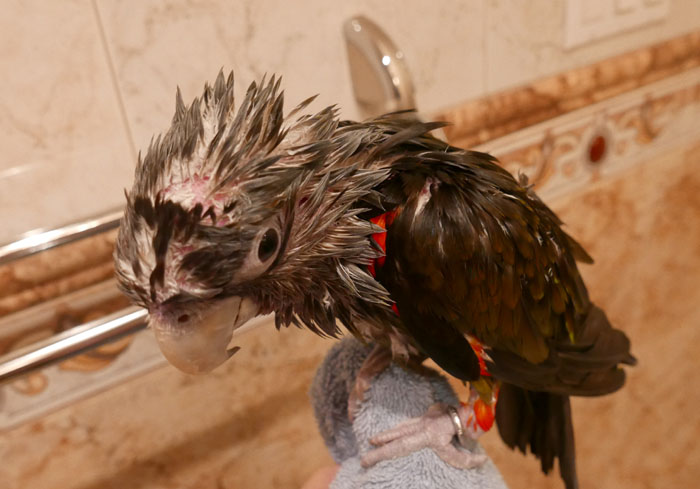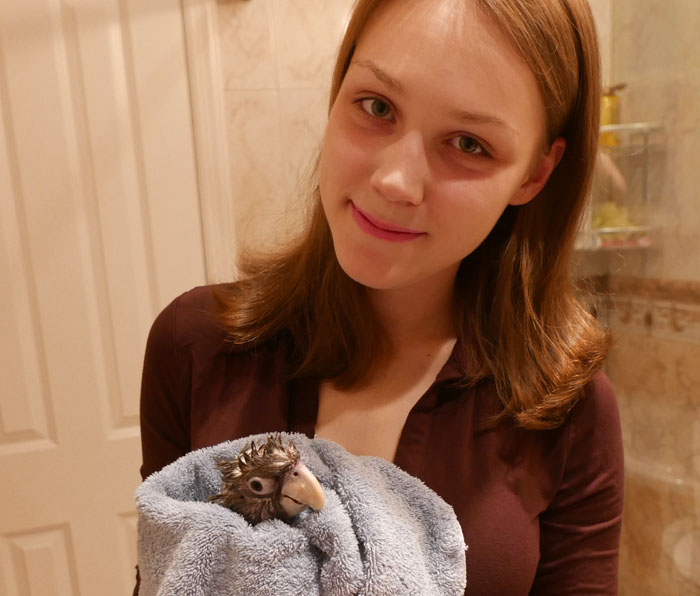 Without contact with Santina and since medication, the birds appear to be doing well so now it is time to have Truman united with Kili and Rachel. We thoroughly cleaned and sanitized Truman's cage, replaced all of his toys/perches with new ones, and were ready to move him in with the other birds. Just one more thing to do, to give Truman a really thorough washing. Marianna got him really soaked and clean before reintroducing him to the flock.

This is not the first time Truman was reunited with Kili. There was the time Truman was lost for a few days. Also, there were times that Marianna would take Truman to her home for some days at a time. So, it was not a massively surprising situation for Kili, but after going so long without him, she certainly displayed a lot of excitement. Rachel was curious but mainly indifferent. For now he will stay in the same room but a little bit separate during the adjustment period. Check out this video of the Trained Parrot flock reunion: