Happy Thanksgiving and upcoming holidays. With Thanksgiving dinner eaten and the holidays under way, it's time for shopping. Here is a list of some of the best Black Friday deals for parrot supplies I have spotted. Most of these sales are going on all weekend long through Cyber Monday. Stock up on bird food, toys, perches, stands, cages, and more. Stuff available from the smallest parakeets to the biggest macaws. Take advantage of the big savings and outfit your parrot's cage for the holidays!

Here is my Thanksgiving Parrot Cooking Tips video with relevant tips throughout the holidays:





List of Black Friday and Cyber Monday Sales on Parrot Supplies:
25% off toys with code: BlackFridayToys

First off, here's the big Black Friday Weekend Sale from my Parrot Wizard store. Huge savings on perches, stands, and all kinds of parrot supplies via https://ParrotWizard.com/Black_Friday.

And, the biggest toy sale of the year with 25% off on all Parrot Toys from the toys page: https://ParrotWizard.com/Toys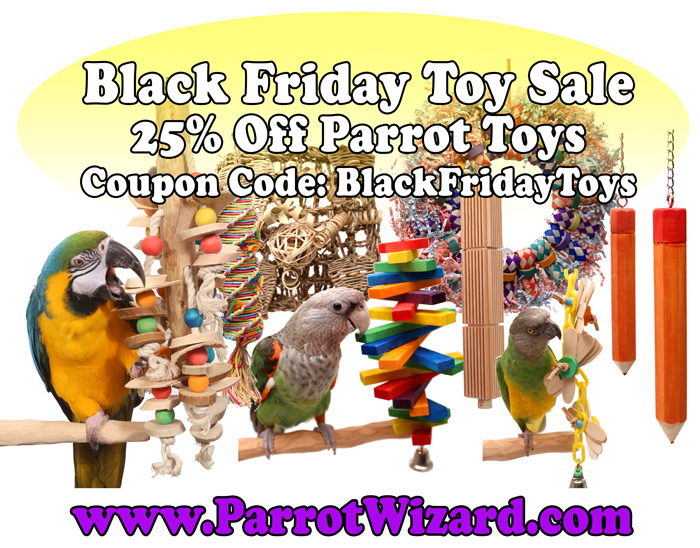 25% off toys with code: BlackFridayToys

Some Black Friday sale items are gone and new Cyber Monday Deals posted at
https://ParrotWizard.com/Cyber_Monday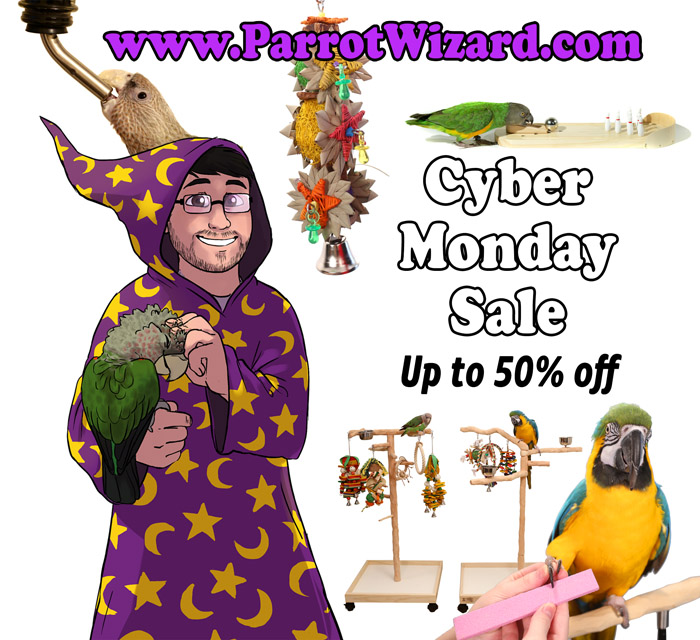 25% off with code: BlackFriday

This is a huge deal. This code appears to work for all items from this site. A great deal on chop and bird food! https://christineschopshop.com






25% off with code: BIRDMAS2020

25% off Stickers, Prints, Pins and Necklaces. Stock up on holiday gifts for bird lovers and yourself with all these cute items. https://birdhism.com/discount/BIRDMAS2020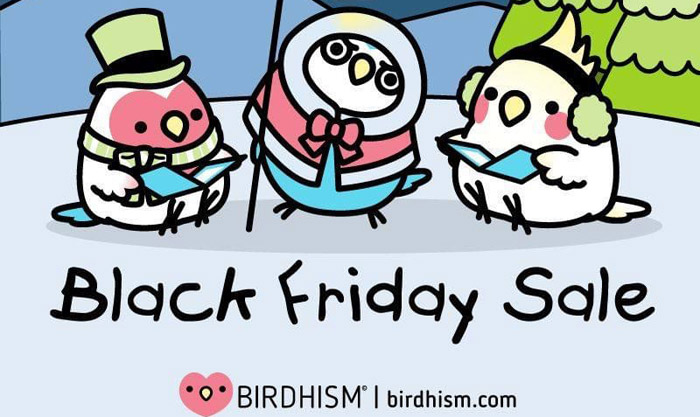 12% off with code: 10x12

12% off storewide, 15% off toys, and many other promotions depending on how much you spend at My Safe Bird Store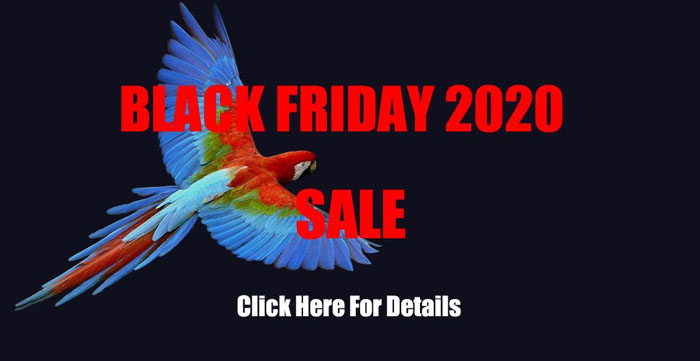 20% off with code: Cyber20

10, 15, or 20% off everything at Kings Cages depending on how much you spend. Great time to upgrade your bird's cage while on sale https://kingscages.com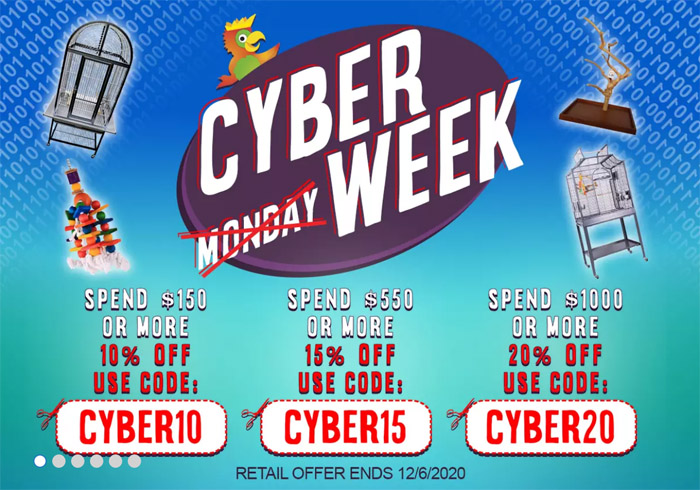 If you are on the other side of the pond, Northern Parrots from the UK is also hosting a Black Friday sale in Europe for up to 50% off select items: Northern Parrots






Black Friday weekend and Cyber Monday is a great chance to save money and make your bird happy. So enjoy the sales, stay warm, and stay safe. Feel free to leave a comment below if you have come across any other Black Friday deals on any kinds of parrot supplies.