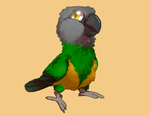 Kili
Type: Senegal Parrot
Genus: Poicephalus
Species: Senegalus
Subspecies: Mesotypus
Sex: Female
Weight: 120 grams
Height: 9 inches
Age: 13 years, 4 months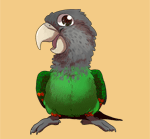 Truman
Type: Cape Parrot
Genus: Poicephalus
Species:Robustus
Subspecies: Fuscicollis
Sex: Male
Weight: 330 grams
Height: 13 inches
Age: 11 years, 7 months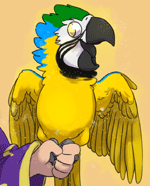 Rachel
Type: Blue & Gold Macaw
Genus: Ara
Species:ararauna
Sex: Female
Weight: 850 grams
Height: 26 inches
Age: 9 years, 4 months

List of Common Parrots:
Parakeets
:
Budgerigar (Budgie)
Alexandrine Parakeet
African Ringneck
Indian Ringneck
Monk Parakeet (Quaker Parrot)
Parrotlets
:
Mexican Parrotlet
Green Rumped Parrotlet
Blue Winged Parrotlet
Spectacled Parrotlet
Dusky Billed Parrotlet
Pacific Parrotlet
Yellow Faced Parrotlet
Lovebirds:
Peach Faced Lovebird
Masked Lovebird
Fischer's Lovebird
Lilian's (Nyasa) Lovebird
Black Cheeked Lovebird
Madagascar Lovebird
Abyssinian Lovebird
Red Faced Lovebird
Swindern's Lovebird
Lories and Lorikeets
:
Rainbow Lorikeet
Conures
:
Sun Conure
Jenday Conure
Cherry Headed Conure
Blue Crowned Conure
Mitred Conure
Patagonian Conure
Green Cheeked Conure
Nanday Conure
Caiques:
Black Headed Caique
White Bellied Caique
Poicephalus Parrots
:
Senegal Parrot
Meyer's Parrot
Red Bellied Parrot
Brown Headed Parrot
Jardine's Parrot
Cape Parrot
Ruppell's Parrot
Eclectus
:
Eclectus Parrot
African Greys:
Congo African Grey (CAG)
Timneh African Grey (TAG)
Amazons:
Blue Fronted Amazon
Yellow Naped Amazon
Yellow Headed Amazon
Orange Winged Amazon
Yellow Crowned Amazon
Cockatoos:
Cockatiel
Galah (Rose Breasted) Cockatoo
Sulphur Crested Cockatoo
Umbrella Cockatoo
Moluccan Cockatoo
Bare Eyed Cockatoo
Goffin's Cockatoo
Macaws
:
Red Shouldered (Hahn's) Macaw
Severe Macaw
Blue And Gold Macaw
Blue Throated Macaw
Military Macaw
Red Fronted Macaw
Scarlet Macaw
Green Winged Macaw
Hyacinth Macaw
Glossary of Common Parrot Terms
I have now had Santina for over 3 months but because of her questionable health, I had to keep her separate from Kili and Truman on prolonged quarantine. Now that she has taken medication and her infection cleared up, things are all set for the introduction.

Since it is difficult to impossible to truly disinfect colored toys and large porous perches, I opted to play it safe and discard all of the old stuff. Having already spent thousands on her vet care, what is loosing a few toys to make sure this illness doesn't rear its ugly head again? Since Santina would need a new stand in the big room anyway, I took this opportunity to set things for the long run.




I bought a ton of different branches and got to work piecing them together for a macaw megastand. This one incorporates more branches than the original and is entirely free hanging for easy cleaning. I also think that hanging stands are ultimately more natural for birds because they incorporate some natural motion and sway. This stand is so big and heavy that it is stable enough that Santina was not bothered by it. In fact one of the first things she did was to climb up to a high swing mounted on the already hanging structure.

Santina spent all day watching me build her new housing so she was more prepared for it when the time came to try. A tour of the room and features coming soon but in the meantime here are photos and video of Santina's new crib.


| | | |
| --- | --- | --- |
| | | Wednesday January 8th, 2014 |
A very common question parrot owners ask is how much time should my parrot spend out of the cage? Or they ask what are the minimum number of hours my ________ (fill in the species) needs to spend outside of the cage every day? The problem with this question is that it asks for a quantitative answer to a qualitative question. Here's my answer. It doesn't matter how long your parrot spends outside of the cage every day! What matters is how it spends its time out of the cage!

Too many parrots get their wings clipped and placed on a tree for hours at a time. The tree thus serves as nothing more than another cage! The bird cannot leave the tree and do what it truly wants (at least within the confines of the house). I'm not saying it's bad to put your bird into different "cages" throughout the day for variety but if the bird isn't free, this isn't "out of cage" time.

In the case of social companion parrots, the parrot wants to spend time with you do and do what you do. Putting the parrot down on a stand while you check email is no less boring to the bird than sitting in the cage. Out of cage time needs to serve as interactive time between you and your parrot for it to really count. The parrot needs to be part of what you are doing and you must be part of what your parrot is doing. No quantity of hours sitting out can replace this.

Parrots want to be in the middle of everything, the center of attention, and do what you do. They cannot be content being a passive part of your life.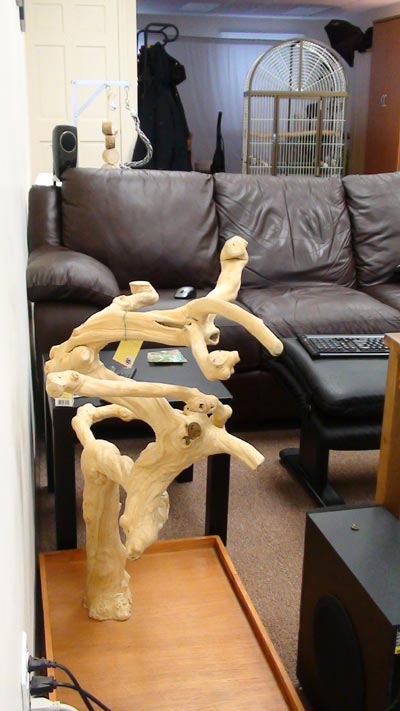 Cage vs tree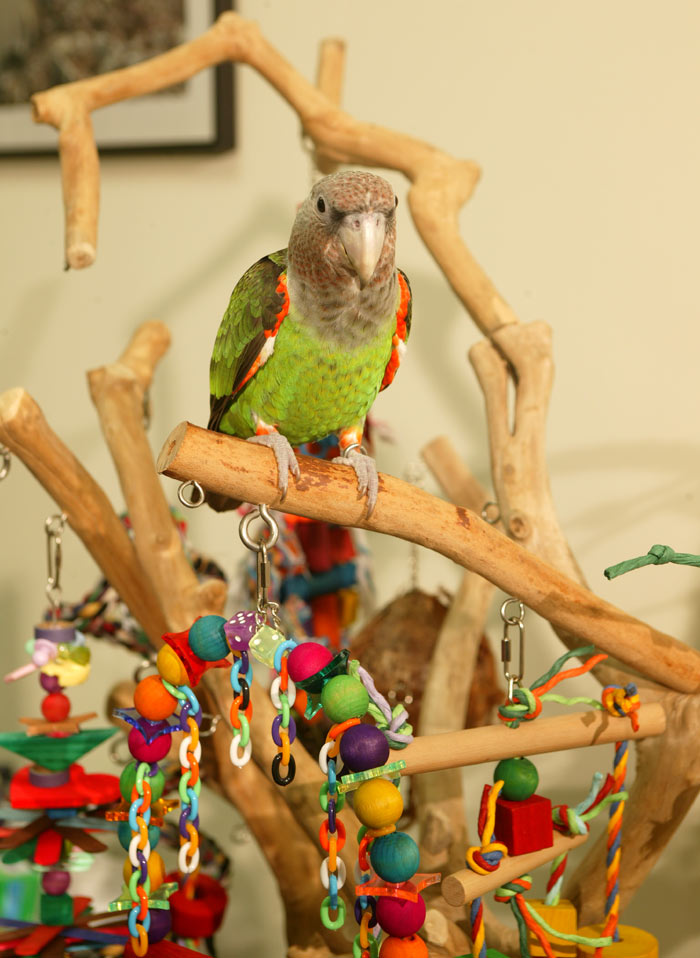 Is the tree not just another cage if the parrot isn't free to go elsewhere by flight? You wouldn't realize how much your parrot likes or doesn't like its tree unless you can observe it choosing to go there or choosing to leave. Despite how awesome I thought this tree is, it took Truman less time to get bored of it than it took me to build it!


The other issue is that some parrots don't really want to be out. In that case, forcing out of cage time only harms your relationship. Grabbing a parrot out of the cage with a towel to make it serve it's mandated "out of cage time" only makes the relationship even worse. It will only cause stress and distrust. The parrot will not enjoy that time and even though it received out of cage time, it entirely missed the purpose of that time. To achieve a great relationship, the parrot should want to come out and to spend time with you. When you use some of the out of cage time to serve positive interactive purposes such as trick training, it sets real goals for your parrot and reasons to want to be out.

If the parrot isn't enjoying being out, out of cage time is actually doing more harm than good!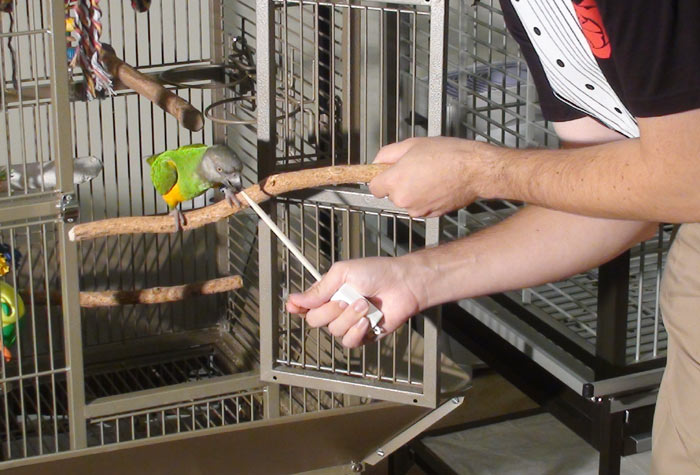 Use target training to teach parrots to enjoy coming out of the cage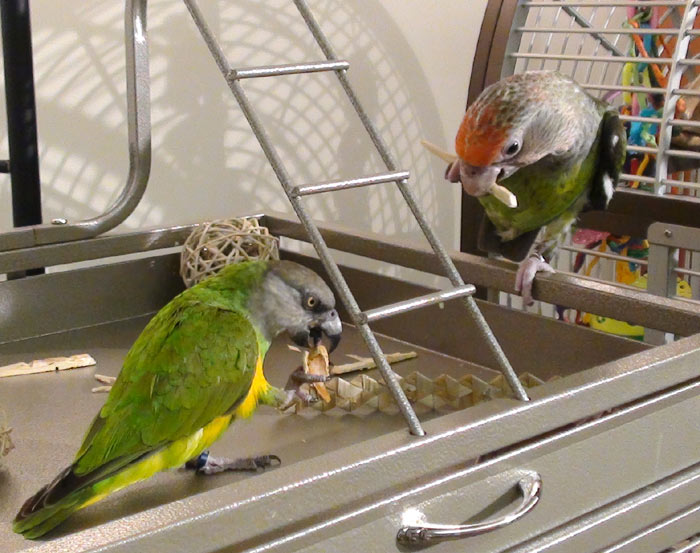 Parrots enjoying meaningful out of cage time (playing with toys) while exhibiting acceptable behavior. I want to encourage as much out of cage time like this as possible but put them away before they can get bored of toys and engage in nuisance behavior


Actually, I don't think there is a minimum amount of out of cage time. Rather there is a minimum amount of daily interaction, minimum amount of positive reinforcement, minimum amount of flying exercise, and minimum amount of a love that a parrot must have. These minimums aren't known so it is best to give as much as possible that your parrot wants to ensure you are not below minimum (as we all know parrots that don't get enough of these may resort to behavioral problems such as plucking).

In terms of good behavior, less is more. It is actually easier to set a maximum value for out of cage time for parrots than minimums. Although the parrot may wish to be out to interact and play as much as possible, if we let the parrot stay out too long, inevitably undesirable behavior will ensue. Almost no companion parrot can spend all day out of the cage without resorting to doing things that annoy us. Whether it's chewing up furniture, screaming, flying to us endlessly, nipping/biting people, or getting in fights with the rest of the flock, these are all the results of boredom from being out too long. To make the most of your parrot's out of cage time, perform parrot training and keep interactions direct and focused. However, put the parrot back in the cage before it has the opportunity to turn to nuisance behavior. If the parrot becomes accustomed to spending too much time out of the cage, it will be less inclined to be well-behaved and more likely turn to nuisance behavior to seek attention or entertain itself. You must use preemptive measures to keep the parrot trained or occupied. However, eventually these run out. The parrot is no longer hungry for training rewards, the parrot has had its fill of attention, etc. This is when the parrot turns to nipping the owner for fun or attention, chewing the curtains, attacking others, etc. Worse yet, whatever you end up doing in response to such undesired behavior (hurt parrot, put parrot away, yell at parrot, say 'no', etc), will only make things worse. The bad behavior is already learned and the parrot becomes reinforced to seek your attention with it.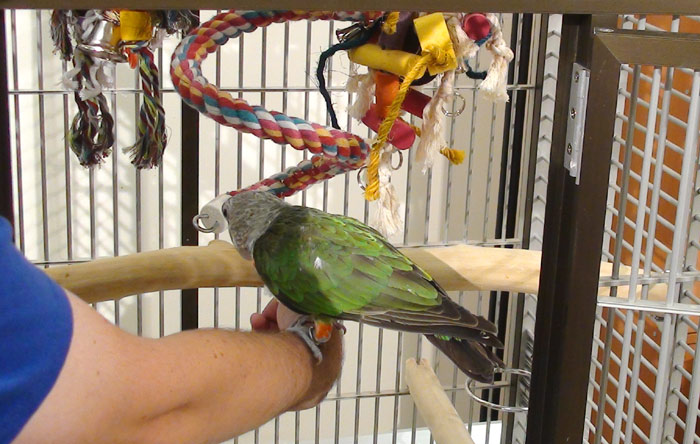 Put the parrot back into its cage before the onset of bad behavior. Work on increasing duration with time


Thus the parrot must be put away into the cage while things are still good. Leave some desire for next time to enjoy being out. Keeping out of cage time short but well-behaved is far better than long and chaotic (the parrot will hurt itself or the owner will burn out before you know it). As the parrot develops good habits during short but guided out of cage sessions, it will become more accustomed to behave that way whenever out. You can progressively have the parrot out for longer durations but the habitual good behavior will persist for longer spans of out of cage time!

For new parrot owners or owners with problematic parrots, doing short target training sessions for spans of 5-10 minutes and then putting the parrot away for a meal in the cage is a great way to start building up good behavior. You can progressively expand durations of time and introduce more play/interaction with time. Before you know it the parrot can be spending hours out where the parrot behaves in an acceptable manner to people and the parrot gets to enjoy the things it wants while out.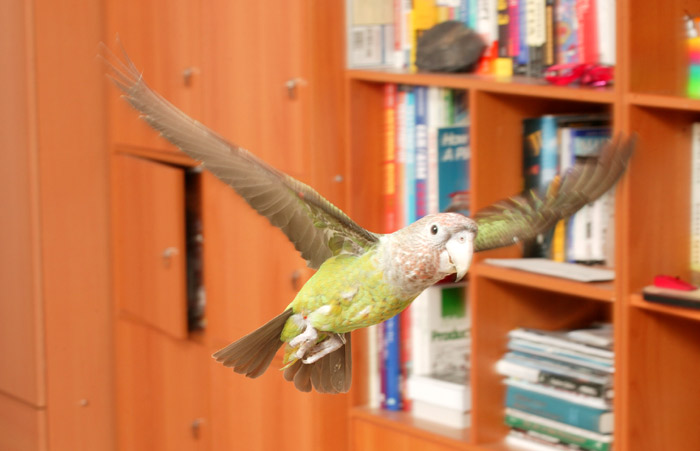 Out of cage time provides room for flying


One of the top benefits of out of cage time to a bird is the space to fly. The cage almost never provides room to fly and even most outdoor aviaries are inadequate. However, in the space of your living room, the parrot has the space to stretch its wings and exercise. The parrot does not need to be flying all day long to get exercise but to make up for all the time on its legs in the cage, getting to fly while out is essential.

The other type of out of cage time we must seek to offer is out of [house] cage time. Taking your parrot outdoors is very enriching. The sights, sounds, smells, etc are all something different for the parrot to take in. Also the bird requires outdoor time for its health (vitamin D and calcium production). Use a harness to take your parrot outdoors as much as possible. Inevitably this turns into focused together time and is a top way to provide valuable out of cage time.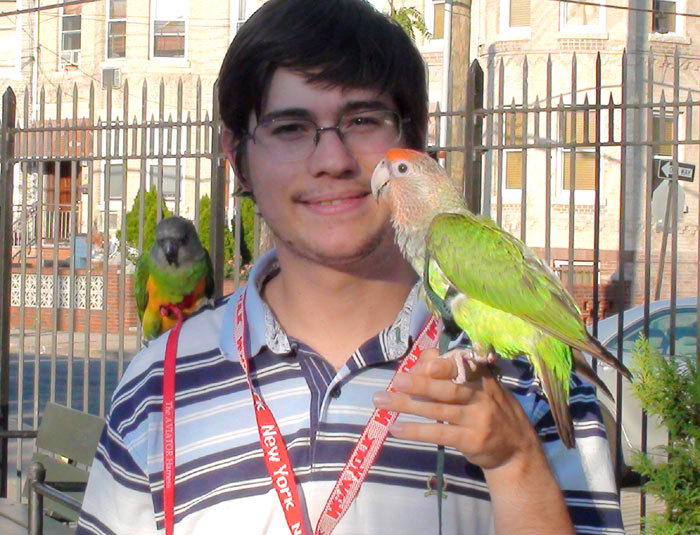 Outdoor time provides some of the best benefits of out of cage time: fresh air, exercise, sunshine, enrichment


It is good to have a fair amount of predictable routine for your parrot when it comes to the out of cage time schedule. Give your parrot something to look forward to every day. But once in a while, break it up. Some days take your parrot out for longer, take your parrot some place outdoors, or leave it in its cage entirely. This helps the parrot adjust to a more varied lifestyle and prepare it for any changes. The parrot should enjoy out of cage time but it shouldn't be helpless without it.

So rather than imposing silly minimums like "A budgie should get at least 30 minutes a day of out of cage time, a conure should spend an hour outside of the cage, an African grey should get at least 3 hours of out of cage time, and a cockatoo needs to spend all day with you," you should put far more focus on the quality of time the parrot spends outside the cage instead. This is the out of cage time that truly matters. That said, try to provide as much out of cage time as you are able but instead of stressing about the exact amount, focus on making it more interactive, exercising, and stimulating for your parrot.

The out of cage time should be both enjoyable to the parrot but also to the owner. There must be balance such that both owner and parrot are happy for this long term arrangement to last. Keep early out of cage times short and sweet but stretch your parrot's endurance. Practice having the parrot out longer and longer but be sure to put the bird away before things can get bad. Having a well-behaved parrot that enjoys its out of cage time is a win/win for everybody.
| | | |
| --- | --- | --- |
| | | Tuesday January 29th, 2013 |
I dug up this old classic silent film from a hundred years ago of a performing Senegal Parrot. Unbeknownst to the trainer at the time, capital punishment is not the best means of dealing with an insubordinate parrot! I hope you enjoy and please share this one around.

Kili the trick trained marvelous performing Senegal Parrot was cast in the role of the insubordinate ex-parrot. This parrot has ceased to be after being shot by her impatient master. A talented actress with years of experience acting out dying scenes, Kili nailed the part!