Information about the event copied from the Parrot Club announcement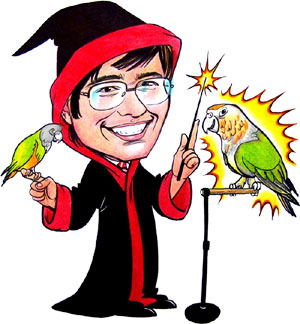 Parrot Wizard Michael Sazhin Brings Kili and Truman to East Hartford

More than 8 million viewers have watched YouTube sensations Kili and Truman perform astounding feats, and these tricky parrots--who have also been seen on America's Got Talent, The Steve Harvey Show and Late Show with David Letterman--and world-famous trainer, Michael Sazhin, will make their first live Northeast appearance at The Parrot Club's monthly meeting in East Hartford on Tuesday, April 9.

The public is invited to this intimate, interactive performance showcasing the talents and friendly personalities of these avian entertainers and their devoted "coach," whose notoriety skyrocketed when he created the "World Record 20 Parrot Tricks in 2 Minutes" video starring Kili, a Senegal Parrot: It's been viewed more than 1.7 million times on YouTube alone. Attendees of all ages will have the chance to see Kili and her sidekick Truman, a Cape Parrot, flying, flapping, waving, talking, slam dunking and executing other zany stunts. Sazhin will answer training questions and invite audience participation during his first ever bird club presentation.

The program begins at 7:15 p.m. (doors open at 6:45) at the Veterans Memorial Clubhouse in East Hartford, Connecticut. Admission is free for members of The Parrot Club, the state's oldest companion bird club, and for children 12 and under. There is a $3 suggested donation for adult guests.

Based in New York City, Sazhin is the founder of an online community of parrot owners and is best known for his kiliparrot YouTube channel. He is the inventor of the Parrot Training Perch and sells products for parrot training at ParrotWizard.com. He also provides training tips for bird owners via his TrainedParrot.com blog. Self-educated in ornithology and with a background in psychology, Sazhin is a strong proponent of keeping parrots flighted. His entertaining videos are also educational, providing inspiration for those who keep parrots as household companion pets.

The Parrot Club, founded 39 years ago as the Connecticut Association for Aviculture, is a non-profit organization dedicated to education about responsible ownership and care of exotic birds. The club provides educational outreach programs; sponsors field trips; supports the work of bird rescue, breeding and habitat preservation organizations; and hosts a variety of speakers and programs during its monthly meetings, held the second Tuesday evening of each month, March through December, at East Hartford's Veterans Memorial Clubhouse. The club welcomes bird enthusiasts of all ages. Membership information is available at all Parrot Club events.

The Veterans Memorial Clubhouse is located at 100 Sunset Ridge Drive in East Hartford, Connecticut. For more information about this event, visit the organization's Web site, www.theparrotclub.org.