Kili flew to Oshkosh for the annual EAA Air Venture, the world's greatest aviation event. I have been flying for over 9 years but have not yet had the pleasure of going to Oshkosh. Before owning my own plane, I never felt right going in a rental. Since acquiring my plane, for a few years I felt too novice to be able to undertake the arrival procedure into the world's busiest airport (during the event). But, with greater experience and my trusty copilot, I decided that it was time to make the pilgrimage to Oshkosh.

I brought Kili, my 6 year old Senegal Parrot, along for the ride. It was out of the question to take all of my birds but I definitely wanted to bring one. Kili is both my smallest and most trusted so I knew she'd be the right one to take for the journey. On the other hand, Truman and Santina each got a room to themselves while we were gone. On our way there, we battled fierce headwinds and took close to 6 hours to get there.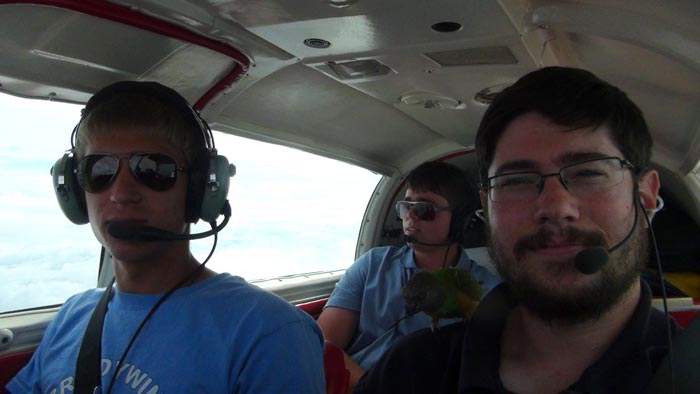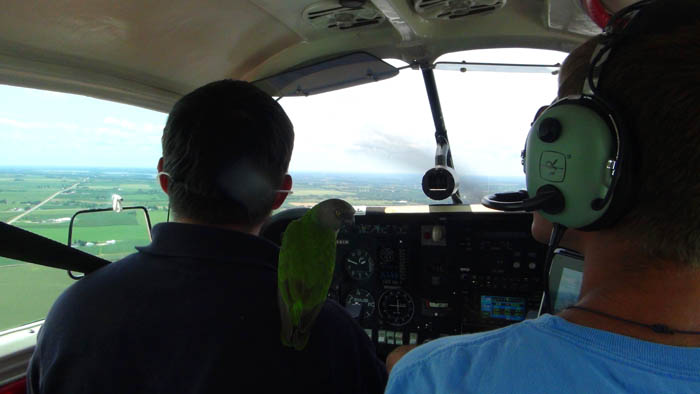 I expected all hell to break loose on the busy FISK arrival. It was busy but surprisingly manageable. Not nearly as bad as New York Approach on a Friday night. In fact, the air traffic controllers at Oshkosh were extremely courteous and understanding. These controllers realize that they are dealing with amateur pilots of varying levels of experience. Someone previously mentioned to me that they thought the Oshkosh arrival isn't as hectic as flying the Hudson river and I think they were right.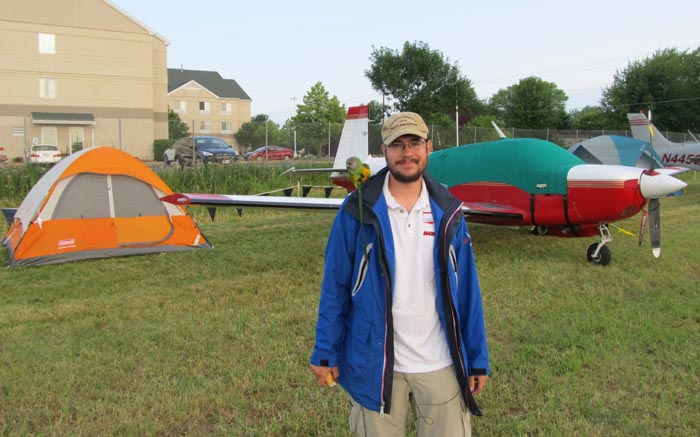 Kili was a big help. She just hung on without causing any trouble or distraction. I think she too enjoys flying! We landed in Oshkosh and after what seemed like an eternity taxiing all over the airport, we arrived at our camp site. We set up camp next to the plane and headed over to the main fairgrounds for the best part. Air Venture is like Disney World for aviators! It was incredible! Airplanes come from all over the United States and the world for this event. Around 15,000 aircraft and a quarter million people participate.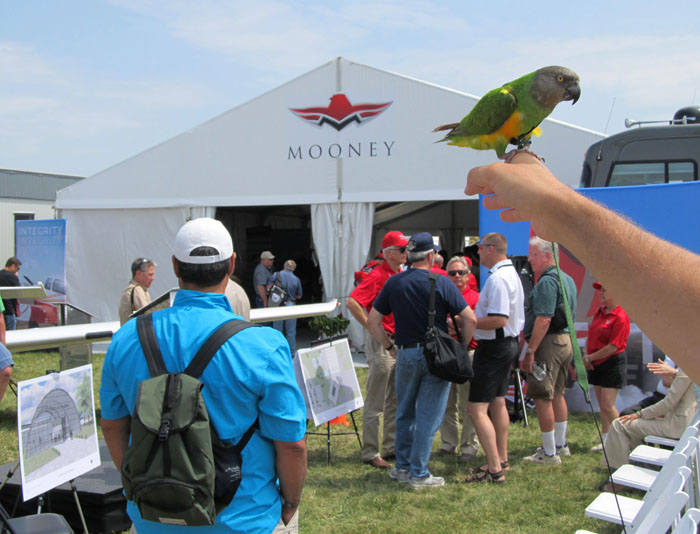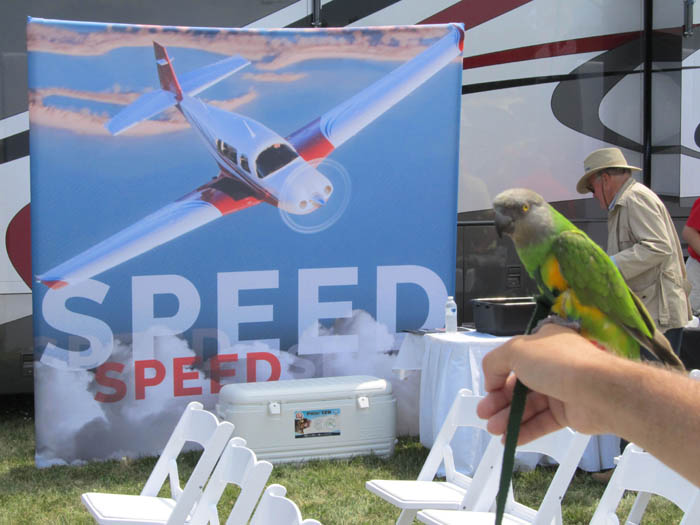 Since I own and fly a Mooney airplane, it was exciting to see Mooney back from bankruptcy at the event. They demonstrated the first Mooney Acclaim off the production line in 5 years and held a press conference. Kili whispered in my ear to ask the CEO about what safety and style improvements they had made to the airplane since changing the company motto from Speed Speed Speed to Safety Speed and Style. I don't think Kili was impressed with Jerry Chen's roundabout answer that the plane has always had those elements and that they were simply beginning to emphasize them better. Nonetheless, the Mooney acclaim is still to this day the world's fastest four seat single engine production airplane.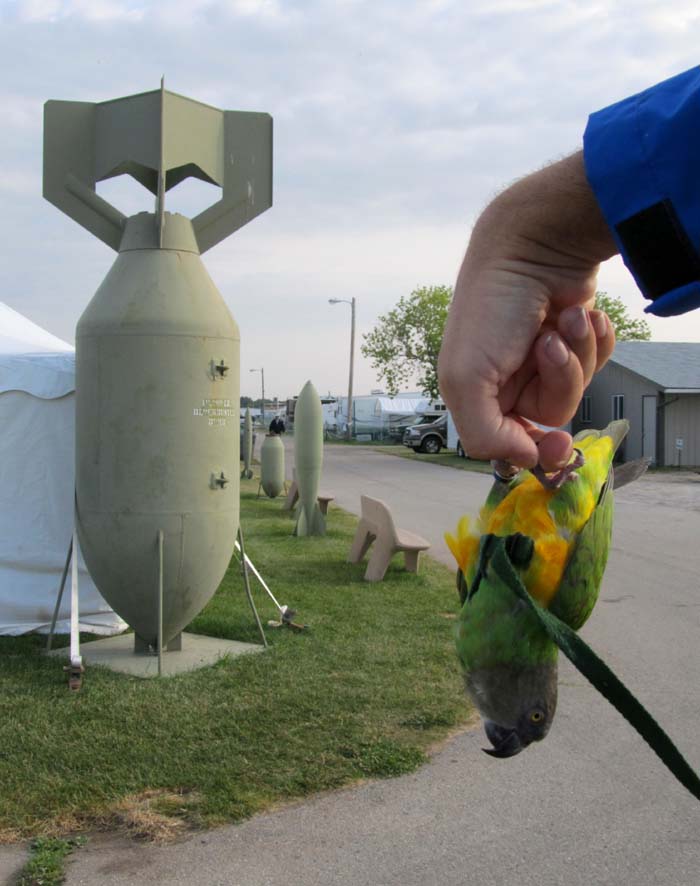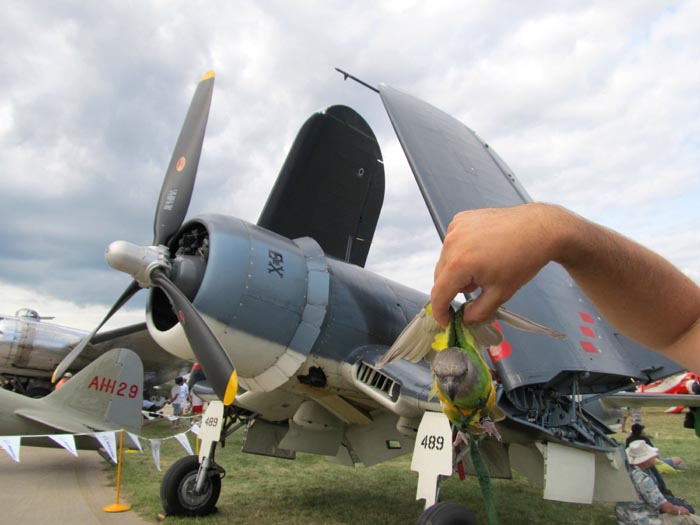 For 3 days we watched air shows, visited vendor displays, and met loads of pilots. Funny how it's a small world, we bumped into many people we know. Also many people I don't but know me were able to recognize me with Kili. It was a splendid trip and Kili enjoyed all the attention and travel as well. Here are some photos and video from our 2014 Oshkosh Air Venture adventure.