I got myself a macaw today for Christmas. Actually this has been in the works for a year now but today was finally the day. As you may know I was supposed to be getting a baby Green-Winged Macaw from a breeder earlier this year but unfortunately the unnamed baby passed away at the breeder's before I ever got to meet it. That heart-breaking situation made me think twice about getting a baby and I began looking at rescue options.

Over the last few months, I got to know about Lazicki's Bird House & Rescue from several sources. I first heard of them at the Connecticut Club Birdie Bash when I inquired about rescue macaws. The organization was later mentioned to me by others and I heard about it in the news.

Originally I had my own ideas about what I wanted in my third, and most likely final, bird. It had to be huge! It had to be friendly, motivated, a ham on stage, and most importantly flighted. When you deal with rescue, you don't necessarily get complete say over what you want and it's important to see how the bird likes you just the same. Without even meeting the bird, the rescue had already picked out the one for me. They knew what I was looking for and they knew the birds best so they said that Santina would work best for me.

I flew out to the Rhode Island rescue a month back to meet the bird and learn about her. I waited until after my big circum-Caribbean trip (videos coming soon) to bring her home. So today was the big day to finally get the bird. Because of weather, I opted to drive to the rescue rather than fly. It took over 9 hours of driving there and back but the trip was well worth it; the cargo I brought back: priceless.

I will be sharing more about the adoption process, Santina, and the homecoming in days to come but in the mean time here are some pictures and Santina's first video.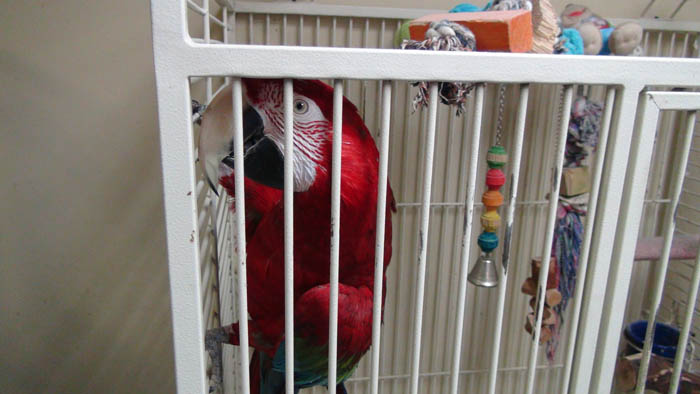 Santina in her cage at the rescue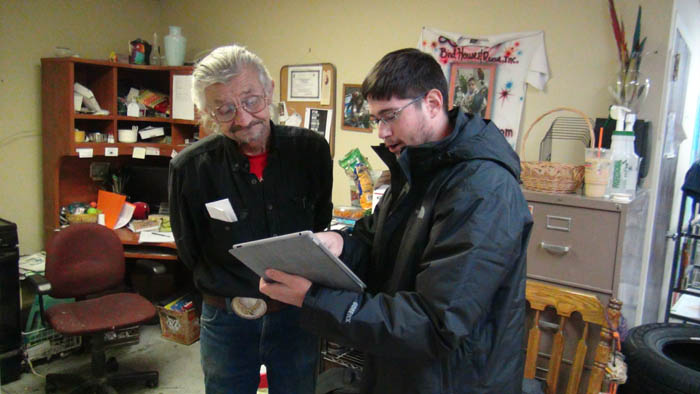 Going over paper work and photos at the rescue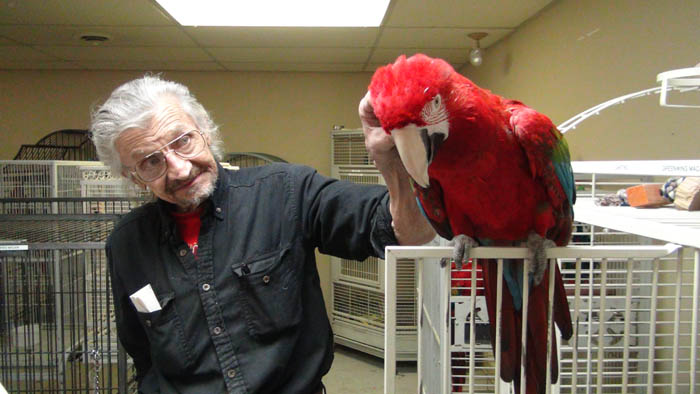 Steve with Santina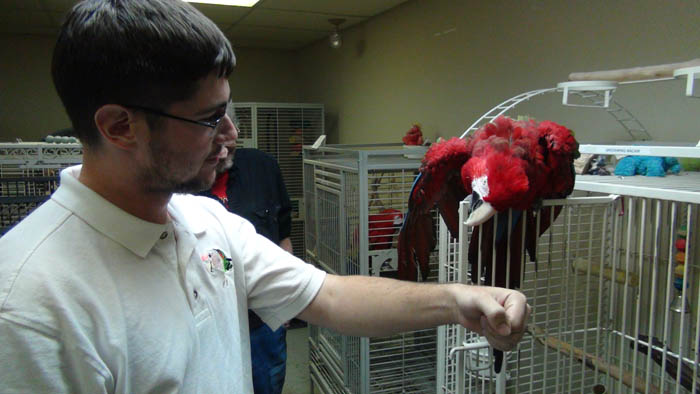 Santina trying to bite me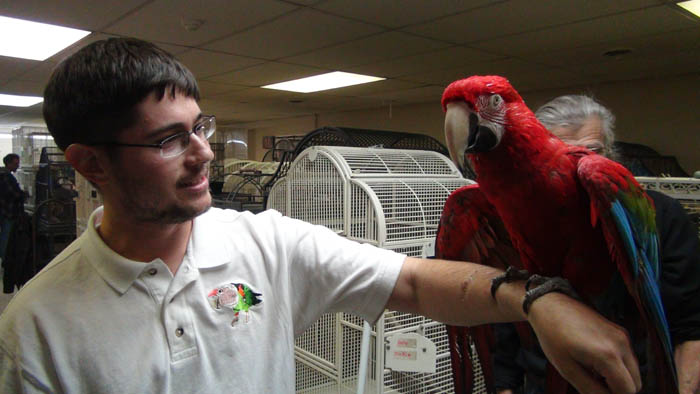 Steve put Santina on my arm despite that she didn't want to so she bit me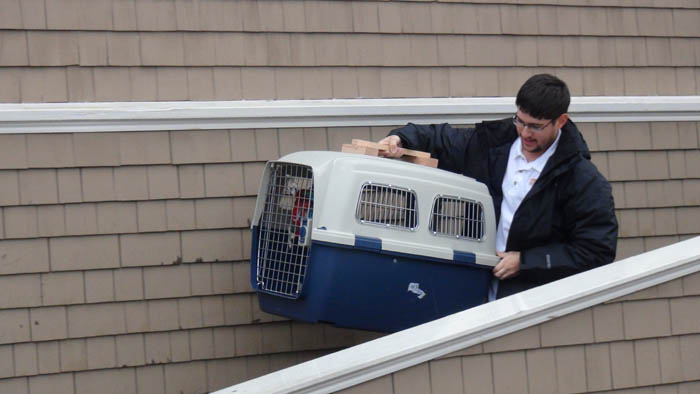 Santina leaving the rescue to come home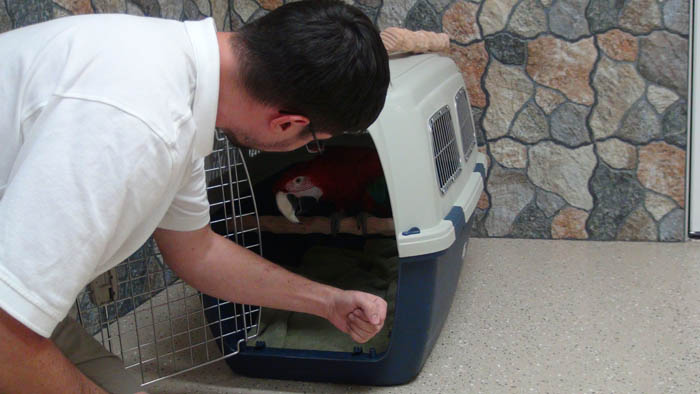 Rescue Green-Winged Macaw coming out of the carrier at home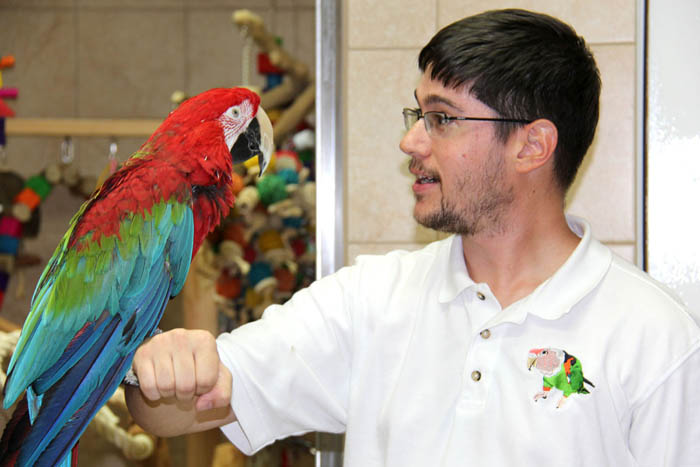 Santina steps up for me at home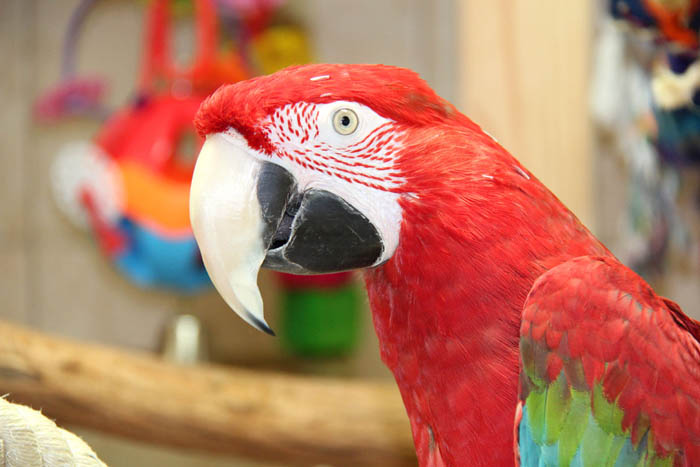 Santina, a 14 year old female rescue Green-Winged Macaw