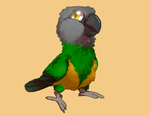 Kili
Type: Senegal Parrot
Genus: Poicephalus
Species: Senegalus
Subspecies: Mesotypus
Sex: Female
Weight: 120 grams
Height: 9 inches
Age: 14 years, 3 months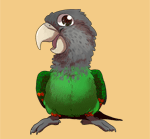 Truman
Type: Cape Parrot
Genus: Poicephalus
Species:Robustus
Subspecies: Fuscicollis
Sex: Male
Weight: 330 grams
Height: 13 inches
Age: 12 years, 6 months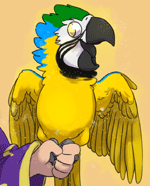 Rachel
Type: Blue & Gold Macaw
Genus: Ara
Species:ararauna
Sex: Female
Weight: 850 grams
Height: 26 inches
Age: 10 years, 3 months

List of Common Parrots:
Parakeets
:
Budgerigar (Budgie)
Alexandrine Parakeet
African Ringneck
Indian Ringneck
Monk Parakeet (Quaker Parrot)
Parrotlets
:
Mexican Parrotlet
Green Rumped Parrotlet
Blue Winged Parrotlet
Spectacled Parrotlet
Dusky Billed Parrotlet
Pacific Parrotlet
Yellow Faced Parrotlet
Lovebirds:
Peach Faced Lovebird
Masked Lovebird
Fischer's Lovebird
Lilian's (Nyasa) Lovebird
Black Cheeked Lovebird
Madagascar Lovebird
Abyssinian Lovebird
Red Faced Lovebird
Swindern's Lovebird
Lories and Lorikeets
:
Rainbow Lorikeet
Conures
:
Sun Conure
Jenday Conure
Cherry Headed Conure
Blue Crowned Conure
Mitred Conure
Patagonian Conure
Green Cheeked Conure
Nanday Conure
Caiques:
Black Headed Caique
White Bellied Caique
Poicephalus Parrots
:
Senegal Parrot
Meyer's Parrot
Red Bellied Parrot
Brown Headed Parrot
Jardine's Parrot
Cape Parrot
Ruppell's Parrot
Eclectus
:
Eclectus Parrot
African Greys:
Congo African Grey (CAG)
Timneh African Grey (TAG)
Amazons:
Blue Fronted Amazon
Yellow Naped Amazon
Yellow Headed Amazon
Orange Winged Amazon
Yellow Crowned Amazon
Cockatoos:
Cockatiel
Galah (Rose Breasted) Cockatoo
Sulphur Crested Cockatoo
Umbrella Cockatoo
Moluccan Cockatoo
Bare Eyed Cockatoo
Goffin's Cockatoo
Macaws
:
Red Shouldered (Hahn's) Macaw
Severe Macaw
Blue And Gold Macaw
Blue Throated Macaw
Military Macaw
Red Fronted Macaw
Scarlet Macaw
Green Winged Macaw
Hyacinth Macaw
Glossary of Common Parrot Terms
Kili & Truman went down to Coney Island for the second time. They met up with their parrot friends and had a great time. They flew at the beach, ate at Nathan's, played with loads of people, and took a ride on the historic Wonder Wheel, a Ferris Wheel landmark built in 1920. The birds had a fantastic time. Not only did they get sun and fresh air, but also an incredible socialization experience. Instead of talking about it, I'll let the pictures and video share the story.

For you parrot owners living in New York City or nearby, here is a new facebook group with announcements for future live parrot adventures in the city. You have to be a New Yorker to join and there are a few key rules to follow.

For more pictures, check out Dave's photos of the day and Sonny Mushy's facebook page. And be sure to follow the Trained Parrot Facebook page for daily photos and posts about adventures not worthy of an entire article.




And as promised here's the video of the whole adventure!

I took Kili & Truman on an outing to a glider club picnic. This isn't the first time I've taken them to this annual event so it wasn't surprising that they were at complete ease. I'd even go so far to say that they even enjoyed it.

The parrot duo got to ride around on my shoulders and earn bits of unusual food. They took turns stepping up for people, getting pet, or showing tricks. The birds especially enjoyed eating freshly picked NJ sweet corn off the cob. Funny thing is that Truman is a dodo and can't manage corn off the cob. Truman goes bonkers for corn off the cob but can't figure out how to get it off. Kili just digs right in. I can't take a bite of my corn without Kili ripping off the other end.

The place where the club hosts the picnic has a small lake and boats. I took the parrots on their first ever open boat ride. I put them both down on the side but Kili flew right up to my shoulder. Meanwhile Truman sat on the edge and watched the water and wildlife. By exposing the birds to every possible imaginable experience, I can best prepare them for complex unforeseen situations or performances in the future.




At these picnics, the club always ends things with a balsa wood glide throwing contest to see who can toss their flimsy little plane to land closest to a pole. The host's mantra has always been that "there are no rules and cheating is encouraged" so my brother and I usually bring our own higher performance gliders. But this year I decided to go all the way and have the bird do the flying. Before the competition I worked on training Truman to harness fly and land atop the PVC canopy of the target stake. Using my "go to perch" command, I had Truman fly to the point from further and further back until I could do it from the launch point. I had to have a running start and send Truman flying in order to keep running to grant him slack in his flying line. Since Truman's string is only 25ft but the required distance was over 75, I had to run with him to be able to fly. I paid the $2 entry fee twice. I entered Truman as his own competitor.

When the competition came, it was already well after sunset. I didn't realize just how badly birds see in twilight until I tried to have Truman fly to the point during the competition. The first two tries, he flew the wrong way and only the harness kept him from going who knows where. But on the third and final attempt, things went a little different. Truman again took off and headed in the wrong direction. He reached the end of the line and began an arching turn to follow the radius. I took his continued flying to advantage and started running toward the stake calling his name to recall to me instead. He turned and headed for the sound of my voice. He was so winded by this point that he did not make it to the top of the stake but did land just 12 inches short of the pole which was the closest any flying object had made it to in this competition. Truman was cheered on by the onlookers as he made it to the landing zone. I didn't do nearly as well when I tossed my balsa glider.

The birds were satisfied, satiated, and exhausted from all the flying, thrills, and experiences. They did not make a peep the entire ride back. These kinds of outings are a fantastic socialization experience for the birds and I think for them a lot of fun. It also gives me a chance to educate people about parrots in the process. For more information about building trust, hand taming, harness training, taking parrots outdoors, and teaching them to wear a harness, check out my book, The Parrot Wizard's Guide to Well-Behaved Parrots.