Kili & Truman went back to school today to experience their biggest, freest flights to date. Two years since they began their flight training in the larger spaces at my old high school, they returned to fly in the enormous gymnasium. Pending some of Truman's - ehem - reliability problems during the earlier sessions, I did not want to take the chance of him landing and refusing to fly down from the unreachable rafters in the gym. Flying birds in this gym is the real deal. In the little gym we first used and then later the theater, it was possible to at least reach the birds with a long recovery perch. But in this gym there were many places that would be impossible to reach. I was putting my faith entirely in the birds' wings.

Having done two years of extensive flight training with Truman, I was ready to take this chance to further his flightducation. Just to be sure he'd come down to me if he did end up in an unreachable place, I brought his weight down to his training minimum weight. Kili on the other hand, I took down no further than typical training weight because I was comfortable and certain that she would do just fine. I've already taken chances flying her in irrecoverable indoor locations (such as TV studios) and knew what to expect from her.

What I mean by an irrecoverable indoor flying location is basically a location where the bird could land in such places that it would be impossible for the owner to recover the bird (except by the bird returning on its own). This is the closest thing to outdoor freeflight but without the risk of permanent loss or predation.

Note, I do not encourage anyone to attempt to fly their parrot (or for that matter have it unrestrained) in an irrecoverable indoor flying location without extensive flight training experience. Although it may not result in the death or escape of your parrot, it may cause extensive problems for the bird and disruptions to the facility. Instead, I encourage you to find recoverable large indoor flying locations first. This is not only to practice but also to test how your parrot would behave flying in a novel location. You don't want to be finding out that your parrot will fly right up to a 60ft ceiling, land, and be incapable or unwilling to come down the first time you are trying this! For the recoverable locations, I have designed a parrot recovery perch for getting parrots down from places up to 20ft high. If you are interested in one, please contact me directly. Only after you are confident that while flying in recoverable locations, your parrot has reliably returned to you even after landing in high places, then can you attempt flying the bird in a place with unreachable ceilings.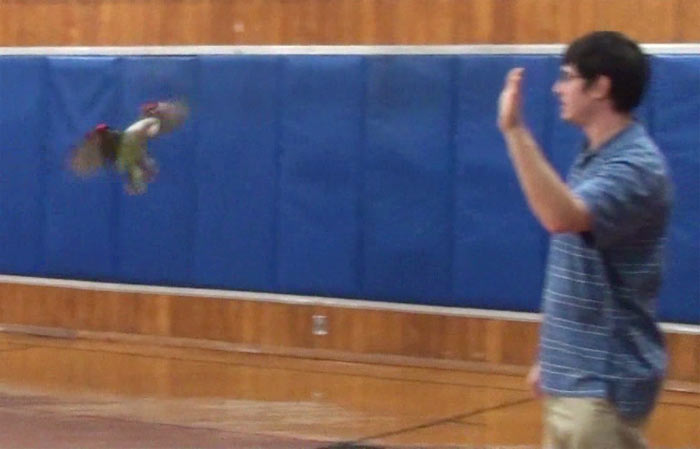 I started out with Kili & Truman on their training perches in the center of the gym. I had them fly short recalls to get the hang of flying in this new place and then progressively increased the distance until I was able to have them fly across hundreds of feet to reach me. I had them fly short boomerang flights to remind them how to return to me which proved useful when they would overshoot me. You see, parrots that are used to flying in confined spaces may develop too much speed flying in the open to slow down in time to land on you. Boomerang flying is a great skill to develop so that they would have the practice to turn around instead of just flying away.

It definitely helps to have two birds instead of one. One motivates the other. When Truman would recall first, Kili would eagerly follow when called. And vice versa. If one bird were to land and not come down from somewhere, giving a lot of attention, recalls, and treats to the other bird can sometimes drive it out and back to you. So while on one hand flying two parrots is more work and more to keep track of, it also helps improve the motivation of both birds at the same time!

Finally, when I was comfortable that Kili & Truman had no trouble finding me to land on, I sent them off to freefly around the gym to their hearts' content. I was curious if they would end up flock flying together or independently and it appeared to be more of the latter but really they were just all over the place. Kili enjoyed flying extensive figure eights around the gym at high speed and I was surprised to find that her stamina was better than Truman's! Don't forget that Kili is permanently missing some flight feathers, was not fledged as a baby, and has always been the weaker flyer. This made me realize that I had always worked her harder to compensate for this and as a result she ended up outflying Truman who is the natural born flyer!

In the span of over an hour the birds flew over a mile of heart pumping exercise flights both on command and of their will. They stayed on their perches until called and flew around when I offered them to. Overall I was very pleased with the session and my brother helped me record some of the highlights to share with you.



This is the 2nd video with footage of the birds' 3rd gym flight training session which also features Kili's newest trick.