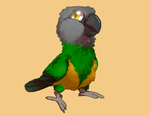 Kili
Type: Senegal Parrot
Genus: Poicephalus
Species: Senegalus
Subspecies: Mesotypus
Sex: Female
Weight: 120 grams
Height: 9 inches
Age: 14 years, 3 months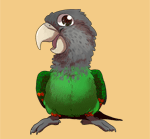 Truman
Type: Cape Parrot
Genus: Poicephalus
Species:Robustus
Subspecies: Fuscicollis
Sex: Male
Weight: 330 grams
Height: 13 inches
Age: 12 years, 6 months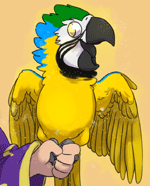 Rachel
Type: Blue & Gold Macaw
Genus: Ara
Species:ararauna
Sex: Female
Weight: 850 grams
Height: 26 inches
Age: 10 years, 3 months

List of Common Parrots:
Parakeets
:
Budgerigar (Budgie)
Alexandrine Parakeet
African Ringneck
Indian Ringneck
Monk Parakeet (Quaker Parrot)
Parrotlets
:
Mexican Parrotlet
Green Rumped Parrotlet
Blue Winged Parrotlet
Spectacled Parrotlet
Dusky Billed Parrotlet
Pacific Parrotlet
Yellow Faced Parrotlet
Lovebirds:
Peach Faced Lovebird
Masked Lovebird
Fischer's Lovebird
Lilian's (Nyasa) Lovebird
Black Cheeked Lovebird
Madagascar Lovebird
Abyssinian Lovebird
Red Faced Lovebird
Swindern's Lovebird
Lories and Lorikeets
:
Rainbow Lorikeet
Conures
:
Sun Conure
Jenday Conure
Cherry Headed Conure
Blue Crowned Conure
Mitred Conure
Patagonian Conure
Green Cheeked Conure
Nanday Conure
Caiques:
Black Headed Caique
White Bellied Caique
Poicephalus Parrots
:
Senegal Parrot
Meyer's Parrot
Red Bellied Parrot
Brown Headed Parrot
Jardine's Parrot
Cape Parrot
Ruppell's Parrot
Eclectus
:
Eclectus Parrot
African Greys:
Congo African Grey (CAG)
Timneh African Grey (TAG)
Amazons:
Blue Fronted Amazon
Yellow Naped Amazon
Yellow Headed Amazon
Orange Winged Amazon
Yellow Crowned Amazon
Cockatoos:
Cockatiel
Galah (Rose Breasted) Cockatoo
Sulphur Crested Cockatoo
Umbrella Cockatoo
Moluccan Cockatoo
Bare Eyed Cockatoo
Goffin's Cockatoo
Macaws
:
Red Shouldered (Hahn's) Macaw
Severe Macaw
Blue And Gold Macaw
Blue Throated Macaw
Military Macaw
Red Fronted Macaw
Scarlet Macaw
Green Winged Macaw
Hyacinth Macaw
Glossary of Common Parrot Terms
| | | |
| --- | --- | --- |
| | | Tuesday August 12th, 2014 |
Kili, Truman, and Santina set out on a quest to crack some really tough nuts. Kili, the lightweight, took on an almond in the background. Truman cracked a hazelnut and a brazil nut in less time than it took for Santina to crack her nut. But, Santina takes the prize for cracking the toughest of nuts, the Macadamia.

The patient macaw worked at it for a good half of an hour. She kept rotating and testing the nut looking for the weak spot. Truman uses a similar approach for hazelnuts, which for his beak size, should be nearly impossible. Santina could not just crack the Macadamia. The best she could accomplish with her powerful beak was to just chew a little hole into the top of the nut and then extract the inner goody with the tip of her beak.

I even got Santina to share her bounty with the two smaller birds by trading her a hazelnut which she could easily open. Kili and Truman dug in with their beaks and extracted some of the nut from the shell. Santina of course got her hard earned nut back to finish the job. I can assure you that not one morsel was left inside.

Some people ask me how I taught my parrots to open such difficult nuts. The truth is they learned to do it themselves but it was my encouragement that got them to try hard enough to get to that point. If I am trying to get a parrot to learn to open a new nut, I substitute training for a nut opening session. The same learning mindset comes into play and the same motivation that could be applied to training can be applied to learning to crack tough nuts. In the beginning I try to offer an opened nut or scour the shell with a knife so the bird can learn how good the result is. The next few times I try to find the smaller/easier nuts. And with time the bird learns patience and perseverance and can be kept busy for long periods of time with a tough nut to work on.

This was not just a nut opening exercise but also a tolerance training exercise for the flock. By getting them all busy and goal focused on their own tasks, I am able to teach them to tolerate each other in closer proximity without fighting. The Cape Parrot and Macaw shared the same perch for the entire duration. It's a good way to build friendship while challenging their jaws and minds. Check out this video of how the parrots crack some really tough nuts.


When I was visiting Arizona for my seminar, I spent a lot of time with Ginger and her flock. Her living room is full of foraging trees for her expansive flock of rescue parrots. She has a large climbing tree that she custom built for her Congo African Grey Parrot, Ozzy. On several occasions I let Truman loose on this tree (while its occupant wasn't around) and he was absolutely thrilled. He was just climbing all around and checking the different toys out. I'd never seen him get more excited about a playstand. Since it was built for an African Grey, it was the perfect size for a Cape Parrot. Truman navigated his way through the expanse of branches and found toys that he was able to snap with ease.

Toward the end of my stay we had my birds and her (clipped) birds out at the same time. I put Kili and Truman on an unoccupied stand while the other birds were out. Truman was getting bored so he flew over to a seemingly unoccupied tree. However, its Senegal Parrot occupant came charging at him with open beak! It didn't take long for Truman to realize that not only was he unwelcome but that his assailant looked a heck of a lot like the one back home that kicks his butt. He flew off in the nick of time and headed for his favorite tree in the house, Ozzy's. Little did he know, however, Ozzy was actually out on his tree. Truman landed on the tree not far from Ozzy and the two Psittacinae came face to face for the first time.


Ozzy the African Grey on his custom built tree


The stand off ensued. Truman was like "who are you?" Ozzy was even more shocked, "I cannot believe you are on my tree. Don't you know this is my tree? What are you doing here?" For a while the two parrots stood dumbfounded, waiting for the other to make the first move. Eventually, Truman in his playful nature went for a toy and proceeded to play. Ozzy, still staring in disbelief at this uninvited stranger was unsure whether to attack or flee. Truman saw a toy near Ozzy and began walking toward it. Ozzy got a bit defensive and flashed his hooked bill in warning and Truman demonstrated his. In a moment it was all over and Ozzy retreated to a sulking corner of the tree while Truman roamed freely from toy to toy as he wished. This was the first and only time Truman won a fight. He is used to being bullied by Kili but here he did not even have to fight. The skittish Grey yielded his beloved tree to the uninvited guest with a bowie knife for a beak.

Thus I was persuaded to seek a bigger tree back home for Truman. I never bothered buying a large tree for him because at first I did not want it to block of his flight space but later because I got an aviary for him to spend time outside. Kili and Truman each had their own little table top tree at home but never gave much mind to them. One of the benefits of a larger tree that I learned from Ginger is that you can hang swings from them.

I spent some time searching for a ready to go Java tree. But not only are they very expensive, but none are perfect. Since they are all natural trees, there are a multitude of compromises in each. The thickness of the branches, the spacing between branches, the overhang of branches to hang toys from, and the size/shape of it all play major roles. However, after looking at dozens of trees, I realized that the only way to have one the ideal size, shape, and thrill for Truman, would be to engineer it myself. Thanks to Ginger, I realized that building a custom tree is a possibility.

I bought a variety of Java branches meant for mounting in the cage, some swings, and new toys. I also bought a cheap coffee table to mount this tree on to get it elevated without the cost of more branches. From the moment I was picking the branches, I was seeking ones that would be able to join together well. Deciding which branches would connect to other ones posed the biggest challenge. I had to find ends that would mate with the limbs of other branches and align it so higher branches could serve as toy hangars for lower ones. The tree also had to fit a specific contour of the space I had set aside for it.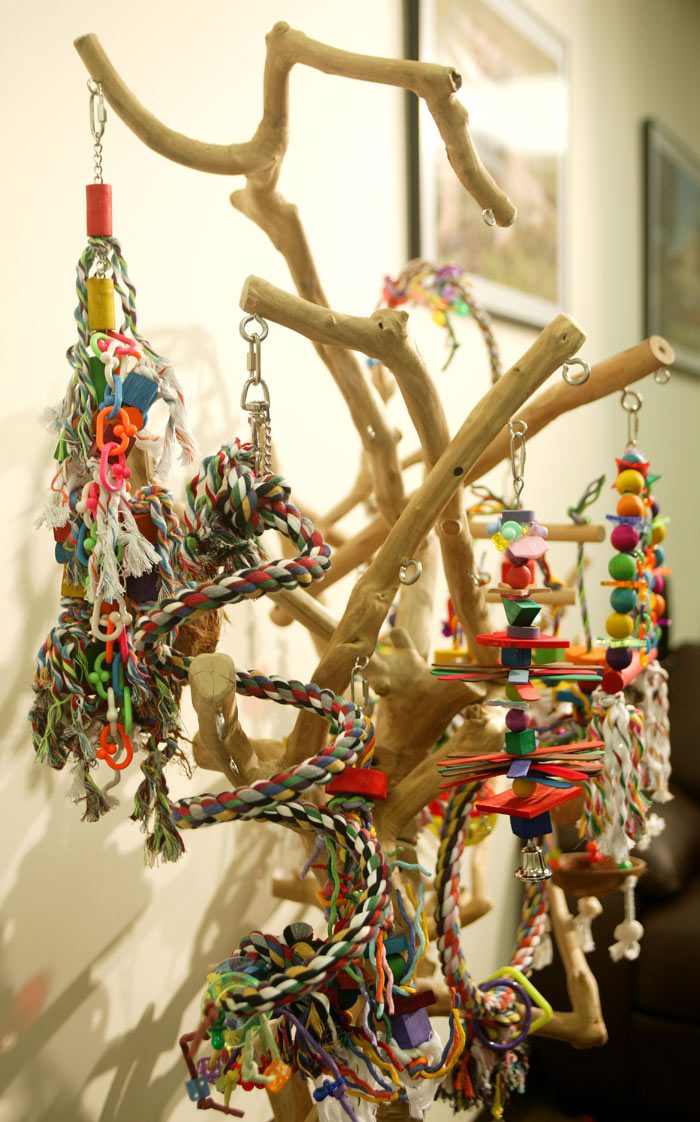 Unlike most trees/stands for sale, I bolted an extensive series of stainless steel eye screws throughout the tree. This stand was engineered from start to finish to be a parrot dreamhouse. Large eye hooks suitable for mounting entire swings were factored into the original design. The tree was partly built in my workshop but then had to be completed on location because it would not fit through the door. What was extremely difficult was that I could not build further branches until prior ones were mounted but I needed to see the prior ones to know where the further ones would end up. So there was a lot of back and forth work assembling and disassembling the tree in order to be able to put everything together.

It took the greater part of a day to complete assembly of this deluxe custom built foraging empire. 4 swings and 11 toys completed the expansive mosaic of climbing locations for the parrots. Unlike the random branching of natural foraging trees, this one is layered in a way that guarantees the parrot can access every level. If Truman can't get to a specific branch from another, he can always climb up a toy or swing to get there. This may not be a huge tree, but it's highly accessible and efficient.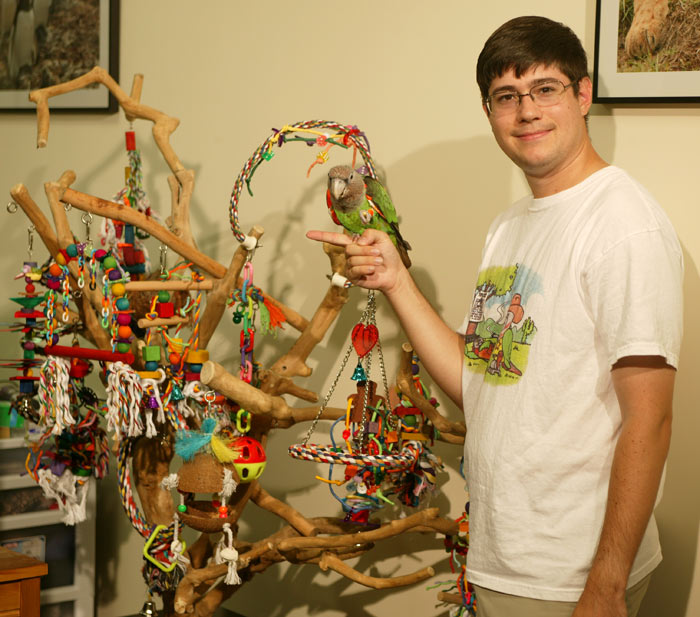 This morning I took Truman out to see his tree for the first time. He was like a little boy on Christmas morning. He ran around from perch to perch to try each toy. His eyes were running wild and he couldn't decide what part he wanted to play with first. Ironically he laid greatest preference to the two cheap toys I built for him myself rather than all the ones I paid good money for.

Kili was a bit weary of jumping straight on the tree at first. She watched from a safe distance but later decided to join. I put her on a perch at a distance from Truman and she proceeded to check things out as well. The tree is big enough and convoluted enough that the birds can play at opposite ends without the proximity to fight. Kili preferred some of the thinner swings and rope perches while Truman searched for tougher things to destroy.




Now with this homebuilt parrot amusement park I am hoping to be able to leave Truman out for longer spans of time. In the past I would inevitably have to put him away because he'd get into too much mischief. By concentrating everything a playful parrot could want on one tree, it will hopefully contain his attention for more time. Today he has spent hours playing and napping in his tree while I took care of other things. Yet, despite his expansive fun house, he still flew over to me from time to time to cuddle. This is an important balance. Truman is able to spend hours having fun independently, yet remains a cuddly people friendly bird.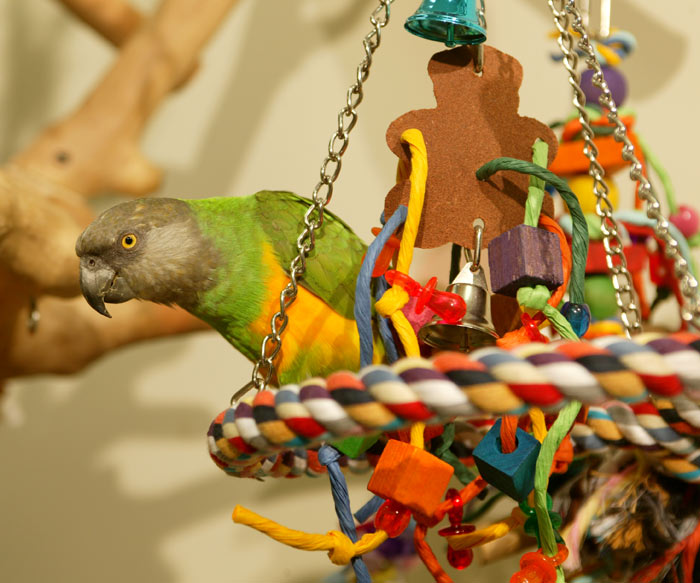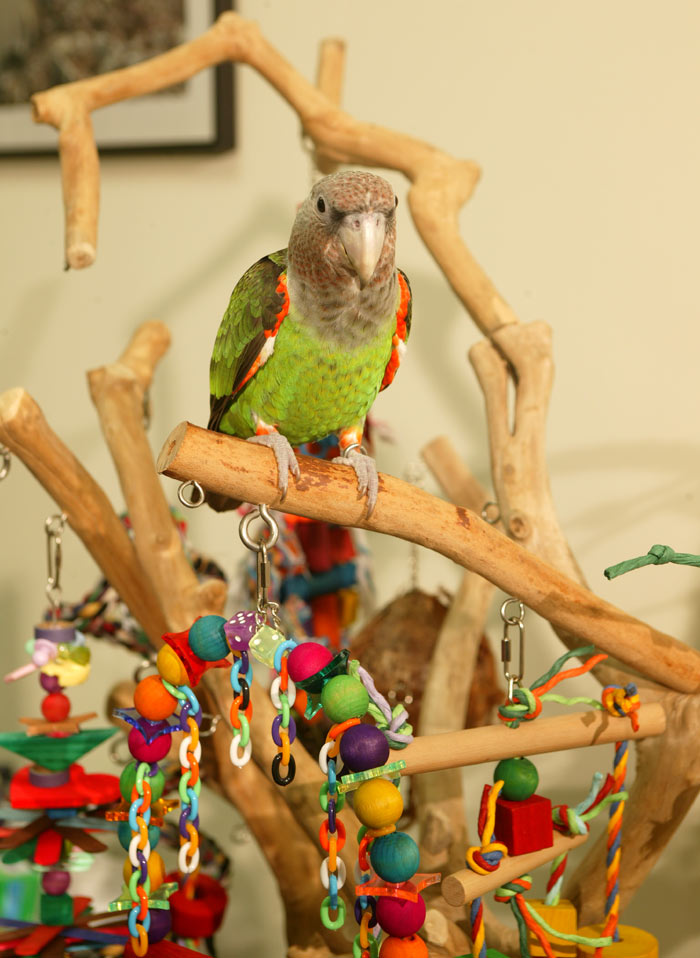 After visiting Ginger's flock, rescues, and parrot stores on my Phoenix trip, I realized the pressing need for affordable parrot trees. With my experience building training perches, trees, and toys I intend to launch a new line of practical, affordable, quality parrot play stands with the busy parrot in mind. Stay tuned for an announcement about this new line of stands on the Parrot Wizard website. In the meantime, enjoy this video of Kili & Truman in their new custom built climbing tree:


| | | |
| --- | --- | --- |
| | | Friday January 27th, 2012 |
I came across a Parrot Foraging Tower at the bird store while shopping for some supplies. It was very expensive but the store owner seemed fairly eager to get rid of it by lowering the price to just expensive. Thus I brought the tower home for Kili and Truman to play with.

Kili being the trained parrot that she is was ready to learn the trick but only with my guidance. She would not just play with the tabs and figure it out on her own despite the treat being in plain sight. She waited for me to show/tell her what to do but then mastered the basic task very quickly through clicker training. She already knew the pull command from the magic drawer trick so it was mainly a matter of clicker training her to apply it to the tower. But the tower is much bigger than she is, so she couldn't go beyond two tabs to pull on.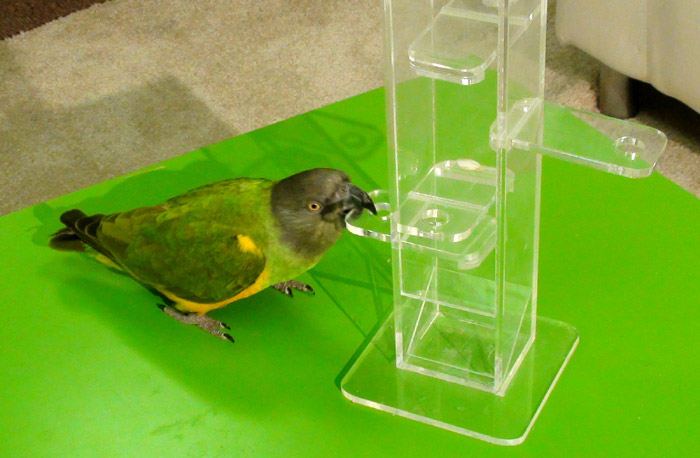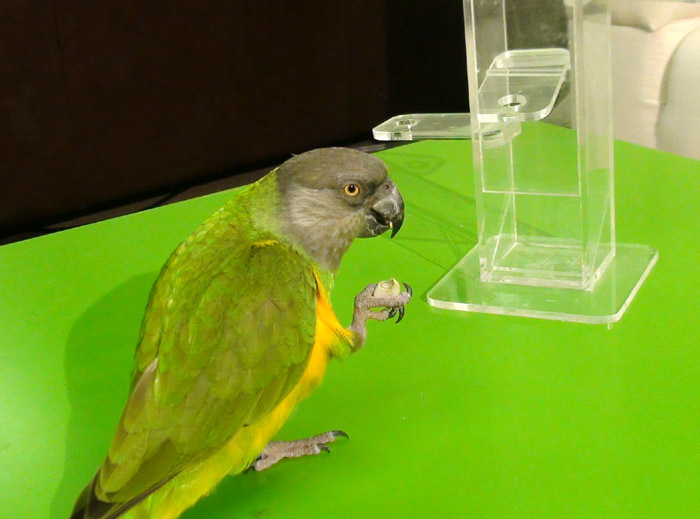 Truman on the other hand became master of the parrot foraging tower. Not only is he tall enough to reach the top tab if he stands on his tippy toes, but his hooked beak is perfect for pulling the tabs open. Truman had a slight advantage in that he watched me train the trick to Kili. However, I never worked with him and the only rewards he got for attempting the trick were from the tower itself. After just a handful of almonds and sessions, Truman learned that pulling all the tabs out was key to getting the nut to fall out. Still, he does not follow any logical sequence for pulling the tabs. However, from a reinforcement standpoint, the sequence is irrelevant and the nut will only come out when all tabs are pulled out.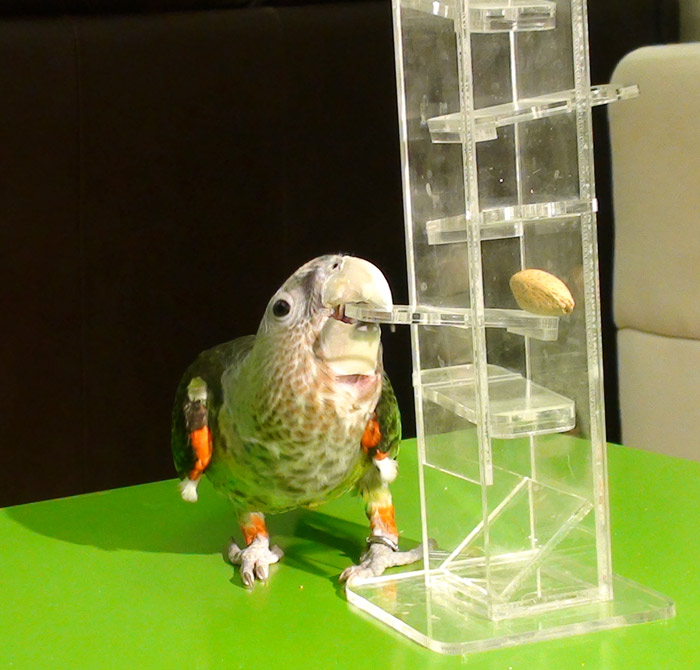 All advantages are on the side of Truman with this one. Not only on size and strength but also perseverance. Kili is more focused on following commands and doing tricks to earn treats from me. If the toy isn't rewarding her quickly enough, she'll turn to me and say hello or show her wings for a treat rather than keep working at it. On the other hand Truman is slower and more thoughtful. He'll approach the tower from different sides and keep working for 10 minutes if he has to until the nut is his. Then he'll spend a few more minutes still, working the nut out of its shell. Quite the entertainment package for a brainy Cape Parrot. In the video you can see Truman step away and think before approaching the tower again. He takes many breaks but he doesn't give up. His persistence pays off with a large tasty nut.


| | | |
| --- | --- | --- |
| | | Tuesday November 22nd, 2011 |
While I still believe that trick training is both the best mental exercise and relationship building for parrot and owner, good foraging toys are a must for when the owner is away. Just an hour or two of trick training and interaction per day simply isn't enough to meet a parrot's intellectual needs. I would argue that a good training session (especially involving flight and complex behaviors) can make up for hours of down time, but still not a complete substitute. This is why stimulating toys are a must.

Parrot toys come in three categories: chewing, playing, and foraging. Ideally a parrot should have at least one of each category in its cage at all times. Chewing toys are usually comprised of a lot of wooden parts that are appropriate for the parrot's size and beak strength. These are the toys that you come home to see bare not long after hanging them. These are important to keep your parrot busy and beak trimmed. Better that they be chewing on that then your furniture when they are out. The play toys are often made of tougher materials and involve the parrot interacting with them in non-destructive ways such as pushing, pulling, swinging, ringing, etc.

Finally, foraging toys are the third category of parrot toys. In a way these are the ultimate toy because they involve both play and destruction. Foraging toys can best be described as toys with goodies inside. In the simplest sense they are toys with food treats inside but I'd like to talk about going beyond just treats. Since I do a lot of formal parrot training, I don't approve of food oriented toys because then the parrot won't be hungry when I get home and want to do training. So instead, I try to focus on non food based foraging toys.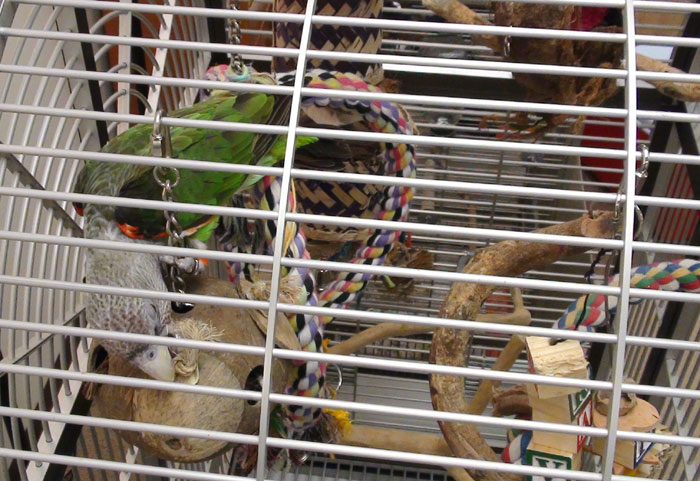 Truman can spend hours trying to get a hold of the toys inside this coconut foraging toy



For a parrot that doesn't know how to play with toys but is treat oriented, hiding food in toys is a great way to get them started. However, for a naturally inquisitive/playful bird like Truman, just having more toys inside is enough. When toy shopping for my parrots, I especially look out for sophisticated toys like this.

Another thing I like to do is to hang toys near swinging perches rather than solid ones. If the parrot is perched on a solid perch, it is all too easy to shred a toy to smithereens in no time. However, if the parrot is standing on an already swinging perch and the toy moves, it really provides a challenge. Not only is it mentally challenging to move the swing and toy to reach, it is also great exercise. The parrot has to use all of its muscles to balance, hold, and play. In the video below you can see how Truman is holding onto his swinging atom with one foot and the coconut foraging toy with the other. It's both an exercise and a challenge to keep him busy while I am away.