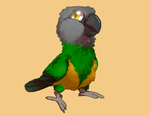 Kili
Type: Senegal Parrot
Genus: Poicephalus
Species: Senegalus
Subspecies: Mesotypus
Sex: Female
Weight: 120 grams
Height: 9 inches
Age: 13 years, 4 months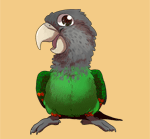 Truman
Type: Cape Parrot
Genus: Poicephalus
Species:Robustus
Subspecies: Fuscicollis
Sex: Male
Weight: 330 grams
Height: 13 inches
Age: 11 years, 7 months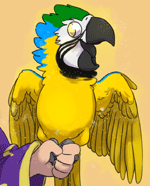 Rachel
Type: Blue & Gold Macaw
Genus: Ara
Species:ararauna
Sex: Female
Weight: 850 grams
Height: 26 inches
Age: 9 years, 4 months

List of Common Parrots:
Parakeets
:
Budgerigar (Budgie)
Alexandrine Parakeet
African Ringneck
Indian Ringneck
Monk Parakeet (Quaker Parrot)
Parrotlets
:
Mexican Parrotlet
Green Rumped Parrotlet
Blue Winged Parrotlet
Spectacled Parrotlet
Dusky Billed Parrotlet
Pacific Parrotlet
Yellow Faced Parrotlet
Lovebirds:
Peach Faced Lovebird
Masked Lovebird
Fischer's Lovebird
Lilian's (Nyasa) Lovebird
Black Cheeked Lovebird
Madagascar Lovebird
Abyssinian Lovebird
Red Faced Lovebird
Swindern's Lovebird
Lories and Lorikeets
:
Rainbow Lorikeet
Conures
:
Sun Conure
Jenday Conure
Cherry Headed Conure
Blue Crowned Conure
Mitred Conure
Patagonian Conure
Green Cheeked Conure
Nanday Conure
Caiques:
Black Headed Caique
White Bellied Caique
Poicephalus Parrots
:
Senegal Parrot
Meyer's Parrot
Red Bellied Parrot
Brown Headed Parrot
Jardine's Parrot
Cape Parrot
Ruppell's Parrot
Eclectus
:
Eclectus Parrot
African Greys:
Congo African Grey (CAG)
Timneh African Grey (TAG)
Amazons:
Blue Fronted Amazon
Yellow Naped Amazon
Yellow Headed Amazon
Orange Winged Amazon
Yellow Crowned Amazon
Cockatoos:
Cockatiel
Galah (Rose Breasted) Cockatoo
Sulphur Crested Cockatoo
Umbrella Cockatoo
Moluccan Cockatoo
Bare Eyed Cockatoo
Goffin's Cockatoo
Macaws
:
Red Shouldered (Hahn's) Macaw
Severe Macaw
Blue And Gold Macaw
Blue Throated Macaw
Military Macaw
Red Fronted Macaw
Scarlet Macaw
Green Winged Macaw
Hyacinth Macaw
Glossary of Common Parrot Terms
| | | |
| --- | --- | --- |
| | | Wednesday August 1st, 2012 |
Here is your chance to win a free set of ParrotWizard Bird Show & Seminar DVDs or a Kili & Truman I<3 Parrots TShirt! The DVDs recently went on sale but the TShirt won't even be available for purchase until after the contest is over so be the first to get one!

I would like to hear what my viewers have learned about parrot keeping from my articles, videos, products, and websites. So I'm giving away a set of DVDs and TShirt for this contest. Here's how to participate:

1) Submit your feedback about how trainedparrot.com, parrotwizard.com, theparrotforum.com, and my youtube channel have helped you train your parrot. To encourage people to take the time to write more and avoid pointless posts, submissions will be given a score of 1-10 and that is how many times they will count toward the random drawing at the end to select a winner for the DVD prize. Tell us everything you learned, what tricks this helped you teach your parrot, some tips that stuck in your head, if it convinced you to keep parrot flighted, etc.

2) Get the most "likes" on your feedback by writing the most compelling story and by getting other parrot owners to like your post. The feedback post with the most likes will win the TShirt prize. This is why it's extra important to have some extensive feedback because it directly improves your chances of winning in both categories. There is a like button under each participant's feedback, so all you gotta do is encourage others to press yours. You can share the link by email and other means by using the link on the title of your submission.

Contest ends August 15 so the sooner you get your entries in, the more time it has to accumulate "likes" for a TShirt. Just keep in mind that you can only write one post and you cannot edit/remove it later so make sure you are finished before hitting submit. Good luck! Can't wait to find out what people have been able to achieve.

Click here to submit your feedback.
Click here to read and vote on others feedback.


| | | |
| --- | --- | --- |
| | | Wednesday March 14th, 2012 |
Finally it is time to reveal the correct answers for the Trained Parrot Quiz. Lots of people participated with great enthusiasm. Winners will be announced a bit later on the Trained Parrot Facebook Page so check back throughout the day to find out if you won. Meanwhile, here are the correct answers to the quiz and explanation/source. You can find out how you personally scored and what answers you picked by logging in below with the name/email you submitted the quiz with:



Check out the awesome prize package for winner(s):



Includes Parrot Wizard clicker, target stick, popsicle sticks, star, clothes pin, birdie bagel, Indonesian Palm Cockatoo coin (as seen on Asia trip article), autographed Kili & Truman picture, free worldwide shipping.

For those who didn't win, there will be a chance to buy clickers and a special gift version of the Palm Cockatoo coin down the road. However, I'm sold out of clickers at the moment so it's an especially special prize at the moment. Until I get my new supply in, the only other way to get one is with a Parrot Training Perch Kit. Keep checking back throughout the course of the day to find out who the winners are!

I made some graphs charting scores not only to help people asses how they performed but also to demonstrate what a fair contest it was! I purposefully made some questions more difficult with the intent of narrowing down the winners. Even some of my friends couldn't do better than an 8 or 9. The average score is around 5. So any score 7 or above is quite outstanding. The 5 minute allotted time seems fair as most participants were able to complete the quiz in time. This was to prevent people from looking up all the answers and giving a disadvantage to those who actually know their stuff. Likewise only the first quiz attempt was counted.




The graph above shows how many people answered correctly on each question. It looks like most people got questions 1, 3, and 4 correct. I'm glad to see that most people figured out that Truman is a Cape Parrot. After all, it says that in his profile box on every page of this site! I am actually very surprised that so many people got question 2 wrong. More people thought that positive reinforcement applies to cognitive learning rather than operant. I realize that not everyone has a background in psychology but I have thrown the term around here and there in my blog and on the parrot forum. Here's an article that mentions and defines operant conditioning.

The question that the most people got wrong was question 7 asking about my first parrot. I realize that Spock was rarely mentioned and this question was to benefit those who have really been paying attention to my blog and checked out my bio page. I don't know how some people voted that Truman or Duke were my first parrots though because they clearly both came after Kili. Question 8 turned out harder than I thought. I understand the terms can be a bit confusing but by reasonable process of elimination it should come down to Psittaciformes and Psittacidae. Aves are all birds and Poicephalus is just one genus of parrots. Psittaciformes include all parrots and Cockatoos while Psittacidae are all the parrots excluding Cockatoos and New Zealand parrots. A bit tricky and how it was meant to be. I'm a bit disappointed people didn't perform better on question 6. Although nearly noone doubted parrots' intelligence, many thought Hookbills or Zygodactyl Feet were uncharacteristic of parrots. Actually these are the two defining characteristics of parrots. They all have beaks that bend downward and untypical feet where two toes face forward and two face back (most birds have 3 forward).

Just two people scored 10 out of 10 so I'm going to send the full prize to each of them. Since so many of you participated I decided to make one more "honorable mention" prize (picture and coin) for a random winner of the next scoring category (9/10). And the winners are: Nancyjane Bailey, TPishek, and honorable mention to Carl-Michael Lofving! I congratulate the winners and all participants for giving the quiz a shot and for following my parrot endeavors. Thanks again!



Parrot Quiz Answers

1) _________ refers to the process of making a parrot at ease around humans:
A. Training
B. Toweling


C. Taming


D. Flooding
Source: Taming

2) Positive Reinforcement applies to which kind of learning?
A. Cognitive


B. Operant


C. Classical
D. Modeling
Source: The Pitfall of Positive Reinforcement Training

3) What kind of bird is Truman?
A. African Grey
B. Senegal Parrot
C. Amazon


D. Cape Parrot


Source: Truman the Cape Parrot

4) Which of the following is typically largest?
A. Budgerigar


B. Cockatoo


C. Conure
D. Parrotlet
See parrots at a store for size comparison

5) What is Kili's favorite food?
A. Almonds
B. Apple


C. Sunflower Seeds


D. Millet Spray
Source: What Treats to Use for Trick Training and Taming Parrots

6) Which of the following is NOT a characteristic of all parrots:
A. Zygodactyl Feet
B. Hookbill
C. Intelligence


D. Colorful Plumage


Hookbill and Zygodactyl feet are defining characteristics of parrots. Intelligence is typical of parrots where even a Budgerigar is quite smart compared to other birds. Yet you can have really uncolorful parrots such as a male Eclectus, Monk Parakeet, or Orange Chinned Parakeet

7) What was the name of Michael's first parrot?
A. Duke
B. Kili


C. Spock


D. Truman
Source: About Michael and the Trained Parrot Blog

8) Which of the following classifications includes all parrots except cockatoos?


A. Psittacidae


B. Aves
C. Psittaciformes
D. Poicephalus
Aves include all birds, Psittaciformes include all parrot and cockatoos, Poicephalus is just a genus of African Parrots, Psittacidae include all true parrots but not Cockatoos or Strigopidae which are the parrots of New Zealand.

9) Negative reinforcement is useful for teaching which of the following:


A. Toweling


B. Wave
C. Flight Recall
D. Talking
Source: Toweling Parrot - How To Tame Parrot to Towel

10) What is the natural habitat of Senegal Parrots?
A. Tropical Rainforest


B. Woodland Savannah


C. Jungle
D. Desert
Source: Wild Senegal Parrots of West Africa
| | | |
| --- | --- | --- |
| | | Thursday February 9th, 2012 |
Test your parrot knowledge with this Trained Parrot Quiz! How well do you know my flock? Have you been paying attention to training articles? What do you know about parrots in general? Take this 10 question quiz to find out.

Everyone who achieves the highest score among contestants will be in the drawing for a free parrot training kit including a Parrot Wizard Clicker, Target Stick, autographed Kili & Truman picture, and free shipping in the US or International. The more people that participate the more goodies I'll throw in. Some questions are easy and others are tough. If only one person gets a perfect score (10 out of 10) or scores higher than anyone else, that person wins by default. If there is a tie for perfect score or for the highest score (if no one gets 10), then everyone in the top scoring category will be in the contest for a random of drawing of one winner. The contest winner will be announced on March 15th.






You are allowed to take the quiz as many times as you'd like but only your first score will count toward the contest. Multiple entries are not allowed. You have 5 minutes to answer 10 questions. There is no timer on the screen but entries that take longer than 5 minutes will not count. So don't take too long or keep track of time yourself. Ready, set, go!


I would like to announce to you the winners of the parrot clicker contest. I'm thrilled that so many parrot lovers participated for a chance to win.

The clicker is a fundamental tool for parrot training and I am happy to be able to share it with our winners. Henry from North Carolina won a clicker by subscribing to the Trained Parrot Blog. Marian from Missouri won a clicker by liking the Trained Parrot facebook page. And laducockatiel from the UK won a clicker by posting a link to the Trained Parrot Blog on his website. Congratulations to our winners and I wish them great success in their training efforts.

Finally I'd like to thank all of my supporters and participants. I'm glad you all took the time to follow my blog and allow me to share my parrot training endeavors with you. I hope everyone can give parrot clicker training a shot. If you don't already have a clicker or would just like a copy of Kili & Truman's favorite clicker, you can order them on the Parrot Wizard site.


To commemorate posting my 200th video on youtube, I would like to host a small contest as a way to say thanks and give back to my loyal viewers and readers. At first I was just going to do it for a single clicker but I know how much fun it is to win so I decided to make three different ways to win a clicker to that more people could get one to start training their parrot. As an added bonus, a 25% off coupon for a single order of any products from my Parrot Wizard toy and training supply store is also included!

A clicker is very helpful for parrot training as it can be used as a consistent bridge and secondary reinforcer for trick training. If you are reading this blog, then chances are you've read all about clicker use in training in my articles and seen me use it in my videos. I give treats to my parrots for tricks more randomly but prefer to maintain the consistency of click for correct behavior every time. This way they learn to always do the right behaviors even if they aren't getting a treat for them because it is at least confirmed to them with a click.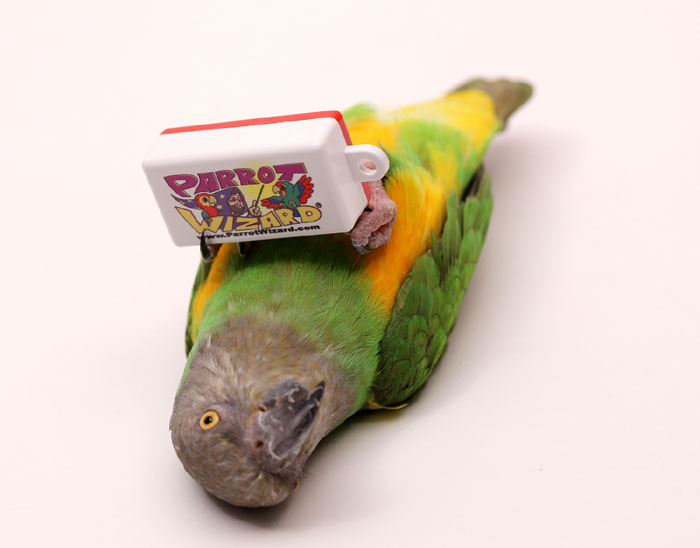 Now onto the ways to win. There will be 3 separate random drawings for a single winner from each of the following categories. This means you can win as many as 3 times or more likely just have a better chance of winning than if there were only one drawing.

1) Subscribe to the Trained Parrot blog. This is such a no brainer. Find the green box called "Subscribe to Blog" in the left hand column of any page on this site and enter your name and email. Be sure to use a valid email address or I won't be able to reach you in case you won. You can use your first or full name, but I will only mention by first name who the winners are on the site and then notify by email. Subscribing to the blog is a way of showing your support for the cause even if you don't want frequent emails about updates. You can manage you subscription and set it up for weekly updates about new blog posts or even opt out of receiving emails. Please limit 1 subscription per person.

2) "Like" the trained parrot facebook page. Simply log into facebook, visit this page, and click "like" to be a member of the trained parrot facebook community. Not only will you receive facebook notifications of new blog posts, but you will also get to hear funny stories and updates about the whereabouts of Kili & Truman that are not posted anywhere else.

If you already subscribed to the blog or liked the facebook page, there's no need to do it again! Everyone already signed up is automatically included in this contest as a thanks for your continued support.

3) Finally the last method is for owners of websites, blogs, and other web pages. Link to Trained Parrot Blog, The Parrot Forum, and/or Parrot Wizard websites from your page for a chance to win in this third drawing. You can improve your chances of winning by linking all three sites on a single site or linking my parrot sites from other websites you own. In other words, every link you make from every site counts as an additional "raffle ticket" toward winning. Limit 1 link per my parrot site on your page (one to each of the 3 sites I mentioned) but no limit to number of your own sites you can post these links on. Notify me of the sites you posted links on by entering them on this page. Feel free to submit as many times as you want as long as they are all valid and follow these guidelines. However, abusing the system could lead to disqualification.

Link to any one, two, or three of these sites you choose:

http://TrainedParrot.com
http://TheParrotForum.com
http://ParrotWizard.com

And then go to this page to enter the contest by submitting the sites you linked on. Don't forget this part or your effort won't be noted toward the contest!

Keep in mind that it has to be your own site or page. Links from forums, social networks, and other people's pages will not be counted toward the contest because I don't want to encourage anyone to go spamming in attempt to win. However, if it is your own website, blog, or public page (something like myspace would be ok, but facebook wouldn't), then feel free to link to any one of those three sites you like or all three of them to triple your chances.



The contest duration will be one month and winners will be selected on July 6th. With people going away for summer vacations and such, I want to leave sufficient time for everyone to have a chance to participate.

As you can obviously tell, the purpose of this contest is to get the word out about my parrot training sites. I hope that the more people that can see them, the more owners will be equipped with the tools and knowledge to build a loving relationship with their parrot based on trust and positive reinforcement. Thank you for your support and good luck with the contest!



Here is the fine print about the contest rules. Everyone is welcome to participate, however, only winners in US or Canada are eligible to receive clicker and coupon as no cost. International winners would be responsible for paying international shipping for clicker if they choose to claim it. International winners are still eligible for 25% coupon but are responsible for the cost of international shipping for products. 25% Parrot Wizard coupon is for all products in a one time purchase (limit 10 products) and does not apply to shipping charges. Any abuse of the contest (such as same person signing up multiple times for same contest category or submitting illegitimate sites for links) could result in disqualification from winning. If winners in each category cannot be located within 7 days of contest completion, are ineligible, or turn down their prize, the contest will continue to be redrawn in that category until a winner can be rewarded. Winners will be responsible for providing me their shipping details by email to receive their prizes but can be assured their information will be kept private. I will only announce winners by their first name and will not disclose their email or further details without their permission. I would appreciate a photo and update of winners clicker training their parrot if possible to post on the blog as a follow up. The contest details should all go as stated above but since I haven't done this before and cannot foresee what kind of issues I could run into, I reserve the right to discontinue the contest or amend the rules at any time. Thanks for your understanding and for participating.