Stress is necessary for your parrot's well-being. "Whoa, did he really just say that!?" Let me talk about stress and why it's important to expose our parrots to it rather than to shelter them.

I talk to many parrot owners and get to experience stressed parrots. In most cases, the parrots that are overwhelmed with stress (which may manifest itself as plucking, pacing, biting, freaking out, etc) are the ones who were not sufficiently exposed to it in the past. To contrast, my parrots have a good dose of stress and strain in their lives. So when something scary happens, they can keep a head on their shoulders and deal with it rather than becoming overwhelmed.

As you challenge your parrot with more stressful situations (that are absurdly rare and unlikely to recur), you will actually ensure that your parrot lives with much less stress in its day to day life! Think of it as watching enough scary movies that nothing in ordinary ones can scare you. This concept prepares your parrot to deal with rare difficult situations and also makes it immune to excess fear during all normal routines.

Now I'm not saying to suddenly take a sheltered parrot and to start doing all sorts of scary things to it at once. Stress tolerance needs to be built up gradually. You can do this by constantly challenging your bird a little more than before. If you maintain this as part of your lifestyle, within a few years the bird will become much more hardy. Let me get into examples of good ways to stress your parrot to save it from being harmed by stress in the future.

A degree of stress in a parrot's life is perfectly natural. In the wild, parrots will have to deal with stressful situations from time to time. So if anything, the annihilation of stress in a captive parrot's life is the less natural lifestyle. The parrot that lives in a sheltered cage, with a bowl full of food, and no changes in its life is at highest risk of stress related problems. Likewise, boredom (and related problems like screaming or plucking) is a byproduct of insufficient stress in a parrot's life.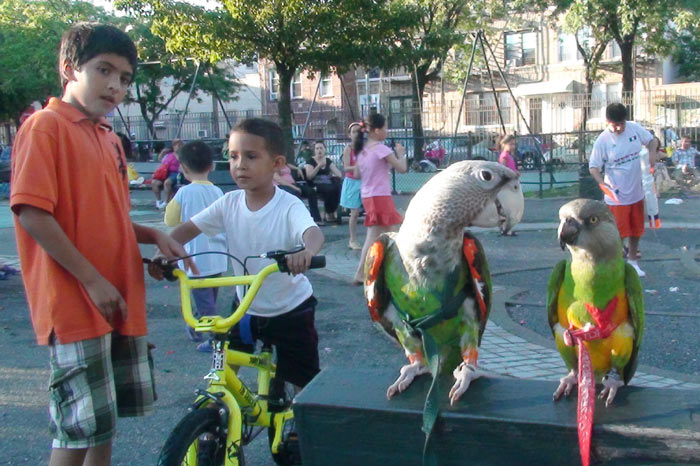 Instead, prepare your parrot to deal with stress in its life through a controlled and continued exposure to stress inducing situations. Providing challenges through foraging and training, socialization, travel, and outings, are great ways to apply modest amounts of stress on a parrot that will prepare it for more.

Folks marvel at how my parrots could venture all over New York City without being scared. I've received many comments of amazement how a fire truck went by and my parrots were not even phased. This is because they have been exposed to similar situations in the past. Even if they haven't seen a fire truck before, they have been to carnivals and other bustling situations in the past. This deliberate exposure to stress has ensured that they do not become overwhelmed in unforeseen circumstances. Not only that, but it has equipped them to enjoy and have fun in all the travel and things we do. Since these things are no longer frightening, they counteract boredom and improve the parrots' quality of life.




I also physically stress my parrots and improve their endurance through extensive flight training. At home, the two trained parrots regularly end up flying dozens of flight recalls. This is tough on their cardio-respiratory systems as much as on their muscles. But this keeps them fit and healthy.

I extend this concept even further. I don't worry much about my parrots. I don't tiptoe around their cages or fiddle with temperature controls too much. While at first, these may have been greater concerns, with time I've allowed them to get used to more variation. They have learned to deal with it and not be bothered. If food or water isn't available while we're traveling a bit longer than usual, they have no trouble dealing with it. Or if the food I have for them is not what they are used to, they are adaptive and can try the new food on the spot. Whether an emergency, or a planned life change, a parrot that is accustomed to dealing with stress in the long term, will be best prepared and least affected.