Ginger's Parrots Rescue, a 501c3 Rescue based in Arizona, is really innovative when it comes to bird rescue. It is the first of its kind. Ginger's Parrots Rescue specializes in Senegal Parrots and Cockatiels. By being a species oriented rescue, Ginger's is able to put a greater amount of expertise and knowledge into rescuing, rehabilitating, and adopting out these parrots.

The Birdie Bus is the newest innovation of Ginger's Parrots Rescue. The bus allows the rescue to go mobile and cruise around the Phoenix area to search for potential adopters for the birds in need. The bus can transport many (but not all) of the rescue's birds at once so that the public can learn about parrots and consider adopting one. Ginger takes the bus to PetSmart adoption days to offer a bird adoption in addition to cat/dog adoptions normally performed inside.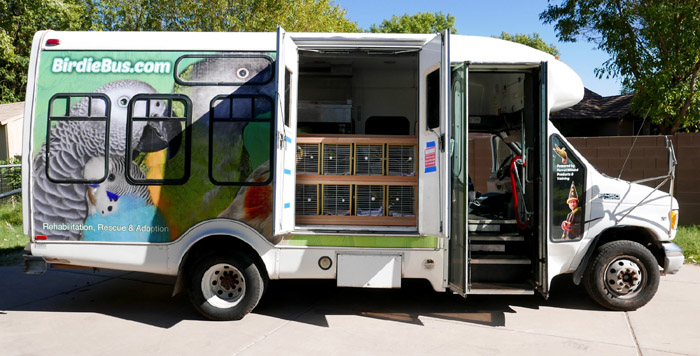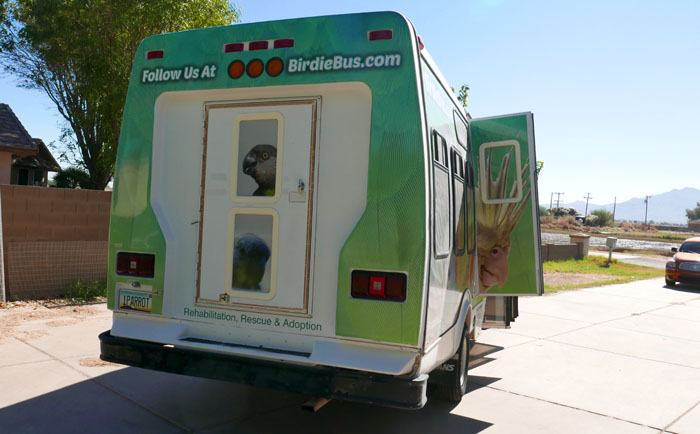 The Birdie Bus itself is really cool. It has 4 different doors so that the bird can get an outside experience in safety. The side and rear door open exposing the bird cages to the outside. Viewers can see and interact with the birds while the cages are securely locked inside the bus. There is also plenty of capacity for moving a tent, tables, chairs, and other items needed at rescue outings.

I went down to Phoenix in November to help Ginger with the Birdie Bus unveiling event. Bird owners from the local parrot community stopped by to show support and people looking to adopt or volunteer came by as well.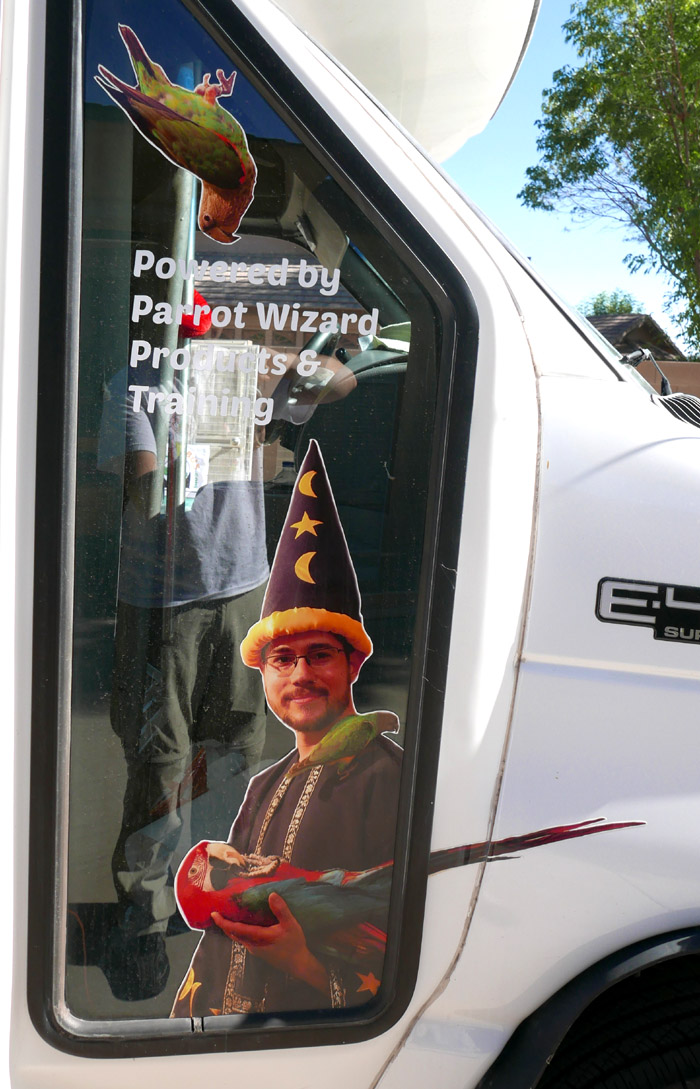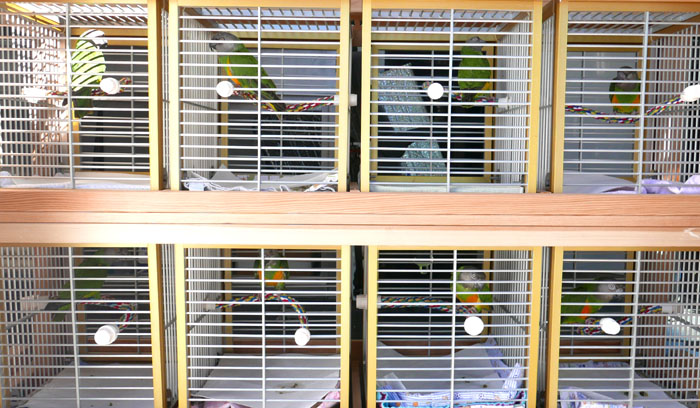 Three purposes are served by the Birdie Bus. The first is to get birds out of the rescue for socialization and fresh air. Even if a bus outing does not result in adoptions that day, it is still a victory for the birds to gain experience being out of the rescue and seeing new people. The second purpose is to help the birds find adopters. This is a chance for the birds to meet people and people to meet the birds. Folks going shopping who may have always wanted a parrot have the opportunity to realize that bird adoptions are available! The third goal is to solicit support for the rescue project through donations and volunteers. The bus is fueled not only by gas money but also through a lot of help. The bus does a good job at attracting existing bird owners out of curiosity. They aren't always the best candidates for more birds if they are at their capacity, but having experienced bird owners volunteering is also a big help to the rescue.

There are several ways you can help the Birdie Bus project. The best way is adopting a parrot from Ginger's Parrots Rescue. If you are anywhere near Phoenix and looking for a Senegal Parrot or Cockatiel, this is the place to adopt! Also, Ginger can always use help from local volunteers. But just because you're not adopting or don't live near Arizona, doesn't mean you can't help. The bus needs corporate sponsors, donors, and social media support. If you can send some money, the bus is in need of repairs, maintenance, upgrade, and gas. The rescue is non-profit and depends entirely on donations. Your support will help the rescue get these birds seen by the public and promote the concept of adoption. Finally, even if you don't have any money to spare, you can help by spreading the word. As more people hear about the rescue and the Birdie Bus project, they may choose to adopt, donate, volunteer, or spread the word and the Bus can drive on! Thanks for your help.

Here is a video of the birds going for a ride on the Birdie Bus:


And this is a video of the Birdie Bus unveiling event: