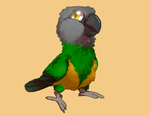 Kili
Type: Senegal Parrot
Genus: Poicephalus
Species: Senegalus
Subspecies: Mesotypus
Sex: Female
Weight: 120 grams
Height: 9 inches
Age: 14 years, 3 months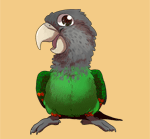 Truman
Type: Cape Parrot
Genus: Poicephalus
Species:Robustus
Subspecies: Fuscicollis
Sex: Male
Weight: 330 grams
Height: 13 inches
Age: 12 years, 6 months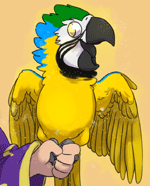 Rachel
Type: Blue & Gold Macaw
Genus: Ara
Species:ararauna
Sex: Female
Weight: 850 grams
Height: 26 inches
Age: 10 years, 3 months

List of Common Parrots:
Parakeets
:
Budgerigar (Budgie)
Alexandrine Parakeet
African Ringneck
Indian Ringneck
Monk Parakeet (Quaker Parrot)
Parrotlets
:
Mexican Parrotlet
Green Rumped Parrotlet
Blue Winged Parrotlet
Spectacled Parrotlet
Dusky Billed Parrotlet
Pacific Parrotlet
Yellow Faced Parrotlet
Lovebirds:
Peach Faced Lovebird
Masked Lovebird
Fischer's Lovebird
Lilian's (Nyasa) Lovebird
Black Cheeked Lovebird
Madagascar Lovebird
Abyssinian Lovebird
Red Faced Lovebird
Swindern's Lovebird
Lories and Lorikeets
:
Rainbow Lorikeet
Conures
:
Sun Conure
Jenday Conure
Cherry Headed Conure
Blue Crowned Conure
Mitred Conure
Patagonian Conure
Green Cheeked Conure
Nanday Conure
Caiques:
Black Headed Caique
White Bellied Caique
Poicephalus Parrots
:
Senegal Parrot
Meyer's Parrot
Red Bellied Parrot
Brown Headed Parrot
Jardine's Parrot
Cape Parrot
Ruppell's Parrot
Eclectus
:
Eclectus Parrot
African Greys:
Congo African Grey (CAG)
Timneh African Grey (TAG)
Amazons:
Blue Fronted Amazon
Yellow Naped Amazon
Yellow Headed Amazon
Orange Winged Amazon
Yellow Crowned Amazon
Cockatoos:
Cockatiel
Galah (Rose Breasted) Cockatoo
Sulphur Crested Cockatoo
Umbrella Cockatoo
Moluccan Cockatoo
Bare Eyed Cockatoo
Goffin's Cockatoo
Macaws
:
Red Shouldered (Hahn's) Macaw
Severe Macaw
Blue And Gold Macaw
Blue Throated Macaw
Military Macaw
Red Fronted Macaw
Scarlet Macaw
Green Winged Macaw
Hyacinth Macaw
Glossary of Common Parrot Terms
| | | |
| --- | --- | --- |
| | | Tuesday August 12th, 2014 |
Kili, Truman, and Santina set out on a quest to crack some really tough nuts. Kili, the lightweight, took on an almond in the background. Truman cracked a hazelnut and a brazil nut in less time than it took for Santina to crack her nut. But, Santina takes the prize for cracking the toughest of nuts, the Macadamia.

The patient macaw worked at it for a good half of an hour. She kept rotating and testing the nut looking for the weak spot. Truman uses a similar approach for hazelnuts, which for his beak size, should be nearly impossible. Santina could not just crack the Macadamia. The best she could accomplish with her powerful beak was to just chew a little hole into the top of the nut and then extract the inner goody with the tip of her beak.

I even got Santina to share her bounty with the two smaller birds by trading her a hazelnut which she could easily open. Kili and Truman dug in with their beaks and extracted some of the nut from the shell. Santina of course got her hard earned nut back to finish the job. I can assure you that not one morsel was left inside.

Some people ask me how I taught my parrots to open such difficult nuts. The truth is they learned to do it themselves but it was my encouragement that got them to try hard enough to get to that point. If I am trying to get a parrot to learn to open a new nut, I substitute training for a nut opening session. The same learning mindset comes into play and the same motivation that could be applied to training can be applied to learning to crack tough nuts. In the beginning I try to offer an opened nut or scour the shell with a knife so the bird can learn how good the result is. The next few times I try to find the smaller/easier nuts. And with time the bird learns patience and perseverance and can be kept busy for long periods of time with a tough nut to work on.

This was not just a nut opening exercise but also a tolerance training exercise for the flock. By getting them all busy and goal focused on their own tasks, I am able to teach them to tolerate each other in closer proximity without fighting. The Cape Parrot and Macaw shared the same perch for the entire duration. It's a good way to build friendship while challenging their jaws and minds. Check out this video of how the parrots crack some really tough nuts.


What size pellets should I feed my parrot is a frequent question I receive. And now that I have become a Roudybush distributor, I am even more in tune with the different kinds of pellets out there. However, I somewhat disagree with the manufacturer recommended pellet sizes and some of the recommendations out there in regards to pellet size.

So first off, keep in mind that all pellets from a manufacturer (of the same line) contain the same nutritional content regardless of the parrot that is pictured on the package. Even if the package says that the pellet is for Amazons, they only mean that the size is recommended for Amazons and not that the diet is especially modified for the requirements of Amazons. Unfortunately species specific diets are not generally available.




Now when it comes to pellet size, the most important thing is how it is relative to the bird itself. Feeding excessively large pellets can make it difficult to impossible for a bird to eat. On the other hand, feeding excessively small pellets can leave it uninterested. Generally though, too small is safer than too large.

In this article I am going to refer to pellet sizes based on Roudybush because it is the pellet I am most familiar with. I think other manufacturers sell roughly similar sized pellets or refer to the size as relative to each of my birds for reference. Besides a few mini sizes, Roudybush basically comes in small, medium, and large. I have a small, medium, and large parrot so it is a perfect opportunity to compare the sizes.

For really smaller parrots like GCC, Cockatiel, Lovebird, Parrotlet, Budgie, the pellets I will be referring to in this article are too big. Mini or Crumble sizes are good for those birds. Choosing between the two really comes down to what your bird likes best because both are small enough and recommended.




Once you get to a Senegal Parrot sized bird or larger, you have more freedom of choice between the three main pellet sizes. My feeling is that the medium Roudybush pellets are actually perfect for all parrots small, medium, and large (again, excluding really small parrots). This has to do not only with parrot sizes but also personalities.

Initially I started out feeding medium to save money by using the same size for my Senegal and Cape Parrot. But with time, I discovered that even if I only had one or the other, medium would still be ideal. The Senegal is accustomed to eating big foods. Whether it's a baby carrot, a grape, or a piece of broccoli, these are all way big in relation to the size of a Senegal. Yet, she is used to manipulating large foods and gravitates toward them. The Medium size pellets are big enough that she has to hold and work on them, but far from overwhelming. I'm not even going to get into why Medium size pellets are good for medium size parrots.

Now when it comes to the Macaw, conveniently Medium size pellets turned out to be ideal for her as well. The Macaw on the other hand is used to dealing with smaller foods relative to her size. Whether it's working a pine nut out of the shell or a sunflower seed, she is accustomed to eating stuff that's pretty small relative to her hulking size. I have tried small, medium, and large pellets on all 3 of the birds and have found that in a bind they could eat any of the three sizes. However, the medium is not only the central size for 3 birds, but it is also their favorite for their personalities.




Another reason I like to use medium pellets is because it enables me to keep track of how much the birds are eating. In all three sized parrots, I am able to count out the amount of pellets they get and be able to see if something is left over. If the pellets are too small, it is difficult to keep count. On the other hand, excessively large pellets take long to consume and don't work as well for treats. Medium Roudybush actually works as a superb treat for training my parrots.

So when you are picking a pellet size for your parrot, don't worry about the size that is recommended on the package. If you have a lot of small through large parrots, just get the medium and feed it to everybody to save the hassle and money of getting different sized pellets. If you have just one bird, try the medium first and only if it's a problematic size, try changing to small or large. At this point, even if I had just one of the 3 birds, I would still choose to feed the medium Roudybush pellets for the reasons mentioned.

ParrotWizard.com, an official Roudybush Distributor with low prices, quick shipping, and fresh bird food.


When you keep multiple parrots, particularly of certain species, they will eventually get into fights. The main thing is keeping these as painless and damage free as possible. Besides keeping the birds separate and never having them out together, there is unfortunately little you can do. But here are a few tips to minimize fighting:

-All birds in cage or out (if in same room as cages or they are accessible)
-Don't clip wings, flighted birds can get away
-Avoid provoking jealousy between birds
-Give them tasks to do be it training, toys, or activity
-Don't leave bored birds out when your mind is elsewhere
-Keep competition for food/toys/attention reasonable
-Know your species and how they get along with others
-Avoid over exciting the birds
-Keep your relationship friendly but don't encourage mating behavior
-Manage hormonal levels through light, food, and resources
-Socialize the parrots and take them out together to get used to cooperation
-Use training to teach the birds to tolerate each other to establish a baseline compatibility
-Keep interactions brief enough that they don't get too fed up with each other or bored to the point of wanting to fight

I really strongly discourage clipping when it comes to birds that don't get along or get into fights. I know that on one hand the fear of them getting in each other's way exists because they are more mobile. But on the other hand, and more importantly, flight lets them get away. The worst fights and greatest damage occurs when two parrots incapable of flight tumble on the floor (or one corners the other in a cage). Clipped parrots find ways of getting at each other anyway or can end up on the floor, this puts them in a helpless situation and makes them resort to fighting. At this point both birds have no choice but to fight as flying away isn't an option. When left out in the open, parrots will tend to avoid fights by flying away or fly out of the fight before things get too dangerous.

These tips and many more are incorporated in my complete approach to parrot keeping as outlined in my book, The Parrot Wizard's Guide to Well-Behaved Parrots.

Here's a video of Kili my Senegal Parrot attacking the much larger Truman Cape Parrot. These sorts of fights end very quickly and impossible to predict. That's why it is rare to have them on video. It just so happens that I was videoing my Q&A video when this fight erupted so I have the footage to present to you. It's particularly interesting to watch in slow motion and realize what is actually going on. Otherwise it all goes down in the blink of an eye and the birds fly their separate ways.


So it's been 6 months since I adopted Santina; but it's also been a few months since the macaw was introduced to the other two. I'd like to take a little time to talk about the flock dynamics that are emerging.

Initially, Kili had been an only bird. Then for a short time she shared the household with a budgie and eventually with Truman. The dynamic between Kili and Truman had always been where Kili was boss. Kili could take any perch from Truman at any moment. Truman got used to being the "little bird." Now things changed yet again with the addition of another bird.

Whenever considering the addition of another bird it is absolutely essential to consider how this bird will fit into the existing flock structure. You can't just simply say "I want this kind" and disregard whether existing birds will agree or not. When it comes to Kili, I know that she will bully any bird that is smaller or several times her size. This is why when I got Truman, I was only considering birds that were bigger than her that could handle the aggression. Even at triple her weight and 1.3x her size, Truman tends to lose most fights to her.

Santina is obviously much bigger than the other two but her personality also plays a big factor. She's not aggressive, she's slow, hulking, lazy. These qualities make her a lesser threat to the existing smaller birds. In fact, she would not go after them and they could out fly her any time, even if she could fly. So that's one side of the issue eliminated. On the flip side, the biggest danger is if the little guys put themselves in the way.



Initial introductions were to build favorable first impressions, start peacefully, and get the birds used to being around each other without causing trouble. However, beyond this early acceptance, the rest they have to work out on their own. This happens little by little through experimentation as the birds cross each others paths (whether intentionally or inadvertently).

Nuts are a great device for making birdy friends. Since they require some focus and take time to crack, it gets the birds focused on a task and away from each other. This is how I initially introduced Kili & Truman to share a perch and lately Truman and Santina.




The only trouble I ran into was that Santina finished her hazelnut quickly and started to pry Truman's nut out of his beak and scared him. The trick is to keep them busy with more nuts or to separate the birds before any trouble can erupt. This gives them a chance to get used to being around each other and not have aggressive thoughts. As sitting near each other begins to work, trick training the parrots on the same perch is also a great idea to teach cooperation.

Another thing that greatly improves the flock dynamic is taking the parrots outside together. Even if enemies at home, they tend to stick together outdoors against all the other mayhem. This socialization experience builds better bonds between the parrots that you bring home with you (with time). I've been taking the parrots out two and sometimes even three at a time. I put them down on fences or benches in close proximity to each other and keep them busy with training and food. They behave very well together in this type of setting.




Interestingly, Truman was never scared of Santina (more than triple his weight and size) from the very beginning. Kili, the bird that fearlessly bullies Truman, stays away from Santina. Kili is a true bully, she'll only pick fights she knows she can win. Truman on the other hand is the bumbling dodo. Truman will cross Santina's path thoughtlessly. And I want to reiterate that he's doing this in a non-aggressive way. When Kili goes after Truman, you can tell it is with malicious intentions. Truman on the other hand, doesn't actually go after Santina but he walks by her entirely focused on whatever he is after. Truman does not notice the far bigger macaw perched there and brushes right by her. His behavior comes off as bold. But his boldness is not in him thinking that he can take on the bigger bird but him not thinking at all. This is how Truman lands himself in trouble all the time.

This is exactly what happens between Truman and Santina. They have potential together as they are both non-aggressive birds but Truman is a bit of a dummy and puts himself in her way. Half the time this happens too quickly for Santina to react. Other times she runs away not knowing how this little bird can be coming right at her. Sometimes she puts her beak out defensively though. She does not attack or bite but simply tries to defend herself. Truman has been known to try to land on her and she needs to send him a reminder that her head is not a landing pad. Here's a video that perfectly illustrates the sort of character that Truman is:


As you probably know, I love using the Aviator Harness for taking my parrots outside. It's the easiest and most reliable harness to use. Now I wanted to mention all the different colors that these harnesses are available in. They come in Black, Red, Green, Silver, Blue, Pink, and Purple. The variety is good because it can help you match the harness to your bird.

There are two ways to choose a color harness for your bird. Either match the color to your parrot's plumage and outer appearance or get a funky cool color to match your parrot's inner personality. I would recommend sticking to a matching or bland color for your first harness so that it is least distracting to the bird. However, once the parrot is accustomed to wearing a harness, there should be no problem picking any color you'd like.

Here are some harness color recommendations by species:
Green Cheek Conure - Petite Size Green
Ring-Necked Parakeet - XS Size Green
Sun Conure - XS Size Red
Senegal Parrot - XS Size Green
Galah - Small Size Pink or Silver
Timneh African Grey - Small Size Silver
Congo African Grey - Medium Size Silver or Red
Amazon Parrots - Small or Medium Size Green
Eclectus - Medium Size Green or Red
Blue and Gold Macaw - Large Size Blue or Red
Scarlet Macaw - Large Size Red
Green Winged Macaw - XL Size Red
Hyacinth Macaw - XL or XXL Size Blue

You can buy an Aviator Harness in any available size and color here.

Truman models the available colors: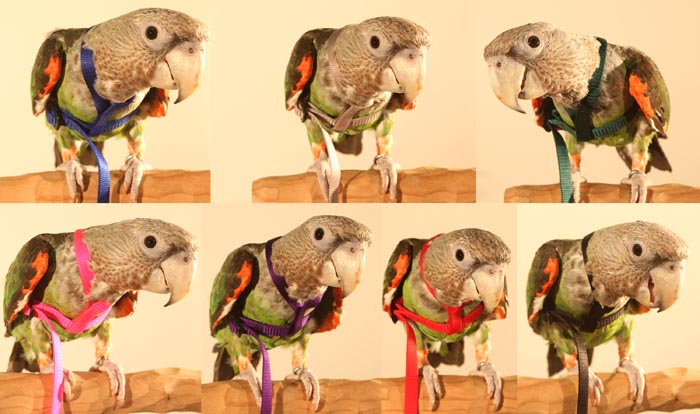 Video of Truman putting on each harness color