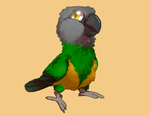 Kili
Type: Senegal Parrot
Genus: Poicephalus
Species: Senegalus
Subspecies: Mesotypus
Sex: Female
Weight: 120 grams
Height: 9 inches
Age: 15 years, 3 months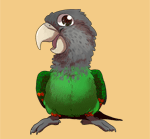 Truman
Type: Cape Parrot
Genus: Poicephalus
Species:Robustus
Subspecies: Fuscicollis
Sex: Male
Weight: 330 grams
Height: 13 inches
Age: 13 years, 6 months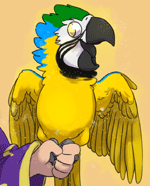 Rachel
Type: Blue & Gold Macaw
Genus: Ara
Species:ararauna
Sex: Female
Weight: 850 grams
Height: 26 inches
Age: 11 years, 3 months

List of Common Parrots:
Parakeets
:
Budgerigar (Budgie)
Alexandrine Parakeet
African Ringneck
Indian Ringneck
Monk Parakeet (Quaker Parrot)
Parrotlets
:
Mexican Parrotlet
Green Rumped Parrotlet
Blue Winged Parrotlet
Spectacled Parrotlet
Dusky Billed Parrotlet
Pacific Parrotlet
Yellow Faced Parrotlet
Lovebirds:
Peach Faced Lovebird
Masked Lovebird
Fischer's Lovebird
Lilian's (Nyasa) Lovebird
Black Cheeked Lovebird
Madagascar Lovebird
Abyssinian Lovebird
Red Faced Lovebird
Swindern's Lovebird
Lories and Lorikeets
:
Rainbow Lorikeet
Conures
:
Sun Conure
Jenday Conure
Cherry Headed Conure
Blue Crowned Conure
Mitred Conure
Patagonian Conure
Green Cheeked Conure
Nanday Conure
Caiques:
Black Headed Caique
White Bellied Caique
Poicephalus Parrots
:
Senegal Parrot
Meyer's Parrot
Red Bellied Parrot
Brown Headed Parrot
Jardine's Parrot
Cape Parrot
Ruppell's Parrot
Eclectus
:
Eclectus Parrot
African Greys:
Congo African Grey (CAG)
Timneh African Grey (TAG)
Amazons:
Blue Fronted Amazon
Yellow Naped Amazon
Yellow Headed Amazon
Orange Winged Amazon
Yellow Crowned Amazon
Cockatoos:
Cockatiel
Galah (Rose Breasted) Cockatoo
Sulphur Crested Cockatoo
Umbrella Cockatoo
Moluccan Cockatoo
Bare Eyed Cockatoo
Goffin's Cockatoo
Macaws
:
Red Shouldered (Hahn's) Macaw
Severe Macaw
Blue And Gold Macaw
Blue Throated Macaw
Military Macaw
Red Fronted Macaw
Scarlet Macaw
Green Winged Macaw
Hyacinth Macaw
Glossary of Common Parrot Terms
| | | |
| --- | --- | --- |
| | | Thursday April 13th, 2017 |
Kili, Truman, and Rachel have been settling in the bird room together well. I have been getting back into flying them for exercise. For now, I'm just having them fly in the bird room.

All three parrots are at ease with each other and know their own perches well. They all already know their names and only fly when called. But now they are mixing it all together.

Flying three parrots for exercise can be quite intense. I alternate my attention between the birds. Each bird flies to receive food. While two parrots are busy chewing their reward, the third already finished and is ready to fly. This leaves at least one parrot ready to go at any time.

This routine not only keeps things moving for me - it sure does take a while to get three birds to fly enough to go through an entire meal - but it also gets a rivalry going between the birds that keeps everyone trying. If one of the birds gets lazy and doesn't come, I will simply move on to the next. The next bird is happy to have a sooner opportunity to come. Meanwhile the bird that didn't come gets punished by missing a turn and having to wait for the next chance to come around. This has been extremely effective and virtually eliminated disobedience.

In the past, flight training just one bird at a time, I would encounter a lot of frustration when the bird wouldn't come. I have limited time to spend on training, so when the bird isn't coming, the session will either take longer or the bird won't be exercised as much. Whenever the bird would stop cooperating to look around or worse yet just sit there for no reason, I would be powerless at that moment to keep things moving. But now with three birds training together, there is always a bird or two that will pick up the slack for the others. This keeps me from just standing around waiting for birds to resume cooperation. But not only that, it makes the lazy bird(s) realize that others are getting their treats! This fixes things in a hurry.

When the birds finish chowing down their food reward, they are attentively waiting for the next opportunity to be called. I occasionally mix up the order of the recalls to keep them on their toes. On the rare occasion that the wrong bird comes, it receives no food and is just sent back to the perch. They realize quickly that it is a 100% chance they won't receive a reward if they come when I call another, so they learn to stay put unless called. This is important when there is a bunch of birds so that they don't interfere with each other.

Starting out, Rachel was definitely the weak link. While Kili and Truman would come reliably from years of experience, Rachel would often not come or take too much time. Since the added competition of the other birds, Rachel's success has more than tripled! She is almost as good as the others. She has made years of solo improvement in a month with the added competition. I think the improvement was so huge because Rachel got both a dose of example as well as rivalry! She got to see how well the other birds do and how much they get rewarded. She realized that this is the way to be if you're a bird!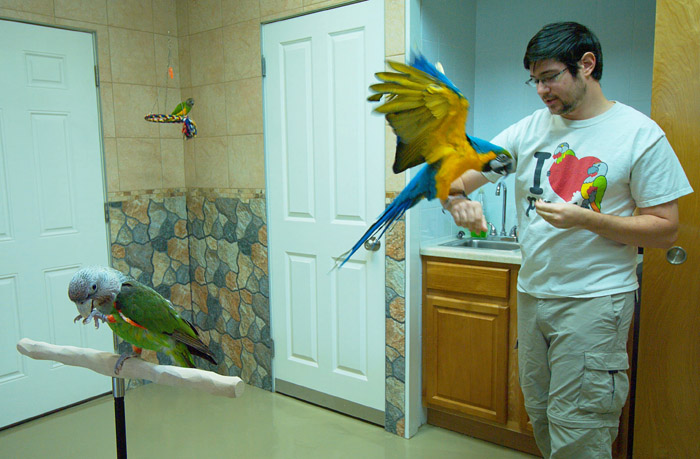 Another interesting improvement came in Truman. Truman has always been second rate to Kili in everything. If Truman flew 50 recalls, then Kili flew 100. When Truman improved to being capable of 100, Kili was at 150! Because he could never accomplish being better than her at anything (at least training wise), I don't think he ever really tried. But when Truman realized he could be better than Rachel, he was all over it! Truman became much more attentive and quick to respond. On the other hand, Rachel is now close on his tail with her improvement so I hope to keep this competition going.

There's no doubt that Kili is simply the best. Her mantra is anything you other birds can do, I can do better. Even when she's training solo, she'll work as hard as the other birds would in a competitive environment. But when the other birds are trying too, Kili can keep flying reliably even after she is completely full or not even hungry at all in the first place. I'm pretty sure that I could get her to fly as much as the other birds without any treats at all. She is just so competitive and has to be best!

Oftentimes toward the end of the flying session I am trying to compensate the bigger birds with extra food. Kili is already too full and clearly done eating. Truman and Rachel might have missed a few treats when they were being obstinate. Kili got every single one. So just to get the others to fly as much as Kili, I need to park Kili and give them a chance to catch up. Well, Kili keeps begging to come so I call her but don't give treats. I know she is full and can't/shouldn't have more. As long as the other birds keep coming, she does too, even when she is obviously getting nothing. But she plays a good model and it helps me keep the others going till they finish.

It is important to note that getting or training more birds is not necessarily going to improve things for other people. If you have a bird that is uncooperative or bad at training, I would first focus on your training techniques and the birds motivation. Only when that bird without doubt knows what it is doing, does it right most of the time, and does an overall pretty good job is it ok to think about training along another bird. Competitive training isn't a solution to poor training/motivation. Instead it is a superlative booster for already effective training.

So, check out this video of Kili, Truman, and Rachel's morning flying routine:

It was fun teaching Rachel the turn around trick because she picked up on it so quickly! Turn-Around is one of the most basic tricks that you can teach your parrot and a lot of fun. Teaching tricks like this helps build a relationship and a level of cooperation from your bird because it becomes accustomed to doing things you say. The once wild, uncooperative parrot, learns that cooperation is beneficial and fun.

Rachel, Marianna's Blue and Gold Macaw, is going to be five this year and is in the midst of her terrible twos (adolescence). Some days she's cute and friendly and other days she's a total brat. Doing some trick training helps maintain and improve the relationship as she's going through the troubling years. Although Rachel has always been good with Marianna, because she had her since she was a baby, I have had to do some work to earn Rachel's trust.

If you would like to learn how to teach your parrot to turn around, refer to this free trick training guide. In that article, I explain with the help of Truman how to teach Turn Around.

This video on the other hand is just to show for comparison what it's like to teach a Macaw to turn around. Pretty much the same! The only difference I would say, is that things happen more slowly and the Macaw has to lift its tail as it turns!

It took about 3 days to teach Truman to turn around. Rachel learned it well in 2. The first session, not pictured in the video, was much like the second. By the end of the first session, she knew how to follow the stick around but not much more. During the second session, as seen in the video, she had her "aha!" moment and figured out to turn around, even if I don't show the target stick. So simply put, teaching turn around is having a parrot follow a target stick in a circle and then reduce the importance of the stick till the bird can just do it on command.

I would say that all parrots learn the turn around trick about the same way. From budgie to macaw, the same method worked perfectly with all birds. The only difference is the pace. The smaller the bird, the faster it moves. The bigger birds move more slowly. The smaller birds can do more repetitions in a single session. The bigger birds will do fewer repetitions per session, but they will learn the final result in fewer sessions! It is interesting to observe these subtle differences, but they have little impact on the final result. Just follow the method and keep going till your particular bird figures it out and you'll be all set!

To learn the fundamentals of parrot training, how to develop training motivation, routines, and an overall outstanding pet relationship, please read my book, The Parrot Wizard's Guide to Well-Behaved Parrots.

Watch how I taught Rachel the Blue and Gold Macaw to Turn Around:

| | | |
| --- | --- | --- |
| | | Friday December 23rd, 2016 |
It has been about 3 months since I rehomed Santina (the rescue Green-Winged Macaw) to Lori. So, Marianna and I flew to Pittsburgh to visit Santina and Lori for the holidays.

Lori lives near Pittsburgh. This is close enough that we have the chance to visit her and Santina now and then, but from New York it is still quite far. By car, this is 6 hours each way, but by airplane just 2 hours. This is still a committed all day sort of trip, but a day drip nonetheless.

We were greeted in Pittsburgh with snow flurries and bitter cold after a challenging flight through the same weather. We agreed to stay quiet walking into the house to see how Santina reacts to each of us. Marianna went in first and I heard Santina greet her with an enthusiastic "Hi!"

I walked in and there was no denying that Santina remembered me. In no time she had her foot up, asking to step up. I was a little hesitant at first because if Santina forgot me, I could have been met with a vicious bite. She enjoyed some head scratches on my arm, danced around, and played with toys. While it was easy to get her to step up onto my arm, it was a bit of work getting her back off. She would cling on and be very reluctant to get off.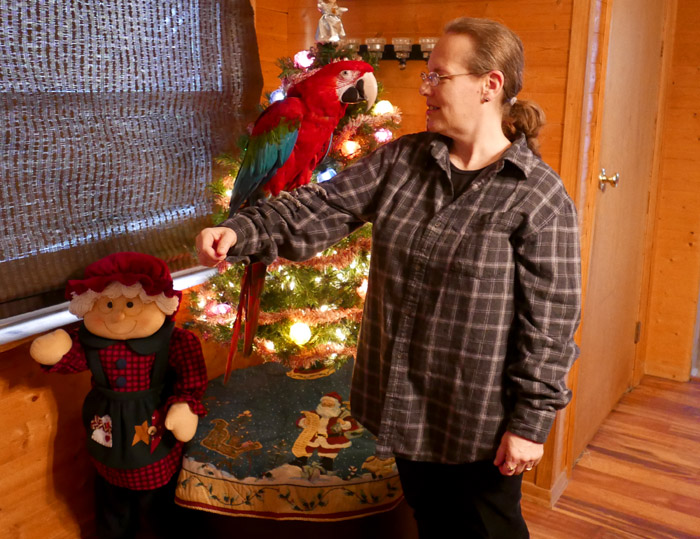 Lori walked in, and Santina couldn't be happier. All of her favorite people in one room. Incredibly, Santina was great with everyone. When I had her, Santina was much a one-person bird. Everyone else was so afraid of her that it was quite difficult to get other people to train her to open up to people. But, since Lori had no other choice but to train Santina, Santina finally got to learn to cooperate with multiple people. Once the bird is friendly with a handful of people, it's no longer a stretch for that bird to learn to be friendly to all people in general.

I could tell that Lori has done a fantastic job training Santina. It took Lori only a few weeks getting Santina to adjust and be good with her. Using training, treats, and patience, Lori had Santina stepping up and allowing head scratches in a very short time. All the time since was developing their own personal relationship and lifestyle. I can tell that not only has Santina adjusted to a new home but Lori has adjusted well to life with a parrot.

We weighed Santina and were really happy to see her weight is spot on. She has a good appetite and has been eating well. Lori has done a good job balancing the feeding Santina was accustomed to with her own variety of foods. Lori demonstrated how she cuddles Santina on the couch as part of their routine.

Then it was time to open presents. Santina was nervous of the wrapping paper so I let Lori try with her. They worked on it together and Santina grew the courage to open it herself. A giant foraging toy for sure! Santina ripped all of the wrapping paper to find a bag full of tasty nuts.

We exchanged gifts and enjoyed a special holiday dinner before heading back off into the sky. We were thrilled to see Santina doing so well and happy and we had a heart warming visit with our new friend. Here is a video of our visit with Lori and Santina the Green-Winged Macaw for the holidays:


| | | |
| --- | --- | --- |
| | | Friday September 2nd, 2016 |
I have some good news to share, I'm rehoming Santina. It's a hard thing to talk about so I'm glad I got that off my chest. Read till the end and watch the video to understand the situation, how the rehoming went, and how a win/win situation came out of it all that really is good news.

I adopted Santina from the rescue on December 23, 2013. She's been a great bird and a wonderful pet. However, from early on we ran into issues. I'm not talking about behavioral ones because those we solve through training. I'm talking about Santina's health problems.

From the beginning, it was clear that she had some issues, but I was optimistic that veterinary medicine could cure her. I spent a small fortune getting Santina tested for everything under the sun, yet the results were inconclusive. It was a wild goose chase because results would contradict each other and no specific cause could be found. I treated Santina with antibiotics and kept her quarantined from Kili & Truman for triple the normal quarantine period. In the absence of a specific diagnoses and under the impression that the treatment helped, I went ahead and put all of the birds together.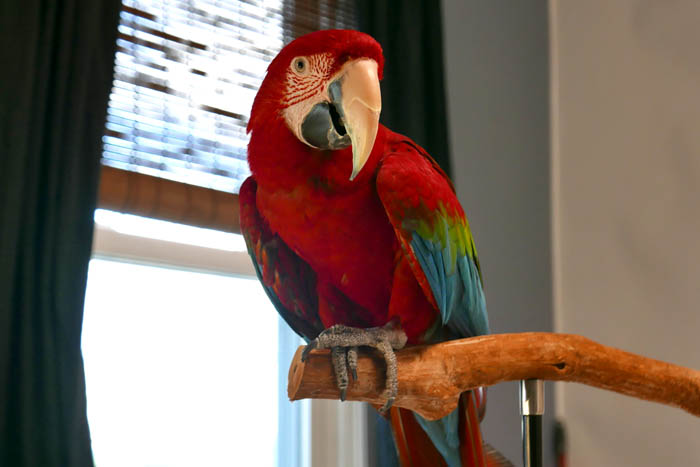 It wasn't long until Kili and Truman began exhibiting similar symptoms to Santina. It was not clear at first because they were all close together. But as Marianna started borrowing birds for a few days at a time, in the isolation of her room, she discovered that Kili & Truman had the same things going on. All the birds went on antibiotics. While on medication, things would seem to improve. But, once off, things would go right back to before.

Marianna moved in with her Blue and Gold Macaw, Rachel. Rachel got sick too which made things even more clear. We started by keeping Rachel in a cage in a separate room and treating her.

Over the course of the last two years it has been a nightmare of juggling treatments and quarantines. We went so far as keeping each bird in a separate room and showering between birds. This has led to a few things. First of all, it led us to discover that antibiotic treatment appears to cure all of the birds but Santina. After several different medications and a long trial of isolated treatments, we have concluded that Santina's condition is most likely incurable. The curable bacterial infections that she has been spreading to the other birds may be a symptom and not the cause. When removed from Santina's presence, after a course of antibiotic treatment, the other birds have been infection free going on for over half a year.

The other thing we had come to realize was that Santina's condition has been taking a toll on our bird and family life. Instead of focusing on making new training videos, taking the birds places, writing articles, and doing the sorts of bird things I usually do, I have been plagued with vet visits, quarantines, and depression. We could not travel with multiple birds, could not keep the birds together as a family, nor spend time with more than one bird at a time. The wedding was a distraction and kept us busy. We had to jump through hoops to make arrangements to get the birds involved in the wedding without impacting their quarantine.

Since the time I introduced Santina to the other birds, my entire bird life has become stagnant. I stopped training Santina because I was afraid to risk her illness becoming worse. The other birds, I could not get to training because much time was being spent on work and handling all of the birds separately. Marianna has made all of the quarantine efforts possible by splitting the tasks of caring for each bird. Life had become a rut. There was no motivation or pleasure from doing bird stuff and thus a giant set back in the online realm as well.

We never planned things to go on as long. It always seemed like there would be an end in sight. First it would be a week of medication, then two, then a month. When we split the birds into different rooms, it was just going to be a trial to see how they do separately. But, weeks turned to months and months to years. Nothing was changing. We were exhausting all ideas and possibilities. The conclusion was becoming more and more apparent that Santina would not be able to be kept together with the other birds.

All of the birds were short-changed throughout the whole process. Instead of spending one collective time taking care of them all, time had to be spent on separate feedings, separate cleanings, and quarantine procedures. Although more time was being spent on birds than the normal situation, individually the birds were receiving less time. What started as a health problem and temporary solutions was turning into a long term problem. We were getting nowhere.

This summer, I was contacted by a lady that had seen my picture used in a bird sale scam. These things happen left and right and there's nothing I can do about them (most of them are overseas and create a new page every week). She was looking to get a Green-Winged Macaw. We got talking and before long, Lori and my wife became great friends. Lori read my book, The Parrot Wizard's Guide to Well-Behaved Parrots, and discussed the finer points of owning macaws with Marianna.

Lori was still trying to decide if a Green-Wing was right for her or not, so Marianna and I paid Lori a visit with Santina. After meeting Santina, Lori told us she would like a bird just like her. Coming home from that visit, we realized that there was a strong potential here for an ideal situation all around. We stayed in touch with Lori and helped her develop her understanding of parrots. Then there came a point where I asked Lori if she would be interested in adopting Santina. She was ecstatic beyond words and the answer was yes.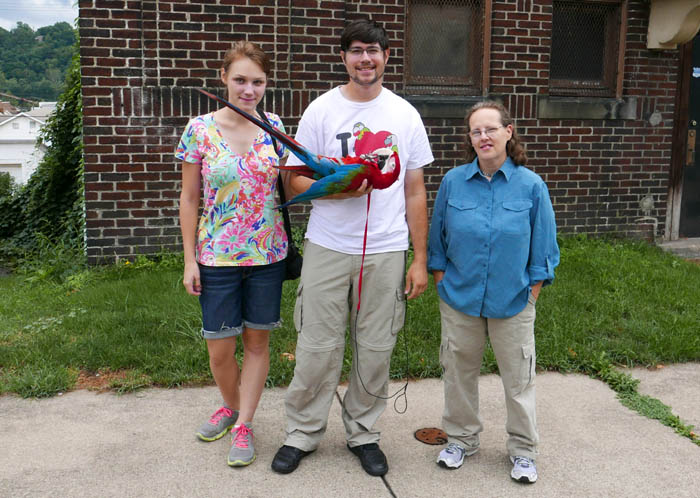 Lori is the ideal candidate for adopting Santina. Lori has a house but no other people or parrots living there. She can afford the upkeep for a macaw which is quite expensive. She loves animals, has time on her hands, and has no plans for adding any other birds. She is patient and willing to follow the training methods for developing trust. Also she is willing to give up an entire room in her house to give Santina the lifestyle she has become accustomed to. Likewise, Santina is just the kind of birds that Lori was looking for.

We spent the rest of the summer making preparations for the rehoming process. There was no rush to get it done and no deadline. However, due to conveniently overlapping summer schedules, it worked out to be easier to do things more quickly than to wait for the fall. It just so happens that the more you are willing to take your time, the more quickly things end up actually happening.

Lori put up plastic sheeting on the walls, replaced the flooring with vinyl, repainted the ceiling, removed all loose wiring, and prepared the room to be bird safe. It was a lot of work but best done before having a bird in the home.

We took another trip to Pittsburgh to help Lori prepare the bird room for Santina. We built a custom NU Perch stand and hung it from the ceiling. Also, the ceiling light was upgraded to a bright LED fixture and the light switch was replaced with a timer. We brought over some of Santina's old and new toys so that things would be as familiar as possible. We even used her old food bowls and Training Perches.

The room was ready but there was one more thing to prepare: Santina. Santina is a great bird with people she is familiar with but can be a menace to anyone new. I've done a fair bit of socializing her over the years, particularly using the Aviator Harness to take her outside. However, Santina still would not be at the point like the other birds to just step up for someone else for sure.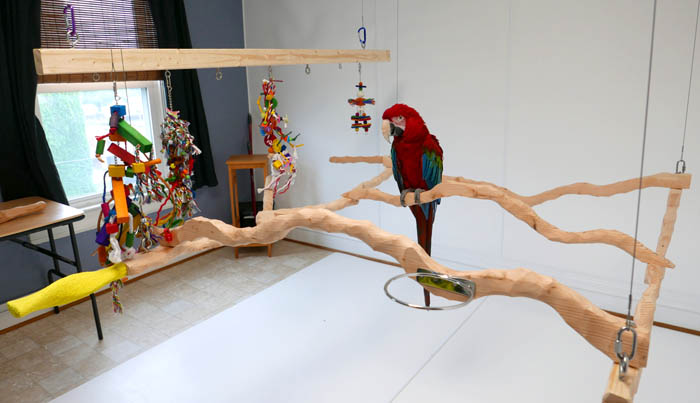 There was no way I could fully prepare Santina for the exchange. So instead I focused on preparing Lori and Santina for the training process to build a relationship. I spent time reminding Santina of the training exercises I had already done with her initially to teach her to be good with me. I wanted them to be fresh in her mind so that Lori could use them. I emphasized target training and stepping up onto a handheld perch so that Lori would be able to use those tools to move her about in the first few weeks without contact. I also spent a lot of time talking to Lori about the steps to follow to win over Santina. To put it simply, don't try to touch her or force her to step up, use the training tools she knows to relearn to do those things for you.

On August 21, 2016, nearly 3 years since adoption from the rescue, I rehomed Santina. I flew Santina out to Pittsburgh to see Lori again. Santina seemed to recognize her and was in a great mood. We moved slowly in the introduction stage and Lori did a great job. I know it took effort to hold back some of her excitement but in reality it made things go much more quickly than expected. We stayed the weekend and got to witness progress in the making.

Santina went from just barely taking treats from Lori to jumping on a Training Perch to get treats from her. Santina was becoming more at ease with Lori's presence. Otherwise, Santina was perfectly at home on the familiar NU Perch stand I built her. We practiced Santina's feeding/cleaning routines a few times with Lori doing it more and more on her own. Although the rehoming process only lasted two days, it felt like weeks of progress because we made a gradual transition. Santina had the chance to get used to her new home and new owner with me around so she actually felt quite at ease.

We would leave to go get lunch, then come back and work with her. Then we would go out for dinner and come back. This coming and going got Santina more relaxed, and when I left without coming back, she already had a new friend in Lori. And this is really great news. Santina has been taking to Lori very quickly. They have a wonderful understanding and connection developing. Lori adores Santina. The dedicated passionate attention that Santina is receiving is definitely uplifting to her.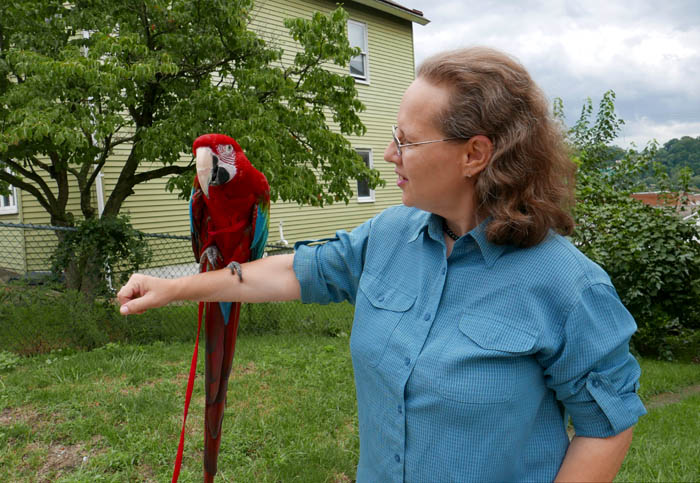 Santina was always a one-person bird before. She grew up as an only bird and I have found her to like attention as an only bird. The group environment was not ideal for her and she did not deal so well with the little green guys buzzing around so much. On the other hand, with Lori, Santina can be the center of all attention.

As I left Santina with Lori, I was actually quite happy. Certainly there was a feeling of sadness in going home without her. However, seeing how well she is doing with Lori and how happy Lori is to have her, I knew it was all right. Kili, Truman, and Rachel are for the better. They will be able to recover their health and get back to training. Santina will be in a home environment that she actually enjoys best. Lori got the exact kind of macaw that she was looking for. And Marianna and I have a wonderful new friend. This just goes to show that a rehoming situation, when done right, can have an all around happy ending!


A year ago today, I married the love of my life. As we celebrate our one year wedding anniversary, I would now like to share with you memories of that special day.

Sorry that I didn't have a chance to post about the wedding sooner. Right after the wedding we left for three weeks to Australia on honeymoon. Then when we got back we had a lot to catch up on and married life to adjust to. I spent a lot of time editing together footage of Australia parrots so that set me even further behind on getting to the wedding footage. By the time I had a chance to work on the wedding video, it was the harsh middle of winter. I was just posting pictures of parrots and snow. Posting footage of a summer wedding would just be out of place that time of year. So we decided it would be best to wait till August and share with you the wedding on the same day, one year later.

The quick version of how I met my bride: Truman, that little flying monkey, got lost in New York City. I received help searching for Truman from a random stranger. Him and I started the New York City Parrot Adventures Group and hung out in Coney Island with our parrots. Marianna, who already had a Blue and Gold Macaw, learned of these outings through my youtube channel. She joined the group and started coming to our parrot outings. She fell in love with Truman, and I with her, and she with me. Long story short, we ended up getting married. Full story of how we met is here.

Fast forward to August 8, 2015. It was a cool summer morning in northern New Jersey. Crickets were chirping and songbirds singing. A thin layer of fog formed on the lake that would serve as the backdrop for the wedding ceremony. A few of us spent the night at the lakehouse for an early start. But the majority of guests (and the birds) began arriving in the later part of the morning. Our bird friends Ginger and Kristine were responsible for bringing all of the parrots from our house that day. Once our parrots arrived, we went out to take some pictures.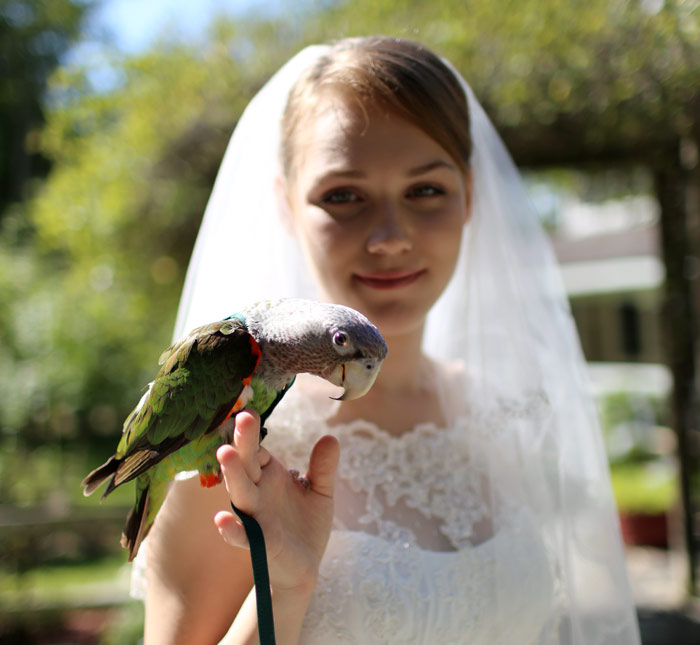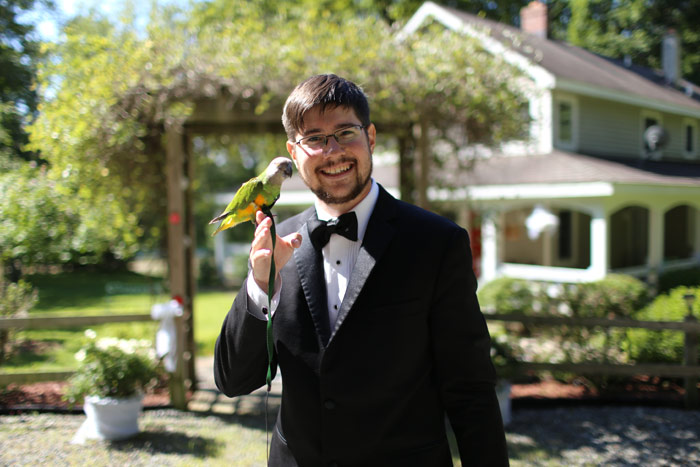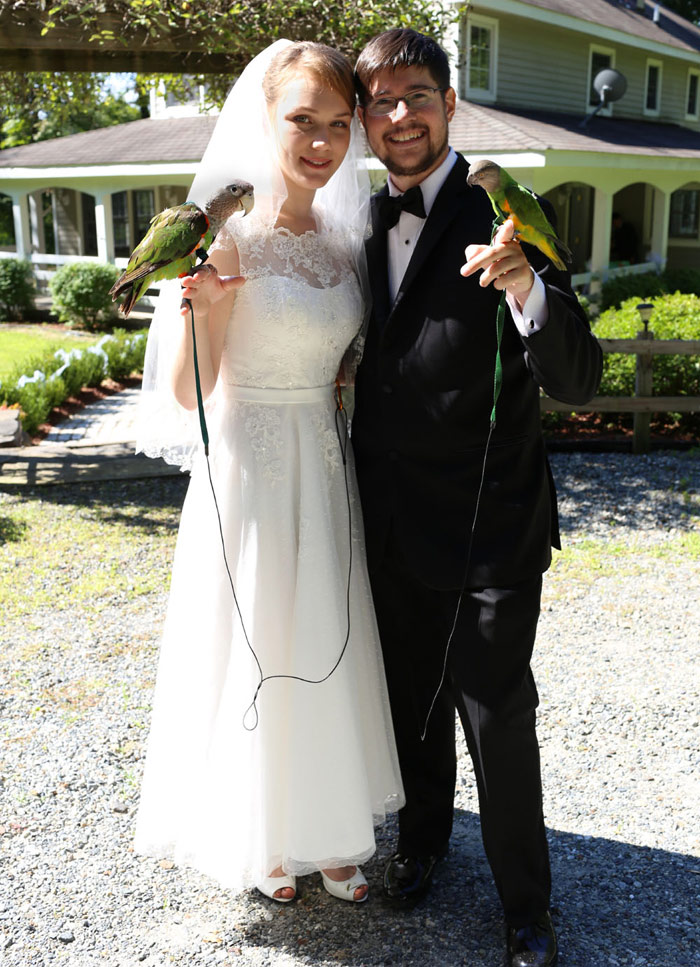 We continued taking photos with family and friends until the ceremony which started at noon. Kili and Truman not only were the ring bearers but they were also the wedding party. Kili was the best bird and Truman was the bird of honor. It is understandable that Kili would not allow to be any bird but the best. Rachel and Santina, the big macaws, were placed on specially decorated Training Perches at the sides.

At the lead of the bridal processional, Kristine and Ginger brought out the wedding party parrots. Then came the bride with her father. The ceremony was held on a shady peninsula that stretches into the lake. The ceremony went much like any other with the "I dos" and promises of eternity. Kili and Truman helped provide the rings.

At the ceremony's end, we had a video drone fly over to get aerial footage of the wedding ceremony. The birds welcomed the robotic whirlybird. It was no surprise to Truman as he had been exposed to flying drones before.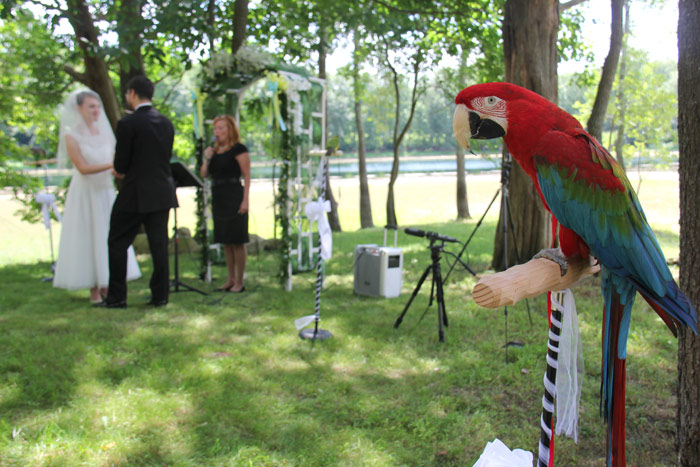 We had a tent erected over the deck for the reception. It provided cool shade in the August sun while everyone sat at one very long table. Bacon wrapped scallops, ginger lamb bites, and steak were catered to everyone's delight. For desert, guests dipped fresh fruit and marshmallows in a chocolate fountain. Blue and Jewel from the movie Rio, topped the wedding cake.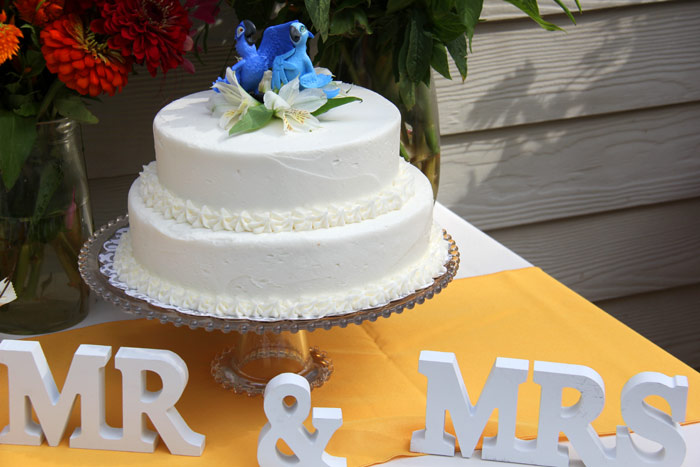 Marianna received Truman as a wedding gift. It was his calling all along. His purpose was to make a special someone in my life happy. And like wine, with age he gets better. When he was young, he was pretty difficult. Going through his terrible twos (and more like terrible twos, threes, and fours), he was a menace. But with those years behind him and lots of training, Truman is as good a pet as ever. Marianna was ecstatic to receive this feathered monkey of joy on her wedding day.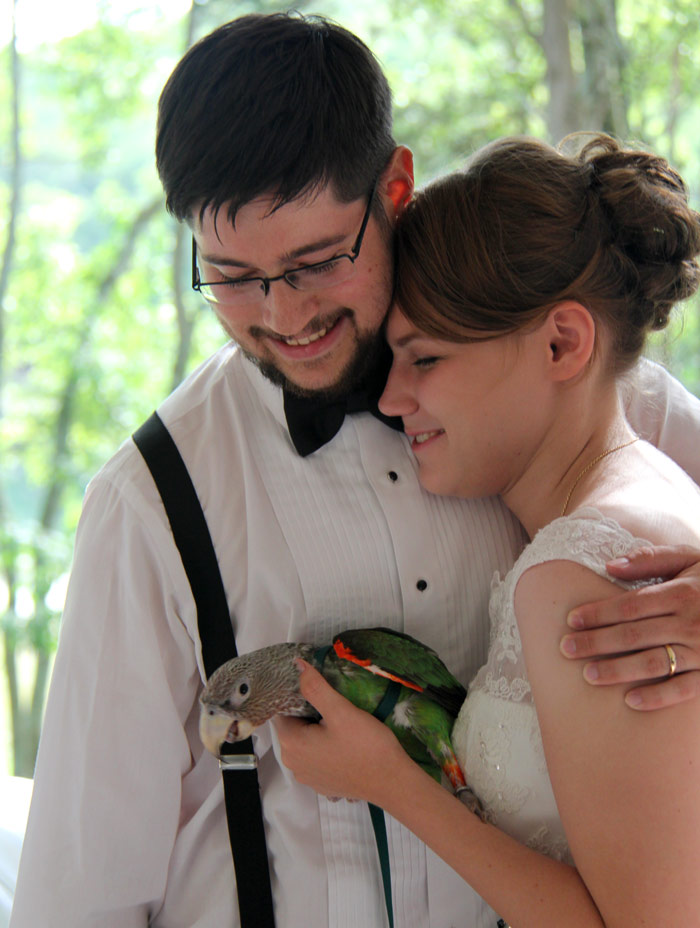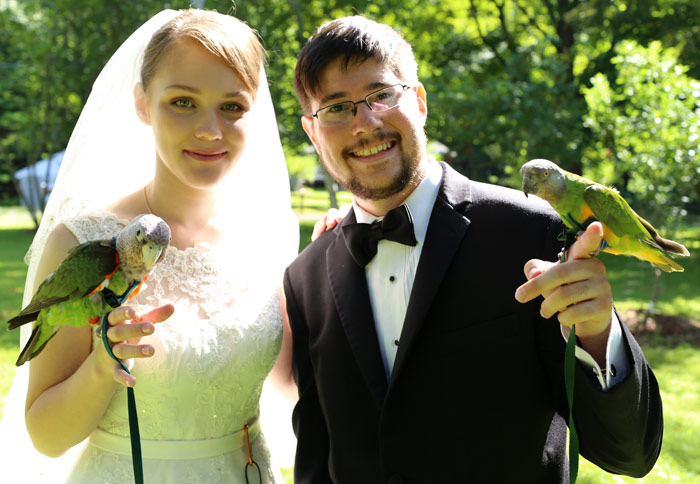 After the reception, my bride and I boarded a white stretch limo. It took the long scenic route to the airport while many of the guests took a shortcut to get there sooner. The limo arrived to the airport and drove across the runway. Our guests greeted us at my decorated airplane. We took some pictures and then transferred from our limo ride to the airplane. The guests waved goodbye as the newly married Mr. and Mrs. Sazhin flew off into the sunset. Dreams do come true!