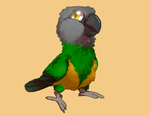 Kili
Type: Senegal Parrot
Genus: Poicephalus
Species: Senegalus
Subspecies: Mesotypus
Sex: Female
Weight: 120 grams
Height: 9 inches
Age: 13 years, 5 months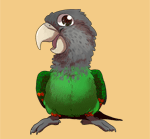 Truman
Type: Cape Parrot
Genus: Poicephalus
Species:Robustus
Subspecies: Fuscicollis
Sex: Male
Weight: 330 grams
Height: 13 inches
Age: 11 years and 9 months old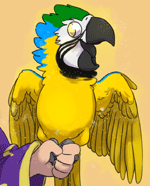 Rachel
Type: Blue & Gold Macaw
Genus: Ara
Species:ararauna
Sex: Female
Weight: 850 grams
Height: 26 inches
Age: 9 years, 5 months

List of Common Parrots:
Parakeets
:
Budgerigar (Budgie)
Alexandrine Parakeet
African Ringneck
Indian Ringneck
Monk Parakeet (Quaker Parrot)
Parrotlets
:
Mexican Parrotlet
Green Rumped Parrotlet
Blue Winged Parrotlet
Spectacled Parrotlet
Dusky Billed Parrotlet
Pacific Parrotlet
Yellow Faced Parrotlet
Lovebirds:
Peach Faced Lovebird
Masked Lovebird
Fischer's Lovebird
Lilian's (Nyasa) Lovebird
Black Cheeked Lovebird
Madagascar Lovebird
Abyssinian Lovebird
Red Faced Lovebird
Swindern's Lovebird
Lories and Lorikeets
:
Rainbow Lorikeet
Conures
:
Sun Conure
Jenday Conure
Cherry Headed Conure
Blue Crowned Conure
Mitred Conure
Patagonian Conure
Green Cheeked Conure
Nanday Conure
Caiques:
Black Headed Caique
White Bellied Caique
Poicephalus Parrots
:
Senegal Parrot
Meyer's Parrot
Red Bellied Parrot
Brown Headed Parrot
Jardine's Parrot
Cape Parrot
Ruppell's Parrot
Eclectus
:
Eclectus Parrot
African Greys:
Congo African Grey (CAG)
Timneh African Grey (TAG)
Amazons:
Blue Fronted Amazon
Yellow Naped Amazon
Yellow Headed Amazon
Orange Winged Amazon
Yellow Crowned Amazon
Cockatoos:
Cockatiel
Galah (Rose Breasted) Cockatoo
Sulphur Crested Cockatoo
Umbrella Cockatoo
Moluccan Cockatoo
Bare Eyed Cockatoo
Goffin's Cockatoo
Macaws
:
Red Shouldered (Hahn's) Macaw
Severe Macaw
Blue And Gold Macaw
Blue Throated Macaw
Military Macaw
Red Fronted Macaw
Scarlet Macaw
Green Winged Macaw
Hyacinth Macaw
Glossary of Common Parrot Terms
I took Kili and Truman to the park today in the usual manner wearing their aviator harnesses. First I flew Truman using the long leash and he did an outstanding job with over 20 flights. Not only did I call him back and forth the length of the leash from the same perch, I ran around to give him more distance to fly. I had him go to different benches and places in the park. He's been getting pretty good lately, but this was by far his best day.

Before I go any further, I must very sternly warn you: DO NOT TRY THIS AT HOME. Don't do it. Don't think about doing it. Just don't. With extensive research, 5 years of very extensive training experience, and a very special circumstance, I knew that this was something I could safely do. I didn't think it was going to be ok, I knew it (which I'll explain further). This is not a training guide or a suggestion of what you can or should do. You simply shouldn't do it. I'm not sharing this to be a role model but simply because it is something I've done. This is not something parrot owners should be doing with their pets. Watch this video in full and you will lose any thought about taking your pet parrot outside unrestrained (even if it's clipped!).

Now when Kili's turn came to fly, in the spur of the moment I decided to take her harness off and let her fly unrestrained! It's not a decision that came lightly but it wasn't something I set out to the park to do. At that moment, I simply KNEW that Kili would do what I was expecting. I could sense absolute and complete motivation from her. Sometimes her motivation is good and sometimes it is bad. In that range it is often hard to tell if she will really choose to perform or not. However, this time I was able to sense the most intense motivation from her with certainty.

A combination of factors lead to this unmistakable motivation. First of all I weighed the two parrots in before heading to the park and found that their weights were pretty low (still well within healthy range), lower than most park sessions. However, this is not something to exclusively gauge motivation on. Motivation, particular outdoors, can be affected by many factors. Temperature, humidity, wind, distractions, and other birds can play a big role. I've already noticed in the past that my parrots get especially motivated to eat (regardless of weight) prior to rain or thunderstorms and sure enough there is a thunderstorm forecast for tonight.

I can also have a good idea how the second bird will fly based on the first. Usually either both birds fly well or both fly poorly. When it's too hot, both don't want to fly. If there are too many distractions, it usually affects both birds. But today the circumstances were just perfect. The temperature was warm but not too hot. The wind was near calm. The kids at the park were a well behaved audience. This plays an important role because sometimes there are obnoxious kids that distract or bother the birds. Today I saw that they just tagged along but did not get in the way. Given the right group of kids, they actually can motivate the parrots to fly better for their attention.

Given all of these optimal conditions, I knew that it would be no challenge for Kili to do a perfect job harnessing flying all over the park. Having flown her extensively at home, in theaters, in a large gym, and in the park on a harness, I have had enough previous experiences where I experienced this "perfect motivation" that I knew today was the day. I don't remember the last time Kili "flew off" outside and I depended on the leash to save her. After years of socialization, desensitization, and going through this same flying routine at the park, I knew this was going to be like any other day minus the harness. Rather than take Kili to some desert or special place to freefly, I knew she was safest flying in the same park where she is accustomed to flying on her harness. If she can fly outside with the harness without a hitch and can fly in large gyms without a hitch, thus I know she can do this outdoors unrestrained as well.

HOWEVER, there is still the risk. Even if most of the time she does everything right on harness or indoors, there is absolutely no room for error outdoors. If Kili were to end up outside the park, there's no telling where she could end up. Senegal Parrots are particularly unsuitable for outdoor freeflight because they are small, quiet, and green. If one were to get lost in a tree, it would be damn near impossible to find. While some kinds of parrots could be lost and then found again, with a Senegal it's closer to all or nothing which is why I've avoided freeflight all this time.

But after so much routine and habit of harness flying in the park, I felt confident that even if someone were to scare her (which almost certainly wouldn't happen cause she's seen it all over the years), that she would either fly back to me or to some perch in the park. I didn't even fear her going into a tree because she has had opportunities to do this in the harness as well. But out of training and habit, she has learned only to land on the benches and low fences. I know that she simply would not consider landing elsewhere. I could not stand the thought or even the chance of losing her. But this day the circumstances just so happened to be that I knew it couldn't happen.

I took Truman off the leash extension and was about to apply it to Kili's harness. This was the moment when I decided that she would fly without it instead. I put the extension in my pocket, got Truman up on my shoulder, asked the kids to back up and make some more room, got some treats out, and then proceeded to take Kili's harness off. This was probably the most nerve-racking moment of truth and my hands were shaking a little. It was not that I was afraid she'd fly away but it was just something difficult to get myself to do. It was like taking the step out of an airplane to jump with a parachute, it was the moment of truth. I heard folks gasp as I took the leash off. People really couldn't believe what I was about to do. I took Kili's harness off and left it on the ground while I took some steps away and called her.

She instantly flew over to me and got a nice treat prior to returning to where she had perched. By this point I was too focused on the training session and almost forgot that she was untethered. I ran around the park calling her and flying her to different places like she would while wearing a harness. I never had to call more than once because her flight recalls were perfect. She came every time without delay. She got big treats but still not every time. Since she normally flies for a variable ratio reinforcement schedule, I felt no reason to change this now. I did, however, give her bigger and better treats than usual to reward her especially for doing such a great job. I was able to recall her for longer distances than I usually can with the limitation of the leash length. I tried to avoid taking my eyes off of her but I did at moments while stepping away or looking around. But this was ok because it was no different than when she is normally harnessed. She did not do anything she would not have done while wearing the harness which made me certain that I had interpreted her behavior correctly.

I continued to fly her for nearly 20 recalls to different locations in the park, almost no different than if she were harnessed. We did many back to back recalls where she flew multiple times to get just a single treat. I was going to end things early just to be extra safe. I reached in my pocket to get more treats to reward her for putting the harness back on but I could sense her eagerness to keep going. So instead, I had her play flighted fetch unrestrained. She did such an outstanding job flying up off the floor with the ball without the added weight of the harness. I also had her fly to the floor to play dead (again uninhibited by the cumbersome harness). I finished off the session with a few more flight recalls for big treats and then put Kili back in her harness for one final treat. I did not bother flying her any further in the harness and took this as a good opportunity to end the session and go home. Kili got her dinner extra early to celebrate doing such an outstanding job flying. She even had leftover training motivation by normal training time to outfly Truman for some extra treats!

It was a really exciting experience and I am so proud of her ability. She has always proven me right whenever I took chances flying her in challenging environments whether it was on big stages with unreachable ceilings, in gyms, or on the harness. I have a good feeling for when she is motivated, and especially when she is a sure shot. It was a lot of fun and a good experience, but I will not let it cloud my judgement and make me think I can just do that any time. I will continue using a harness (possibly with similar exceptions under the right circumstances) when I take her out to eliminate risks of loss entirely. Losing her simply is not a chance I can take. However, this experience has taught me a lot and I think to Kili as well. We have strengthened our bond and she has proven how capable she really is. Most importantly, doing this even further reduces the likelihood of ever losing her in a circumstance where she could inadvertently find herself unrestrained outside.

Edit: Some Afterthoughts. Although I made no specific preparations for this flight, all of Kili's life we have been preparing for this. I was always taming/training her (and especially when it comes to indoor freeflight and outdoor harness flight) to be able to safely recover her should she end up outdoors. She has been trained to fly down from high places, she has been trained to turn around and come back to me, she has been trained to think on the fly. All of these skills gave me the confidence that she could fly her way back to me and stay within the confines of the park.

Furthermore, there's the endless desensitization and socialization. She's extremely used to everything going on at the park and none of that scares her. I still have a video of her at the park from a few weeks back I have yet to share to show this. I can set off a cap gun right next to her and instead of getting scared she can rationally think through doing her trick. I really can't think of what can spook this bird or what has in recent years. The birds of prey factor was still present but to the same degree it is present for harness flying so that was not something extra to consider. If there was one place Kili could do a flawless job, it was at the park she always flies at.

I did not feel like I was evaluating risk, it was more like evaluating opportunity. Up till then, I always saw the idea of freeflight strictly as risk. However, during this special encounter and the motivation I observed, I felt confident (to the 99.9% degree) that Kili would not fly off in the first place. To compound that, I felt confident (99%) that if she were to fly off, that she would fly to me or remain within the confines of the park. The long harness I fly my birds with affords them the opportunity to fly up and get stuck in a tree and even out of the park at times. Yet they just don't do it. It's not because the harness holds them back but because of the safe places and altitudes they have learned to fly at. Kili did not need a leash to keep her flying between me and the park benches. I also feel that this exercise helps ensure that if she were to accidentally get loose, that she would find her way to the park and I'd end up finding her sitting on a park bench doing tricks begging passerbys for food.

This was not the scariest endeavor I have undertaken with Kili which is also a big part. Having her on the huge stage (like 80+ ft high ceilings) for America's Got Talent with unknown/unrehearsed lights and noises going off had me much more worried. And although we were inside a building, the places she could get lost should she fly off were endless. It was also my first encounter where the stakes were so high regarding a fly off. She didn't perform that well but she didn't contemplate flying off which was a huge deal. Flying her in the huge gym with 60ft rafters and plenty of those high places to land was also a scarier time. I was less certain of the outcome in that gym than I was at the park. Although she would remain confined in the gym should she fly off, I had absolutely no idea how I'd be getting her (and moreso Truman) from those places. At the park, I have seen exactly what she would do countless times with her harness. I try to fly the birds such so that the harness never actually confines them by moving around myself to allow for slack.

I was not out to prove anything or show this to anyone. I did not do it for the purpose of sharing it online either. Just in retrospect I thought it was an interesting story. I was just there in the moment and I knew this was something that could be done. Kili was poised to fly to me no matter what so I realized it really didn't matter if she was harnessed or not.

Kili's first outdoor freeflight was nothing like I might have pictured. There was no safety line, no netting, no transmitter, no pre-printed "lost parrot" fliers (although I do have one made up on my computer for each parrot but more with the mindset of in case of an accidental house escape), no helper or spotter, no camera. I did not even tell anyone in advance to be available just in case. I did not come to the park with the intention of freeflying and this was probably the best part of preparing both myself and the bird. We just did everything exactly the same as we would normally do so it wasn't unpredictable or frightening. In fact it was very predictable. The relationship and training experience holding Kili in my vicinity was far stronger than any harness! This is the main reason I feel safe using the harness in the first place.

All that said, I still have anxiety over all this and will continue to use the harness for my own peace of mind. I am glad her skills are there and perhaps under the same perfect circumstances we will repeat this. But for the most part, I will opt to keep using that lifeline that lets me sleep at night knowing my parrot is alive and well.
The primary purpose of training our pet parrots is to get them to behave more how we would like. Whether that's not going on your furniture (by staying on parrot perches), flying to you on command, or going back in the cage when it is time, training can help. However, training is useless with motivation. The owner needs to be motivated to train as well, but I'm talking about the parrot's motivation to do as the trainer requests.

From a behavioral standpoint, motivation can be measured by the rate of learned responses to stimuli by the parrot. The motivated parrot is more likely to perform the behavior, with quicker promptness, with greater accuracy, for more repetitions, for a great span of time. A motivated parrot will also learn new behavior quicker.

In the early stages of parrot training, motivation may be less crucial. The very basic things you need to teach at first such as step up, targeting, and taming may be successful with the bare minimum unmanaged motivation. However, when you wish to proceed to more challenging behaviors, motivation will play a tremendous role in whether your succeed or not. Besides teaching or performing tricks, motivation is essential for flight training exercise, harness training, socialization toward strangers, solving biting and problems, and for all around good behavior.

Since food motivation is most universal and replenishable, I will mainly focus on managing motivation with food. However, I similar approach can apply to toys, attention, petting, and other things you may find motivate your parrot. There are three key elements to controlling motivation from food:

-Quantity/hunger
-Quality/desirability
-Effort to gain it

I covered the importance of weight management in my previous article. The main reason to manage your parrot's weight is to keep it healthy rather than for training. However, with your parrot's weight already managed to keep it at the optimal healthy weight, motivation for food can exist. An overweight parrot with constant access to food will not only be unmotivated to eat, but it will also be less motivated to participate in activity because it is physically harder.

Besides establishing a healthy weight for your parrot, it is also important to implement a feeding schedule. Twice a day for most species, three times a day for the smallest ones, works great. Many zoos and professional shows will go so far as feeding a lot of food but only once a day so that the parrots are inevitably super hungry and motivated by show time. I do not recommend their approach because I believe it is more stressful than spanning food out some.

Another reason why weight management is imperative is to compensate the parrot's training treats from meals. If you don't adjust your parrot's food portions, the training treats (which are normally fattier or sweeter) will implant excess calories and cause weight gain. By weighing your parrot before all meals and adjusting food portions to maintain the target healthy weight, you will be able to compensate for treats and maintain a stable weight long term. Some days the parrot may train better than other days (aside from motivation factors) and thereby receive more or less treats. Feeding the same sized meals may be unfair when the treat portions are different. Compensating this with an adjustment in meal portions will ensure the weight stays healthy and that the parrot is free to volunteer to train or not. Since the parrot's training is voluntary, it is up to us to find ways to solicit maximum motivation without food deprivation that can impact health.

By scheduling food meals and training just before (rather than after), you can expect maximum motivation from mealtime hunger. You can further enhance motivation at training time by padding the prior meal with low calorie foods such as broccoli or carrots. That way the parrot still feels filled up but since it received fewer calories, will be more eager to fill on the next meal. This will be balanced out by the weight management approach by analyzing empty weights and adjusting pellet portions accordingly.

Desirability of treats highly impacts motivation. Part of it is how much the parrot enjoys the treat food but part of it is relative to the food it normally eats. If the parrot is fed nothing other than pellets or vegetables in the cage, it leaves all other foods to be more desirable. I never feed fruit, pasta, seeds, nuts, or pretty much anything else my parrots get (other than pellets or vegetables) in the cage. Since they don't need these other foods in abundance anyway, saving them exclusively is treats not only helps motivation but is healthier.



There is also the desirability of certain treats over others. This can be a great aide in training. There are two ways to improve motivation based on the relative value of different treats. You can generally use less favorable treats but then mark major success with the better treats. The other approach is to mix all treats and provide different ones randomly. This approach is good for sustaining motivation because the parrot never knows what it's going to get. It must keep trying because the next treat may just be a whole nut. This also helps ensure the parrot does not get bored of the current treat. If you keep using the same treat, once the parrot no longer wants that specific food, motivation will diminish. Learn about choosing and evaluating treats here.

But now I want to get to some of my more interesting discoveries about managing parrot training motivation. My goal is to maximize motivation for specific tasks and to sustain it for a longer period. The reason both of these are important in training is because if you can get your parrot to do difficult tasks or endure long sessions at home, you'll have much greater success for easy/short tasks when you really need your parrot to deliver. For example if my parrots can fly 50 flight recalls (50ft out and 50ft back) in a training session, the likelihood of them making the one critical recover flight when lost outdoors is greatly improved. So you see this isn't strictly for training them to perform in shows.

Strong motivation is needed for the more complicated or strenuous tasks. Flying requires greater motivation than waving. A lot more. The parrot can probably wave 100 times for the amount of energy it takes to fly 100 feet. Does that mean we have to give a treat that is 100 times better? No. The biggest reason is because the treats we are giving for something small like wave is far excessive of what it could be. If my parrots can fly a dozen 50ft out and return flights for a single sunflower seed, then they can do the wave trick for an infinitesimally small treat or do an insanely large amount of waves for a normal treat.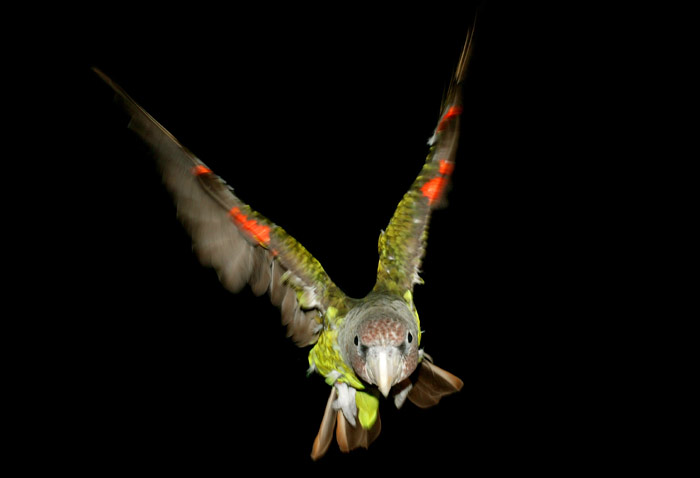 Now this doesn't mean that the parrot just learning to wave thinks it's any easier than flying. While teaching the trick and shortly after, high motivation is in fact required. But once the trick is learned, in order to increase motivation for other things, you MUST challenge your parrot further. You must always strive to get your parrot to do more for less. This is the secret to achieving outstanding motivation. When my parrots normally have to do 20-50 flights an evening for a dozen treats, performing tricks at a show is comparatively easier and the motivation is extremely high. Likewise when I needed to work on Socialization to teach my parrot to stop biting strangers, I was able to make the situation far more desirable by differential reinforcement. Since the parrots normally have to do so much for so little, I can solicit an insanely strong level of motivation for comparatively easier task. For example step onto a strangers hand for 5 seconds without biting and I'll give you the same treat you normally have to fly your butt off to earn.

Obviously you're not going to jump from teaching a parrot to wave to flying 20 times for a treat. You need to build your way up there. This is why I always say you must challenge, challenge, challenge your parrot. When you challenge your parrot to wave a little higher, wave a little longer, wave for a smaller treat, wave more times for the same treat, you are teaching your parrot to be motivated by less! After some months or years of this constant sort of challenge, the parrot develops a tremendous level of capability and motivation. When you go from 1 treat for 1 wave to 10 waves for a treat to 50 waves for a treat (using variable ratio reinforcement), you have diluted the treat ratio so far that it virtually looks like your parrot does the trick without any reinforcement at all. All you have to do is occasionally reward that trick out of the blue to maintain that variable reinforcement ratio level. But this goes even further where you can maintain tricks with no food reinforcement at all. When the parrot can wave 20-50 times (and I mean in separate instances, not at once) before getting a treat, that parrot can just as well wave for a little attention or a head scratch. The motivation level required for performing the trick has become so low that virtually any minor reinforcement will suffice!



If you are not challenging your parrot to do better, more, for less, you are actually regressing in your training. Think about a parrot with a foraging toy. At first it can't figure it out but once it has, it gets the treat out in no time and the foraging toy becomes useless. It is similar with trick training. After the parrot "gets it" that picking up its foot gets it a treat, it takes less effort to do it. There is also the exercise component as well. After waving daily for a week, that foot is stronger and it is even easier still to wave. So if you are still giving the same quantity/quality of treat for the same behavior, you are in fact making your parrot give you less motivation (not more and not the same as before)! The only way to increase motivation is to increase the challenge, reduce the quality of the treat, reduce the quantity (break off a smaller piece), or increase the number of behaviors it takes to earn it (chaining or variable ratio reinforcement).

The point about exercise is not to be taken lightly either. If you fly your parrot regularly, their flight muscles become stronger and the amount of motivation to take an extra flight becomes less. You can challenge your parrot to fly further, more times, and for fewer or less desirable treats. This ensures that motivation continues to increase in the long run.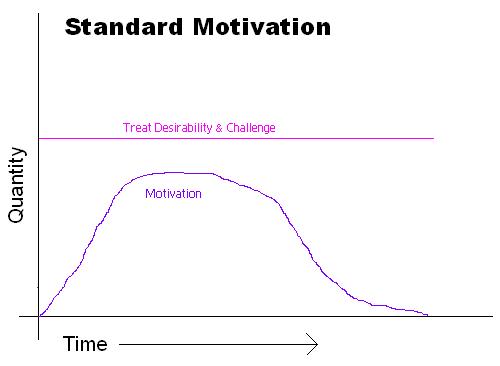 Sustaining motivation for duration is another part of the equation. If you can manage a 30 to 60 minute training session at home, 5 minutes of glory in front of your friends or an emergency flight recall are going to be more successful. Sustaining longer durations of motivation is also great for molding good day-long behavior from your parrot. If the parrot can spend an hour doing what you ask, it can also learn to do it any time of day outside of training. Here are three tips for sustaining motivation longer. First do all of the above for maximizing motivation and minimizing treats. By giving smaller treats, using variable ratio reinforcement, and making the tasks easier with time/challenge, your parrot will be able to continue to go longer before it is too tired or full. The second thing is to compensate the treats/difficulty with time. In the beginning of the session, start out with small and less desirable treats. But as the session progresses, you can squeeze motivation for longer by increasing the desirability of treats to keep the parrot going. Lastly, begin the session with tougher training and progress to easier tasks as you wrap up.

Varying levels of motivation required depending on challenge:
(from low to high motivation requirements)

-not doing anything (being tame)
-overcoming minor fear (taming)
-stepping up
-performing easy known tricks
-performing complex known tricks
-learning new tricks (training)
-overcoming bigger fears (i.e. socialization/strangers)
-flight recall (and other flighted behaviors)
-flight recall amidst distractions (outdoor harness/freeflight)

So to make the most of the motivation in a training session (after a warm up if one is needed), begin with more difficult or strenuous tasks first and then work your way back toward easier things by the end. For example, let's say your parrot knows 5 tricks, step up, and flight recall. But at the same time you're teaching a new trick and working on getting the parrot to let you grab it. To maximize training motivation and get the most out of a single training session, work on some flight recalls first, then teach the next portion of the new trick, then practice some old tricks, and end the session by taming. Since the taming process for grabbing merely involves the parrot tolerating your hand's presence or touch (without spending any effort), the parrot will still gladly take treats while you work on desensitization. If you worked on the taming in the beginning of the sessions, your progress would have been marginally better. Yet the parrot would not be hungry enough to be motivated to flight recall to you after getting a bunch of treats for taming.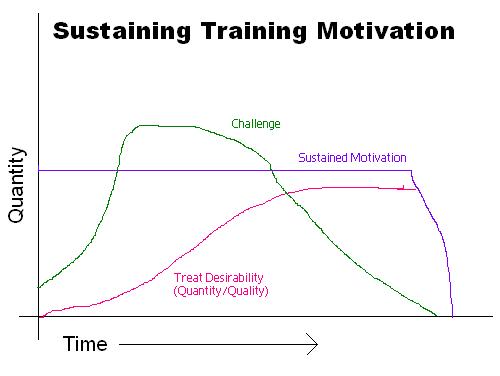 Finally, here are a few more little tricks you can use to maximize motivation during the training sessions when you really need it (or inadvertently get it). My parrots seem to get really motivated to eat when rain is approaching. That makes sense, they probably naturally want to fill up before they can no longer feed. Even if this is occurring midday or when motivation isn't expected, it's worth trying some training and it gives your parrot the opportunity to earn food when it wishes. Sometimes I have to leave early so I uncover my parrots and leave their meal. Naturally they eat it right away but a byproduct is that they are more hungry come training time. I take advantage of this heightened motivation since it is already there. I don't normally do this intentionally but if there is a training session where I want to stimulate greater than usual motivation this technique can help. It doesn't work long term though because then they just get used to a different feeding schedule. The last strategy that can sometimes help boost motivation is skipping training on occasion. Sometimes the birds just get bored and need a break. By skipping a session, it also means they are missing a chance to get treat foods. After a few days of not getting to have treats, even without major hunger, there may be a stronger motivation to earn it.

Thus the secret to teaching your parrot to be more motivated is to keep training and challenging it! The more difficult stuff you can get it to do, the easier it will be to get it to do the easy stuff. Sustain motivation longer by diminishing the difficulty of tasks throughout a training session while increasing the reward value. Exercise your parrot's muscles and brain through extensive flight training. As your parrot becomes stronger, flying will be easier and likewise it will be more motivated to fly. So there's nothing silly about teaching your parrot dozens of tricks, it just makes the parrot even easier to teach something new. Have fun.

Check out this video that demonstrates varying degrees of motivation from some previously unused clips.

Foreword
Alternatively the title could be: Cages By Design, The Most Flawed Product I Have Ever Bought In My Life. I do realize that this article is very very long and so is the video. However, so much has happened and there was no way I could have shared the idiocy of what happened in anything shorter. I never planned for there to be so many problems or to hold back on publishing this article for so long. It just happened to be that this was the worst cage I have ever come across and the details of this article will sound like a riot! Really, if it weren't so frustrating it would just be funny.

This is a must read for anyone thinking of buying anything from the company Cages By Design, contemplating an outdoor aviary, has an outdoor aviary and might like to pick up a few suggestions, or is just in the mood to read the most outrageous product review of all time. I think once you get started, you won't be able to stop. Thanks for reading. Here is my misery for your reading entertainment...


Deciding to Get An Aviary
Back in July, while having lunch with my mother, we talked about how great it would be for my parrots to spend more time outside. She suggested putting them outside in my backyard in a cage so they could get some sunlight and fresh air. I immediately knew that putting them outside in a regular cage was not an option but this got me thinking. I started researching ideas about building or buying an aviary to put in the backyard. I had not previously considered this because I used to have just one parrot and didn't particularly think the backyard suitable. However, now with two birds the concept has become much more appealing.

At first, I was looking into options of building a wire mesh enclosure myself. The main things that were discouraging me were that I would have to deal with zinc covered steel mesh (zinc is toxic to parrots) and that it would end up looking really bad. I looked into the cost of materials and decided that building an aviary vs. buying one was not that drastically different in price and that a manufactured one would not only be a major price saving but also hold up better in the long run. There are very few aviaries available on the market so my selection was quite limited. I do not have a lot of space available so I wanted to find the largest aviary that would conveniently fit my area. Having seen advertisements and heard things about Suncatcher aviaries made by Cages By Design in the past, I was keeping them in top consideration as I searched for an aviary manufacturer. I was in a hurry to order one as soon as possible so that I could get the birds into it before the summer ends. I decided that getting Truman used to being in an outdoor aviary while he is still young would be best and prepare him for spending lots of summers outdoors.

Initially I was looking at their smallest aviaries but decided that in the long run it's better to go all out and buy the largest one that I can fit up front. I only had Truman for a very brief time at the point that I was deciding to get an aviary. It was right around the time (or possibly just before) I introduced Kili to Truman so I was really uncertain if the two parrots could share an aviary space together. I really had no idea how they would ultimately get along so I wanted to play it safe. I found an 8'x5' walk in aviary with a divider. Essentially it is the same as a regular version but it provides a panel to divide the aviary into two and has an additional door for retrieving the second bird out of the other side. It would be very costly/difficult to add the divider to the regular aviary later so I decided to shell out up front to buy the one with the divider and extra door included.

I was almost ready to confirm my order when I discovered a different website that was offering the exact same cage for $110 less than CagesByDesign. The other site was merely a reseller and would most likely defer the order directly to the manufacturer anyway. I pointed this out and offered to still order directly as long as they would match the other retailers price. There was practically no way they could turn this down because if I went to the other retailer, Cages By Design would still end up manufacturing the cage but would then be paying a commission or a certain cut to that retailer anyway. After a bit of back and forth they did agree to match the price.


Additional Considerations
Since ordering, I came to realize that Kili and Truman get along well enough and that I probably won't need to actually divide it. I began training them together and encouraging them to play closer and closer together. I began having doubts if the divider would really be necessary. The other add on option that I ordered was the friendly feeder system. I decided to just have the feeders put in initially (so the holes in the wire could be made at the factory) and then decide later if I want to use them or not. I figured worst case, I could just have them installed and leave them closed and not use them.

A few weeks since ordering, I was considering various security precautions involved with having my parrots outdoors. When I mention security precautions, I am as much talking about escape as theft. I live in a very dense urban environment and an intruder entering the yard is not impossible. In order to be able to use the aviary effectively, I would need to be able to leave the parrots there unattended. There would be no point for me to use the aviary attended only because then I may as well just take my parrots outside on a harness. The purpose of having an aviary is to be able to leave them in there for multiple hours unattended in the day time so they could have more space to fly and play than in their cages at home as well as getting some sun and air. Additional security concerns include other animals getting into the aviary and some sort of natural elements tipping the aviary over.

I decided to bury a wire mesh underneath the gravel in the yard and connect it to the cage both to serve as a foundation and to thwart burrowing rodents from getting in. To reduce the likelihood of someone trying to steal or "liberate" the parrots, I bought heavy padlocks to use on the doors. I considered security concerns from different angles and came up with solutions. The only major concern that remained was the friendly feeders. I called the company to find out how the feeders are connected and it turned out that they are merely screwed in with a few screws. If I am padlocking the door latch, it is pretty silly to have a feeder installed that is merely held on by a few screws. I asked if they could rivet the feeders in or come up with a more secure method but they could not. I was worried that it was too late to cancel the feeders but they told me that my cage was still in production and that they would cancel the feeders for me.

A few more weeks passed and Truman had sustained a leg injury. I was disappointed that he would not get to go in the aviary when it would arrive. I resolved not to put Kili in the aviary before Truman as she can get very territorial. I wanted to introduce them to the aviary simultaneously or Truman first so that he could be more comfortable in it. I did not have any warning of the day the aviary would arrive and was starting to worry the company wasn't sending it out. Finally on August 10th the aviary arrived. It took longer than the 2 weeks the company suggested it would take but still within their 4 week guarantee. I got a call at 9:50AM the day of delivery that the truck was coming. It turned out he was a just a few blocks away and I had to rush out to meet him. I also had to scramble to get my father and brother to come over to help carry all the parts in.


Accepting the Shipment
The truck arrived and I was prepared to collect the parts for the aviary. Lift gate service would have cost an additional $125 at the time of my order so I opted to retrieve the panels from the truck myself. It turned out that the truck did have a liftgate but the driver did not use it. Instead he passed the panels to me one at a time. His help was appreciated. I did not see any instructions or hardware amongst what we had removed so I had to climb into the truck and check amidst the packaging to see if anything was left behind. Sure enough the instructions and pack of bolts got buried in the packaging materials. I could not find anything else but was concerned that the package the aviary came in was already opened before arrival and there were parts scattered around the truck. I was also disappointed to find the friendly feeders and the holes cut out in the panels considering they told me it was no problem to cancel them several weeks back. Furthermore they had charged me fedex shipping for the feeders (because they could get damaged in cargo shipping with the aviary) and yet they came on the pallet with the aviary.


Beginning Assembly - The Problems Begin
Between the three of us, we lugged the aviary piece by piece through the building and into the backyard in no time. My brother and I continued preparations and assembly on our own beyond this point. The next thing to do was to move all of the gravel in the yard off the space where the aviary would go. It was my intention from the start to place the aviary below gravel level and then bury it into the yard. I wanted to move the gravel aside a day in advance but I did not have enough notice about the delivery to prepare in advance. It took a few hours to clean up the yard, pull any weeds, and move the gravel aside. Finally the space was prepared and I was hoping to complete the assembly of the aviary the same day. I tried to study the instructions but they were a mere two pages with nothing more than some primitive diagrams. I decided that I'll just refer to them and figure it out as I go.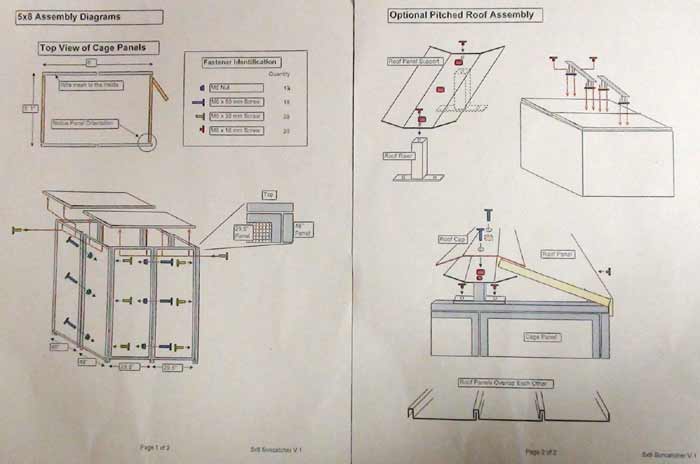 Inaccurate and pretty unhelpful instructions for Suncatcher Aviary


We prepared to start assembling the aviary by bringing two panels together to form a corner. I attempted to bolt them together but the holes didn't line up. So I realized that one of the panels were upside down. We flipped it over and tried again. Still the holes wouldn't line up. We tried swapping with other panels and all sorts of methods to figure out how they could possibly come together. After half an hour of being stumped by this dilemma we concluded that it must be a manufacturer defect because there was absolutely no way that those panels could be joined with the holes so misplaced. Thus I called the manufacturer to bring this up and offered to send them digital photos demonstrating the discrepancy. I also voiced a displeasure with the fact that they had agreed to cancel the feeders but cut the holes for them anyway.

After reviewing the photos the manufacturer agreed that the holes were in fact misplaced. They offered me either to ship the defective panels back and wait a really long time for a new set or to accept a $250 refund to make up for the feeders and redrill my own holes. At this point I preferred the drill my own holes option. I had already waited so long for the aviary and any more wait would mean the birds would not get to go outside this season. Furthermore I did not look forward to loading everything back up on a truck, cleaning up, and then going through the same all over again. At this point it appeared that 8 holes would need to be drilled in a different spot. Luckily I have the tools and capabilities to do this but for someone just expecting to snap this thing together it would not be possible.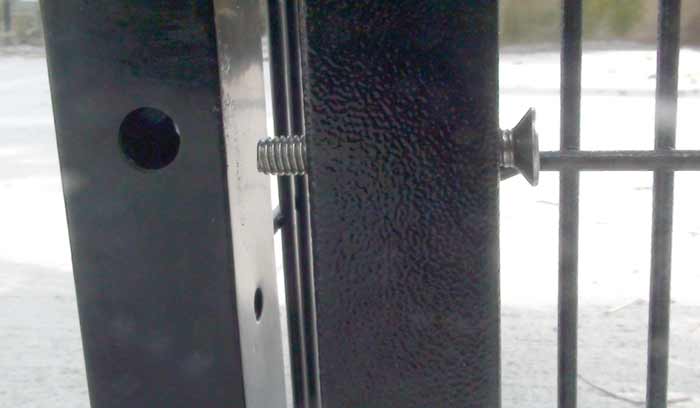 You can see the hole the bolt is meant to go into is actually too low


I checked the diameter of the bolts and picked a suitable drill bit. Then I measured where the holes needed to be in order to line up and marked the spot on the panel. I used an awl to prepare a pilot hole and then measured again to verify that the hole was accurately placed. Clearly someone did not hear of measure twice, cut once. Finally I used a power drill to make the suitable hole. I drilled the holes in just one panel to make sure it works before drilling any more panels. The holes lined up perfectly and it was very easy to get the bolts through. The allen key supplied with the kit is a joke. Instead I used my own ratchet wrench with metric allen key tip to have suitable leverage and back/forth motion to screw the bolts in.


More Problems
Then I discovered yet another problem with the aviary design. Some of the holes were too large and the bolt heads were falling into them. This clearly defeats the purpose of bolting things together. The solution was very simple, just a matter of adding washers to all of the bolts. There was really no reason for the manufacturer to be so skimpy and not include washers. However, for me it was not the expense but rather the extra trip to the hardware store that was a burden. I used washers for all of the bolts regardless if the holes were over drilled or not because they help make the connection more secure. Another specific tool required to assemble this aviary is a metric wrench for the nuts that secure some of the bolts. Once again without a washer they fall right in but the same washers that solved the bolt head situation, I used to keep the nuts from falling into the holes. While a metric allen key is included for the bolts, it is up to the buyer to find a suitable metric wrench.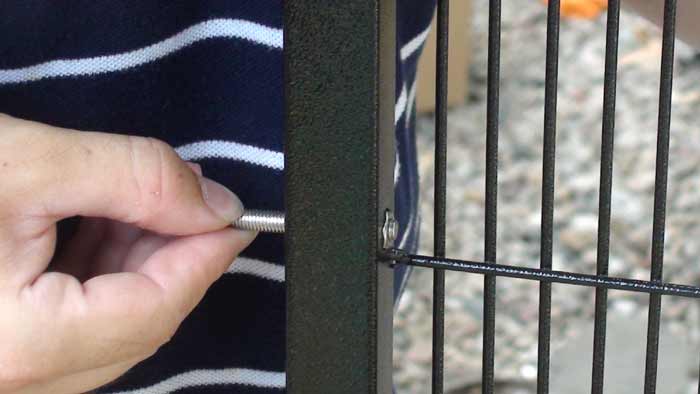 All of the nuts fall in without washers and many of the bolt heads as well


We continued drilling holes one panel at a time and adding them to the assembly. While it may have been easier to do all the drilling at once, I just wanted to be sure that each panel would custom fit. Also I was worried in case there might be any other discrepancies where the holes belong so I remeasured the whole positions specifically for each set of connections. We started getting good at this and were moving along at a reasonable pace until we hit yet another bump. By the time we were ready to mount the door we realized yet another major manufacturing mistake. The door panel has a double vertical tube construction as opposed to the single tube used on the regular panels. This strengthens the frame and creates a place for mounting the door hinges. Unfortunately the manufacturer overlooked the fact that it requires a 1/3 longer bolt to go through three sections of tubing rather than two. Not only were the longer bolts not included, they were not even accounted for in the laughable page of instructions. I wouldn't be surprised if they had never even put one of these together or it would have been so obvious that there are major issues with the kit. While conceivably the mis-drilled holes could have been a defect only specific to my order, it seems that the lack of washers or required longer bolt is standard across production as the instructions do not specify these as components in the package.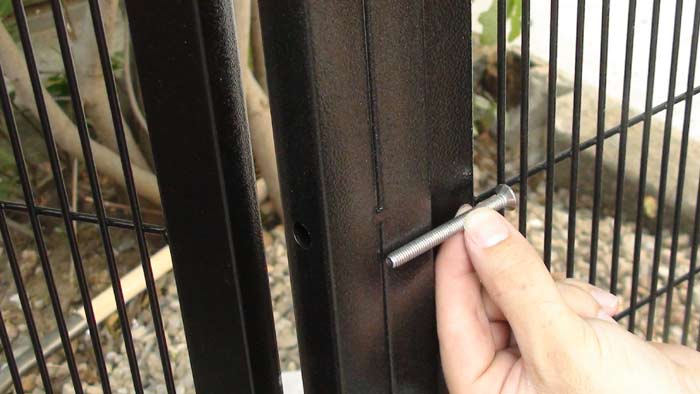 The longest supplied bolt was still too short to join 3 tubes at the door frame


So yet again I had to make a trip to the hardware store and I was lucky to just make it before closing time. I requested a bolt of the same metric thread but 1/3 longer in length. Unfortunately metric bolts are difficult to come by around here and limited in selection. So the proper bolt was unavailable. We decided to go with an imperial bolt of similar diameter instead. Since the holes were over drilled, the imperial bolts fit through and I was able to lock them in with a nut. The trouble was that imperial bolts of that length were only available with a protruding hex head. This head extended into the gap between the frame and door and was making it difficult to shut the door. By over tightening the bolt and allowing it to bend the tubing in a little bit, the problem was solved. The panels were secure and the door could open and close freely.

When we bought the long imperial bolts, we bought extras to account for the second door. However, because of the way the second door panel mounts in reverse, the longer bolts are actually unnecessary. But contrary to the bolt suggested by the instructions (the medium bolt of the set), the longest bolt in the set is necessary to make this attachment. Luckily two longer bolts remained from the other side which were replaced by the even longer imperial bolts so they solved this issue with available hardware. Then we came across another set back. This one had to do with our ground configuration rather than cage assembly.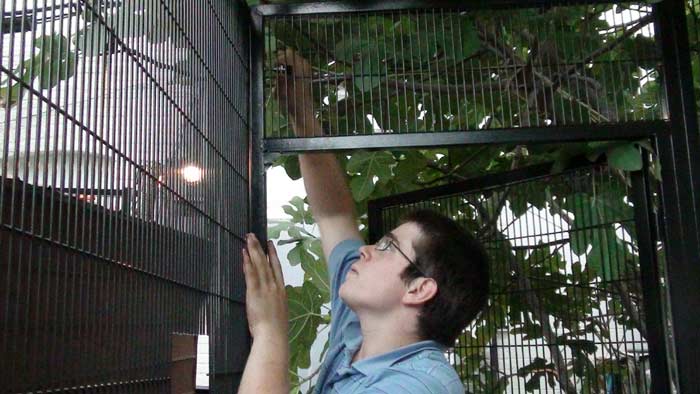 My brother bolting a corner together with our own ratchet allen key
Ground Troubles
We had assembled all the aviary sides so it was beginning to take shape. While we didn't expect the aviary to stand perfectly on uneven ground, we had a problem because one side was barely touching the ground entirely. One of the trees in the yard had a shallow root that was forcing the cage to stand out of balance. This would either require elevating all other sides or breaking the root a bit. Since the goal was to bury the aviary in the first place, raising it was the least preferred option. So we looked for ways to break a notch into the root to get the aviary to stand a little lower and more even. Digging, chiseling, and sawing proved ineffective. The tedious solution that ended up proving helpful was to drill a plethora of wide holes in a series using a spade bit. The tree has many roots and I'm sure this one will heal itself around the cuts anyway. The root was very hard and the process took a long time. Finally we had a 2" wide by 10" across groove to drop the aviary side into and thereby bring the entire aviary closer to level and supported. The drilling had taken longer than expected and we were completing it in darkness.


Let's Not Be Too Optimistic
The following day we continued the project, starting out with mounting the top panels. I was excited that at first these did not seem defective as the first few holes that I tested lined right up. No sooner was I excited that finally something was not screwed up than it turned out that other holes in the same panel were in the wrong places. I had to unbolt the panel and take it down to drill holes. The defects were not symmetrical which made this all the more confusing. I had to verify each hole individual prior to redrilling them. The other top panel had the same problems. Once again this ended up turning into an all day affair because of new problems left to tackle.


Major Parts Missing
After mounting the top cage bars, we were ready to proceed to configuring the roof. I had previously seen that all the roof panels were packaged together and gave it little thought. Since there are so many components and much complexity, I was trying to work on the aviary in a linear fashion and tackle problems as they come. If I had known there would be so many problems, certainly I would have preferred to check everything up front but from a practical stand point that would have been very difficult because of limited space. So as we unpackaged the roof panels, we discovered that the roof risers, supports, and caps were entirely missing. I tried to call the manufacturer about this but it was already late in the day and they had closed. So the only thing to do at this point was to put this off and continue working on the bottom.


Preparing the Aviary Bottom
We unrolled the wire mesh I bought to line the bottom. Although it is galvanized, I am not worried about the parrots getting zinc poisoning as the mesh would be buried under several inches of gravel. We briefly lifted the aviary and pushed the mesh underneath. This way the aviary actually stands on top of the edge of the mesh and a few inches protrude outward. It took two pieces to cover the entire width of the cage but the overlap is not a problem at all. To create a bonding strength of a whole mesh underneath the aviary, we zip tied the two pieces of mesh together. Then we zip tied the ends of the mesh around the entire perimeter of the aviary spaced every few inches. We also added a dozen stakes into the mesh at the corners and various points around the aviary. So the aviary is securely tied to the mesh and the mesh is staked down to the ground. If that isn't enough to hold the aviary from tipping over, then the hundred of pounds of gravel we replaced back into the aviary surely will.

An insightful move on my part was to buy 6 bags of additional gravel and a huge bucket that was on sale. I wanted to make the gravel higher inside the aviary than out to help water flow outward and away from the aviary. Also the extra thickness keeping the birds away from the mesh was a good bonus along with the added weight. The bags of gravel made it easier to carry them straight into the aviary. They were a different colored rock than the ones existing in the yard so we buried these deeper so that they would only contribute to depth rather than surface. Then we used the large bucket to carry loads of gravel back into the aviary. This was much easier than carrying it one shovel load at a time. It was easy to rake and shovel the area clear before the aviary but carrying it through the door was solved by the bags and bucket solution.


Payback
The following day I got a hold of the manufacturer and explained yet another problem (missing roof hardware and missing feeder hardware). After discussing with the manager and owner, they agreed to overnight all missing hardware to me as well as a $500 refund for defects. The hardware did not arrive the next day but rather the following one. We attached the roof risers and supports and then I prepared to start mounting roof panels. Yet again it turned out that supplied hardware was inadequate. I was 8 bolts short of being able to attach the 8 roof panels (one each). If the bolts were a normal thread, I would have just gotten them at the hardware store but these metric threads are really impossible to source. So there was yet another call to the manufacturer and some more waiting to do. 5 more days passed until I received the required bolts.




$500 refund check: "Compensation in full for defects"
Finally Raising The Roof
Mounting the roof panels was fairly easy but then it took hours to get the caps onto them. The bolts for mounting those are just barely long enough but when you have to bolt in a bolt in the deepest part of the cage from the very top strictly by feel, a bit of extra length would have made it all the more possible. The roof is very thin and flimsy so standing on it is out of the question. I had to stand on the top most step of the ladder and hang over the aviary to try to get the bolts nearest the center into the blind hole. This was extremely difficult and probably one of the most dangerous parts of assembling the aviary. It also requires pressing down hard on the roof panels to get them low enough to get the barely reaching bolt in and then a lot of pressure is required on the wrench to get the bolt to thread inward. A longer bolt would have been a very relieving solution, but hey I don't think they have ever put one of these together on location so what would they know?


Not So Friendly Feeders
Next we made some alterations to the so called "friendly feeders" to make them a bit less friendly and instead more secure. Basically we used a drill press to put a lot of holes into it to zip tie things permanently shut. Originally I wanted to rivet the feeders into the aviary but I was worried about shattering the plastic. So instead we drilled holes and used a ton of zip ties in addition to the bolts that were sent to me in one of the follow up packages. As for the food bowl, I was absolutely not going to chance losing my birds to the security of a little flap on a flimsy screw holding the bowl from falling out. Considering my escape artist parrot had managed to get out of her cage when it wasn't double latched, I'm not going to take a remote chance of that outside. Once again it is also a theft concern as well because someone could remove the food bowl and reach an arm in through the feeder.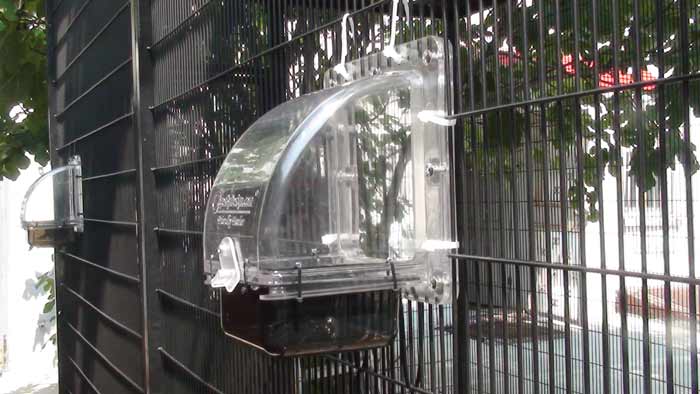 We added many zip ties to make the friendly feeders more secure


Since I was prepared to cancel the feeders all together, I was not concerned about the loss of convenience by locking the food bowls in permanently. We just added holes on all sides of the food bowls and zip tied them into the feeders. Not only does this prevent them from being able to slide, but it also eliminated the undesirable gap between the food bowl and the feeder. I do realize that my parrots could chew through the zip ties but I figure that quantity is on my side. I am likely to be able to catch that some are getting broken and replace them or come up with tougher solutions if it really becomes a problem. Recently I found a stainless steel equivalent to zip ties so I'm holding onto those in case I need such an upgrade. As for intrusion, I believe the same ideas apply. All of the reinforcements that I added increase the difficulty of a break in and thus make it less lucrative than a snatch and run. I seriously don't think that even with proper tools that it would be possible to break into that in cage in anything less than 10 minutes. Considering how much effort it took to build that aviary, I am certain it would take no less to take it apart. Cutting wire ties, unscrewing bolts, cutting the cage bars are all possibilities. However, these are all so numerous that it would require some heavy tooling and a big loud job to make it happen. Everything is protected multiple times. This is the best deterrent that is working on my side. I also plan to hang a security camera from a vantage point facing that way so I could keep an eye on the birds when I am not outside.


Completion
Finally by the 10th day the aviary was complete.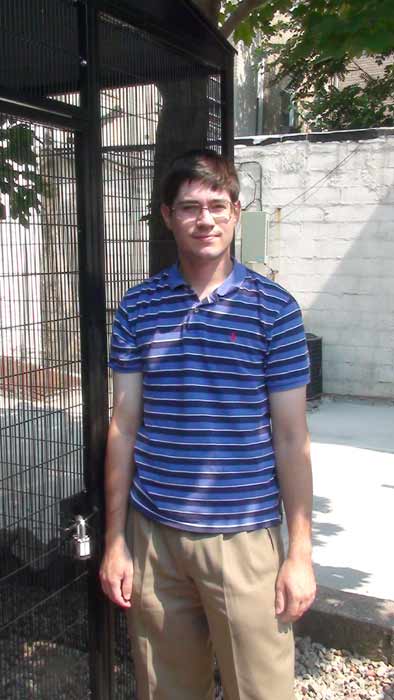 Standing by completed aviary content to finally be finished



Here is an approximate break up of the the time consumed on this project:

-Unloading truck and moving all parts to the site: 30 minutes
-Preparing the space for the aviary: 4 hours
-Redrilling defective holes: 3.5 hours
-Assembling cage and roof: 6 hours
-Adding security measures including bottom mesh, stakes, wire ties: 3 hours
-Calls/emails to manufacturer about problems: 2 hours
-Making additional trips to the hardware store: 1.5 hours
-Waiting twice for missing parts to arrive: 8 days


Assembly Video
Cages By Design Product Review
So here is my overall review of the 8'x5' Suncatcher Aviary made by Cages By Design:

Except for the inaccurately helpless instructions, incorrect hole alignments, useless allen key, bolts falling through, unsupplied long bolts, dangerously insecure friendly feeders, missing feeder bolts, missing roof supports, missing roof bolts, poorly thought through assembly, frequently chipped powder coat, often weak or broken welds, inaccurate and poor workmanship, long turn around time, and exorbitantly high price... excellent!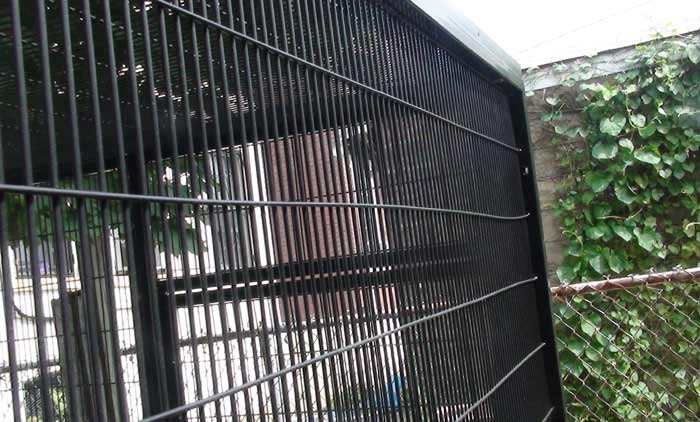 You can see how the cage bars are wavy. It's difficult to show the broken welds.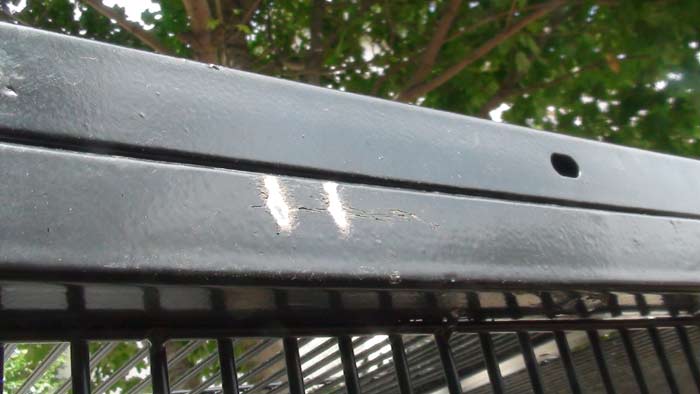 Just one of many examples of chipped powder coating. Honestly not sure if factory defect or caused in shipping


Basically if you are not a handyman or planning on hiring one, you can forget about ordering this product (or probably any product at all from this company, I can only imagine how these quality control standards carry over to other cages). On the other hand if you are good enough to tackle this kind of project, then you can probably build one of these on your own from scratch in about the same amount of time. The simple truth is that I had absolutely no idea that this would turn out to be such a nightmare. Once I got started, I was just drawn into fixing endless problems with this aviary. For the kind of money they charge for this product (and even taking the $500 refund into consideration), this is an absolute rip off. You would expect a high quality, professionally designed product that assembles easily for this kind of money but instead you get stuck with a tedious repair project.

I am convinced that the difficulties I had assembling this aviary are not an isolated incident but a complete design flaw. Online, I was surprised to read that other people had the exact same problems building this aviary. I also happened to meet some people who own this kind of aviary and they confirmed having much the same problems. For these reasons, I am quite certain that Cages By Design produces flawed products that are insanely overpriced. If they put have as much effort into design and quality control as they do marketing, they would have a more usable product.

Believe me, I was not predetermined to write a bad review. I was very excited to be getting an aviary for my parrots and would have been thrilled with the product if it just went together and my parrots could enjoy it. If there were only a single issue (say just feeder hardware missing), I could forgive that as an honest mistake. But when practically every component of assembly was laden with major flaws and things were missing, it is impossible to feel anything but cheated. Actually I (wrongly) assumed that for that kind of price everything would be perfect and that I would be able to make a video and go on to write a review about how fantastic the aviary is. I was actually hoping to be able to write a good review of the product and then strike up an advertising deal with the company. Their ads have already been flashing on my blog through google, so I wanted to approach them directly. However, now with the knowledge of how flaws their products are, I could not in my right mind ever recommend them to anyone. In fact I will be making sure that even through the automated google ads, that their advertisements never appear on my website. I would feel terrible if someone had to go through what I had been through as the result of seeing their marketing on my website. I would not go so far as calling their operation a scam as they did work with me and send me required parts and a partial refund. However, I can definitely say that they do as poor a job as you can imagine but at premium prices.

Originally, I wanted to be able to promote outdoor aviaries for parrots by demonstrating how easily I build mine and then how much they enjoy it. Unfortunately I did not find this economical or easy at all. Furthermore in my search for a suitable aviary, I did not come across much competition. So I am disappointed that at this time there is not a single commercially built aviary that I can recommend to my readers. Perhaps some day when a quality aviary appears on the market, I will be able to suggest it to you but until that day, I am forced to say that outdoor aviaries will only be limited to parrot owners with extensive building abilities and budgets.


---
Kili and Truman's First Time in Aviary
Finally I would like to share with you the first time I showed the parrots the aviary. I had discussed with the vet office manager about taking Truman outside and she agreed that sunlight and fresh air would be good for him. Originally I was contemplating putting his entire tub into the aviary but she was suggesting going with a small cage of some sort. This struck an idea with me that I still had Duke's cage sitting around. If only Truman would fit through the door, I'd be able to leave him in the cage inside the aviary. There is no way I would leave him outside strictly in that flimsy wire cage, but inside the greater aviary this was perfectly safe. The purpose of the small cage served more to keep Truman from flying around the aviary or falling down.

Truman easily fit through the door and had plenty of room to spare. Turns out that's a fairly large cage after all. I did not put any perches in because I think it's best for Truman to stay on the flat bottom. Unfortunately, moments after I had put him in he began climbing the cage bars. Most of all I was worried about him falling and injuring his leg again. I put him back down and then added clips to each door on the cage to reduce the likelihood of him getting out. I grabbed Kili firmly and took them both out to the aviary in the backyard.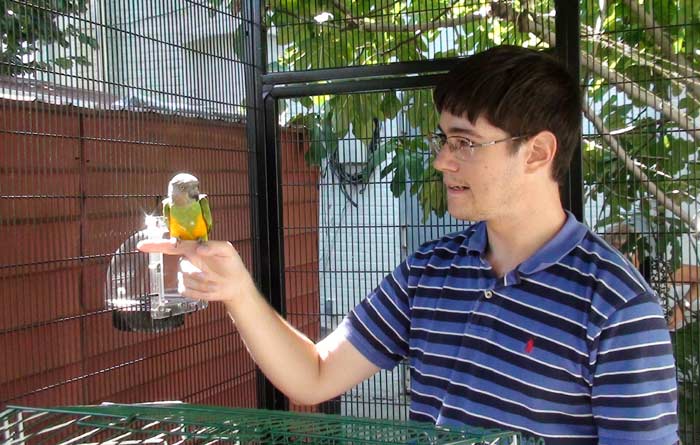 Kili in my finally completed aviary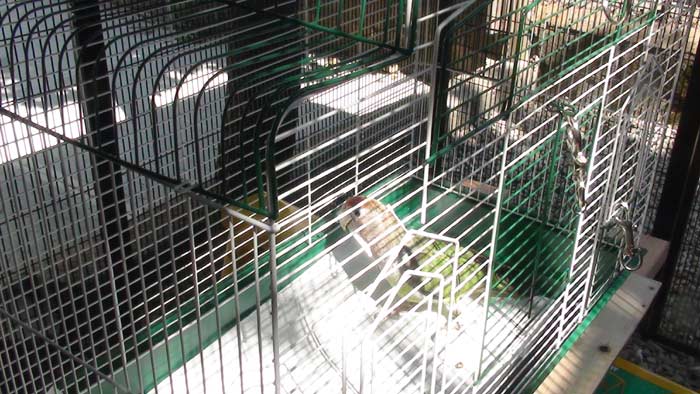 Truman inside of a cage in the aviary


I did not want to put Truman's cage on the ground but nor did I want to hang it from the aviary top. So I devised a provisional table with a set of saw horses, two by fours, and a sheet of plywood. I set Truman's cage down on it. He started climbing again but I waited to see what he would do. After a minute of hanging near the cage top he changed his mind and climbed back down. Thereafter he remained on the bottom and found no more need to climb. I left him outside like this for nearly two hours but I took Kili back inside with me. Later that evening was the first time in a week that Truman exhibited at least the slightest interest toward food. I plan to continue having him spend a bit of time outside each pleasant day in this manner until he fully recovers.