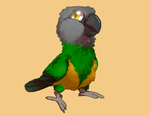 Kili
Type: Senegal Parrot
Genus: Poicephalus
Species: Senegalus
Subspecies: Mesotypus
Sex: Female
Weight: 120 grams
Height: 9 inches
Age: 13 years, 5 months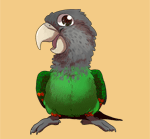 Truman
Type: Cape Parrot
Genus: Poicephalus
Species:Robustus
Subspecies: Fuscicollis
Sex: Male
Weight: 330 grams
Height: 13 inches
Age: 11 years and 9 months old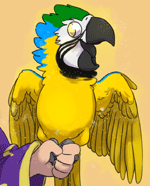 Rachel
Type: Blue & Gold Macaw
Genus: Ara
Species:ararauna
Sex: Female
Weight: 850 grams
Height: 26 inches
Age: 9 years, 5 months

List of Common Parrots:
Parakeets
:
Budgerigar (Budgie)
Alexandrine Parakeet
African Ringneck
Indian Ringneck
Monk Parakeet (Quaker Parrot)
Parrotlets
:
Mexican Parrotlet
Green Rumped Parrotlet
Blue Winged Parrotlet
Spectacled Parrotlet
Dusky Billed Parrotlet
Pacific Parrotlet
Yellow Faced Parrotlet
Lovebirds:
Peach Faced Lovebird
Masked Lovebird
Fischer's Lovebird
Lilian's (Nyasa) Lovebird
Black Cheeked Lovebird
Madagascar Lovebird
Abyssinian Lovebird
Red Faced Lovebird
Swindern's Lovebird
Lories and Lorikeets
:
Rainbow Lorikeet
Conures
:
Sun Conure
Jenday Conure
Cherry Headed Conure
Blue Crowned Conure
Mitred Conure
Patagonian Conure
Green Cheeked Conure
Nanday Conure
Caiques:
Black Headed Caique
White Bellied Caique
Poicephalus Parrots
:
Senegal Parrot
Meyer's Parrot
Red Bellied Parrot
Brown Headed Parrot
Jardine's Parrot
Cape Parrot
Ruppell's Parrot
Eclectus
:
Eclectus Parrot
African Greys:
Congo African Grey (CAG)
Timneh African Grey (TAG)
Amazons:
Blue Fronted Amazon
Yellow Naped Amazon
Yellow Headed Amazon
Orange Winged Amazon
Yellow Crowned Amazon
Cockatoos:
Cockatiel
Galah (Rose Breasted) Cockatoo
Sulphur Crested Cockatoo
Umbrella Cockatoo
Moluccan Cockatoo
Bare Eyed Cockatoo
Goffin's Cockatoo
Macaws
:
Red Shouldered (Hahn's) Macaw
Severe Macaw
Blue And Gold Macaw
Blue Throated Macaw
Military Macaw
Red Fronted Macaw
Scarlet Macaw
Green Winged Macaw
Hyacinth Macaw
Glossary of Common Parrot Terms
| | | |
| --- | --- | --- |
| | | Saturday March 15th, 2014 |
For the last few weeks I have been traveling through Iraq, Iran, and Afghanistan with my dad. The purpose of the trip was to visit and learn in greater depth about these countries.

We ventured to Iraq by way of Dubai. Dubai is a bustling megalopolis erected in the middle of a lifeless desert. Despite lavish extravagance and super modernness, Dubai is fake and uninteresting. Dubai is a hodgepodge of Las Vegas and Disney World, a Mecca of PG-13 entertainment in the center of the middle-east. Attractions in Dubai all seem artificially created to impress tourists while having nothing to do with the country itself.




Despite having a visa to enter Iraq, the immigration process was extremely chaotic. Passport control would reject everyone and make them go get a "visa check" for no reason and this took over an hour and a half. Iraq is not an easy country to come to nor leave.

Starting in Basara we worked our way north toward Baghdad. Nasiriya is home to Ur, the first known capital of a civilized state, the Shumers. A pyramid like structure with multiple levels called a Zikkurat was an ancient place of moon worship. Nearby, the ancient ruins of a once bustling city where it is believed that Abraham once lived.




Much of the violence in Iraq is between Shiites and Sunnis. The dividing difference is pretty much that Shiites believe Ali and his descendents have a direct bloodline to the prophet Mohammed while Sunnis dismiss this. An untold number of deaths have been instilled over this division. The city of Najaf is where Ali is thought to have been murdered and buried. A very holy shrine with Ali's tomb is the landmark Shiite pilgrims from all over Iraq and Iran come to visit. Caskets are carried through about every three minutes. This is not surprising because the worlds largest cemetery is located across the street. Shiite Muslims are honored to be buried near their favorite Saint.




Iraq is a very historic country with fascinating history both old and new. The very first agrarian human civilization formed in the golden crescent of Mesopotamia between the Tigris and Euphrates. This is now Iraq! On top of ancient history, a lot of Islamic history took place in Iraq millenia later.

The world famous ruins of ancient Babylon are located in the center of Iraq. The original gates of Babylon were removed for exhibit in Germany but a replica arch towered marking the entrance. Unfortunately during the reign of Saddam Hussein, he envisioned to turn Babylon into a personal amusement park, the precious archaeological ruins were recklessly restored. The real ancient ruins were buried in concrete and modern construction above. However, not the entire site is restored in this way and it is possible to see what the actual well-preserved ruins look like.




A palace of the ousted fascist dictator sits on a hill overlooking Babylon. We were free to walk Babylon and Saddam's palace. There are no restrictions of where you can walk, what you can touch, or for that matter take. This is one of the most massive tourist attractions in the world that is entirely void of tourists.

The lack of tourists in Iraq does not come as a surprise. The country is havoced by security concerns and plagues by terrorist bombings. Security check points are very frequent. Hours are lost to prove innocence at these points while bombings seem to persist regardless. To enter the holy shrines in Karbala, you have to go through more security checks and gropings than you do to board an airplane in other parts of the world.




In the capital city of Baghdad, it is nearly impossible to see anything. Buildings of any importance are hidden away behind cement barricades and endless checkpoints. In an empty square in the middle of Baghdad stands a pillar where the famous toppling of Saddam's statue – and for that matter reign – was toppled by the people of Iraq with the help of the US military.

The Friday morning bird market in Baghdad may be the world's biggest bird mart. I have never encountered the sale of so many birds in the same location anywhere else in the world. After a frisk search by ak47 armed policemen, we entered the blocked off street with the bustle of the New York Stock Exchange and the shrill calls of feathered commodities. While pigeons, mynahs, finches, and fowl dominated the scene, it was impossible to deny the presence of countless psittacines.






An African Grey Parrot growled a death shriek as a seller yanked it out of the cage to show prospective customers. For about $400 an African Grey can be purchased along with a budgie cage that it will most likely be kept in till it succumbs. Ring-necked parakeets, cockatiels, and a handful of Amazons were also available. Most surprised I was to come across several pairs of Jardine's Parrots for sale. I asked the seller what kind they were to which he said "brown-headed Amazon parrot" although I could not mistake Poicephalus. The Jardine's parrots appeared most sickly of all birds sold at the market, laying on the bottoms of feces laiden cages.

Budgerigars were abundant in cages by the hundred. Seed is sold out in the open. The push and shove of the market marks an unbelievable demand for birds in a country that was until recently war torn. I am glad that people are turning to peaceful past times but the conditions are deplorable. I hope that better care of companion parrots can be learned by Iraqi people so that they may enjoy the thrill of parrot ownership without the animal needing to suffer.




We also visited the Baghdad zoo. This was a place suited as much for people watching as for animals. It turned out that the zoo and surrounding amusement park is the go-to place for Iraqis on a Friday afternoon. One aviary houses a hodge podge of small parrot species from Cockatiel to Senegal Parrots. Another aviary mixed Blue and Gold Macaws with Green-Winged Macaws. The red macaws got in a fight with the blue ones. When I was asked why they were fighting, I replied "for the same reasons that Sunnis and Shiites fight."



Around Iraq it was very difficult to take photos of virtually anything. Photography of security checkpoints or soldiers is very strictly prohibited and just about any direction you look there is some kind of security. To get onto the plane in Baghdad, a total of eleven security checks was required. Cars are not even allowed within miles of the airport. You are required to transfer and pay for an airport approved car which is then checked three times before entering the airport grounds. At each checkpoint everyone must disembark while bomb sniffing dogs patrol and hoods are opened. Security at Kennedy airport is a breeze by comparison.

Erbil is the capital of the autonomous region of Kurdistan. The Kurds are not Arabs and speak their own Kurdish language. They were persecuted by Saddam Hussein and remain skeptical of the new Iraqi government. Yet, Erbil is one of the richest and safest cities of Iraq because of Kurdish trade with Turkey.

In Kirkuk we encountered another small bird market consisting of small shops. I was surprised to see crammed cages full of Starlings. I have no idea what they could be used for and if anyone has a clue, let me know. Again some parakeets and budgerigars were being sold. This was a tiny bird market compared to the one in Baghdad but it still shows how popular birds are throughout the country.

We made an overland crossing from Iraq to Iran which took many hours. The complexity of crossing this border was only comparable to some of the most troublesome of African countries. The border agents had never encountered foreign travelers making their way through these parts and simply did not know what to do. They copied everything from passports and questioned us about everything just to be sure they were doing things correctly. The adventure continues in Iran.


| | | |
| --- | --- | --- |
| | | Sunday October 20th, 2013 |
Kili, Truman, and I had an awesome time traveling around Texas for our recent book signing tour. It all started with an 11 hour non-stop flight from Linden, NJ to San Marcos, TX. The flight was initially supposed to take 10 hours but due to headwinds and barely sufficient fuel, I had to slow down to stretch things a little. The reason for going to San Marcos was to take advantage of a special $1/gallon fuel promotion they were running that month.

While in San Marcos, the birds and I took advantage of the time and car rental to go see downtown San Antonio. The parrots remembered the Alamo and strolled down canal ways of San Antonio.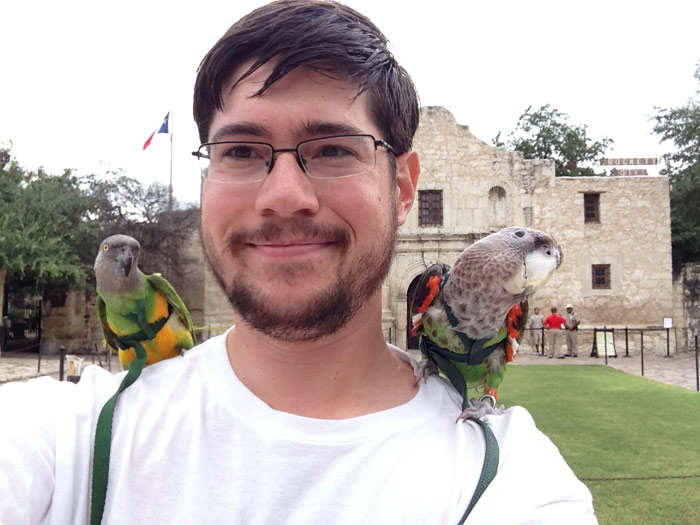 We met the Vintage Mooney Pilots group at San Marcos airport for lunch. The birds showed off some tricks and flying. The more fascinating aspect of this encounter was that I had the birds flying around a conference room enclosed by glass windows on all sides. Despite the amount of potentially crashable surfaces, the birds never hit anything and new exactly what they were doing. I wish I had a picture to share because for a bird that does not grasp the concept of glass, this room could have been a death trap. Kili & Truman understand perfectly.



After gassing up for $88 in San Marcos, we flew onward to Phoenix. We went on a Sunday morning group parrot outing at Joe's and then visited the Arizona Exotic Bird Rescue for a book signing event. I stayed the week with Ginger and worked on a secret project (that you'll have to wait a bit to find out about) and helped out at the rescue. I took care of the morning routine with the parrots by changing food, water, and papers. It's not hard but when there are that many birds, it can take quite a while. Luckily, there's always a bird around who's willing to come along and help out.



Learning that Ginger never gets out for a vacation, I dragged her out and made her forget about the birds for a day. I took her up to Las Vegas which was just a two hour flight in my plane. We walked around the strip and joked about how many parrot themed things we could spot. After gambling away the rescue's veterinary fund (just kidding), we flew back to Phoenix.



As close as Ginger has ever been to New York, New York. But in Las Vegas.




When the week ended I bid Ginger goodbye and returned to Texas with the trained parrot duo for some more weekend book signings. We did a performance for the Tree Top Bird Center in Dallas and then another event for the Fort Worth Bird Club the following day. The birds performed very well and in fact I had to fly them for more treats after each to satisfy their desire to show off, exercise, and get treats. Many books were sold and signed and the events were not only a success but a pleasure as well. Kili & Truman are big showoffs and love a crowd.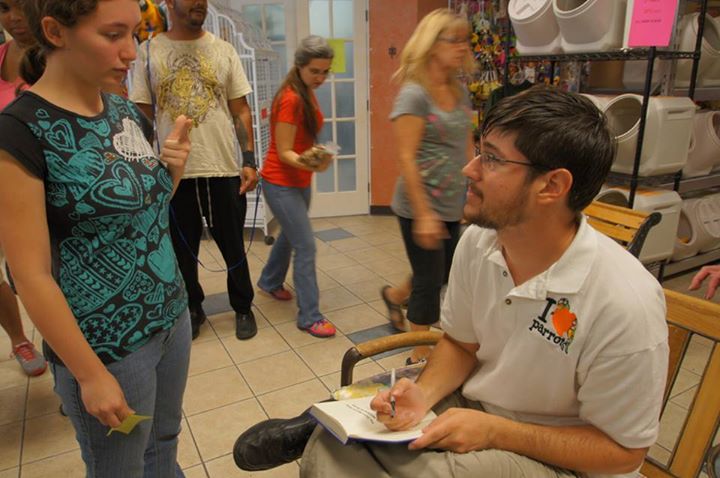 Between events, the birds went all over Dallas and Fort Worth with me. They visited Downtown Dallas and paid homage to JFK (this is the place where Kennedy was assassinated), they paid a lot of attention to frequently passing trains, they saw fish at an aquarium, and they showed off to restaurant patrons at the west end. In Fort Worth, they visited the downtown area and the Stock Yards. The birds had lunch with me outside and watched the famous cow drive. Truman was really intrigued and said he wanted to be a cowbird or at least a cowparrot.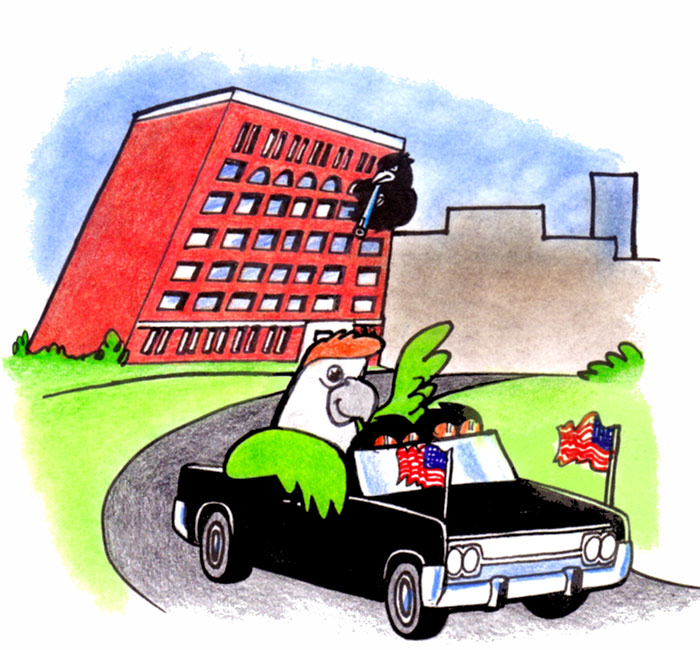 Truman playing dead by the book repository building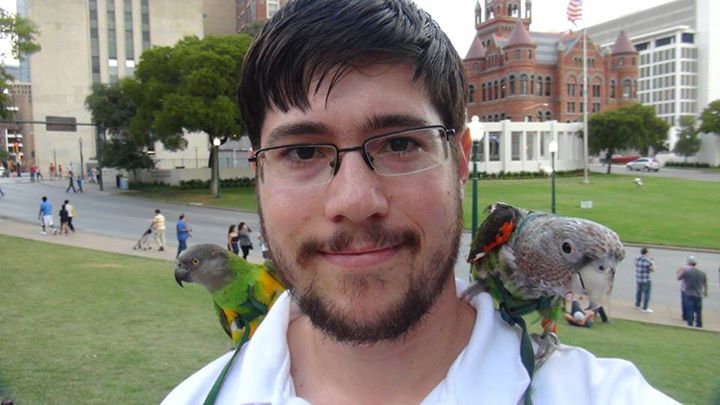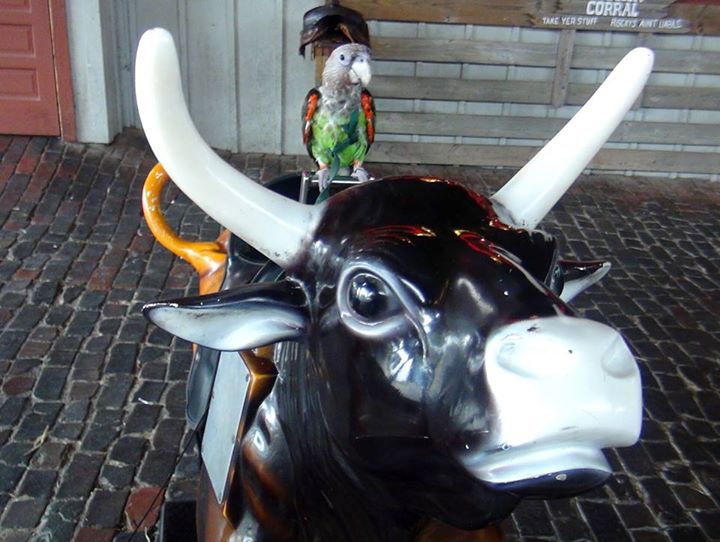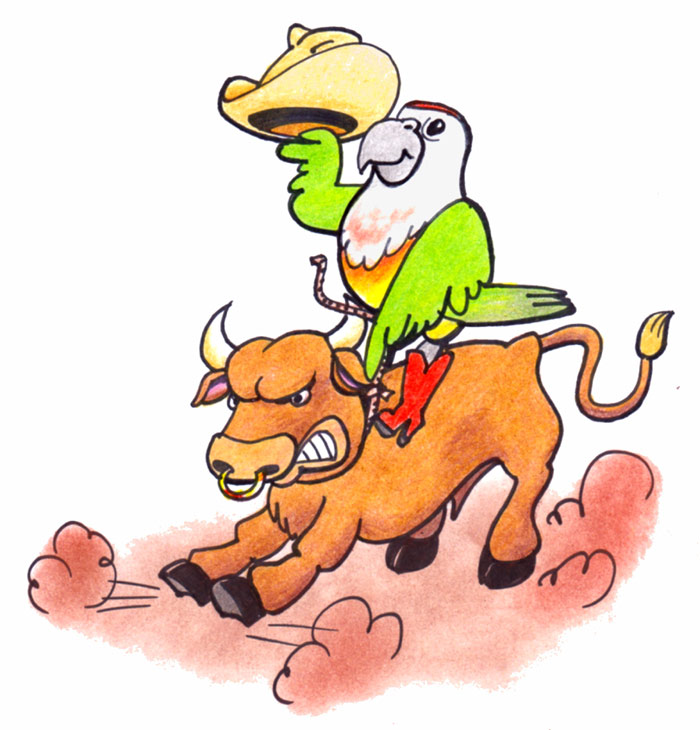 Here's the trip summary video with Kili & Truman touring San Antonio, Dallas, and Fort Worth:


I recently returned from a voyage into the heart of east Africa. For over two weeks I traveled around the countries of Ethiopia, South Sudan, Sudan, Eritrea, Djibouti, Somaliland, and Somalia. In these travels I experienced many different places, people, animals, and birds. I would like to share a bit about each of these countries with you as well as a glimpse of what I saw through my videos. I did not see any Meyers Parrots or Red Bellied Parrots but I traveled through the ecosystems where they might be seen. I did see parakeets in Djibouti and share a lot of footage and stories about them. Thank you for reading and enjoy.



In Addis Ababa, the capital of Ethiopia you can see the fossil remains of Lucy the famous Australopithecus afarensis. However, the bones on display are just a copy like in any other museum. The real ones are not publicly displayed for fear of theft. Unlike its surrounding neighbors, Ethiopia is predominantly Christian.

South Sudan is the world's newest nation, accepted into the UN in just 2011. The skies of the capital city of Juba are filled with Black Kites lazily circling about in thermal updrafts. Despite recent hardships, the markets are bustling with commerce and activity. The savannah woodlands of South Sudan are in the middle of the range of Meyer's Parrots, Poicephalus Meyeri. However, because I was visiting during the dry seasons, there was no opportunity to see them. I was told by local farmers that during the wet season they approach in large numbers and pillage the millet harvest.

Khartoum, Sudan's capital city, is located on the merge of the Blue Nile and White Nile. Despite skyscrapers and endless concrete, there's no hiding the fact that the city is located in a desert climate. Sand blows down the streets making you feel like you are located in a sandblasting cabinet. You'll be lucky to find the contours of your face in tact after spending any length of time outdoors. Sudan was the center of the Nubia, a powerful ancient empire that once even conquered Egypt.



Now Eritrea is something else. This little country, once a part of Ethiopia, is one of the world's last remaining totalitarian police states. This little nation took the remains of Ethiopia's coastline entirely away leaving Ethiopia with no access to the Red Sea. Asmara, Eritrea's capital, is a remnant of Italian colonial rule. With it's Art Deco laden boulevards, Fiats, and Cafe's it's not a wonder the city is known as Little Roma. Yet, since the country severed ties with most of its neighbors, it relies almost entirely on domestic commerce. There is very little import so the country is living almost as it did back when Italians lived in those central quarters. Donkeys and manual labor take place of machinery, scrap metal is meticulous reused, and cars are few and far in between. There's never a problem finding a parking spot but buses are packed full. A tank graveyard on the cities outskirts is a reminder of the long war with Ethiopia for independence. Massawa, the port city, to this days lays in ruins since the war some twenty years past.

Although Djibouti borders Eritrea, it was impossible to travel from one country to the next. It required a flight first to Yemen and then to Djibouti because of their severed relations. Unlike Eritrea, Djibouti has good relations with Ethiopia and is prospering on international commerce. Djibouti serves as one of the primary ports of import for Ethiopia. For this reason, it is occasionally possible to see diplomats and businessmen in this unlikely corner of Africa. Lake Assal is a salt water lake below sea level.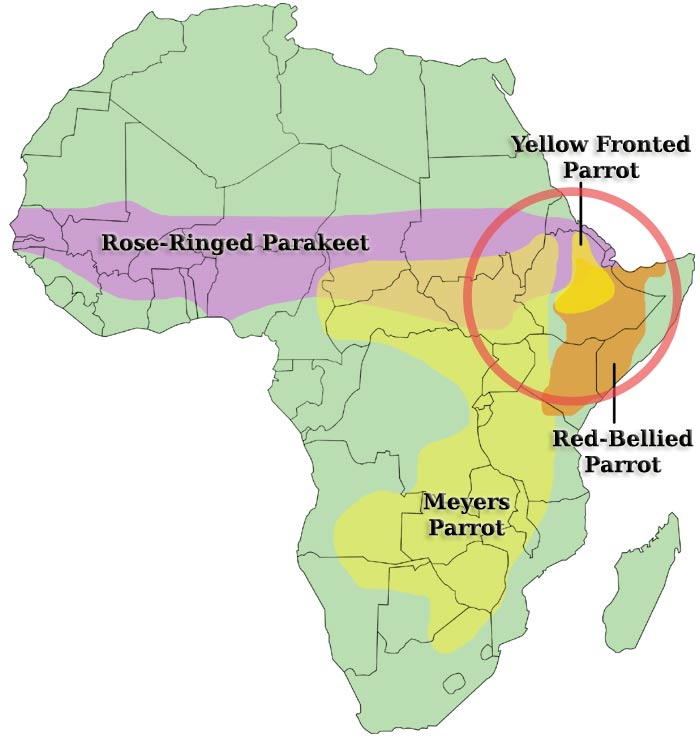 Now I have to tell you about who else was staying at the Sheraton hotel. My dad told me he saw a green parrot similar to Kili out the window. I told him he was dreaming, that there can't be Senegal Parrots in East Africa! I didn't believe him till I saw for myself. Except this was no Senegal Parrot. With a long tail and a red chin, it was immediately obvious that this was a Rose-Ringed Parakeet. And sure enough there it was sitting on the outside sill of our hotel window on the top floor. The reason he was there became obvious when I saw the gaping hole in the sill. I sat quietly watching and saw his mate emerge from their little nest. She stretched one wing at a time, dropped, a load, and shot off with the male to follow. They flew over to a nearby tree and got busy. I told them, "Cmon guys! Get a room!" so they did. They flew back over to the Sheraton hotel and went back in to lay eggs in the penthouse suite.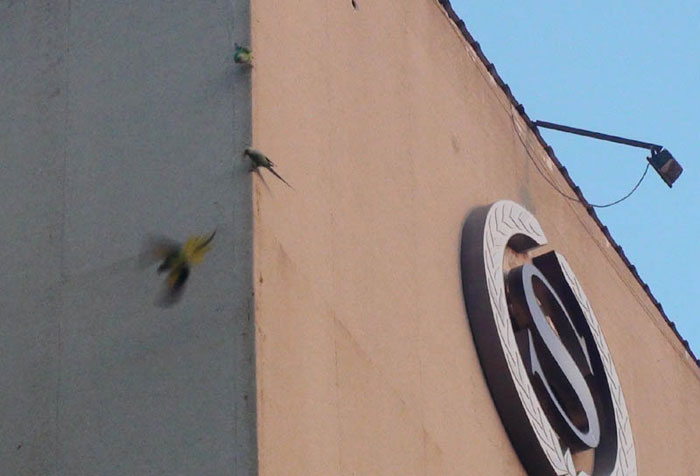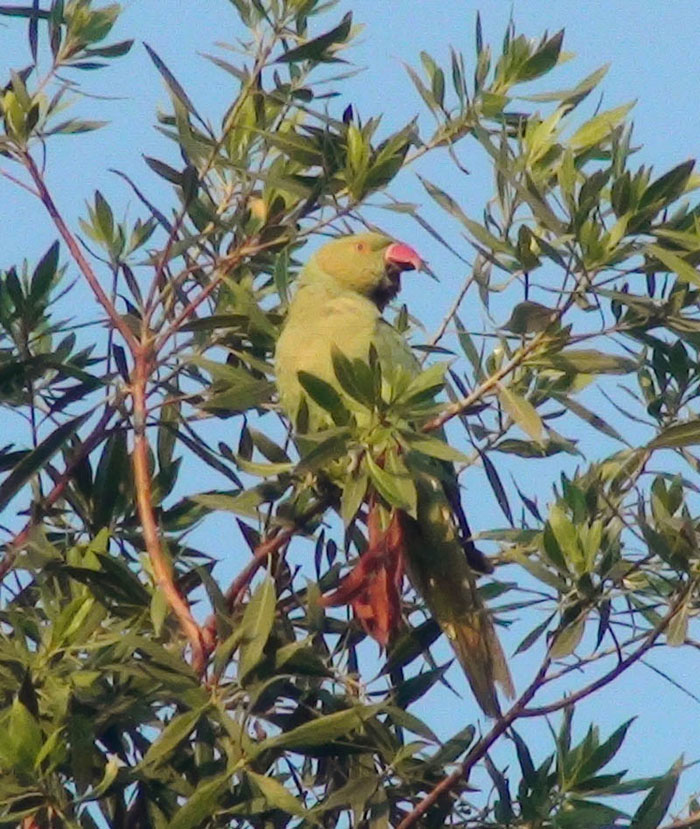 During the daytime, the parakeets were nowhere to be seen or heard. However, in the mornings and evenings they were out and about. I counted at least 3 pairs living in various parts of the hotel wall. Occasionally the parakeets would fly off in small groups to feed on neighboring mango trees but would shortly return to chill in the hotel top. I was thrilled to watch the birds interact with each other and their surroundings for a good length of time. They're shrill calls, green color, and flight patterns make them easily distinguishable from any other local parrot.





We crossed the border by land to neighboring Somaliland. Somaliland is still technically part of the nation of Somalia and is not recognized. However, Somaliland has its own government, currency, border control, and is run more like a nation than the rest of Somalia. Yet, Somaliland is not recognized by the rest of the world as the separate country that it is. The city of Zeila still displays war scars from the fight for independence from Somalia.

There are vast expanses of desert where short of a few camels and herders, there is nothing to be seen for hundreds of miles. Camels are occasionally brought to villages to drink well water and eventually are brought to Hargeisa to be sold in the famous camel market. There are more camels living in Somalia than people. They are used for transport and meat but are mainly exported to Saudi Arabia in exchange for cars and other necessities. Because of out of control inflation, Somaliland's currency is practically worthless. Instead of armored cars, money changers transport their bricks of paper currency by wheelbarrow. Cave paintings in Laas Gaal were only discovered recently and are considered to be nearly 10,000 years old.

The only African animals to be seen in all of Somalia were gathered in one place. The garbage dump! Marabous, Vultures, Spoonbills, Jackals, Hyenas, Baboons, and Warthogs, animals normally found in Africa's Savannahs, are confined to this toxic waste dump. It is the one place they are safe from human predation and food is plentiful. Remains of slaughtered goats, camels, and cows are dumped here and make for a feast to be remembered. Toxic wastepools of motor oils and chemicals form lagoons for water birds. This is a Somalia Safari:



Mogadishu, the capital of Somalia, is the world's most dangerous city. A friend of mine exclaimed, "Mogadishu!? Why would you want to go there? If God wanted to give the world an enema, he'd start by sticking the hose in Mogadishu!"

Mogadishu has been war ravished for the last 20 years. The situation has just begun to stabilize and peace hangs by a thin thread. There is no value of human life, dignity, or compassion here. Young children are too busy shooting each other to bother learning to read or write so the literacy rate is under 20%. There is no economy to speak of except exporting a few bananas, most money comes from drugs, looting, ransoming, and piracy. Car bombs, IEDs, terrorists, street war run rampant. There are few places we could even get a glimpse of. The streets are perilous. If you want an idea of what hell looks like, this is it. This is Somalia.


I flew to Phoenix Arizona to present the Parrot Wizard Bird Show & Seminar (which you'll get to hear more about later). Airline travel would have been too restrictive, expensive, and difficult so I opted to make the 2 day trip to Arizona myself by airplane. I loaded Truman into his travel cage and Kili into her carrier and we were on our way with over 250 pounds of merchandise for the event.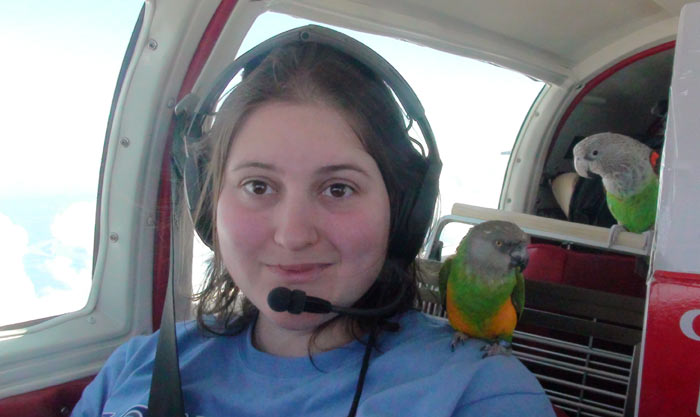 Jamie, my girlfriend, accompanied us for the first day. We spent the night with her in St Louis but continued to Phoenix without her (but picked her up on the way back). In the beginning of the trip flights were short. Because of the weight of all the baggage and two people, I was restricted on how much fuel I could bring. It was just a 3 hour flight from NJ to OH and then another 3 to St Louis.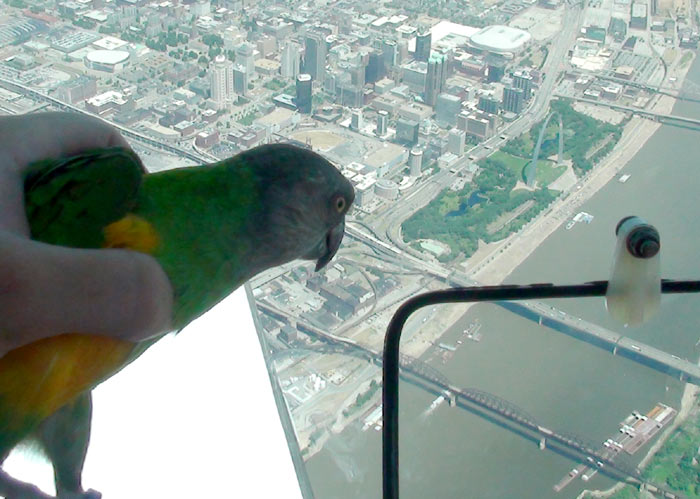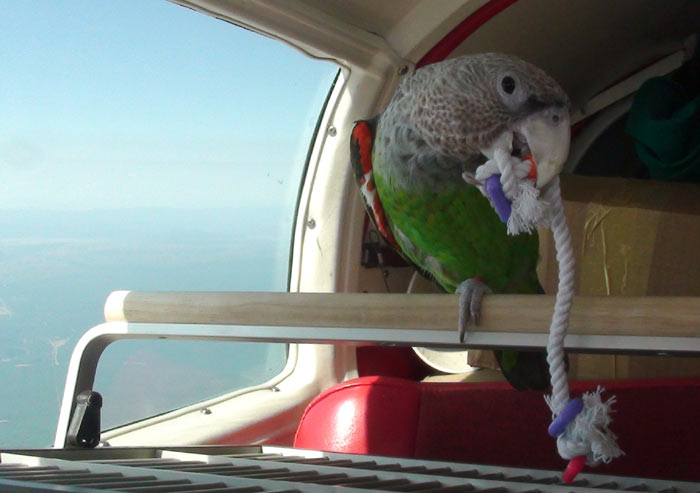 I realized that I forgot the food bowls for the travel cages at home when it came time to feed the birds. Worse yet, I realized that I forgot their pellets in the airplane as well. I had to scramble and find people foods to feed them instead to get them through the night. I got a hold of some corn, bread, and grapes. Kili pigged out and had no problem with this arrangement. Truman on the other hand had a few bites but eventually boycotted. He refused to eat anything but his pellets but they were not available till the next day. Here's a great example why it's important that birds be accustomed to people food as well as bird food so that they could still be fed in a pinch.

After spending the night in St Louis, the long part of the journey began. I flew 3.5 hours to Oklahoma and took advantage of some of the cheapest gas in the country. Then it was a long 5.5 hour flight to Phoenix over inhospitable terrain. I diverted around thunderstorms and flew high to stay over the mountains. I had to use an oxygen system for part of the flight due to altitude. The birds were alright but it sure made them sleepy. It was so cute to see Kili & Truman fall asleep on the same perch together. Getting high is a great way to mellow out the little buggers.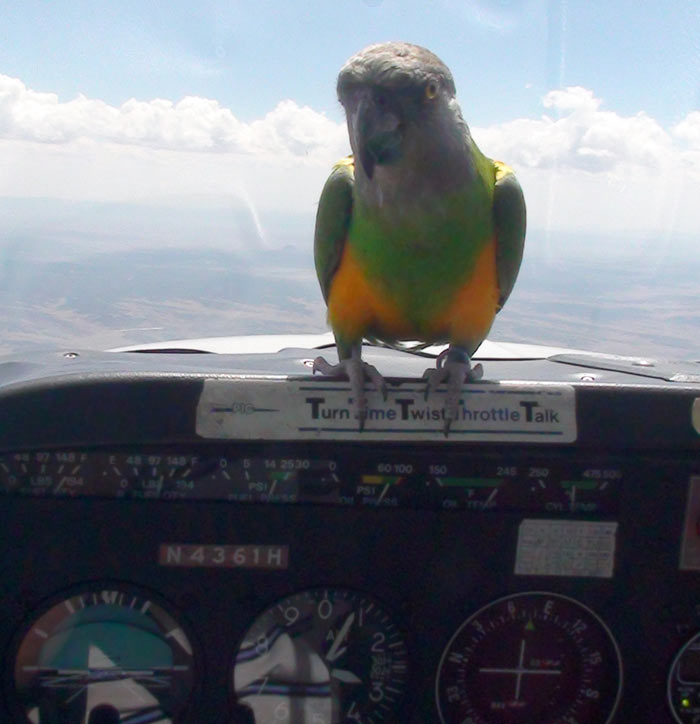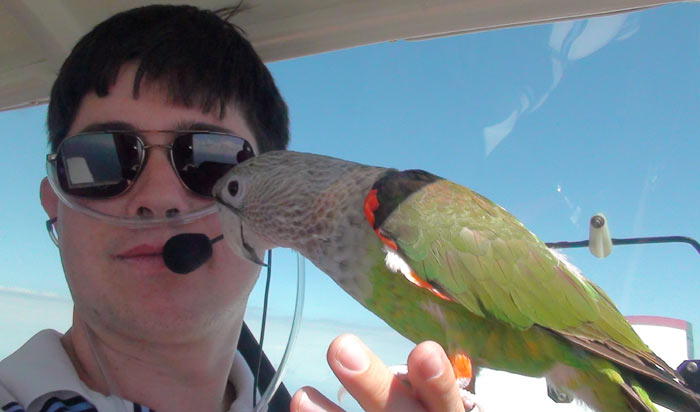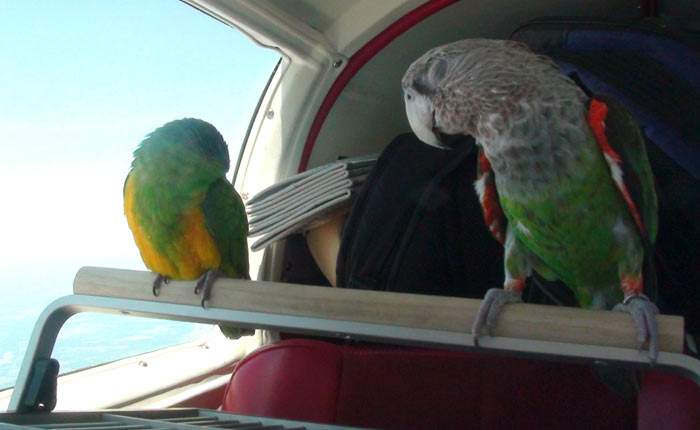 Finally I had to perform a steep descent into Phoenix after clearing the mountains and was greeted by a dust storm blowing through the area. It was difficult to find the airport in low visibility and I had to close the air vents cause it felt like my face was being sandblasted.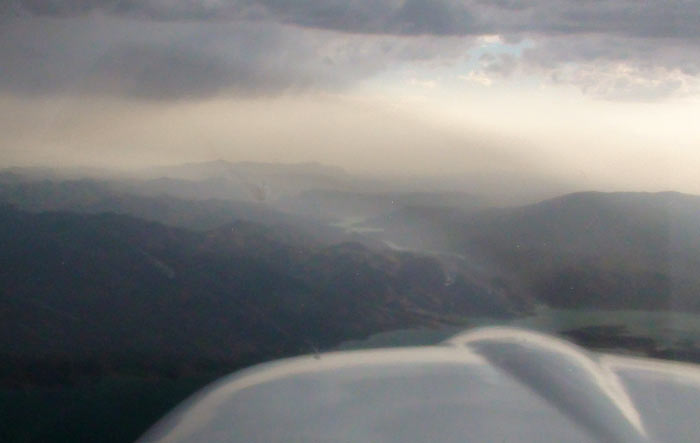 After landing I was met by Ginger who helped run the event and played host to the birds. Luckily because the dust storm blocked out the sun and moved the air around it wasn't too hot and we were able to unload the plane quickly. We headed back to her house and got the birds situated and fed. Here is a video of the flight there. More videos and stories from the trip coming soon.


This was a really fun and exciting weekend. The parrots came on a flying and camping trip to Maine. We set out not too early. Shortly after takeoff, air traffic control had me fly right over the Empire State Building and cross La Guardia airport. I let the birds out and they would go from sitting on me to atop Truman's travel cage. This was the first time I have ever taken them flying together in my airplane. Prior to this it was just one at a time and on occasion. But lately I have been testing things out and making preparations for our cross country flight to Arizona in June to present our live seminar.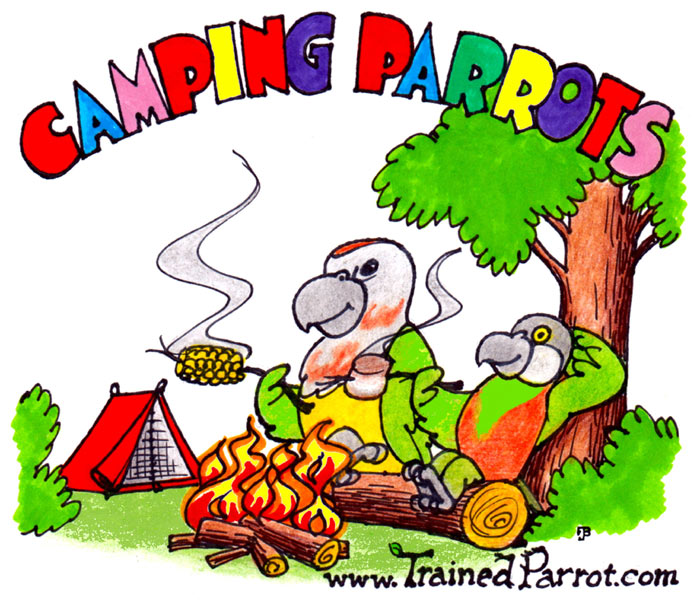 Cartoon depiction of Kili & Truman on their camping outing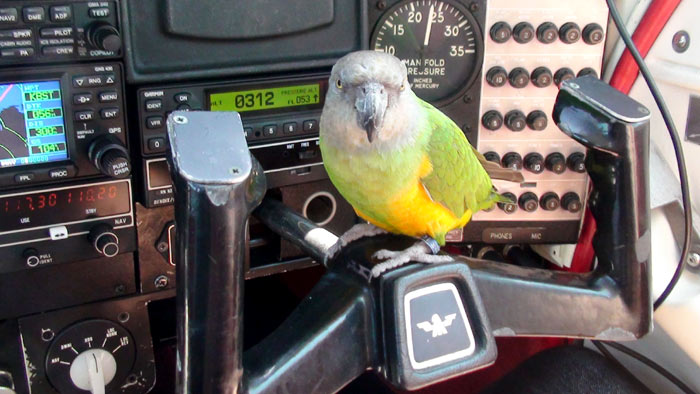 Kili copiloting the airplane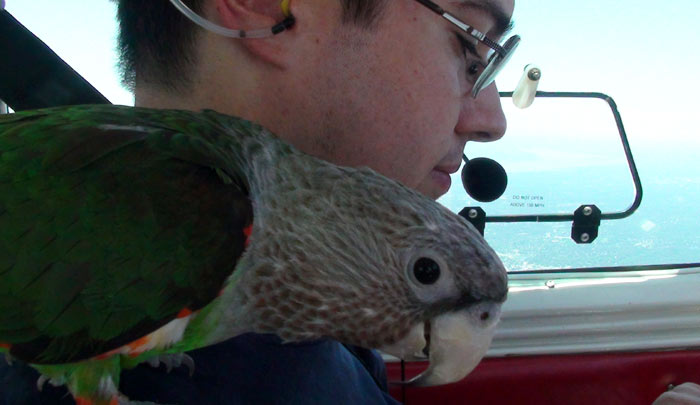 Truman giving flying advice from my shoulder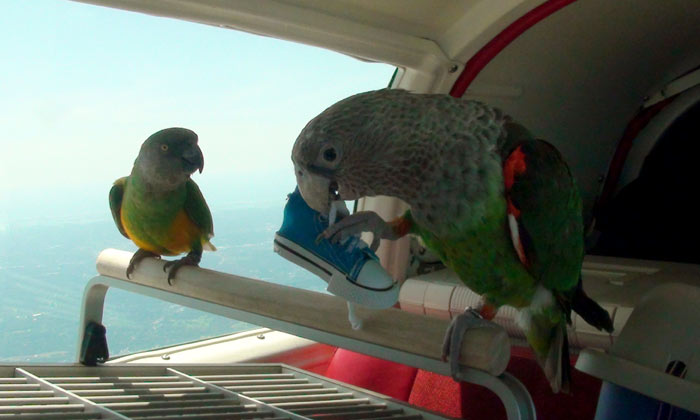 Kili & Truman perch atop Truman's travel cage while he tries to put a shoe on


We climbed to 13,500 feet to practice high elevation flying in preparation for our upcoming trip to Arizona to present a seminar. The birds got sleepy and dozed off. Kili was out like a log in her carrier in the full turned around sleeping position. Truman took longer to fall asleep but fell into a light slumber as well. However, the birds held up just fine and I'm no longer worried about flying over the rockies with them without supplemental oxygen. My airplane isn't pressurized, so although flying lower than jetliners, the actual cabin pressure is far lower.



Truman falls asleep in his travel cage because of the low pressure but shows no discomfort


After two and a half hours flight, we arrived in Belfast, Maine. We took a quick fly over the town and landed at the municipal airport. I harnessed up the parrots in the airplane and then we walked to town. It was only a few miles each way so not a big deal. Fresh air, sun, and entertainment for the birds. Kili & Truman took turns riding my hand or shoulder.

We went to a seafood place by the water and enjoyed some Maine lobster and seafood. Although pets aren't allowed into the restaurant, Kili and Truman earned special permission for their cuteness. We took a table at the furthest end to avoid disturbing anyone. The parrots sat on a nearby fence and earned scraps of french fries and veggies from the masters' table.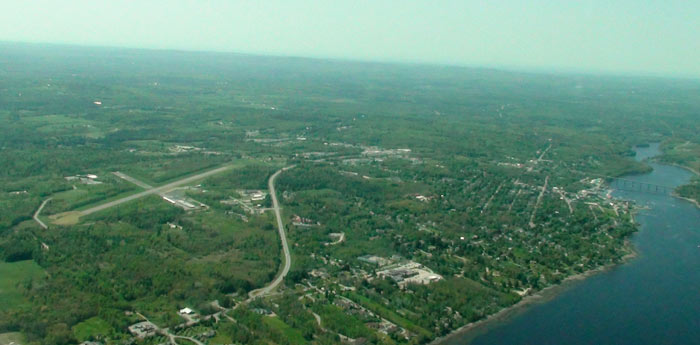 Airport and town of Belfast Maine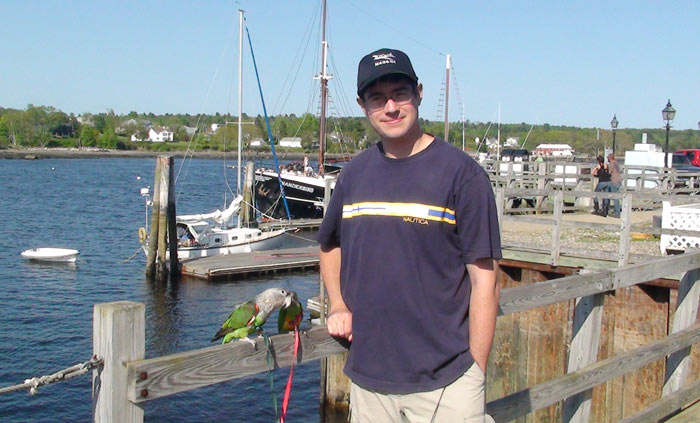 After a tasty seafood meal, we go to check out the marina in Belfast Maine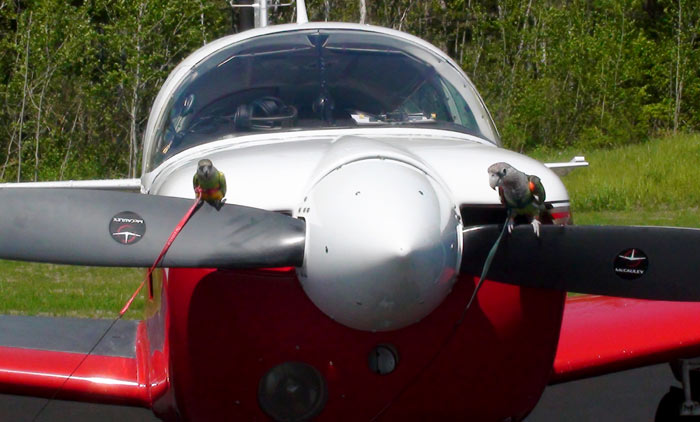 Kili and Truman find the airplane's propeller an ideal place to perch and drop a poo before the next flight


We walked back to the airport and climbed in the plane for a very short flight over to the island of Islesboro. The airport there was quite short and desolated. One other airplane was parked there but otherwise it did not appear as though anyone had been through there in weeks. I parked the plane near a grassy patch and then proceeded to unload. I put the parrots out in their carriers to watch the tent set up process. They were just in awe how all that tent fit in such a small bag. After everything was set up, we took a walk and watched the sun set.

Upon return to the camping area, we broke out the cooler and sat down for a picnic dinner. I brought a parrot training perch for the birds to share when they were out. The two of them jealously watched the picnic set up but were treated to some bread and parrot food. It was getting dark so I put the birds into their travel cages and wrapped them with their sheet so they could have their own tent within the tent to stay warm at night. I specifically opted to cover them with one big sheet rather than separate ones so they could share their trapped heat under it.

The parrots were awakened by the calls of wild birds that they had never heard before. So they joined in with their own chatter, shrieks, and whistles. I took the parrots outside wearing their harnesses and practiced some flight recalls with them for treats. They did some but were mostly busy looking around so I didn't push it much. I let them climb around in the tree near our tent and they were thrilled. It was a lot bigger than their tree at home!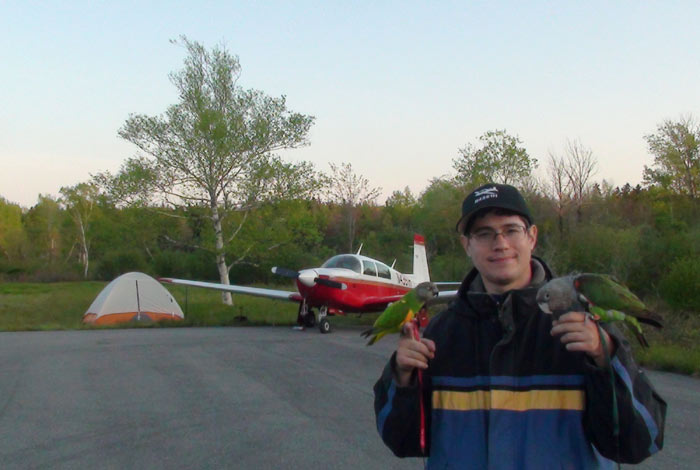 Parrots go camping in a tent by the airplane in Islesboro Maine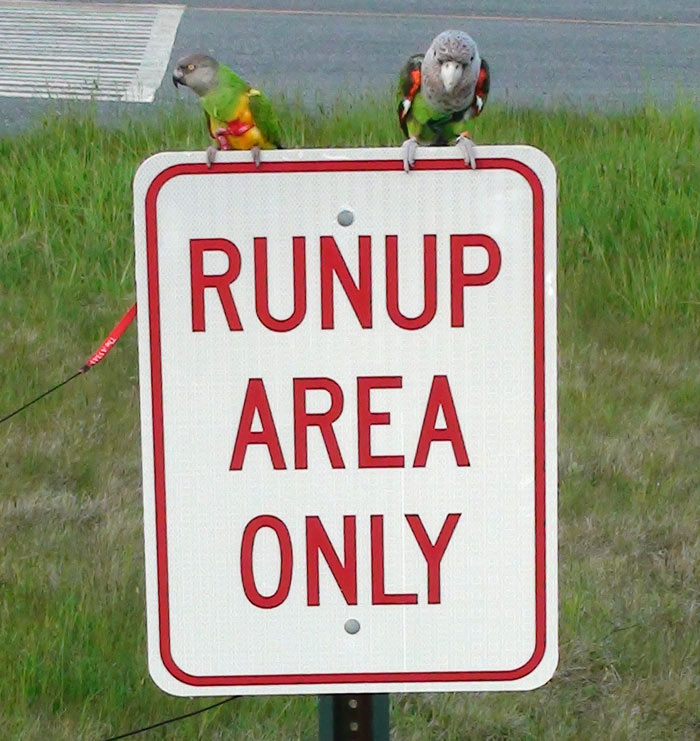 Kili and Truman decorate the airport sign by doing their own run up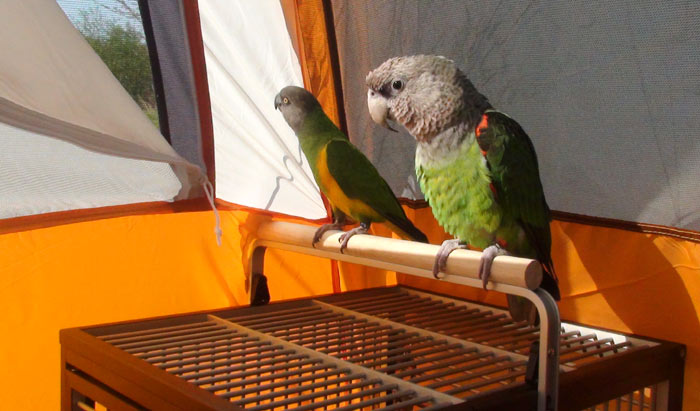 The parrots enjoy some morning sunshine in the tent atop Truman's travel cage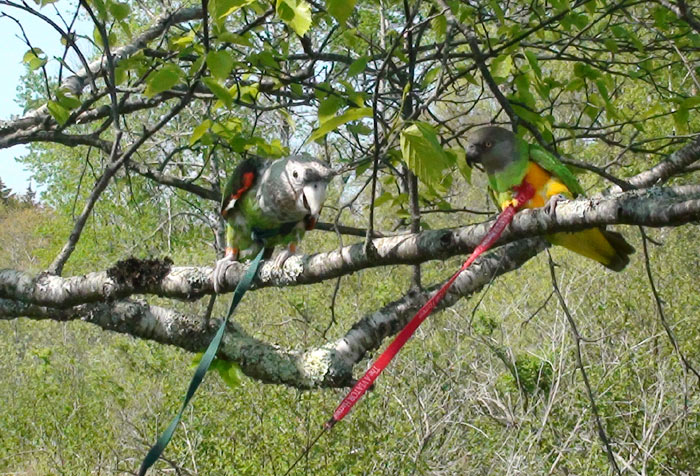 Kili and Truman had a thrill climbing around a tree by the tent


We packed up the tent and loaded the plane. Before long we were airborne and enroute to Hyannis in Cape Cod Massachussets. We flew right over top Boston Logan Airport enroute and Kili got a bird's eye view of Boston.

We arrived in an hour and a half, parked the plane, and headed into town for lunch. After a pleasant walk, we found my favorite raw bar called The Raw Bar. This place is home of the biggest Lobster Roll I have ever seen. For $25 you get a Lobster Roll the size of a Cape Parrot. It's gotta have at least 3-4 lobsters worth of meat piled on it. It is virtually impossible to eat this much lobster by yourself so it's good to have someone to share it with.

I set the parrots on the chair next to me and fed them oysters. Actually they were just the cracker kind, oyster crackers. But the parrots were in paradise. They love the crunchy chewy goodness of these little baked delights and were begging for more. I gave them a chance to taste some lobster but they opted to stick to the french fries and crackers instead.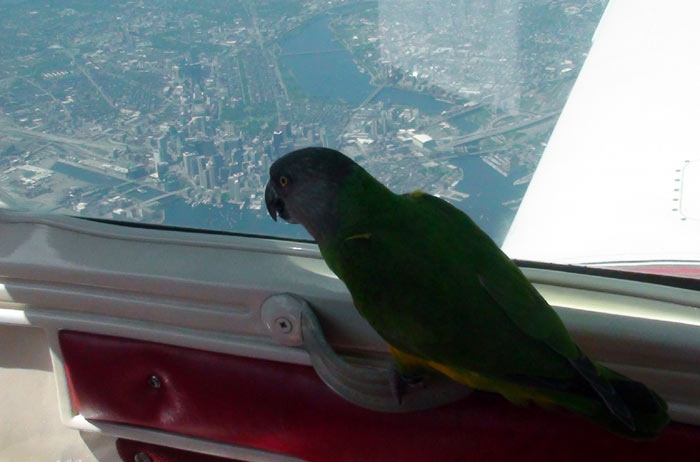 Kili gets a "bird's eye view" of Boston as we fly over Boston Logan Airport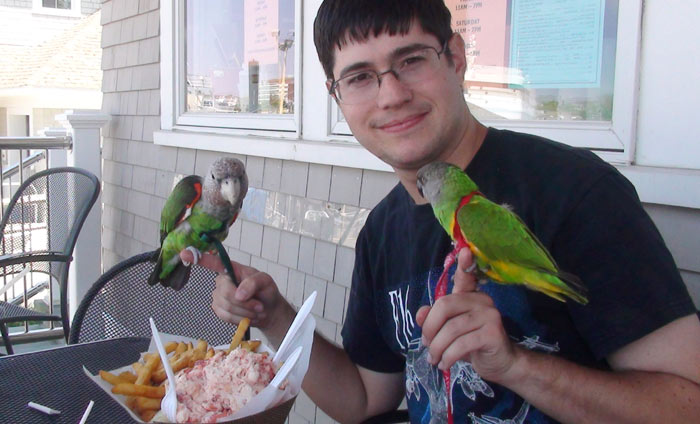 Parrots checking out the giant Lobster Roll. And yes, it's all real lobster, no substitute!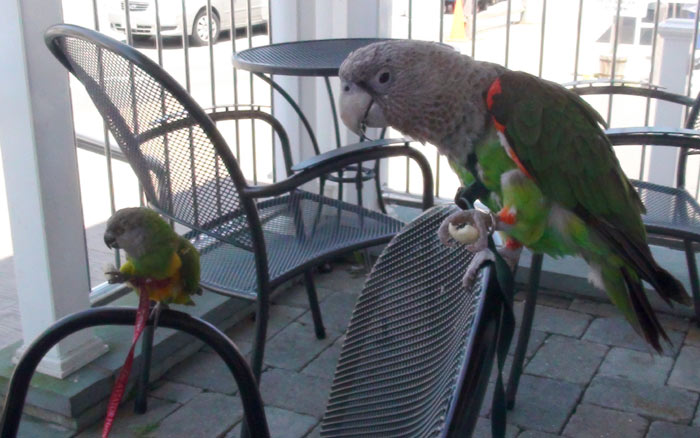 Kili and Truman prefer fake seafood like Oyster Crackers instead


After a delightful, and somewhat overfilling, seafood lunch, we strolled around Hyannis. From all directions Kili & Truman received praise from shocked onlookers. We returned to the airport and completed the flight back to New York in record time. With a steady tailwind, I was able to bring the power back to fly at 185mph on a mere 14 gallons of gas in an hour and fifteen minutes. Coming back to New York from the northeast, we turned south and flew down the Hudson to get back home.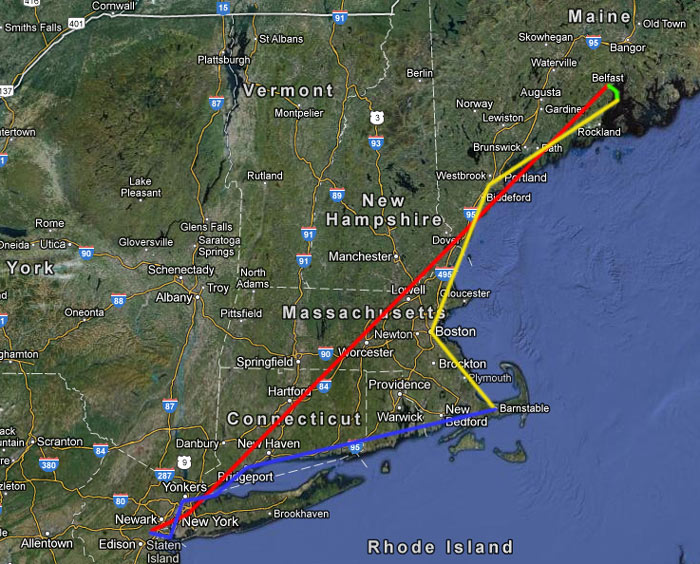 Map portraying our trip. Red, green, yellow, then blue. NY - Belfast - Islesboro - Hyannis - NY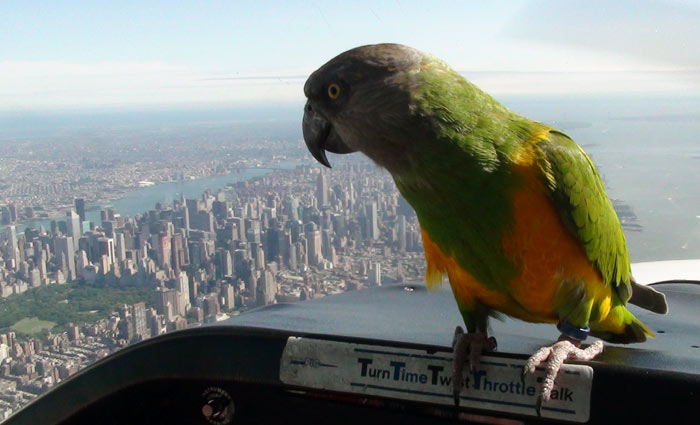 Senegal Parrot flying over New York City


The trip proved a huge success and we had a lot of fun. It was a new experience for the parrots but far from overwhelming. By camping, walking, and using personal transportation we were able to avoid all issues surrounding travel with pets. We ate outside and cleaned up our own mess. Thus we were able to make the entire trip with the birds without any question of whether they'd be allowed or not. This broke up the parrots' typical routine and also got them involved in something I would normally leave them at home to do. It's a win/win for everyone. Now check out the video footage from the parrots' camping trip to Maine.