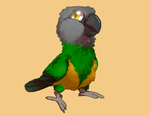 Kili
Type: Senegal Parrot
Genus: Poicephalus
Species: Senegalus
Subspecies: Mesotypus
Sex: Female
Weight: 120 grams
Height: 9 inches
Age: 13 years, 5 months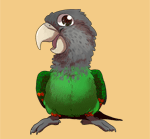 Truman
Type: Cape Parrot
Genus: Poicephalus
Species:Robustus
Subspecies: Fuscicollis
Sex: Male
Weight: 330 grams
Height: 13 inches
Age: 11 years and 9 months old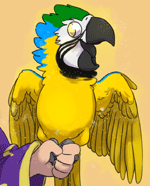 Rachel
Type: Blue & Gold Macaw
Genus: Ara
Species:ararauna
Sex: Female
Weight: 850 grams
Height: 26 inches
Age: 9 years, 5 months

List of Common Parrots:
Parakeets
:
Budgerigar (Budgie)
Alexandrine Parakeet
African Ringneck
Indian Ringneck
Monk Parakeet (Quaker Parrot)
Parrotlets
:
Mexican Parrotlet
Green Rumped Parrotlet
Blue Winged Parrotlet
Spectacled Parrotlet
Dusky Billed Parrotlet
Pacific Parrotlet
Yellow Faced Parrotlet
Lovebirds:
Peach Faced Lovebird
Masked Lovebird
Fischer's Lovebird
Lilian's (Nyasa) Lovebird
Black Cheeked Lovebird
Madagascar Lovebird
Abyssinian Lovebird
Red Faced Lovebird
Swindern's Lovebird
Lories and Lorikeets
:
Rainbow Lorikeet
Conures
:
Sun Conure
Jenday Conure
Cherry Headed Conure
Blue Crowned Conure
Mitred Conure
Patagonian Conure
Green Cheeked Conure
Nanday Conure
Caiques:
Black Headed Caique
White Bellied Caique
Poicephalus Parrots
:
Senegal Parrot
Meyer's Parrot
Red Bellied Parrot
Brown Headed Parrot
Jardine's Parrot
Cape Parrot
Ruppell's Parrot
Eclectus
:
Eclectus Parrot
African Greys:
Congo African Grey (CAG)
Timneh African Grey (TAG)
Amazons:
Blue Fronted Amazon
Yellow Naped Amazon
Yellow Headed Amazon
Orange Winged Amazon
Yellow Crowned Amazon
Cockatoos:
Cockatiel
Galah (Rose Breasted) Cockatoo
Sulphur Crested Cockatoo
Umbrella Cockatoo
Moluccan Cockatoo
Bare Eyed Cockatoo
Goffin's Cockatoo
Macaws
:
Red Shouldered (Hahn's) Macaw
Severe Macaw
Blue And Gold Macaw
Blue Throated Macaw
Military Macaw
Red Fronted Macaw
Scarlet Macaw
Green Winged Macaw
Hyacinth Macaw
Glossary of Common Parrot Terms
| | | |
| --- | --- | --- |
| | | Saturday October 1st, 2016 |
I love teaching tricks to my parrots. It is not only a load of fun, but it also goes to develop a wonderful relationship with my pets. Birds that excel at doing tricks also excel at being good pets. But also from the parrot's perspective, I am fun to be around because all of the treat earning opportunities only happen in my presence and through cooperation. It's a win/win situation.

You have already heard about training techniques for many cued parrot tricks on this Trained Parrot blog. Now I am preparing a series of videos describing how to teach all of the prop tricks that I offer for sale. The wonderful thing about trick prop toys is that they are extremely visual, challenging, intelligent, and a ton of fun.

The easier tricks are a chance to get the parrot to do something big while still being a beginner at training. The more difficult ones challenge your parrot's intellect and demonstrate a level of intelligence you don't get to experience in other kinds of pets. Let me run down the different tricks available and briefly mention the features and challenges with each. I am listing these in the order I recommend teaching them from easiest to hardest.





Birdie Bowling - This was Kili's first prop trick (first video). It is very impressive and exciting to watch, yet it is one of the easiest prop based tricks to teach! It's only a matter of teaching the bird to push the ball, the toy and gravity do the rest of the work!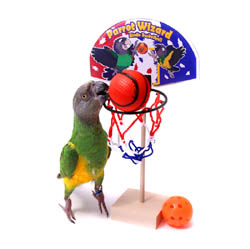 Birdie Basketball - The staple of bird tricks. The basketball trick is probably the easiest but by no means unimpressive of the fetch based tricks. I recommend teaching this one first because it requires the least requisite skills. Just follow the steps in my Fetch Guide first and then you're ready to teach basketball. Height is adjustable so you can start low and increase height with progress. Also suitable for small birds because the hoop can be lowered. Comes with an easy to grip training ball and a realistic ball.

Birdie Treasure Chest - Every good pirate needs a parrot. And even better yet, a parrot that knows what to do with treasure! The Treasure Chest trick is two tricks in one. A chest for your parrot to put its favorite toys away and a piggy bank to save up for big treats. This trick is great for beginner and more advanced birds when it comes to training.

Birdie Darts - Another easy/exciting sports trick based on fetch. The secret is that the darts are magnetic, so your parrot just needs to drop them by the dart board and they will stick. Have your bird fly with the darts for a long range guided dart!

Birdie Slide - Watch your parrot zoom down a slide! A big toy with a stunning visual effect. This trick is actually easy to teach but only for a very tame parrot. The most important thing is that the bird does not get scared of the slide. Once you get past that, it only has to learn to climb the ladder and come down.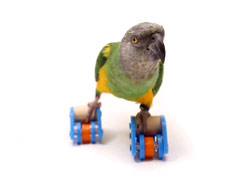 Birdie Skates - Teach your parrot to skate. This trick does not have any particular requisite tricks but it is difficult to teach. A history of being good at any other tricks will increase the chances of your parrot succeeding with this one. But once taught, it's a lot of fun to see your parrot skating around!

Birdie Ring Toss - Color matching ring toss trick. Teach your parrot to put rings on pegs and demonstrate color matching capability. Just the mechanics of putting a ring onto a peg is a whole trick in itself, but with color matching, this trick will stun your friends. Most people have a hard time believing parrots can even see color, let alone be so smart. This is probably the easiest of the color matching tricks I offer. Available in 3 or 6 colors.

Birdie Colored Boxes - A color matching tricks that your bird can open and close. The colored boxes trick is one of the brainiest tricks in my trick toy product line. Not only does your parrot get to demonstrate superior color vision and matching but also handling the box lids. In terms of complexity, it is mostly on par with the ring toss. However, the extra task with the box lids makes it more challenging as a whole. It is more suitable than the ring toss for smaller birds but can just as well be handled by larger birds as well.

Birdie Puzzle - Bird can do a puzzle, what more can I say? This trick is colors, puzzles, and tons of IQ aptitude in one. Matching shapes/colors isn't the only challenge. Getting the shaped pieces to fit into the slots requires a good amount of dexterity and skill. Are you up for the challenge? The puzzle is available in 3 different sizes to suit all kinds of parrots.

So there you go, 9 parrot trick training props that will keep your parrot trained, educated, and entertained for years! Try and teach them all and I guarantee that with each new trick, you will also develop a better relationship with your parrot. I have been collecting and developing these tricks for years. Now they are all available in one place, ParrotWizard.com.

Now enjoy this video of Kili showing off how to do all of them!


Parrots are extremely intelligent creatures and can learn concepts like colors, matching, and size. That's why I am always excited to teach tricks to my parrots that both challenge them and demonstrate their capabilities to others.

It was pretty easy to teach my new Colored Boxes trick to Kili. That is because she already has all of the skills required to learn the colored boxes trick. First, a parrot needs to know how to fetch. Next, the parrot needs to learn how to match colors. Finally, the parrot needs to learn how to push or pull.

Kili already learned how to match colors in the puzzle trick and ring toss trick. Kili learned to push/pull for a coin box trick and for her stroller trick. Putting all of these skills together led to the Colored Boxes trick. In this trick Kili places all of the round colored pieces into matching colored boxes. Some of the pieces are smaller and some are larger. She had to learn to ignore the size and focus exclusively on matching the colors. Then Kili learned to walk over and push all of the boxes closed.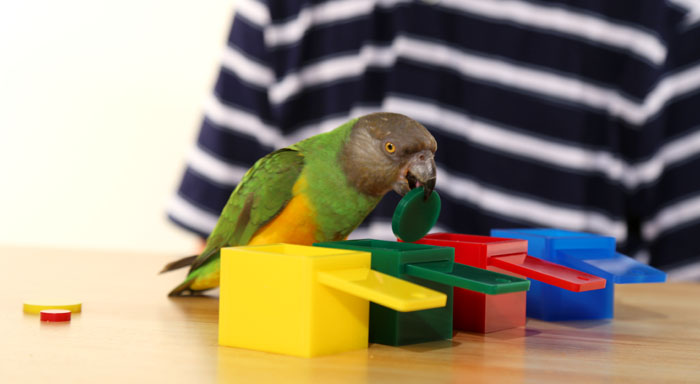 A problem that I ran into while teaching this trick was that Kili tricked me into helping her figure out where to put the pieces. Out of habit, I was clicking my clicker during the moment Kili would begin to dip the piece into right box. I realized that she would walk around dipping the piece into each box and waiting to see if there would be a click or not. In other words, she was tricking me into determining the color match and just cuing her when to drop it. So to avoid being outsmarted by the bird, I had to pay attention not to click until she would fully release the piece into the right box. She needed to receive the negative punishment of getting nothing for dropping the pieces into the wrong boxes in order to realize which ones are actually right.

When you teach a color match trick like ring toss, puzzle, or colored boxes, in the beginning the bird will only do two or three colors on pure memorization. But as you keep increasing the number of colors, a light bulb comes on in that bird's head and it realizes that the colors have to match regardless of what they are. Then the bird is able to match any color of that style trick.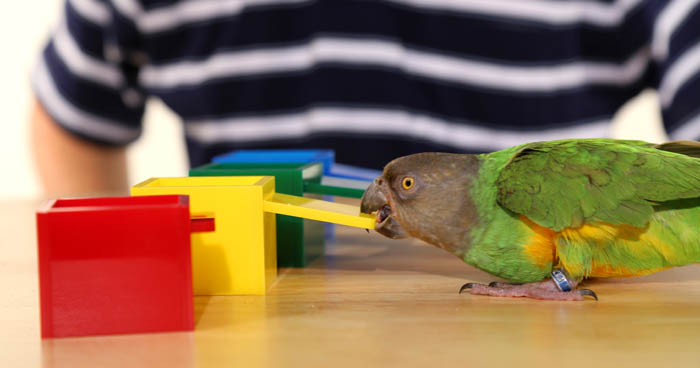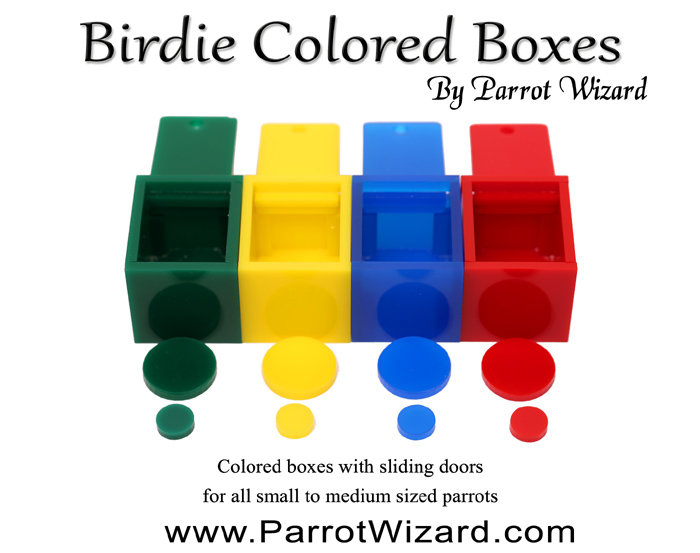 I recommend the Colored Boxes Trick for any small to medium parrots. It's too small for bigger parrots but the 6 Color Birdie Ring Toss is great for all the medium to large parrots.

Now check out this video of Kili performing her colored boxes trick:


Parrots are birds and birds fly. Allowing parrots to fly free in our homes is exhilarating but also poses some challenges. Without going into too much detail about other important things about flight safety (these are covered in my book), I want to focus on the training element.

Teaching a parrot to fly to you actually covers two different dilemmas. The first is teaching a parrot to fly controlled within our home at all in the first place and the second is actually about coming to you. What you must realize is that the bird has to actually learn how to fly to you as much as teaching it to want to.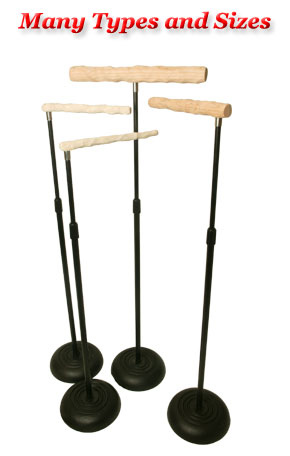 The two best tools for teaching this controlled form of flight are a pair of Training Perches and a target stick. Luckily the Parrot Training Perch Kit I offer includes a clicker and target stick in addition to two perches so you'd be ready to begin the flight training out of the box!

If you haven't already done basic clicker and target training with a walking parrot on a perch, go back and do that first. Flying is harder so without understanding what you are asking and a high level of motivation, there is no way the parrot will break ground for just a stick. Begin the flight training process with a reminder of the walking target training. Set up the two training perches in parallel but so close together that the parrot can step and target from one perch to the other.

Continue to practice targeting the parrots between the two training perches until you start to build up a rhythm. The parrot will begin to foresee that you will target one way and the other and maybe even jump the gun a little and go before targeted. This isn't really what we are after but it will show good motivation to continue. Begin to spread the gap between the two training perches ever so slightly. Continue targeting the parrot between the perches without letting it realize that the gap grows after subsequent targeting attempts.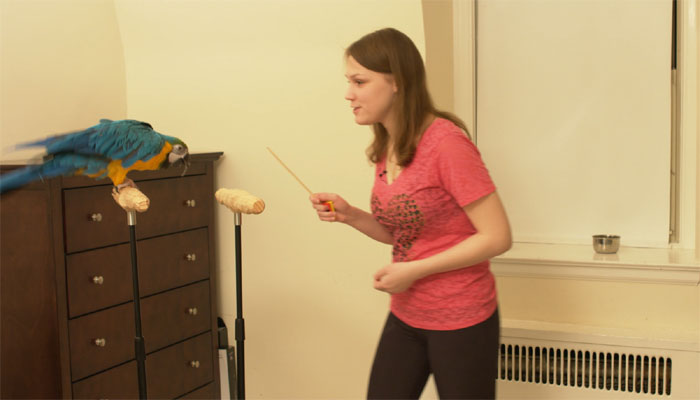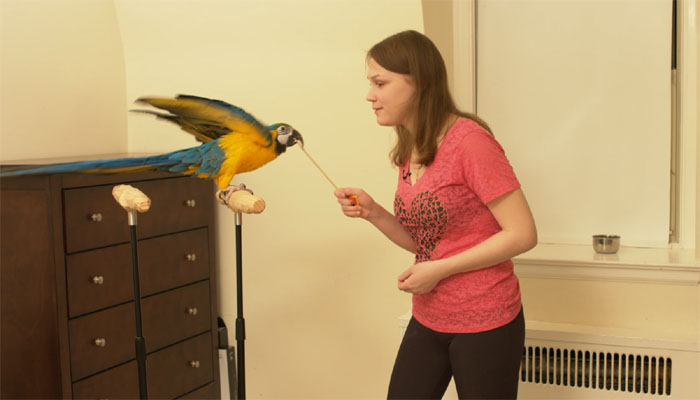 Eventually the gap will be big enough that the bird will have to jump or fly to get across. Hopefully the bird is a capable enough of a flyer to be able to realize to do this on its own. If it does not, you may need to trick the timid bird that won't fly into walking across but then spreading the gap enroute to cause the first flight to happen. A way to do this is to set the two training perches just slightly too far apart to walk. Then tip the remote perch toward the bird and target for it to walk. Just as the bird reaches the gap, return the distant perch to its original position. This will cause the bird to flap reflexively to catch its balance and make it across the gap. With sufficient rewards and motivation, after a few such attempts, the bird will begin to make the effort to fly across.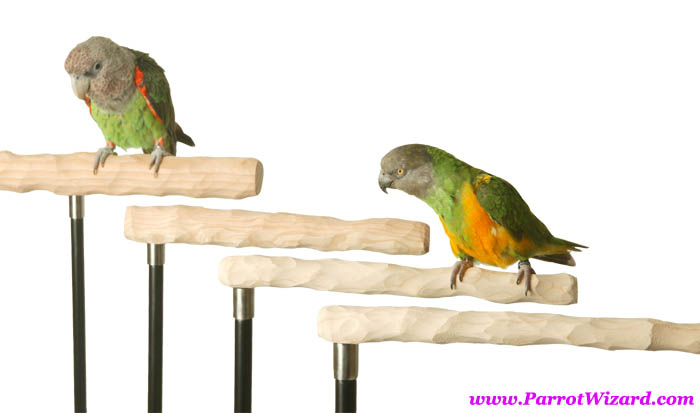 Progress will be slow at first but then pick up. At first the bird does not know what you want but also doesn't know how to control itself to make such a flight. Furthermore, the flight muscles may be atrophied or inadequately exercised. It will take time for the bird to regain the strength and motor skills before progress can be made. Continue spreading the gap between the two training perches and target the bird to fly bigger distances. The bird will develop skills and strength after a few days of these exercises. Adjust the height of the training perches to teach the parrot to fly up and down as well. Eventually replace the second training perch with your hand or arm. Phase out the target stick but continue giving treats for successful flight recalls. Instead of targeting, you can call your bird's name as a command to fly to you. Keep increasing the distance and challenging your bird and you will develop an excellent and reliable flight recall.

Keep in mind that very high levels of training motivation are required for flight training. You can use a combination of food management, trick training, and other techniques to achieve it. This is covered in great detail in my book, The Parrot Wizard's Guide to Well-Behaved Parrots.

Now get a Parrot Training Perch Kit and follow these steps and you will be on your way to flight recall training your parrot. More videos and information about this flight training method are available on the Training Perch site.

Now here's a video of Marianna following these same steps right out of my book with her Blue and Gold Macaw, Rachel.


After a long cold winter, spring has finally come. The weather is nice and getting the parrots outside is on people's minds. But for the parrots, wearing a harness is something long past. So what to do? This is where "reharness" training the parrots comes in!

My parrots all know how to put on a harness. They have all received the training to not be scared and know how to put the harness on. However, after such a winter that we didn't get to go out even once, their harness wearing skills are a bit rusty. They are less eager to put the harness on or don't quite remember how to get their heads into the collar. But all it takes is a little bit of reharness training to get them back to normal.

Out of my flock, Santina needed the most reminding and that is not surprising because she has least harness experience. After a treat or two, Kili already recalled exactly what to do. Truman, well he's a bit of a thick headed bird. In more ways than one! So he needed a little more work to help him remember how to get his big Poicephalus head through the collar. He was trying to assure me that he can get it in easily but that was for the wrong part! But with a bit of practice, he got it all sorted out as well.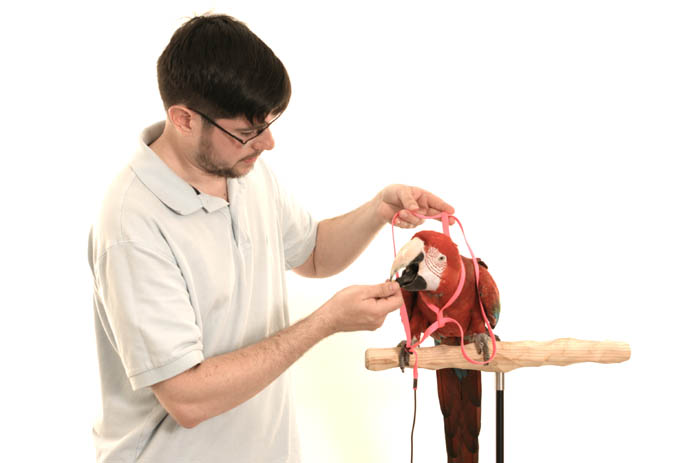 The process of reharness training a parrot is quite simple. It's an expedited retrace of the steps it took for the bird to learn to wear a harness in the first place. If your parrot did not learn how to wear a harness in the first place, then there are no steps to retrace. First of all, if your parrot never wore a harness in the first place, you need to follow a procedure for teaching it in the first place. However, I am also addressing the people who managed to just get the harness on their parrot (like when it was a baby or maybe just by luck). If the steps taken to teach the parrot to wear a harness were not specific and memorable, then you have nothing to trace back on. In either case, my harness training solution is thoroughly explained between my book and harness training dvd. The book teaches you all the basic taming requisites before you can being harness training and the DVD has Santina demonstrate step by step as she learns to wear the harness for the first time. So if you have not followed this method initially, do that this time. Next time, the following reharness training steps will work for you.

Depending on how rusty the bird is will affect how much I need to go back to basics. Since none of my parrots were scared or uncomfortable with the harness, I immediately skipped the desensitization. Nothing bad ever happened with the harness or at least not since they've last worn them successfully so the good we initially established persists. All of the birds have remained tame through the winter because of continued handling so that required no work either. All they needed help with is remembering how to stick their heads in the collar and rekindling a desire to wear the harness at all.

Seeing the harness alone did not evoke a desire to put it on. However, the sight of the welcoming harness collar and a treat in my hand reminded them of the "harness trick" they had once learned to put the collar on. They quickly recalled the learning that had taken place some time ago and were back on track.

To aid with the harness retraining, I make the collar stick out in a more convenient manner so that the birds can find where to put their head. As they get better, I have them work a bit harder. Just like with all training, it has to start easy at first and then get progressively more challenging. I increase how much contact the harness makes and duration on subsequent success. If the process moves along smoothly, I move quickly. If I find any trouble spots, I slow down and work on those.

Not only has Kili been harness trained, but she has also been reharness trained so many times that it only takes flashing a treat to make her go back to putting the harness on right. This is the benefit of following reproducible procedures year after year.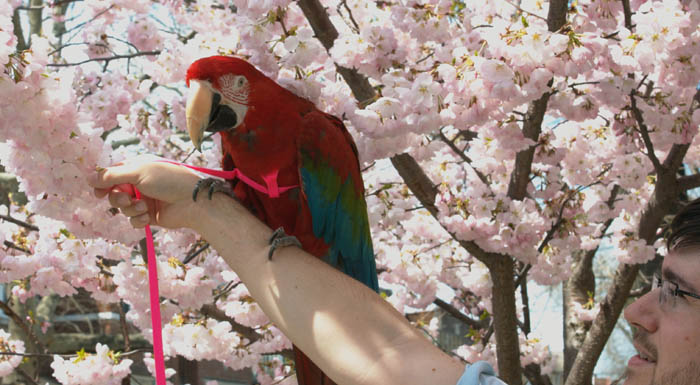 When I get the birds outside for the first time of the season, I assume things will be a bit frightening so I take my time. I don't keep them out for too long at first. But it only takes a few minutes or sessions outside until things return to normal. The more years that this is repeated, the more quickly and easily it all comes back.

Three things I offer when it comes to harness training your parrot to safely go outside:

My Book - This will teach you what you need to be able to do before you can even begin harness training
Harness Training DVD - Step by step procedure for harness training an already tame parrot
Aviator Harness - Get your leash on sale from Parrot Wizard

Get an Aviator Harness and my book together and I throw in the Harness Training DVD for free!

Here's a video of Santina getting a lesson in reharness training a year since she initially learned to wear the harness. Doesn't take much to retrain if it is trained properly in the first place.


| | | |
| --- | --- | --- |
| | | Tuesday February 8th, 2011 |
How to teach a parrot or parakeet to crawl through a tube or jump through a ring? This article should explain to you just how to teach parrots to go through different objects upon sight of them.

The tube trick is one of the easiest tricks to teach to parrots and parakeets but the biggest challenge is to avoid scaring the parrot or making it claustrophobic. A solid background in targeting is virtually mandatory, but already knowing some other tricks is advisable. The parrot should be tame and accustomed to handling prior to teaching this trick. If your parrot isn't comfortable with hands or does not know how to target, you can refer to a different article about taming and basic training.

The first thing to do is source a tube suitable to the size of your parrot. The smallest parakeets (namely Budgerigars), can go through a toilet paper tube. For small parrots such as a Senegal Parrot, Cockatiel, or Conure, you can use a piece of 3"-4" PVC pipe. You can also be creative and scout out other tube ideas such as carpet rolls and poster tubes. For the larger parrots, you're on your own. I used a 6" PVC coupling to avoid having to buy the entire pipe (which can be quite costly at that size). For even larger parrots you will have to get creative and keep your eyes open for suitable tubes. When they get that big you may even consider making your own by rolling cardboard or some other material.

It is not a bad idea to start with a shorter tube so that the parrot can have confidence that it can make it out on the far end. If you are using a toilet paper tube, you can cut it into a shorter piece and then go back to a longer one later. For some of the other options you may be stuck with what you got, but try not to make it terribly long or you won't be able to train effectively. You should be able to insert the target stick from the one end and have it emerge at the other side. If you can, tape down the tube during the course of training or have another person hold it for you to free up both hands for training. You will see in my video that I managed all by myself while holding the tube but it is definitely easier if you don't have to worry about holding the tube.

I recommend teaching this trick on a small table or an enclosed distraction-free area on the floor. I do not suggest teaching tricks to parrots on furniture or the kitchen table because that may encourage them to land where you may otherwise not want them. Try to have a place dedicated for training that you don't worry about having ruined. So besides the tube, all you need is a target stick and a clicker. I know that clickers are hard to come by, so I am now selling Parrot Training Clickers on my ParrotWizard online store for everyone who's been asking about where to get one.

Now we are ready to get to the training part. It is important to get the parrot comfortable around the tube and not let it get scared. So don't immediately shove your parrot into the tube but instead let it play or target in the tube's presence. Once the parrot is comfortable around the tube, you can begin targeting the parrot toward the tube. At first it doesn't matter that much where as long as the parrot is being rewarded for coming closer to the tube. Always click and reward when the parrot touches the tip of the target stick.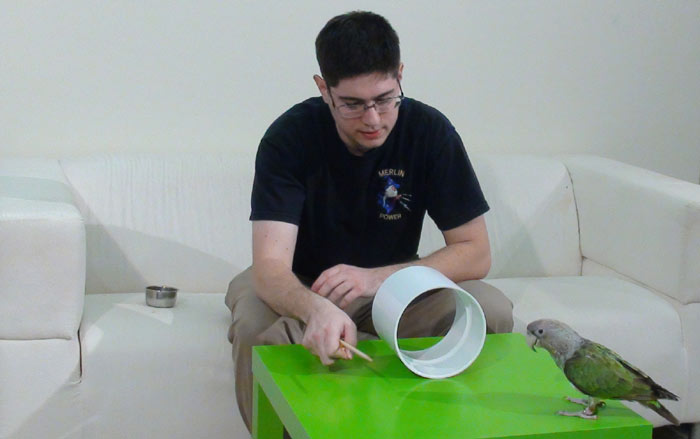 As the targeting progresses, aim the parrot closer and closer to the opening of the tube as you continue targeting. Then start targeting through the tube. Insert the target stick at the end of the tube away from the parrot so that the target stick comes out the other end right by the bird. Let the parrot touch the stick outside the tube but close to the entrance and then reward with your other hand. Now begin holding the target stick deeper and deeper into the tube so that your parrot has to progressively stick its head in further into the tube. After it has done so, it can back out to receive it's treat.

Once you get to the halfway point where the parrot is willing to go halfway into the tube to touch the stick, you can pull the stick out and show the parrot the reward on the other side. So rather than backing out it has to finish its way through the tube to get the treat. After this point you should be able to lead the parrot through the tube by moving the target stick just ahead of the parrot without letting it touch. Just pull the stick through letting the parrot follow. Once the parrot emerges from the tube, you can reward without letting it touch the target stick. After this, you can check if placing your parrot at the entrance of the tube is enough for it to go through on its own. You may need to remind it to go through by showing the target stick or treat at the far end. Never reward the parrot for going around the tube though. It must only receive treats after going through.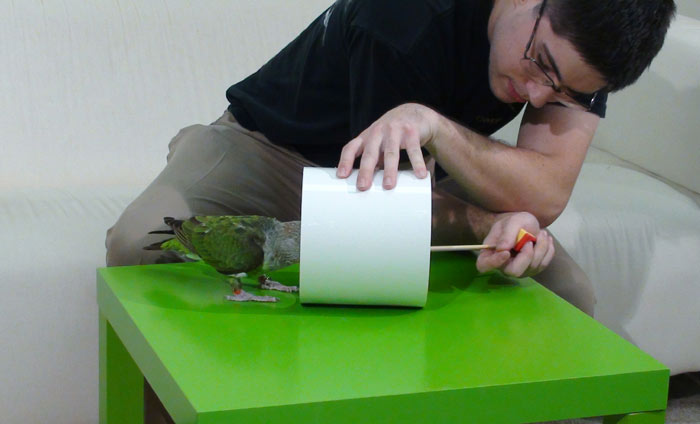 Continue practicing these steps until the parrot makes the connection that going through the tube earns it the treat. It's just a matter of repetition until it happens. Truman made this bridge on the third training session. After targeting him through, I was preparing another treat. Without targeting, Truman decided to go through the tube again on his own. After rewarding this, I knew this was the final stage of teaching the trick. It only takes a few times rewarding the parrot for going through the tube on its own for it to realize that is what it has to do. However, the early targeting parts must not be rushed because if the parrot becomes scared of the tube, it will refuse to go through all together.

At first, reward the parrot for going through the tube whenever it goes through. You have to be ready with multiple treats and clicker in hand because it may decide to go through unexpectedly. You want going through tube to be a super rewarding experience. However, just going through the tube whenever it feels like it does not make it a trick. The last step is putting the trick on a cue. For the most part, just the sight of the tube is a sufficient cue. I like to supplement all visual cues with a verbal cue to use for encouragement so I also say "go through tube." To teach the parrot to go through the tube immediately, take the tube away and then present it. Have the tube in one hand and clicker/treat ready in the other. Place the tube down with the entrance facing your parrot and wait for it to go through. At first you can wait longer, but eventually you should not reward long waits. If the parrot doesn't go through within a reasonable span of time, take the tube away and try again. Give big rewards (and don't make it go through again for a while) when it goes through as soon as you put the tube down. Take the tube away after you reward for going through so that it does not go through again until you cue by putting tube down. If the parrot is not going through when you put the tube down, go back to practicing the previous methods or wait for a more motivated training session.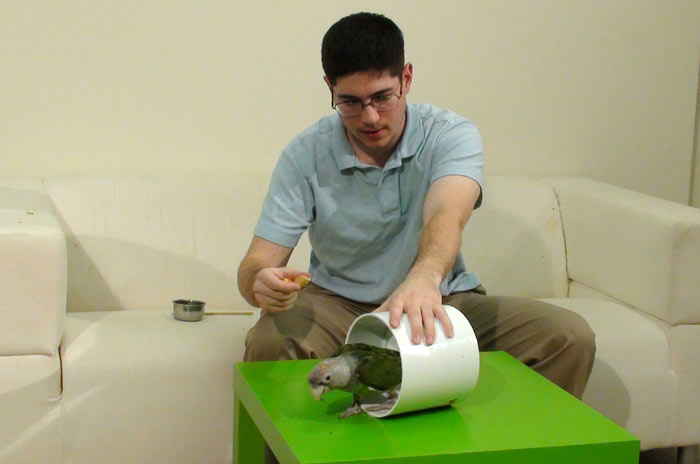 Keep practicing the trick for some time and make it more challenging. Put the tube down further from the parrot so that it has to come further to get to go into it. Also, begin angling the tube more and more away from the parrot so that it has to come around to search for the entrance. Don't start immediately with the tube entrance turned away or the parrot might not realize what is going on, but if it is at a slight angle, it will realize it has to come around to it. Make sure the parrot is used to going into the tube from either end and regardless of which way the tube is oriented. If you get into too much of a rhythm (like always going left to right), then the parrot may be learning a specific motion rather than the general trick. You'll know the parrot really knows the go through tube trick when you can place the tube in front of your parrot on any surface and pointed any direction and the parrot walks over, goes through the tube, and comes out the other end.