I have never dealt with a remote breeder before so I was uncertain about having a bird flown across the country. I was not only worried about the parrot's safety but also comfort during the long passage. I would like to share some of my thoughts about the concept in general and my personal experience.

First off, the good news is that the United States can be traversed by air north to south in 3 hours, east to west in 6. So if a direct non stop flight can be achieved, it should be possible in 6 hours or less. We must add at least a 1 hour drive to the airport and one hour from upon pickup. Next we can add at least 1 hour for pre-departure processing and 1 hour for post-arrival processing. So without any delays, realistically the bird can be expected to spend between 7-10 hours. However, flights that require transfers can easily add another 2-4 hours to this estimate. What I am trying to demonstrate is that a good chunk of the time the parrot needs to spend in the carrier, it isn't even in an airplane at all. Therefore, whether you are shipping across the country or a few states away, the flight time plays less of a roll.

I would recommend driving to pick up a parrot when possible but only as long as the total drive time is equal to or less than the total time required for air shipping as outlined above. You see, whether the parrot is being flown or driven, when it is bouncing around in a carrier all day, it won't eat or go about its business anyway. So you may as well search for the quickest solution possible. A 24 hour drive is definitely more stressful than a 3 hour flight (totaling about 8 hours of carrier time). Of course driving affords an element of security because you know where your bird is and can monitor its well being. When it is handed over to the airlines you can only guess at what kind of care they take. But this is where I'd like to bring my personal experience forward.

I wasn't sure what to expect when I received the carrier with Truman. I half expected to see a dead parrot nailed to the perch just inside. I was absolutely shocked to find him peering out by the door and looking excited! After being cooped up for 8 hours, I'm sure I'd be more cranky myself. I must say, it was a pleasant surprise to find how smooth everything went. The plane arrived on time (actually a few minutes early), the bird was out and handed to me within an hour of the airplane's arrival. The carrier wasn't tampered with and the bird was in good health and spirit. All and all I find that the air trip had little impact on the parrot.

Some suggestions if you are getting a parrot sent by air to you from a breeder:

-Make sure they send it out on an early flight. Not only does that give more opportunities in the case of a missed flight, earlier flights also tend to be on time.
-Have them put your name, phone number, and address on the carrier itself and the identifier for your airport.
-Watery foods like fruit are a better bet than water which can spill
-Wire tie all the doors shut and anywhere the carrier snaps together should also be zip tied.
-Always try to go direct non-stop flight because that reduces the variable of missed connection and the extra time it takes.
-Get to the airport early to pick up your bird because the cargo terminal or baggage area where you are to pick up your parrot may be difficult to find. Airports tend to have ring roads so if you miss the turn off, you may have to go all the way around the airport again until you have another chance. I went around LaGuardia 6 times I think before I finally found the proper cargo area.
-Have a second person come with you to help and in case you have to split to wait in different areas (like one to baggage and one to cargo)
-Make sure you bring ID to the airport and even alternate ID just in case.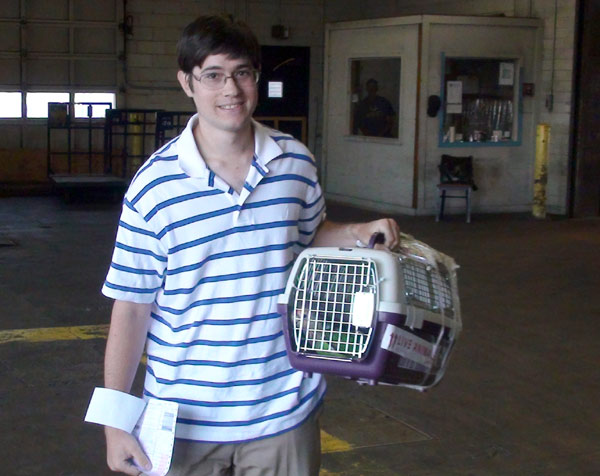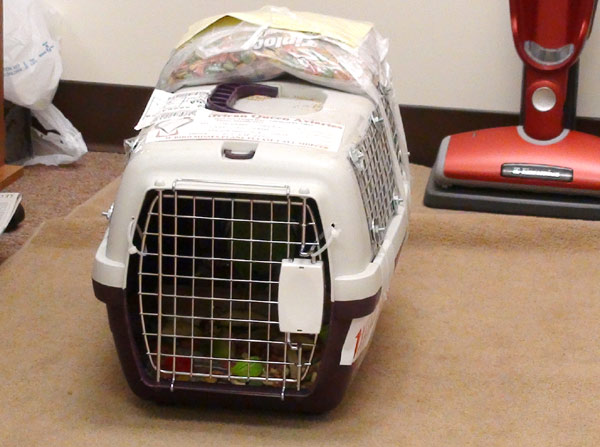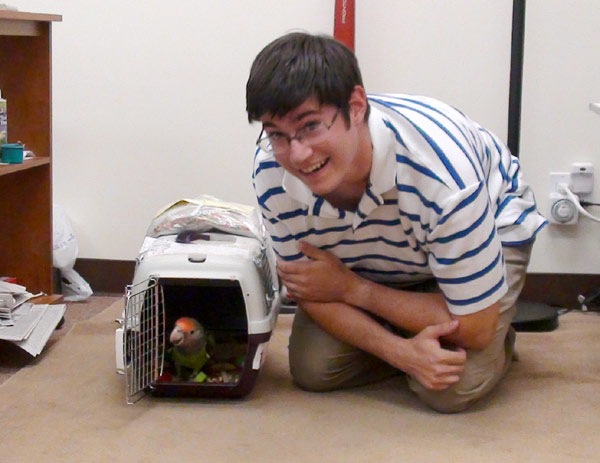 This morning I headed out to the airport two hours in advance with plenty of time to spare to pick up my parrot. I was nervous about getting stuck in New York City rush hour traffic on the way there but luckily I got there in just over an hour. However, the extra time did not go to waste as it took nearly 40 minutes to find the cargo terminal from which I was supposed to pick up my parrot delivery.

The flight departed on time and even arrived early. An hour after its arrival the parrot carrier was already handed to me. Not bad considering I've often waited even longer just to get my luggage. I was handed the carrier and took the first peek at my new lifetime companion. The little guy was standing right at the edge by the door and got excited to get some human attention albeit from a complete stranger.

I carried him back to the car and drove directly home. Upon bringing the carrier inside, I strategized how to get the parrot out of the carrier without scaring it. I cut the wire ties which kept the door locked shut. I opened the carrier door and waited to see if little Truman would come out on his own or if I'd have to reach in for him. Surely enough within 30 seconds he made his own way out of the carrier and made his way straight for my hand. He helped himself onto my hand and sat there happily opening and closing his beak.

I knew that he'd be really thirsty after the long flight so I decided to use this as the first opportunity to teach him to drink from his water bottle. I pressed the ball of the straw up against his beak and when he realized that water flows out the end, he made a determined effort to get some water out. I didn't make him drink from it for long but I was impressed how quickly he figured out how to work the steel ball with his tongue to get the water to flow.

Truman walked around on the floor but decided to try a flight. He took off and was up to the ceiling near instantly but didn't know where to go. He bumped into the walls and ceiling a few times before crash landing. I fetched him and he stayed on my hand the rest of the time. I hand fed some pellets to him and he happily munched on them. I was surprised, however, that he neither knew what to do with an almond nor had the strength to crunch it when I shelled it for him.

After some play with his toys and checking out his tree, I put Truman into his new home to take a break. Within a few minutes he went for his water and then ate some pellets on his own.