Kili said she's had enough of being the parrot on pirate's shoulder for Halloween. She decided that she's going to be a pirate too! Who has ever heard of that? A parrot being a pirate?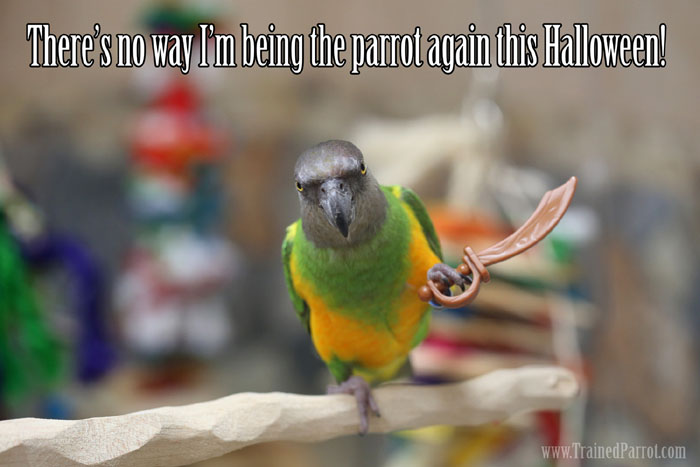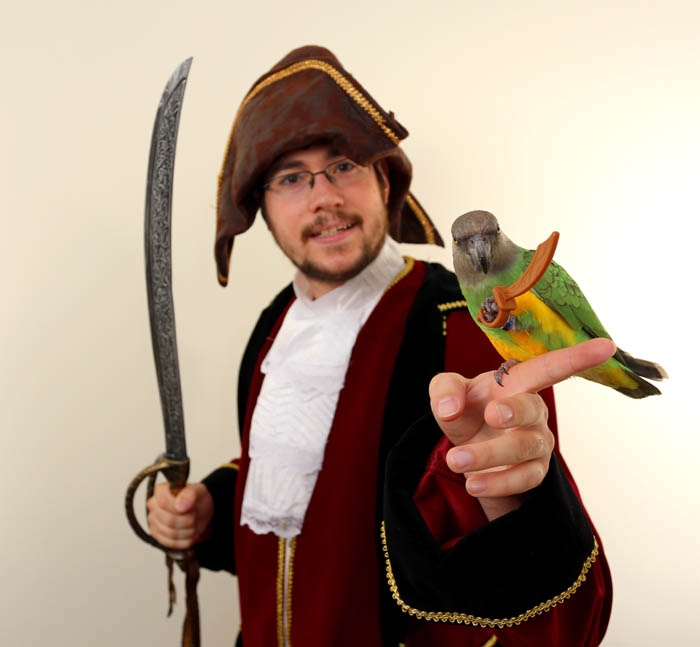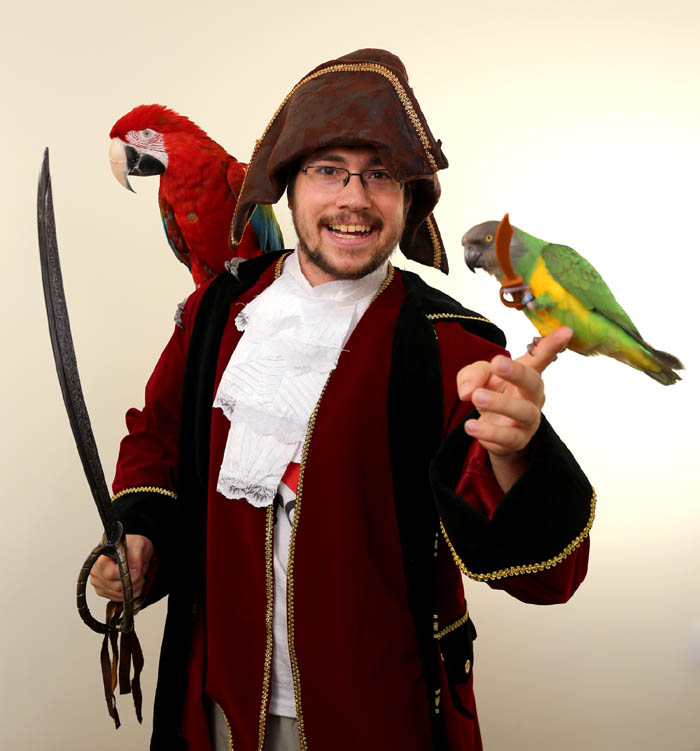 Check out this special new Halloween video where Kili demonstrates what it's like to be a pirate by hiding her treasure. You can teach your bird to stash its booty in a treasure chest too (order the treasure chest prop from ParrotWizard.com).


It was a fun Halloween experience with the parrots. I dressed up as Captain Hook, Kathleen was Peter Pan, my brother as Tick Tock the Crocodile, and my little sister as Tinkerbell. As a pirate, it was of no surprise to be adding a parrot of the old world to match my ensemble.

The whole concept started out with the parrots. I wanted to incorporate the parrots into my costume so naturally I had to be a pirate. Then I wondered how to get Kathleen involved as well. At first I was just going to make her another pirate but that would be boring. So I pondered the antithesis of pirates and who serves better than Peter Pan himself. At that point there was no doubt that my little sister would be Tinkerbell, and Tick Tock the crocodile was great for my brother.

Saturday night Captain Hook, Peter Pan, and Tick Tock went to a Halloween party accompanied by Kili the Senegal Parrot. She sat on my shoulder for nearly 2 hours at a bustling party with no trouble. I did keep her on a harness but she didn't really try flying off anyway. The harness was just a precaution. She was incredible well behaved. She did not rip my costume apart or even poop on me the entire time. She added spunk to the costume and played along very well. Kili was friendly and the party was a good socialization outing to work on her people skills.

On Sunday we took Tinkerbell and Truman out for trick or treating. Truman is not as used to being out so the party was no place for a young energetic parrot. However, a brief outdoor outing was just the thing. Unfortunately I couldn't keep him on my shoulder for more than 30 seconds at a time without him trying to destroy everything. Then getting him off wasn't easy as he'd velcro himself to my shoulder or grab onto any assortment of things to hold onto. However, he was still very friendly and of course a huge attention grabber. Once again, a successful parrot social outing. Perhaps by next year I'll be able to trust him on my shoulder for longer outings just like Kili.

I think Kili really just wanted to be a Cape Parrot for Halloween because she was constantly imitating Truman's contact call! And Truman? He was just being his mischievous Cape self.