There are many toxic threats to parrots that may be present in our homes. Cookware can be one of them. However, you do not need to endanger your parrot's life for the sake of convenience. Pans and appliances that contain Teflon or PFTE - often marketed as non-stick - can kill your parrot if over heated. It is possible and likely that even if not overheated, the long term exposure to these toxic fumes is detrimental to the health of household birds.

The good news is that there are many safe alternatives out there and I'd like to share some of my success with them. When I acquired my first bird, I stopped using my non-stick pan immediately in favor of stainless steel. However, I found the stainless steel to be very difficult to clean and problematic to work with as everything would stick. I also missed my electric waffle iron and George Foreman grill. So I set out to find alternatives for each of these devices to facilitate easy cooking.

After much research and experimentation, I had come to find that cast iron not only worked the best but was also cheapest. Unfortunately cast iron does require some work and getting used to but it is not problematic at all and the slight increase in work to maintain it is paid off by better tasting food anyway, let alone your parrot's well being.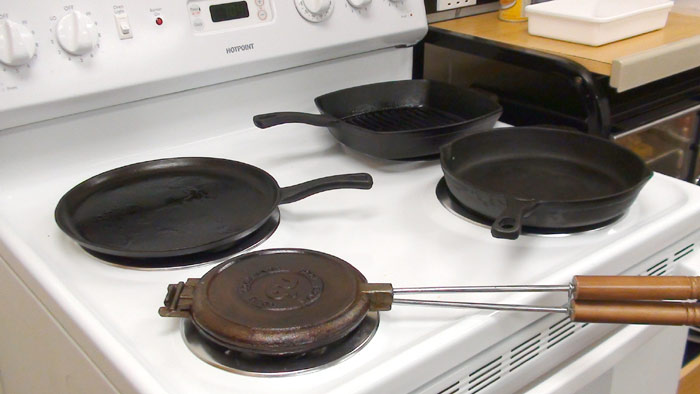 The process of maintaining a cast iron pan is called seasoning. After each use, the pan is cleaned. If the pan is not too dirty from use, washing is not even necessary. Simply wipe down the pan with a dry or moist rag/paper towel and then proceed to seasoning. If the pan is more soiled, then is should be washed with cold water and scrubbed with a stiff brush or steel wool. Soap should be avoided in all but extreme cases because it washes away the grease layer that is meant to keep the pan seasoned. After cleaning, the pan should be filled with a thin layer of cheap cooking oil (I find the largest corn or vegetable oil bottles on sale and then use them for many months for this). The pan should be heated on high briefly and then turned down to low and held like this for 5-10 minutes. If the pan starts smoking, turn down the heat and note the setting. Try to heat the pan at the highest setting possible but before it starts smoking. The pores in the cast iron open up and soak in oil. In this way the pan develops its own grease coating that makes it such that food does not stick to it. After the pan cools off, drain the excess oil and wipe down with a paper towel. Try to leave a very thin coating of oil on the pan. This prevents the pan from rusting and makes it ready for your next use.

To replace the George Foreman grill, I got a cast iron grill pan with the ridges built into it. I can grill meat and burgers and they come out as good or better than from a restaurant grill. To cook bacon, pancakes, or grilled cheese sandwiches, I use a shallow cast iron pan. Believe me, I was surprised when my pancakes were coming out looking like they had come from a good Diner or the grilled cheese sandwiches looking like they from a good grill. Cooking on cast iron definitely resembles grill cooking elsewhere and does a super job for this task than any Teflon based product.

For a long time I missed my electric waffle iron but finally I found a cast iron alternative. I coated it with oil and backed it in the oven twice to create my own coating. Now I can use the cast iron waffle iron on my stove and make delicious home style waffles. Timing is a bit tricky and the cast iron does not always heat evenly. But after making a few waffles I got the hang of it. The main thing is to preheat the iron on each side thoroughly before pouring the batter in.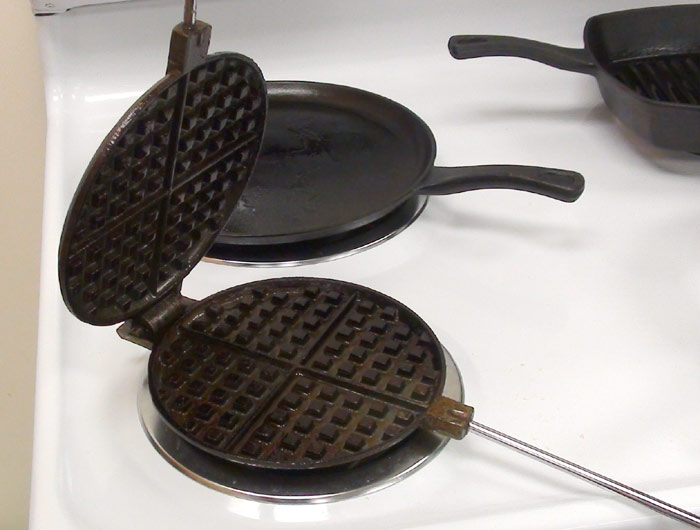 When I was picking out a new stove, I made certain that the one I was buying did not have a self cleaning oven feature. Not only is it cheaper to get it in this configuration, but it is also 100% bird safe. The self cleaning ovens have a teflon coating and I wonder if the presence of the coating is dangerous even when the feature is not used. If you already have a self cleaning oven, make absolutely certain not to use the feature and possibly to disarm it if possible.




So for anyone that owns a bird or is thinking of getting one, please be aware of the dangers of non-stick cookware to parrots and never use it. Do not think that just being careful or venting the kitchen is enough. I have heard countless stories about parrots dying from teflon fumes in all different configurations. The safest thing to do is to simply not use it at all. If you have any such cookware in your home, give it away or throw it out. The last thing you want is for someone visiting or otherwise unknowing to find a non-stick pan and kill your companion parrot through the negligent use. The cast iron alternative is safer, better, and even cheaper in the long run.

Since my parrots are flighted and the kitchen area is accessible to them, I have to be careful to keep all food and dangerous objects out of their reach. I cannot keep anything out on the table or counters when they are out so I've gotten into the habit of storing everything in plastic bins. Basically any place I used to keep stuff out on a counter or table, I added a plastic drawer to keep it in instead.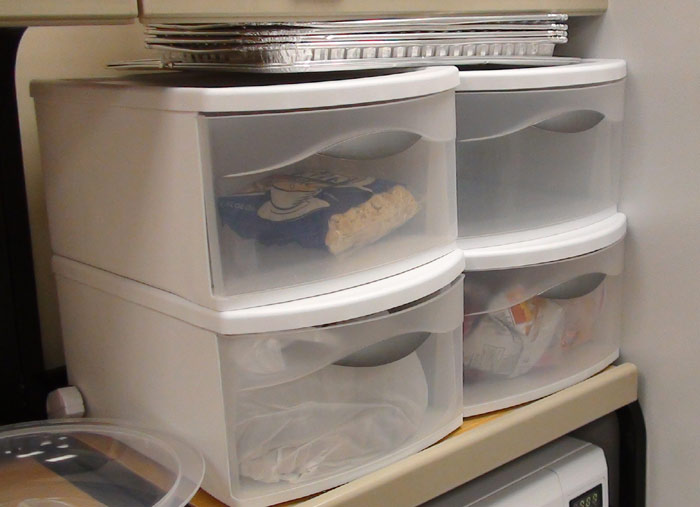 The kitchen can be one of the most dangerous places in the house for parrots. But with proper precautions these risks can be mitigated. Replace teflon coated cookware and appliances with cast iron ones. Regardless of your cooking devices, vent the kitchen area well and away from the birds. Keep foods and dangerous items away or in drawers. And of course never cook with your parrot out (whether flighted or not). With smart kitchen management, you can have tastier food, clean/organized kitchen, and happy/healthy parrot.





Part of: General Parrot Care
Cast Iron Safe Cookware Parrot Care Kitchen