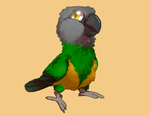 Kili
Type: Senegal Parrot
Genus: Poicephalus
Species: Senegalus
Subspecies: Mesotypus
Sex: Female
Weight: 120 grams
Height: 9 inches
Age: 14 years, 11 months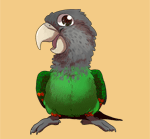 Truman
Type: Cape Parrot
Genus: Poicephalus
Species:Robustus
Subspecies: Fuscicollis
Sex: Male
Weight: 330 grams
Height: 13 inches
Age: 13 years, 3 months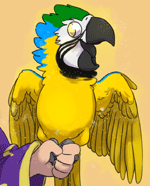 Rachel
Type: Blue & Gold Macaw
Genus: Ara
Species:ararauna
Sex: Female
Weight: 850 grams
Height: 26 inches
Age: 10 years, 11 months

List of Common Parrots:
Parakeets
:
Budgerigar (Budgie)
Alexandrine Parakeet
African Ringneck
Indian Ringneck
Monk Parakeet (Quaker Parrot)
Parrotlets
:
Mexican Parrotlet
Green Rumped Parrotlet
Blue Winged Parrotlet
Spectacled Parrotlet
Dusky Billed Parrotlet
Pacific Parrotlet
Yellow Faced Parrotlet
Lovebirds:
Peach Faced Lovebird
Masked Lovebird
Fischer's Lovebird
Lilian's (Nyasa) Lovebird
Black Cheeked Lovebird
Madagascar Lovebird
Abyssinian Lovebird
Red Faced Lovebird
Swindern's Lovebird
Lories and Lorikeets
:
Rainbow Lorikeet
Conures
:
Sun Conure
Jenday Conure
Cherry Headed Conure
Blue Crowned Conure
Mitred Conure
Patagonian Conure
Green Cheeked Conure
Nanday Conure
Caiques:
Black Headed Caique
White Bellied Caique
Poicephalus Parrots
:
Senegal Parrot
Meyer's Parrot
Red Bellied Parrot
Brown Headed Parrot
Jardine's Parrot
Cape Parrot
Ruppell's Parrot
Eclectus
:
Eclectus Parrot
African Greys:
Congo African Grey (CAG)
Timneh African Grey (TAG)
Amazons:
Blue Fronted Amazon
Yellow Naped Amazon
Yellow Headed Amazon
Orange Winged Amazon
Yellow Crowned Amazon
Cockatoos:
Cockatiel
Galah (Rose Breasted) Cockatoo
Sulphur Crested Cockatoo
Umbrella Cockatoo
Moluccan Cockatoo
Bare Eyed Cockatoo
Goffin's Cockatoo
Macaws
:
Red Shouldered (Hahn's) Macaw
Severe Macaw
Blue And Gold Macaw
Blue Throated Macaw
Military Macaw
Red Fronted Macaw
Scarlet Macaw
Green Winged Macaw
Hyacinth Macaw
Glossary of Common Parrot Terms
Between all the physical therapy and trick training that's been going on with Truman, behind the scenes I have also been doing a lot of taming exercises with him as well. Just like Kili, I can now hold Truman on his back, open his wings, hold him by the neck, hold him by the tail, and hold him by the beak.

Actually the holding by the beak trick is unique to Truman. Although I can sort of get away with holding Kili in this way, her beak is just too small to get any sort of grip by. But by sliding my finger into Truman's beak, I can lift and hold by his maxilla. This does not only show tameness but also very strong trust between trainer and animal. He can easily crack almond and walnut shells with that powerful beak, yet he is very gentle with my fingers and lets me hold him that way. For me it provides an alternate way to hold him but also helps to maintain the beak/hands comfort between us. If my hands and his beak interact on a daily basis then there will be no fear for either of us.

The primary training method I have been using for developing all of this tameness with Truman has been flooding with negative reinforcement. Now I am definitely not suggesting this for everyone, but just sharing what worked for me. Keep in mind I have previous training experience and am working with a baby parrot. I absolutely do not recommend this method for aggressive, problematic, or older birds. I believe that the main reasons this seemingly unrewarding technique is working so well for me is because Truman is so young and eager to learn. He doesn't develop a negative association for me as I am increasing the discomfort gradually. I'm definitely not pushing him straight to the limit. There is no need for positive reinforcement (although he gets some scratches and praise anyway) because he is not actually doing anything. He is learning through negative reinforcement that if he puts up with what I want to do without resisting, he can get it over with and we'll proceed to better things.

To hold Truman by the tail I took slow steps to get him ready for this. I definitely didn't just do it out of the blue. I had been accustoming him to being held on his back so now the main difference would be by where he would be held rather than the angle. I began by holding him on his back in my hand and touching his tail. I would increase this with each step by holding the tail and releasing part of the weight from the hand that was holding his back. I kept practicing this just a few times a day over a few weeks and now he trusts me to hold him by the tail. He is flighted so he's not scared of falling and I'm not too worried about dropping him then. Please don't ever subject a clipped parrot to this though.

By handling my bird in all different ways every day, the overall tameness improves. Unlike trick training which is accelerated to facilitate quick learning, taming is about going slow and only over time developing a comfort zone. This comfort zone is very important though. Sure holding by the tail might just be silly but being able to hold the parrot by the neck or beak can be quite important. Holding by the neck allows for carrying a flighted parrot through an unsafe zone (that is how I carry him the few yards from home to aviary) and is also useful for restraining the parrot during grooming/vet exams. The ability to hold the beak reduces fear of the beak, biting, and can be useful if any beak care is required. This article isn't meant to serve as a lesson on parrot taming, however, a previous one I wrote should be more helpful. It shows how to tame parrot to open its wings and hold it on its back. The same concepts can be applied for the other tameness demonstrations I show as well.

Here is a video to show Truman's little trick routine which consists of shake, wave, target, and fetch as well as his latest tameness demonstration. Although he was tame from the day I got him, there is no way he would have allowed me to do the things I show in this video without all the work we did. Also this is the first video where he can do shake and wave interchangeably. It took much longer to get him used to doing the trick I ask for rather than just one or the other.



Part of: Taming & Basic Training, Cape Parrots
Truman Cape Parrot Tameness Hold
Comments
Post Your Response
Azure Hanyo

Posted on October 1, 2010 02:08AM

Awesome video. OK... Galileo would KILL ME if I tried to do these things. I have been working with her a lot every day and so far she lets me scratch her head, grab her beak, and she has recently let me flip her upside-down on a finger. But this... Wow. I am amazed.



GooseBlossom

Posted on October 1, 2010 02:12AM

Such a good boy! Truman is so comfortable and cooperative! I'm fascinated by what you've accomplished with him in what seems to me a relatively short period of time.



sidech

Posted on October 1, 2010 02:58AM

After seeing you do some of these things with Kili (not the tricks, the handling), I started doing it with Zoulou, and it is going well. I hope I can do as well as you and Truman.



JadeW

Posted on October 13, 2010 07:47PM

I'm so impressed! I've been wondering for a while now how you work tameness into your birds. But looking back on how long you've had Truman and how often you must work with him... Wow, that's a -lot- of time and effort you've put into those birds. I'm tempted to work on my tiel's tameness through flooding, but I'm a bit wary about him associating a negative experience with me... Clearly can be done though as is evidenced by your lovely little birds



Michael

Posted on October 13, 2010 08:04PM

Please don't think I exclusively use flooding. I do use it as a way of getting the birds used to some of these things but I also couple negative and positive reinforcement. I negatively reinforce the cessation of struggle/fighting back. I also use positive reinforcement such as treats, scratches, attention, toys, and carrying over to a fun place. So I am not strictly relying on "breaking" the bird. I make it a good experience but I "just do it" to get things going. I start with short durations at first and increase later. I try to keep it just short enough that the bird does not even get the opportunity to struggle and then I can reward for not resisting. Thus in a way I am shaping the tame behavior.



JadeW

Posted on October 15, 2010 04:56PM

Ah, that definitely makes more sense! 'Shaping' the birds behaviours seems a much better choice of word then 'flooding'. Keeping it fun and enjoyable for the bird is the most important aspect of any kind of training. Still, as a beginner trainer I'm remarkably impressed to see the results of your tameness training. Much the same way you harness trained Kili, I believe~
Post Your Response