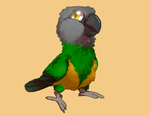 Kili
Type: Senegal Parrot
Genus: Poicephalus
Species: Senegalus
Subspecies: Mesotypus
Sex: Female
Weight: 120 grams
Height: 9 inches
Age: 15 years, 3 months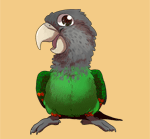 Truman
Type: Cape Parrot
Genus: Poicephalus
Species:Robustus
Subspecies: Fuscicollis
Sex: Male
Weight: 330 grams
Height: 13 inches
Age: 13 years, 6 months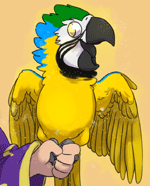 Rachel
Type: Blue & Gold Macaw
Genus: Ara
Species:ararauna
Sex: Female
Weight: 850 grams
Height: 26 inches
Age: 11 years, 3 months

List of Common Parrots:
Parakeets
:
Budgerigar (Budgie)
Alexandrine Parakeet
African Ringneck
Indian Ringneck
Monk Parakeet (Quaker Parrot)
Parrotlets
:
Mexican Parrotlet
Green Rumped Parrotlet
Blue Winged Parrotlet
Spectacled Parrotlet
Dusky Billed Parrotlet
Pacific Parrotlet
Yellow Faced Parrotlet
Lovebirds:
Peach Faced Lovebird
Masked Lovebird
Fischer's Lovebird
Lilian's (Nyasa) Lovebird
Black Cheeked Lovebird
Madagascar Lovebird
Abyssinian Lovebird
Red Faced Lovebird
Swindern's Lovebird
Lories and Lorikeets
:
Rainbow Lorikeet
Conures
:
Sun Conure
Jenday Conure
Cherry Headed Conure
Blue Crowned Conure
Mitred Conure
Patagonian Conure
Green Cheeked Conure
Nanday Conure
Caiques:
Black Headed Caique
White Bellied Caique
Poicephalus Parrots
:
Senegal Parrot
Meyer's Parrot
Red Bellied Parrot
Brown Headed Parrot
Jardine's Parrot
Cape Parrot
Ruppell's Parrot
Eclectus
:
Eclectus Parrot
African Greys:
Congo African Grey (CAG)
Timneh African Grey (TAG)
Amazons:
Blue Fronted Amazon
Yellow Naped Amazon
Yellow Headed Amazon
Orange Winged Amazon
Yellow Crowned Amazon
Cockatoos:
Cockatiel
Galah (Rose Breasted) Cockatoo
Sulphur Crested Cockatoo
Umbrella Cockatoo
Moluccan Cockatoo
Bare Eyed Cockatoo
Goffin's Cockatoo
Macaws
:
Red Shouldered (Hahn's) Macaw
Severe Macaw
Blue And Gold Macaw
Blue Throated Macaw
Military Macaw
Red Fronted Macaw
Scarlet Macaw
Green Winged Macaw
Hyacinth Macaw
Glossary of Common Parrot Terms
| | | |
| --- | --- | --- |
| | | Saturday August 28th, 2010 |
It has been over 3 weeks since Truman's injury. He is by no means healed but he is definitely doing better. I have started bringing him out into the aviary but inside of another cage so that he wouldn't move around too much. Today, for the first time, I left him out in the actually aviary for some duration of time. I hung a rope perch and a toy and he spent nearly an hour on there. I'm still not providing him major opportunities to fly around but it doesn't seem like he really wants to at this stage anyway. I did put a training perch in nearby in case he fell off the swing so that he would have a place to fly to.

I decided that for now Truman is better off spending some time loose in the aviary than in his normal cage. I'm going to wait another week before returning him to the cage but instead will let him spend a few hours a day in the aviary. You see, in the cage he can fall down and is more likely to hurt his leg again. In the aviary, there is enough room that he can fly and probably land on the cage walls. I did not hang additional toys/perches yet so that I'm not tempting Truman to fly around too much for now. What do you think of his toys so far?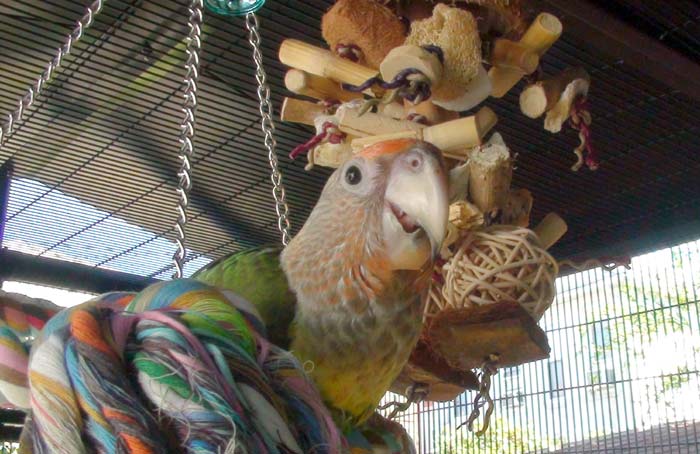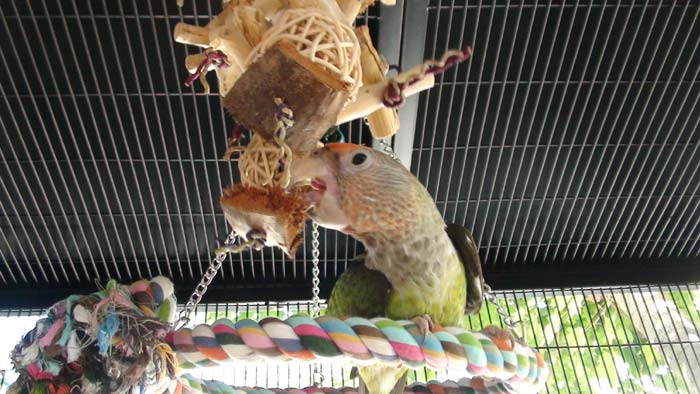 Part of: Housing, Toys, Accessories, and DIY, Cape Parrots
Truman Cape Parrot Aviary Toys
Comments
Post Your Response



ginger

Posted on August 28, 2010 02:18AM

Oh, Michael. He looks so much better and very happy. I love his swing and all the toys. He sure seems to be enjoying them. What a great thing to do for him. I think it'll help him feel better just being able to play while perching again. Yay, Truman!



TheNzJessie

Posted on August 28, 2010 09:13AM

looks like hes enjoying the freedom to move around a bit more than inside



Kim S

Posted on August 28, 2010 09:18AM

He looks great! Has he been flying around or just been sitting on his swing like a good boy? And how is Kili doing in the aviary? I have got the exact same rope swing for my budgies (yes, a couple of sizes smaller) Just be carefull, if you put a certain amount of weight on one side it tends to flip over. The budgies are ok, but when a tiel lands on it, it flips over. Yours look a lot heavier, so it might not, but thinking of Trumans injury in mind I thought I'd mention it. The toy looks great. I've seen something similar at my store. Does it have little 'mystery packages' as well?



Richard

Posted on August 28, 2010 12:49PM

He looks very happy in there and in good shape. I'm sure going out will help accelerate his full recovery. Richard



pyrrhuraphile

Posted on August 28, 2010 06:24PM

Such a relief to see him interested in nibbling toys. I'm glad he's on the mend.



HyperD

Posted on August 28, 2010 09:12PM

Good to see him out and about.
Post Your Response