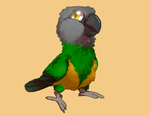 Kili
Type: Senegal Parrot
Genus: Poicephalus
Species: Senegalus
Subspecies: Mesotypus
Sex: Female
Weight: 120 grams
Height: 9 inches
Age: 14 years, 11 months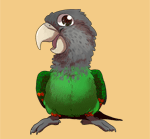 Truman
Type: Cape Parrot
Genus: Poicephalus
Species:Robustus
Subspecies: Fuscicollis
Sex: Male
Weight: 330 grams
Height: 13 inches
Age: 13 years, 3 months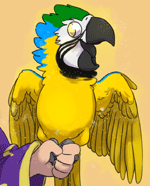 Rachel
Type: Blue & Gold Macaw
Genus: Ara
Species:ararauna
Sex: Female
Weight: 850 grams
Height: 26 inches
Age: 10 years, 11 months

List of Common Parrots:
Parakeets
:
Budgerigar (Budgie)
Alexandrine Parakeet
African Ringneck
Indian Ringneck
Monk Parakeet (Quaker Parrot)
Parrotlets
:
Mexican Parrotlet
Green Rumped Parrotlet
Blue Winged Parrotlet
Spectacled Parrotlet
Dusky Billed Parrotlet
Pacific Parrotlet
Yellow Faced Parrotlet
Lovebirds:
Peach Faced Lovebird
Masked Lovebird
Fischer's Lovebird
Lilian's (Nyasa) Lovebird
Black Cheeked Lovebird
Madagascar Lovebird
Abyssinian Lovebird
Red Faced Lovebird
Swindern's Lovebird
Lories and Lorikeets
:
Rainbow Lorikeet
Conures
:
Sun Conure
Jenday Conure
Cherry Headed Conure
Blue Crowned Conure
Mitred Conure
Patagonian Conure
Green Cheeked Conure
Nanday Conure
Caiques:
Black Headed Caique
White Bellied Caique
Poicephalus Parrots
:
Senegal Parrot
Meyer's Parrot
Red Bellied Parrot
Brown Headed Parrot
Jardine's Parrot
Cape Parrot
Ruppell's Parrot
Eclectus
:
Eclectus Parrot
African Greys:
Congo African Grey (CAG)
Timneh African Grey (TAG)
Amazons:
Blue Fronted Amazon
Yellow Naped Amazon
Yellow Headed Amazon
Orange Winged Amazon
Yellow Crowned Amazon
Cockatoos:
Cockatiel
Galah (Rose Breasted) Cockatoo
Sulphur Crested Cockatoo
Umbrella Cockatoo
Moluccan Cockatoo
Bare Eyed Cockatoo
Goffin's Cockatoo
Macaws
:
Red Shouldered (Hahn's) Macaw
Severe Macaw
Blue And Gold Macaw
Blue Throated Macaw
Military Macaw
Red Fronted Macaw
Scarlet Macaw
Green Winged Macaw
Hyacinth Macaw
Glossary of Common Parrot Terms
| | | |
| --- | --- | --- |
| | | Saturday August 21st, 2010 |
First of all I would like to thank everyone for their support who has been reading my updates about Truman's injury and recovery, all the people who posted responses, comments on youtube, discussions on The Parrot Forum, and endless private messages. Writing posts about this and all of your support is helping me cope with the entire situation. It's just really tough to watch him suffer and really not be able to do anything for him. It's mostly a factor of time and all of this writing and friendly support I am receiving is helping me pass the time in waiting for him to be better.

Before I get into the details about the vet situation, I'd like to share a bit more about how Truman is doing. Today I have noted a slight improvement over previous days this week. I hand fed him 3 times today and still he went to bed not a gram heavier than the previous nights. However, the improvement I am seeing is that by this evening he was actually demonstrating a subtle interest toward food. I noted that he had eaten a few pellets in his tub. He drank a few sips of water when I took him out. I offered him pellets, peas, broccoli, and carrots by hand. He did not really eat any of these but he did take them up in his beak and break them into smaller pieces. Most of this was coming right back out of his beak but at least he is showing some slight interest in food whereas even yesterday he wouldn't so much as look at it. This looks like a turning point and the first step to him returning to a normal feeding regime.

The hand feedings today were all slight. I've learned to make the formula thicker and have been following all sorts of advice I have been receiving. 6cc's is the most that I am getting out of the syringe and I'm lucky if half of that doesn't end up all over the place. Most of my effort goes into Truman not running or flying away from the feeding. As long as I get the stuff into his beak, for the most part he does end up swallowing it. But when I weigh him after a feeding I wonder how he could have gained so little or no weight at all from the food.

Truman seems to have two phases. Every time I come in from some absence, I always find him very mellow and squatting low on one leg. He definitely doesn't seem to be eating or playing much while I'm gone. However, as soon as he sees me, he gets up and becomes more active. He seems to be pretty active in my presence but very mellow in my absence. This is probably a good thing when it comes to letting his leg heal.

Throughout this week since Truman's Metacam crash I have been in regular contact with the Center for Avian & Exotic Medicine. Unfortunately the office manager that can authorize billing changes was unavailable throughout the week. However, I had several conversations with the nurses and one of the vets about Truman's progress. Unfortunately the results of those conversations were inconclusive but that is because for a while Truman was neither improving nor getting worse. The conclusion we have basically been reaching every time was to wait and see which direction his recovery takes. This was by no means anyone's fault, it was just that there was no point in changing his medications or stressing him by traveling to the vet again if things were not getting worse.

Finally the office manager returned today from a trip pertaining to animal rescue. She was unavailable when I called in the morning but she called me back herself a little later. Actually this is one of the things that I really appreciate from this facility. Whenever the person being reached is unable to talk, they always call back. In a world where we find ourselves talking to machines or someone abroad, this is always a welcome courtesy. The office manager called me back and we ended up talking for half an hour. The conversation began with Truman's current condition and progress and eventually led to the medication overdose and billing.

It turns out that Truman's prescription was mixed up with a rabbit's medication. They were both set to receive metacam but in slightly varying dosages and durations. Someone screwed up and misplaced the two. I joked that the poor rabbit must have only received a bird sized dose! Luckily Truman's overdose was not so tremendous but then again if they gave me a dosage suitable for a horse, bells would have been going off. The main reason I think this mix up went unnoticed was because the number of days was close (5 vs 7) and the dosages are both quite small despite the actual variation.

There is no doubt that the follow up tests and medications were good practice to verify that the overdose had not caused any substantial damage. My main concern was that I received a hefty bill that predominantly pertained to care Truman was receiving specifically in response to the medication mismatch. I felt that it was unjustified to have to pay for the damage control. I had no objection to the care he received in response to the overdose. In fact I am actually quite relieved that the vet had the competence to realize the concerns that such an overdose might raise and dealt with them appropriately.

I was very happy that the office manager was very aware of the situation and cooperative. In the course of the week I had prepared a bombardment of arguments to use but did not have to because she was being very respectful and supportive. This is good because having to try to fight for justice only leads to harder feelings. As I've stated in my original post, overall I am actually quite happy with the Center for Avian & Exotic Medicine, so I am relieved that this situation was professionally dealt with and I can continue Truman's vet care with this clinic.

Ideally the extra tests/medications should not have been charged in the first place which would have averted all the frustration, but unfortunately the office manager was out all week and the other staff could not have authorized such an amendment. It is not even that I do not want to pay for Truman's care, but rather that I felt cheated having to pay for tests to see if the mistake had caused damage. The absolute most important thing is that the overdose did not do any harm. The whole billing thing we have all the time in the world to sort out, so I'm not worried. The office manager offered to refund any fees associated with the medication issue. She made a full refund for that recent visit. I explained to her that it's not necessary to refund for Truman's new pain medication because I would have bought that for him even if the whole metacam dosage went according to plan. Yet I received a refund for the entire amount billed for the recent visit.

We also discussed whether or not I should be taking Truman outside. We reached a consensus that if done the right way, that in fact getting some air and sunlight would be beneficial to him. I have been preparing to start taking him outside for nearly two weeks now. Check back soon to find out what I had in store for him. It's something big and this next article you won't want to miss!

Before giving an overall judgment of this vet clinic, I'd prefer to wait until the completion of Truman's treatment. However, I would like to mention again that the staff are very pleasant and professional, the facilities spotless, and there exists a genuine concern for the animals' well being. I wish pet stores and companies I deal with overall could live up to these standards.

Part of: Health, Nutrition, and Diet, General Parrot Care, Cape Parrots
Truman Cape Parrot Injury Vet Recovery
Comments
Post Your Response



ginger

Posted on August 21, 2010 06:46AM

Yay! This is all great news. I am so glad that you and the Office Manager were able to have a discussion that led to a happy ending for all of you. Even though he's making slow progress, it is still progress. I am so happy for you, Michael. Give Truman a headscratch for me. Oh, and by the way, how's Kili handling all this?



pchela

Posted on August 21, 2010 07:07AM

Finally some good news! Even though Truman is not eating much, it sounds like he is not losing drastic amounts of weight so that's a good sign. I just hope he recovers soon and you can continue with your training. I'm very glad to hear that the vet clinic rectified their mistake. They could have easily ignored it and kept your money. I'm still thinking about Truman often and wishing him the best!



HyperD

Posted on August 21, 2010 07:25AM

Good to hear Truman is slowing improving. The vet situation is also good news but as you have said, not your biggest concern



Kim S

Posted on August 21, 2010 09:40AM

Like I said before, vets are still human, and humans make mistakes. Its a big plus for them to be so cooperative on the bill. There probably wont be any more scre-ups on Trumans care. I think they will look at everything twice now I'm happy Truman is making some progress. I know you would prefer him to gain weight, but not losing any is an improvement at the moment.
Shonta

Posted on August 21, 2010 06:01PM

Great news! Glad the manager is working with you. It would not be in their best interest not to being their mistake may have been fatal. I don't know if vets have malpractice insurance or if the law takes animal malpractice seriously but doctors and their staff cannot afford to mess up with medications. I don't buy this everyone makes mistakes when it comes to what could mean life and death, even in birds. If we mess up and cause undo harm we are hit with malpractice suits, and the patient has every right. The it was an honest mistake won't get you off the hook. When you are giving meds, double check it yourself or have someone else. It's not worth the consequences to make a mistake. Next time my birds need meds I'm going to read back the directions on the bottle to make sure it is correct. Here's to Truman getting stronger and better soon! YOu go little guy!



ginger

Posted on August 25, 2010 01:35AM

How is Truman doing? Just hoped you might have time to give a quick update. Thanks.



Michael

Posted on August 25, 2010 03:21AM

Eh. He's still not eating great on his own. If I don't give him at least 1 supplemental feeding a day his weight declines. However, there has been noticeable improvement in the leg. It's by no means healed. He still limps and mainly sits on one leg. However, he can do things he couldn't do before. For instance turning around on a perch, he used to have to flap to take the weight off as he turned around. Now he can do it just on his legs (maybe leaning on his beak). He has been flying a lot and it doesn't seem to bother him at all. I'm sure if it hurt to land, he'd stop flying. But he doesn't. And actually he's been REALLY GOOD about where he's been flying to. He has only been flying to training perches around the room, his cage top, or to me. He hasn't been flying up onto the blinds any more (which was what ended up starting this whole mess to begin with). He has been recalling to me pretty well too. Also he can sort of step up now. It's hard for him and he'll aid with beak but he can step up. Remember that stepping up involves pressing off with one leg but then pulling up with the other. So now matter how you do it, there's a moment when all weight is strictly on one leg. So there is no way to step up without putting weight on bad leg but he manages. I don't have him do it much but I do test him every day by seeing if he can do it or not. Finally, he still remembers his tricks. Wave is the only one he can't do because he has to put all the weight on the bad leg to lift the other one. I have no way of knowing if he remembers it or not. However, he still remembers recall, target, and fetch very well. He does them flawlessly which is surprising cause there have been a few weeks when we didn't do them at all. I'm particularly surprised he hasn't forgotten fetch because we had only done it for 8 training sessions prior to the accident and then 2 weeks went by when we didn't do it at all. And yet when I test him on it, he was eager to do it and did it right. So imagine that? 8 days to learn, 14 to skip, and still knows what to do. Not too bad. My goal is to get him back in his cage by the end of the week but that will really depend on his ability to fully eat on his own and to be able to climb safely. We'll see what happens. Tomorrow will be the 3 week mark since the break. This healing sure is taking a long time though.



ginger

Posted on August 25, 2010 08:13AM

I'm so glad that he is improving. Progress is progress, even if it is slow. Patience is not one of my best attributes, so I am sure it would be hard for me to wait for the recovery. It is good to know that he is still happy in spite of it all and able to retain his trick training. Keep up the great work you're doing nursing him back to health. Is he enjoying his outdoor time in the new aviary?



Kim S

Posted on August 25, 2010 02:03PM

Has it been three weeks already? Good thing he is putting more and more weight on his bad leg. Souns like its healing pretty well. I think training Tuman is something you can still continue and will be good for him. It keeps him physically and mentally healthy. And there are some things you can still teach him? Lifting his wings, nodding, shaking his head. But dont go too fast. This little break in training is perfect for me and Kika to catch up with you. Kika is giving a wave on command since yesterday!
Post Your Response