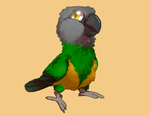 Kili
Type: Senegal Parrot
Genus: Poicephalus
Species: Senegalus
Subspecies: Mesotypus
Sex: Female
Weight: 120 grams
Height: 9 inches
Age: 15 years, 5 months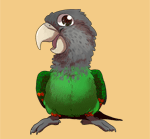 Truman
Type: Cape Parrot
Genus: Poicephalus
Species:Robustus
Subspecies: Fuscicollis
Sex: Male
Weight: 330 grams
Height: 13 inches
Age: 13 years, 8 months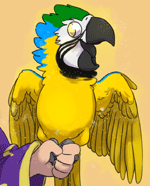 Rachel
Type: Blue & Gold Macaw
Genus: Ara
Species:ararauna
Sex: Female
Weight: 850 grams
Height: 26 inches
Age: 11 years, 5 months

List of Common Parrots:
Parakeets
:
Budgerigar (Budgie)
Alexandrine Parakeet
African Ringneck
Indian Ringneck
Monk Parakeet (Quaker Parrot)
Parrotlets
:
Mexican Parrotlet
Green Rumped Parrotlet
Blue Winged Parrotlet
Spectacled Parrotlet
Dusky Billed Parrotlet
Pacific Parrotlet
Yellow Faced Parrotlet
Lovebirds:
Peach Faced Lovebird
Masked Lovebird
Fischer's Lovebird
Lilian's (Nyasa) Lovebird
Black Cheeked Lovebird
Madagascar Lovebird
Abyssinian Lovebird
Red Faced Lovebird
Swindern's Lovebird
Lories and Lorikeets
:
Rainbow Lorikeet
Conures
:
Sun Conure
Jenday Conure
Cherry Headed Conure
Blue Crowned Conure
Mitred Conure
Patagonian Conure
Green Cheeked Conure
Nanday Conure
Caiques:
Black Headed Caique
White Bellied Caique
Poicephalus Parrots
:
Senegal Parrot
Meyer's Parrot
Red Bellied Parrot
Brown Headed Parrot
Jardine's Parrot
Cape Parrot
Ruppell's Parrot
Eclectus
:
Eclectus Parrot
African Greys:
Congo African Grey (CAG)
Timneh African Grey (TAG)
Amazons:
Blue Fronted Amazon
Yellow Naped Amazon
Yellow Headed Amazon
Orange Winged Amazon
Yellow Crowned Amazon
Cockatoos:
Cockatiel
Galah (Rose Breasted) Cockatoo
Sulphur Crested Cockatoo
Umbrella Cockatoo
Moluccan Cockatoo
Bare Eyed Cockatoo
Goffin's Cockatoo
Macaws
:
Red Shouldered (Hahn's) Macaw
Severe Macaw
Blue And Gold Macaw
Blue Throated Macaw
Military Macaw
Red Fronted Macaw
Scarlet Macaw
Green Winged Macaw
Hyacinth Macaw
Glossary of Common Parrot Terms
I began bringing Truman out to the park as soon as we had bonded enough that I could put the harness on him without bothering him too much. It's a good way for him to get some sun, air, and get used to various sights and sounds. Also I shower him and then dry him out in the sun. He dries much quicker that way and he gets really fluffy and enjoys getting pet. Furthermore all this helps strengthen our relationship as he looks to me for protection/comfort. Here is a video of a recent outing to the park both with Kili and Truman.

Taking the Senegal and Cape to the park together helps socialize them to each other on neutral territory. Kili is far less aggressive here and both parrots end up more focused on their surroundings than each other. They almost become friends on the basis of familiarity this way. I let Kili show off her tricks and Truman practice target and recall. The children at the park always gather around and enjoy watching the parrots perform but sometimes it can get out of hand so it's important to keep a close eye not only on the parrots but also the kids.

I showered Kili and Truman down in the water fountain but Truman flew off and landed in dirt so he needed another one. I waited until the parrots were dry before taking them home.





Part of: Taming & Basic Training, Outdoor Harness Flight, Poicephalus, Cape Parrots, Senegal Parrots
Kili Senegal Parrot Truman Cape Parrot Park Harness Target
Comments
Post Your Response



Rue

Posted on July 15, 2010 04:40PM

I haven't taken my birds out for a while - between being busy and lousy weather it just hasn't happened. Good on you for taking both of your guys! I only take one at a time...and I use a carrier. LOL...hard to haul two carriers...not to mention then you really DO look like a nutbar!



Giantmoa

Posted on July 15, 2010 09:19PM

what harness do you use? mine is a bit annoying and difficult to unclip (which I suppose is a good thing when I'm outside...) so I'm looking to see if there is a better model out there



Brittanyv326

Posted on July 15, 2010 09:53PM

No wonder you get annoyed at stupid questions if you have to answer those every day!! "Hey mister" was my favorite. I know you're trying to socialize the birds, but I'd go somewhere with less kids after even just a day of that. But anyway, good job keeping the situation under control, I can't imagine it's easy. How do you keep the lines from getting tangled?



bmsweb

Posted on July 16, 2010 12:39AM

[quote="Brittanyv326":1fs07y6w]No wonder you get annoyed at stupid questions if you have to answer those every day!! "Hey mister" was my favorite. I know you're trying to socialize the birds, but I'd go somewhere with less kids after even just a day of that.[/quote:1fs07y6w] True but I think Michael did a great job with birds and the kids. Those kids have just had a taste of what parrots are all about. I think one of those little girls could become a future parrot owner. Nice work Michael.
skthurley

Posted on July 16, 2010 09:12PM

I think it's great that you take the birds to the park Especially being around all those kids! It's great socialization for your parrots, but also a great place to educate kids about birds
Azure Hanyo

Posted on July 17, 2010 12:51AM

I would love to be able to do that with my BHC! I can't wait until we are more bonded, and I am able to convince him a leash isn't a bad thing. Your parrots are lovely!



Brittanyv326

Posted on July 17, 2010 02:37AM

lol, sorry I am so negative about the children. I realized when enough people decided that movie theaters (where I work) are great babysitters that I really only like the kids I'm related to.
purringparrot

Posted on July 17, 2010 02:27PM

I haven't had a chance to read all the blogs and watch all the videos but it is good they are starting to tolerate each other plus the training videos are really good, Truman already looks like he is filling out. I like how Kili finishes her wood first and then starts eyeing Truman's.
Post Your Response