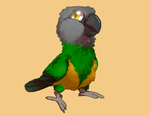 Kili
Type: Senegal Parrot
Genus: Poicephalus
Species: Senegalus
Subspecies: Mesotypus
Sex: Female
Weight: 120 grams
Height: 9 inches
Age: 14 years, 3 months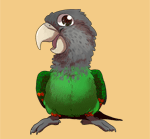 Truman
Type: Cape Parrot
Genus: Poicephalus
Species:Robustus
Subspecies: Fuscicollis
Sex: Male
Weight: 330 grams
Height: 13 inches
Age: 12 years, 6 months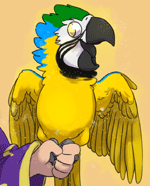 Rachel
Type: Blue & Gold Macaw
Genus: Ara
Species:ararauna
Sex: Female
Weight: 850 grams
Height: 26 inches
Age: 10 years, 3 months

List of Common Parrots:
Parakeets
:
Budgerigar (Budgie)
Alexandrine Parakeet
African Ringneck
Indian Ringneck
Monk Parakeet (Quaker Parrot)
Parrotlets
:
Mexican Parrotlet
Green Rumped Parrotlet
Blue Winged Parrotlet
Spectacled Parrotlet
Dusky Billed Parrotlet
Pacific Parrotlet
Yellow Faced Parrotlet
Lovebirds:
Peach Faced Lovebird
Masked Lovebird
Fischer's Lovebird
Lilian's (Nyasa) Lovebird
Black Cheeked Lovebird
Madagascar Lovebird
Abyssinian Lovebird
Red Faced Lovebird
Swindern's Lovebird
Lories and Lorikeets
:
Rainbow Lorikeet
Conures
:
Sun Conure
Jenday Conure
Cherry Headed Conure
Blue Crowned Conure
Mitred Conure
Patagonian Conure
Green Cheeked Conure
Nanday Conure
Caiques:
Black Headed Caique
White Bellied Caique
Poicephalus Parrots
:
Senegal Parrot
Meyer's Parrot
Red Bellied Parrot
Brown Headed Parrot
Jardine's Parrot
Cape Parrot
Ruppell's Parrot
Eclectus
:
Eclectus Parrot
African Greys:
Congo African Grey (CAG)
Timneh African Grey (TAG)
Amazons:
Blue Fronted Amazon
Yellow Naped Amazon
Yellow Headed Amazon
Orange Winged Amazon
Yellow Crowned Amazon
Cockatoos:
Cockatiel
Galah (Rose Breasted) Cockatoo
Sulphur Crested Cockatoo
Umbrella Cockatoo
Moluccan Cockatoo
Bare Eyed Cockatoo
Goffin's Cockatoo
Macaws
:
Red Shouldered (Hahn's) Macaw
Severe Macaw
Blue And Gold Macaw
Blue Throated Macaw
Military Macaw
Red Fronted Macaw
Scarlet Macaw
Green Winged Macaw
Hyacinth Macaw
Glossary of Common Parrot Terms
| | | |
| --- | --- | --- |
| | | Friday January 21st, 2011 |
I would like to take the opportunity to announce to you the launch of my new parrot toys and training props brand, Parrot Wizard. In addition to the Training Perches™ with which you are already familiar, I am releasing new parrot toys and training products.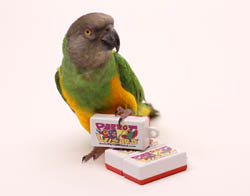 Be sure to check out the cool new Parrot Wizard Clickers, the first clicker made specifically for parrot training. No longer will you have to betray your feathered pals by searching for clickers in the dog obedience aisle. These come in a bright red and yellow color with the Parrot Wizard emblem on the back.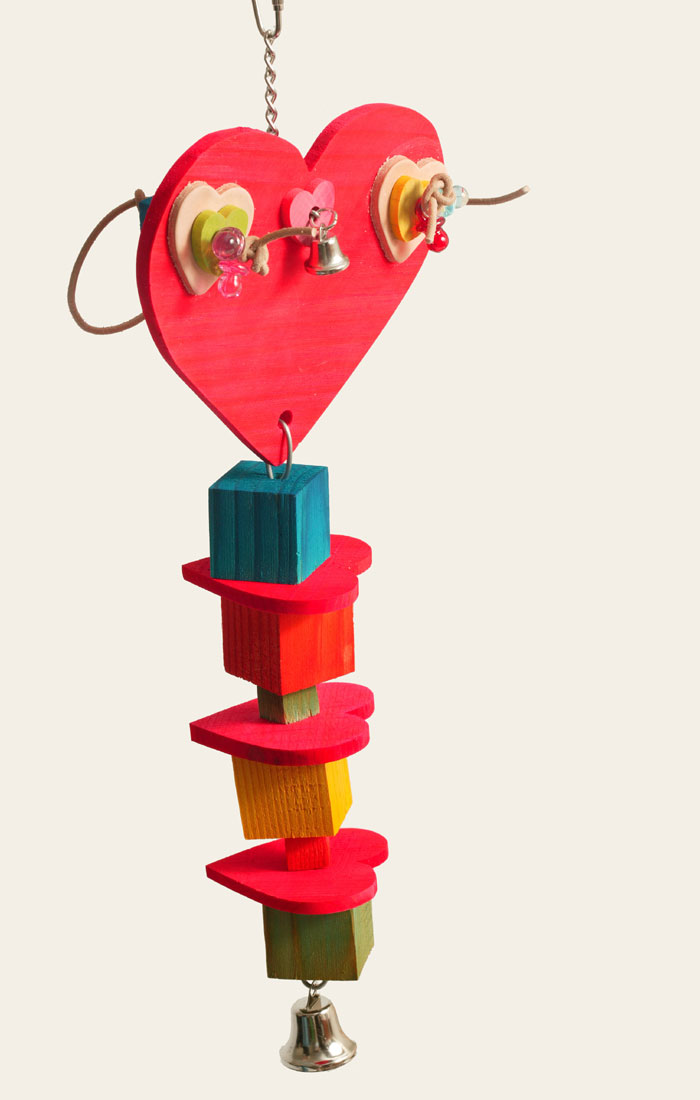 Now here is the best part. I personally designed, built, and now sell this sweet Valentine's Day parrot toy called My Chew Love™. Since this is the first toy I am selling, I'm offering it for 50% off the full price to entice you to try my products. You won't be disappointed! I've already let Kili and Truman play with this toy and they went bonkers for it.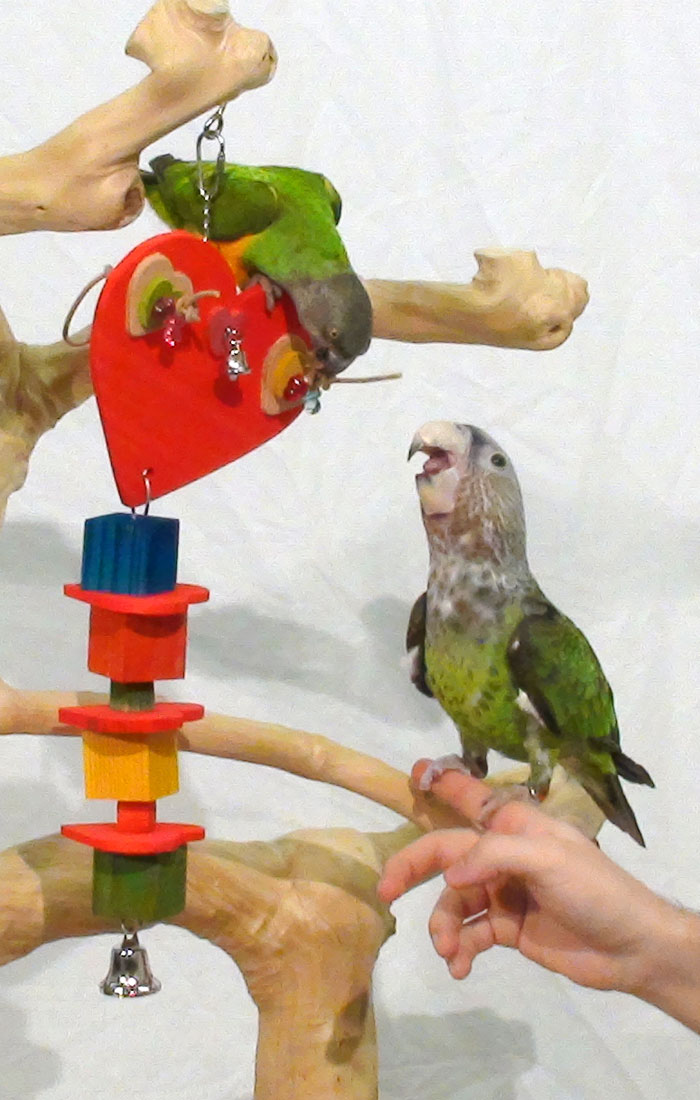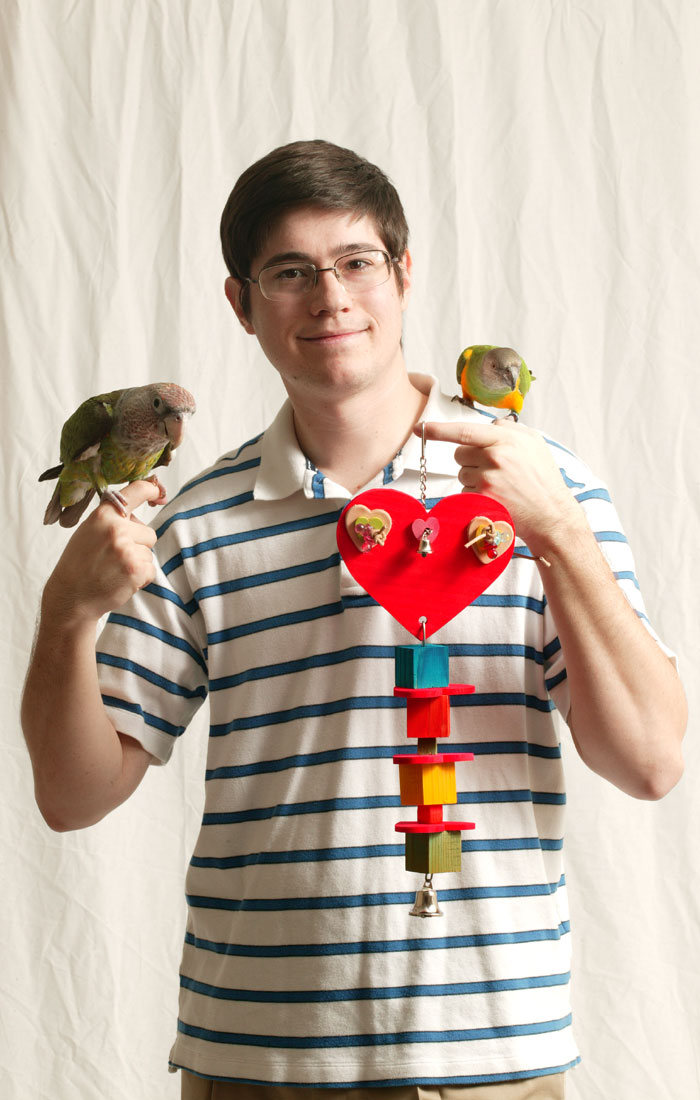 The heart shaped toy has a variety of pieces in different colors and sizes so that any parrot could enjoy it. It's a one size fits all toy so to say. The smaller parrots such as Senegal Parrots, Conures, and Cockatiels, will appreciate the leather knots, mini hearts, and little pacifiers. Meanwhile larger parrots such as African Greys, Cockatoos, Amazons, and Macaws can chomp down the bigger blocks and hearts with ease. So here's a fantastic gift idea to express your love to your parrot and at an incredible price too. Order soon to receive in time for Valentine's Day.

Visit www.ParrotWizard.com and check out all the parrot toys I've come out with. Many more are coming soon. I will also be releasing props for trick training so that you can follow along some of the prop based tricks I will soon be training to Truman. I'd like to thank all my customers, readers, and viewers because without your ongoing support and feedback I would not have had the motivation to attempt to publicize my own line of parrot products. I made these for you and I really hope they bring love and joy to you and your flock.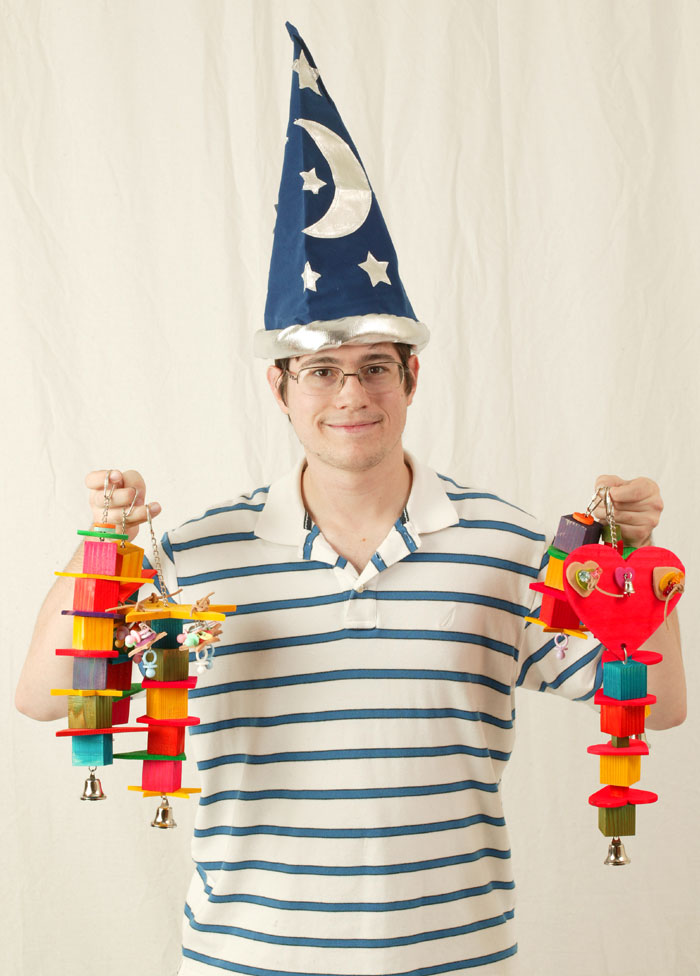 Part of: Toys, Accessories, and DIY, Blog Announcements
Valentine's Day Parrot Wizard Toys
Comments
Post Your Response



TheNzJessie

Posted on January 21, 2011 07:18AM

i would love to get one but i dont use paypal and green naped lorikeet, yellow bibbed lorikeet, black capped lorikeet, musk lorikeet, red collared lorikeet and scaley lorikeet should be added to the birds



Michael

Posted on January 21, 2011 03:36PM

Paypal should not be the limiting issue because you do not need to be a member to pay. Simply enter a credit card into paypal on checkout and the order will come through to me. However, the bigger issue is that international shipping is prohibitively expensive. You're looking at about $45 shipping to most countries outside the US, $25 to Canada. However, since the major cost of the shipping is the international factor rather than the weight, I'd suggest getting as many toys as the box will fit (I'm guessing 4-5 but if anyone is considering it, I can personally test to see the best option). It seems that whether you order 1 toy or 5, shipping won't change by more than a couple dollars. I do apologize to all my international friends that these products may be inaccessible, just a shipping cost issue. I will gladly look into a closer estimate on a case by case basis if you [url=http://parrotwizard.com/contact.php:15xzudpr]contact me[/url:15xzudpr] with your country, postal code/city, and let me know which products you would want and quantities if they apply. Thank you for your understanding.



zazanomore

Posted on January 24, 2011 06:47PM

http://parrotwizard.com/Valentine/?image=8 Truman's face is so funny in this picture. I'd love to buy one, but the shipping is just a bit too much. You should also set up an etsy account for your bird toys and training perches. I've found a couple of really great bird toy stores on there. I even found one in the same city, and she's making me a custom order of 10 bird toys for 50$, and that includes shipping. Just a suggestion



zazanomore

Posted on January 27, 2011 02:05AM

I have a question. Where do you buy those long metal wires used as the base of your toys? I don't know what they are called, but I'd love to be able to get some so I can make more toys for my birds.



tacotaco

Posted on January 27, 2011 09:18PM

i bought the heart one and i am excited to receive it for my birds. thanks!



entrancedbymyGCC

Posted on January 27, 2011 09:51PM

[quote="zazanomore":2btfcntm]I have a question. Where do you buy those long metal wires used as the base of your toys? I don't know what they are called, but I'd love to be able to get some so I can make more toys for my birds.[/quote:2btfcntm] I don't know what Michael is using, but toy parts suppliers sell a couple of things you can use to make metal toy bases -- some are essentially the guts of a metal skewer for veggies without the decoration and hanger -- and they may actually be listed as "Kebab" parts. You can also use a piece of chain and a split ring, both of which can be gotten in stainless steel. The rings are a bit of a pain to work with because you have to twist them open with a pair of pliers and it takes a bit of strength, but they are very versatile. You can also get hinged rings that clip open and closed, but some birds can probably easily learn to open those.
Post Your Response