No, I didn't misplace Truman for a Turkey! I just had to fatten him up a little and Kili could use some stuffing. I laid out the biggest variety of yummy foods the parrots ever got in a single meal. They both went straight for the nuts the moment I placed them on the table. No doubt that is their number one most favorite food. Then Kili sampled the mixed veggies and snuck away pieces of Truman's Brazilian nut cause she couldn't crack her almond. The parrots played with bits of pasta while trying a bit of everything.

While Kili devoured a big piece of banana, Truman nibbled some pellets. Kili did not touch a single pellet though. She's more of a vegetarian where she'll go for fresh veggies and fruits any day. Truman on the other hand is more of a nut and pellet kinda guy. He skipped most of the greens and went straight to his pellets. Before long, both their crops were visibly bulging out of their necks.

The parrot duo engaged in the tradition of sharing by putting aside their differences and enjoying their meal side by side. Neither attacked the other or caused any trouble. But you can see in the video that they were still a little cautious around each other. As long as there's plenty of food to go around, it's every bird for himself! Happy Thanksgiving.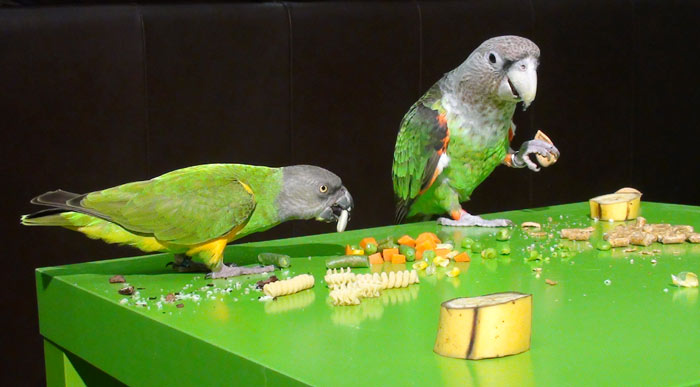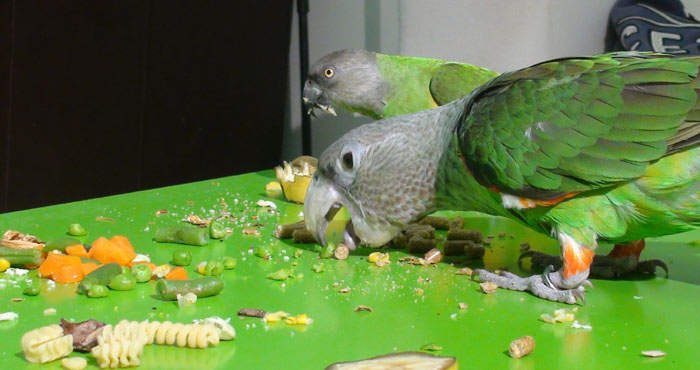 Check out the video of Kili and Truman's Thanksgiving Day meal and then leave a comment about what your parrots got for Thanksgiving.



Part of: Health, Nutrition, and Diet, Blog Announcements
Kili Senegal Parrot Truman Cape Parrot THanksgiving