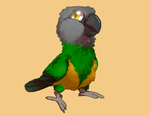 Kili
Type: Senegal Parrot
Genus: Poicephalus
Species: Senegalus
Subspecies: Mesotypus
Sex: Female
Weight: 120 grams
Height: 9 inches
Age: 14 years, 2 months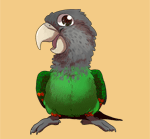 Truman
Type: Cape Parrot
Genus: Poicephalus
Species:Robustus
Subspecies: Fuscicollis
Sex: Male
Weight: 330 grams
Height: 13 inches
Age: 12 years, 5 months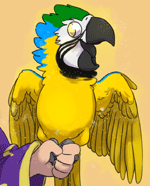 Rachel
Type: Blue & Gold Macaw
Genus: Ara
Species:ararauna
Sex: Female
Weight: 850 grams
Height: 26 inches
Age: 10 years and 2 months old

List of Common Parrots:
Parakeets
:
Budgerigar (Budgie)
Alexandrine Parakeet
African Ringneck
Indian Ringneck
Monk Parakeet (Quaker Parrot)
Parrotlets
:
Mexican Parrotlet
Green Rumped Parrotlet
Blue Winged Parrotlet
Spectacled Parrotlet
Dusky Billed Parrotlet
Pacific Parrotlet
Yellow Faced Parrotlet
Lovebirds:
Peach Faced Lovebird
Masked Lovebird
Fischer's Lovebird
Lilian's (Nyasa) Lovebird
Black Cheeked Lovebird
Madagascar Lovebird
Abyssinian Lovebird
Red Faced Lovebird
Swindern's Lovebird
Lories and Lorikeets
:
Rainbow Lorikeet
Conures
:
Sun Conure
Jenday Conure
Cherry Headed Conure
Blue Crowned Conure
Mitred Conure
Patagonian Conure
Green Cheeked Conure
Nanday Conure
Caiques:
Black Headed Caique
White Bellied Caique
Poicephalus Parrots
:
Senegal Parrot
Meyer's Parrot
Red Bellied Parrot
Brown Headed Parrot
Jardine's Parrot
Cape Parrot
Ruppell's Parrot
Eclectus
:
Eclectus Parrot
African Greys:
Congo African Grey (CAG)
Timneh African Grey (TAG)
Amazons:
Blue Fronted Amazon
Yellow Naped Amazon
Yellow Headed Amazon
Orange Winged Amazon
Yellow Crowned Amazon
Cockatoos:
Cockatiel
Galah (Rose Breasted) Cockatoo
Sulphur Crested Cockatoo
Umbrella Cockatoo
Moluccan Cockatoo
Bare Eyed Cockatoo
Goffin's Cockatoo
Macaws
:
Red Shouldered (Hahn's) Macaw
Severe Macaw
Blue And Gold Macaw
Blue Throated Macaw
Military Macaw
Red Fronted Macaw
Scarlet Macaw
Green Winged Macaw
Hyacinth Macaw
Glossary of Common Parrot Terms
| | | |
| --- | --- | --- |
| | | Thursday January 19th, 2017 |
Ginger's Parrots Rescue, a 501c3 Rescue based in Arizona, is really innovative when it comes to bird rescue. It is the first of its kind. Ginger's Parrots Rescue specializes in Senegal Parrots and Cockatiels. By being a species oriented rescue, Ginger's is able to put a greater amount of expertise and knowledge into rescuing, rehabilitating, and adopting out these parrots.

The Birdie Bus is the newest innovation of Ginger's Parrots Rescue. The bus allows the rescue to go mobile and cruise around the Phoenix area to search for potential adopters for the birds in need. The bus can transport many (but not all) of the rescue's birds at once so that the public can learn about parrots and consider adopting one. Ginger takes the bus to PetSmart adoption days to offer a bird adoption in addition to cat/dog adoptions normally performed inside.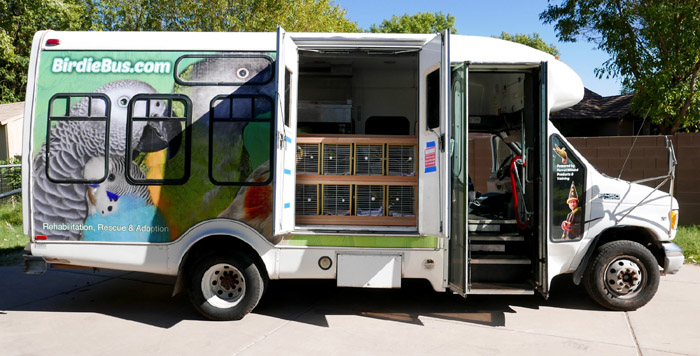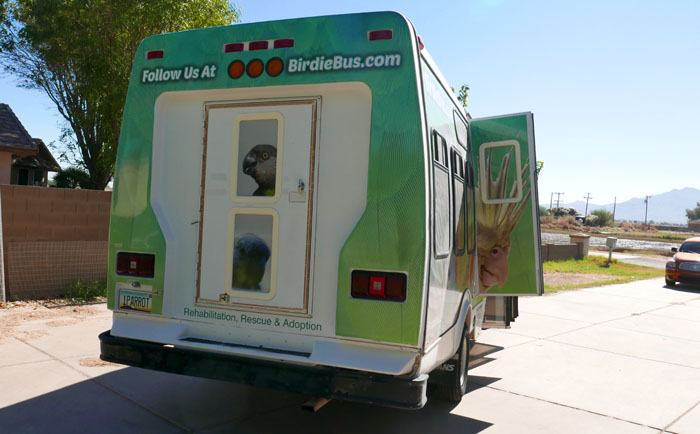 The Birdie Bus itself is really cool. It has 4 different doors so that the bird can get an outside experience in safety. The side and rear door open exposing the bird cages to the outside. Viewers can see and interact with the birds while the cages are securely locked inside the bus. There is also plenty of capacity for moving a tent, tables, chairs, and other items needed at rescue outings.

I went down to Phoenix in November to help Ginger with the Birdie Bus unveiling event. Bird owners from the local parrot community stopped by to show support and people looking to adopt or volunteer came by as well.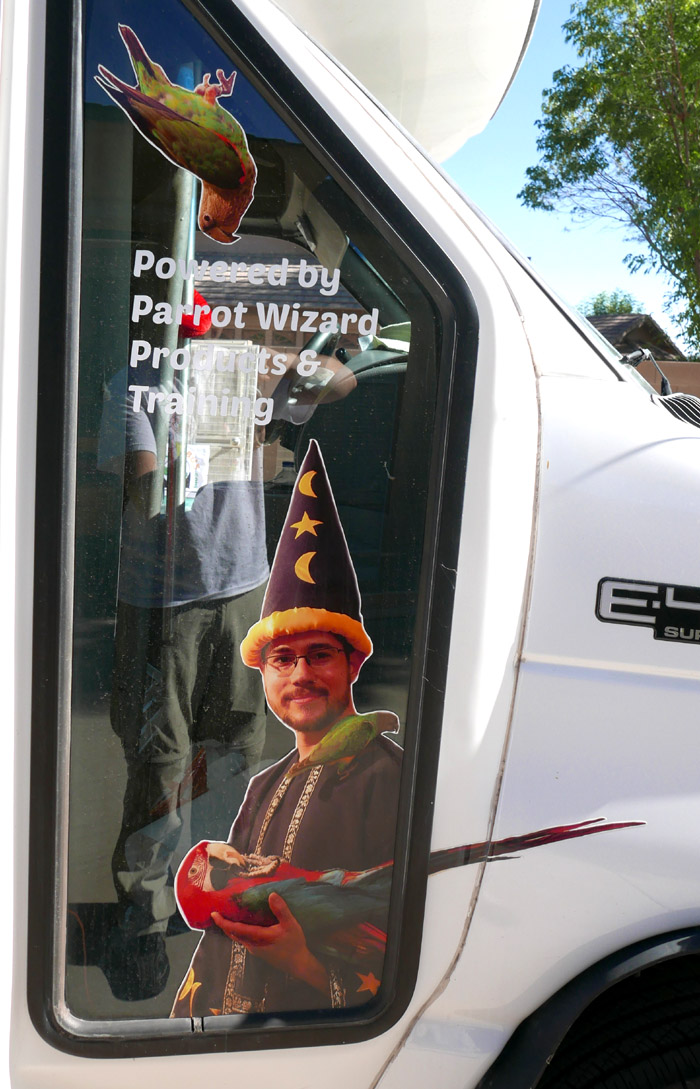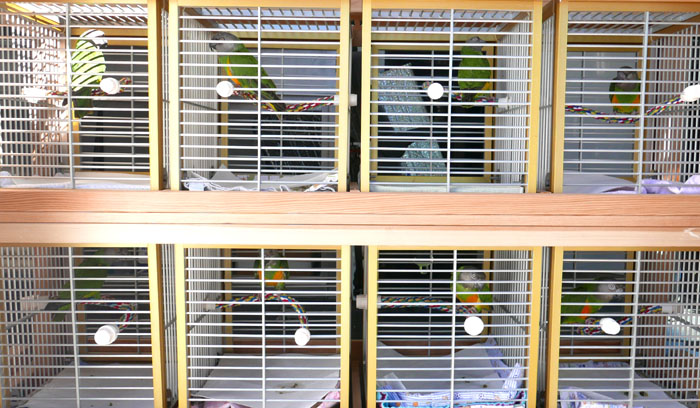 Three purposes are served by the Birdie Bus. The first is to get birds out of the rescue for socialization and fresh air. Even if a bus outing does not result in adoptions that day, it is still a victory for the birds to gain experience being out of the rescue and seeing new people. The second purpose is to help the birds find adopters. This is a chance for the birds to meet people and people to meet the birds. Folks going shopping who may have always wanted a parrot have the opportunity to realize that bird adoptions are available! The third goal is to solicit support for the rescue project through donations and volunteers. The bus is fueled not only by gas money but also through a lot of help. The bus does a good job at attracting existing bird owners out of curiosity. They aren't always the best candidates for more birds if they are at their capacity, but having experienced bird owners volunteering is also a big help to the rescue.

There are several ways you can help the Birdie Bus project. The best way is adopting a parrot from Ginger's Parrots Rescue. If you are anywhere near Phoenix and looking for a Senegal Parrot or Cockatiel, this is the place to adopt! Also, Ginger can always use help from local volunteers. But just because you're not adopting or don't live near Arizona, doesn't mean you can't help. The bus needs corporate sponsors, donors, and social media support. If you can send some money, the bus is in need of repairs, maintenance, upgrade, and gas. The rescue is non-profit and depends entirely on donations. Your support will help the rescue get these birds seen by the public and promote the concept of adoption. Finally, even if you don't have any money to spare, you can help by spreading the word. As more people hear about the rescue and the Birdie Bus project, they may choose to adopt, donate, volunteer, or spread the word and the Bus can drive on! Thanks for your help.

Here is a video of the birds going for a ride on the Birdie Bus:


And this is a video of the Birdie Bus unveiling event:


Part of: Blog Announcements, Senegal Parrots, Rescue
Birdie Bus Ginger's Parrots Rescue Rescue Senegal Parrot Socialization Outing Trip Travel
Comments
Post Your Response
Pajarita

Posted on January 20, 2017 05:10PM

But they don't do 'on the spot' adoptions, do they?



Michael

Posted on January 21, 2017 01:12AM

There is an adoption process.
Pajarita

Posted on January 21, 2017 05:04PM

Ahhhh, great!
Post Your Response